Thousands of Amazon Delivery Drivers Won't Be Eligible for the $15 Wage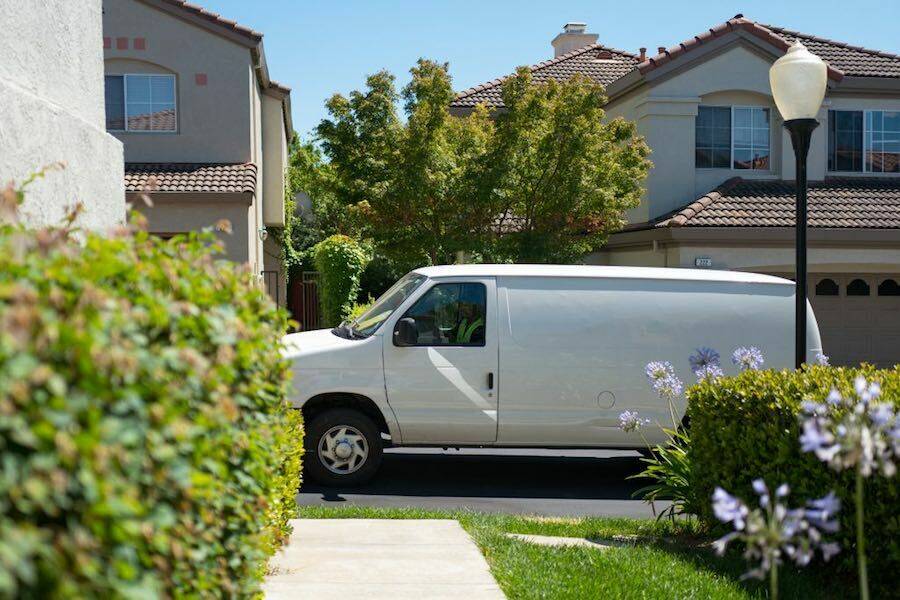 Amazon's announce­ment rais­ing its entry-lev­el wage to $15 an hour for all employ­ees has been laud­ed as an inspir­ing exam­ple of cor­po­rate respon­si­bil­i­ty. In response to sharp crit­i­cism and threat­ened leg­is­la­tion from Sen. Bernie Sanders (I‑Vt.) over low pay and hor­rid con­di­tions at Ama­zon ware­hous­es, CEO Jeff Bezos said: ​"We lis­tened to our crit­ics, thought hard about what we want­ed to do, and decid­ed we want to lead."
But thou­sands of work­ers deliv­er­ing your Ama­zon pack­ages won't be eli­gi­ble for that $15 entry-lev­el wage. Across the coun­try, thou­sands of work­ers wear Ama­zon uni­forms, use Ama­zon equip­ment, and work out of Ama­zon facil­i­ties, but are not clas­si­fied as Ama­zon employ­ees. They work for third par­ties known as deliv­ery ser­vice part­ners (DSPs). It's just one way Ama­zon man­ages the bur­den of get­ting bil­lions of pack­ages each year into the hands of its customers.
Ama­zon has con­firmed that these third-par­ty DSPs are not cov­ered by its new wage standard.
Not only will dri­vers deliv­er­ing for Ama­zon be deprived the pay lev­els of oth­er Ama­zon employ­ees, but in one notable instance, they were cheat­ed out of wages by a DSP that vio­lat­ed state and fed­er­al labor laws.
A fed­er­al judge ruled in August that as many as 757 hun­dred deliv­ery dri­vers with one DSP on the East Coast were robbed of over­time pay through fal­si­fy­ing time sheet records. The work­ers have thus far been unable to col­lect the back pay — poten­tial­ly mil­lions of dol­lars— from the DSP or Amazon.
And work­ers at oth­er Ama­zon DSPs describe sim­i­lar prac­tices. So while Ama­zon basks in favor­able PR, it is simul­ta­ne­ous­ly deeply impli­cat­ed in rou­tine wage theft.
"

The face of Ama​zon​.com"

Tyhee Hick­man of Penn­syl­va­nia and Shanay Bold­en of Mary­land, lead plain­tiffs in the U.S. Dis­trict Court law­suit, worked for TL Trans­porta­tion, a Mid-Atlantic region­al deliv­ery ser­vice. Accord­ing to the law­suit, TL lit­er­al­ly calls its deliv­ery dri­vers ​"the face of Ama​zon​.com," but those work­ers are not con­sid­ered Ama­zon employees.

Hick­man and Bolden's sto­ries make clear, how­ev­er, that TL Trans­porta­tion is mere­ly a pass-through for Ama­zon. Hick­man writes in a sworn state­ment that he was hired by TL in Novem­ber 2016, only to report to Amazon's ware­house in King of Prus­sia, Penn. for train­ing. The train­er was an Ama­zon employ­ee. All train­ing mate­ri­als includ­ed Ama­zon logos. Work­ers had to pur­chase and wear Ama­zon hats, shirts and jack­ets. Deliv­ery vans had ​"Ama­zon" embla­zoned on the side, and work­ers also used an Ama­zon pro­pri­etary device called a ​"Rab­bit" to track routes and scan pack­ages. The Rab­bit can also call Ama­zon cus­tomers if they are absent dur­ing delivery.

Accord­ing to Bold­en, who worked out of Bal­ti­more, Ama­zon assigned the routes, and dri­vers were sup­posed to call Ama­zon if they ran into dif­fi­cul­ties with deliv­er­ies. But despite all this involve­ment, pay stubs reviewed by In These Times list­ed the employ­er as TL Transportation.

"Peo­ple assume they're inter­act­ing with an employ­ee of a com­pa­ny if they're wear­ing the company's uni­form," says Celine McNi­cholas, direc­tor of labor law and pol­i­cy at the Eco­nom­ic Pol­i­cy Insti­tute. ​"But the web of con­tract­ing makes it dif­fi­cult to discern."
"

Run­ning, run­ning, rush­ing, rushing"

That TL Trans­porta­tion sub­ject­ed employ­ees to wage theft isn't real­ly in doubt. In a slop­py, mis­spelled fly­er ("WEL­COM ABOARD, WE LOOK FOR­WARD TO WORK­ING WITH YOU"), employ­ees were told that they would be paid "$160.00 per day based on 8 hrs reg­u­lar and 2 hours over­time… if you fin­ish ear­ly you will be paid of entire day."
In oth­er words, the time sheet would build in two hours of dai­ly over­time, regard­less of hours worked. Pay stubs reflect­ed that. Fal­si­fy­ing time sheets in this man­ner is defin­i­tive­ly ille­gal, as U.S. Dis­trict Court Judge Ger­ald McHugh con­firmed in his rul­ing against TL in August. ​"Over­time com­pen­sa­tion must be specif­i­cal­ly linked to the hours an employ­ee actu­al­ly worked," McHugh writes.

TL kept to this day rate, with the built-in over­time, regard­less of how many days an employ­ee worked. One of Bolden's pay stubs showed a week where she worked all sev­en days, with 56 hours at the reg­u­lar rate and 14 hours of over­time. She should have received 30 over­time hours that week.

In the­o­ry, work­ers could hope to fin­ish deliv­er­ies ear­ly, earn­ing the $160 day rate for less than 10 hours of work. But that was a pipe dream. Three work­ers who made sworn dec­la­ra­tions and anoth­er inter­viewed by In These Times stat­ed that they always worked more than 10 hours in a day, but were not paid addi­tion­al overtime.

Hick­man stat­ed he would arrive to the Penn­syl­va­nia ware­house at 6 a.m. on work­days, attend required meet­ings with self-iden­ti­fied Ama­zon per­son­nel, and not leave the ware­house until 9:30. That left him six and half hours to com­plete his deliv­ery runs of 165 to 200 pack­ages, some­times as far away as Delaware. If Hick­man brought back pack­ages as unde­liv­er­able, he was sent back out to re-deliv­er them, adding more time to the day. Work­ers also had to inspect deliv­ery vans on exit and re-entry and refu­el them at the end of the day. Hick­man tes­ti­fied he would usu­al­ly return to the ware­house at 7:00 p.m., 13 hours after he arrived for work.

A for­mer employ­ee inter­viewed by In These Times on con­di­tion of anonymi­ty, because he has not yet been deposed in the case, described how dif­fi­cult it was to com­plete the runs: ​"It was like run­ning, run­ning, rush­ing, rush­ing," he said. ​"If you don't keep going you can't fin­ish in time."

To keep up with the demand­ing sched­ules, work­ers were unable to fit in lunch or rest breaks; Hick­man tes­ti­fied to hav­ing to uri­nate into bot­tles or on the side of the road to keep things mov­ing. If work­ers did mirac­u­lous­ly com­plete routes ear­ly, man­agers sent them back out to ​"res­cue" oth­er deliv­ery dri­vers, by tak­ing some of their pack­ages. Regard­less of the total hours worked in a week, the flat rate nev­er changed.

The job was described as dif­fi­cult, with ram­pant turnover. Hick­man last­ed five months; Bold­en last­ed sev­en. The for­mer employ­ee only last­ed three. ​"I lost weight dra­mat­i­cal­ly," he says. ​"My wife told me, ​'You look so skinny.'"
The buck stops nowhere
These work­ers' sto­ries are broad­ly con­sis­tent with an inves­ti­ga­tion by Busi­ness Insid­er, which inter­viewed over 30 dri­vers with Ama­zon DSPs. But unlike oth­er DSPs, TL Trans­porta­tion nev­er had work­ers sign con­tracts with a manda­to­ry arbi­tra­tion agree­ment, block­ing their right to sue. Because it failed to do so, the plain­tiffs sought lost and stolen wages in fed­er­al court.
Employ­ers steal rough­ly $8 bil­lion from work­er pay­checks per year, accord­ing to a 2017 study from the Eco­nom­ic Pol­i­cy Insti­tute. But win­ning a wage theft rul­ing through sum­ma­ry judg­ment with­out tri­al, as the TL deliv­ery work­ers did in August, is exceed­ing­ly rare.
Despite the court vic­to­ry, no work­er has yet been paid. TL, which con­tin­ues to oper­ate, says it lacks the funds to pay above the day rate. Ama­zon claims it has noth­ing to do with TL's labor prac­tices. Plain­tiffs con­tin­ue to bat­tle it out in fed­er­al court.
TL's co-own­ers Scott Fore­man and Her­schel Lowe, both named as defen­dants in the com­plaint, did not return phone mes­sages ask­ing for comment.
A sec­ond law­suit, against a DSP named NEA Deliv­ery, was filed in August in Cal­i­for­nia, join­ing pri­or suits in Illi­nois, Wash­ing­ton state and Ari­zona. But because every DSP is dif­fer­ent, plain­tiffs' attor­neys must go indi­vid­u­al­ly, com­pa­ny by com­pa­ny, to seek resti­tu­tion for wronged work­ers. This has the added ben­e­fit of pre­vent­ing Ama­zon deliv­ery per­son­nel from union­iz­ing across the sec­tor. Ama­zon has a long­stand­ing pol­i­cy of not com­ment­ing on pend­ing litigation.
"This is noth­ing unique" among large cor­po­ra­tions, said EPI's McNi­cholas. ​"The rea­son com­pa­nies do it is that it com­pli­cates the worker's abil­i­ty to hold their employ­er account­able." In Amazon's case, instead of offer­ing a base wage of $15 an hour and a suite of ben­e­fits, it sim­ply hires couri­ers like TL Trans­porta­tion at a set rate per deliv­ery and pleads igno­rance about vio­la­tions of labor law. The work­ers end up stuck, unable to win mon­ey owed them from fly-by-night third par­ties, and unable to chal­lenge the cor­po­rate giant whose pack­ages they actu­al­ly deliver.
EPI's McNi­cholas lays blame for the wage theft at the feet of Ama­zon, for set­ting up a sys­tem of free, rapid ship­ping. ​"It's very dif­fi­cult for these sub­con­tract­ing firms to do busi­ness if they're not cut­ting cor­ners," she says. ​"Ama­zon may say they set loose terms, but they're insti­tut­ing the frame­work that the sub­con­tract­ing firms have to honor."
Ama­zon out­sources to hun­dreds of DSPs and encour­ages new deliv­ery start-ups, promis­ing that they can get to work with­in weeks and make up to $300,000 per year. ​"Logis­tics expe­ri­ence not required," the com­pa­ny states on its web­site. Ama­zon has also test­ed sev­er­al oth­er sys­tems for pack­age deliv­ery, from using the U.S. Postal Ser­vice, pri­vate com­peti­tors like UPS and FedEx, or an Uber-like sys­tem called Ama­zon Flex, where indi­vid­u­als sign up to deliv­er pack­ages with their own cars.
None of these involve employ­ees of Ama­zon, and all have come under scruti­ny. Postal work­ers have com­plained about oner­ous pack­age loads and week­end deliv­er­ies. Labor attor­ney Shan­non Liss-Rior­dan sued Ama­zon in 2016 for fail­ing to ensure that Ama­zon Flex work­ers earn the min­i­mum wage after account­ing for vehi­cle and main­te­nance costs, as well as not pay­ing over­time. The case remains pending.
The third-par­ty hustle
Since the $15 wage announce­ment, Ama­zon has been crit­i­cized for off­set­ting the pay increase by remov­ing stock awards and bonus­es. Oth­ers have char­ac­ter­ized the wage hike as a way to avoid union­iza­tion at Whole Foods, or an impe­tus to elim­i­nate work­ers through automa­tion. But the third-par­ty hus­tle is a far more effi­cient way to avoid rais­ing wages, while push­ing off lia­bil­i­ty for labor prac­tices to oth­er companies.
The plain­tiffs in the TL Trans­porta­tion case have named Ama­zon as a defen­dant, argu­ing that the com­pa­ny ​"control[s] the work activ­i­ties, con­di­tion, and man­age­ment" of the DSPs and their employ­ees. But this bumps up against the ​"joint employ­er" stan­dard set by the Nation­al Labor Rela­tions Board (NLRB) under Oba­ma, where­by com­pa­nies are joint­ly liable for labor law vio­la­tions by their fran­chisees, sup­pli­ers or con­trac­tors if they have indi­rect influ­ence over the terms of employment.
Trump's Nation­al Labor Rela­tions Board has pro­posed nar­row­ing the joint employ­er def­i­n­i­tion to com­pa­nies that exer­cise ​"sub­stan­tial, direct and imme­di­ate con­trol" over hir­ing, fir­ing, dis­ci­pline and super­vi­sion. That would still seem to apply to Ama­zon, but it's a close call. And courts typ­i­cal­ly fol­low the NLRB, which under Trump isn't exact­ly worker-friendly.
If the courts agree that Ama­zon is not a joint employ­er, it would have a path to keep tens of thou­sands of deliv­ery work­ers out­sourced and removed from its new wage stan­dards, with­out sac­ri­fic­ing the sig­nif­i­cant pub­lic­i­ty ben­e­fits of the announce­ment. It's good work if you can get it.