Cities Scrambling to Attract Amazon Because It "Creates Jobs" Are Being Sold a Lie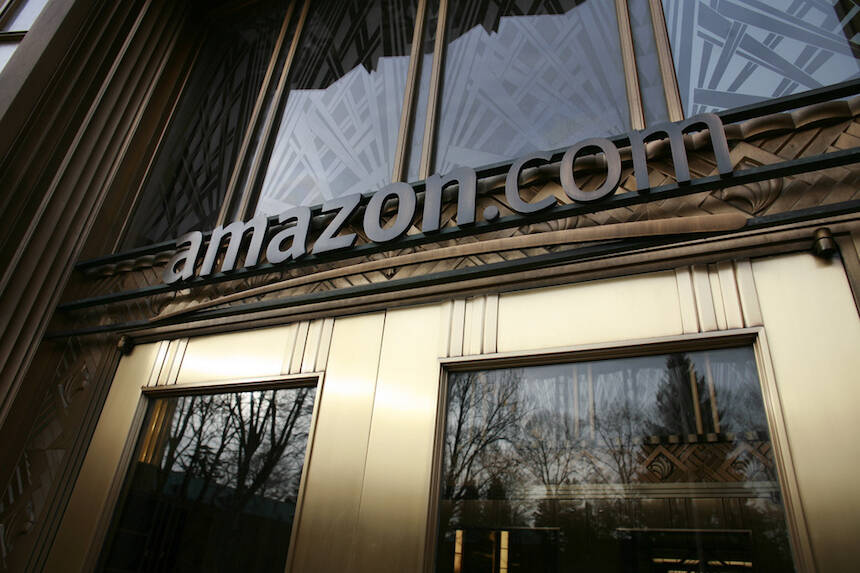 Ama­zon has been astound­ing­ly suc­cess­ful in get­ting state and local gov­ern­ments to pay for its work­sites. The online retail giant has staff ded­i­cat­ed to secur­ing local tax incen­tives, abate­ments and sub­si­dies for plac­ing its ware­hous­es (dubbed ​"ful­fill­ment cen­ters"), total­ing more than $1.1 bil­lion since 2000. And for months, cities have engaged in an even more unseem­ly spec­ta­cle: promis­ing bil­lions to attract Amazon's sec­ond head­quar­ters. The los­ing bids will like­ly set the ran­som rate Ama­zon can demand to locate its ful­fill­ment cen­ters in the future.
Until now, nobody has looked specif­i­cal­ly at whether these give­aways are real­ly worth the cost. A report from the Eco­nom­ic Pol­i­cy Insti­tute released on Thurs­day says emphat­i­cal­ly that they're not.
Using Bureau of Labor Sta­tis­tics data, EPI researchers Ben Zip­per­er and Janelle Jones ana­lyzed what hap­pens to employ­ment in a coun­ty once Ama­zon builds a ful­fill­ment cen­ter. Though ware­hous­ing and stor­age jobs do increase, the net effect is close to nil, as new jobs are off­set by loss­es else­where in the coun­ty. The find­ings mean that all the mon­ey poured into Ama­zon on the promise of job cre­ation is essen­tial­ly a waste. ​"It doesn't increase over­all pri­vate sec­tor employ­ment," Jones, an eco­nom­ic ana­lyst with EPI, tells In These Times. ​"No mat­ter how much you slice this data, it's just not there."
The very idea of giv­ing Ama­zon, one of the world's rich­est com­pa­nies, sub­si­dies to attract a ware­house is dis­taste­ful to begin with. That's espe­cial­ly true because Ama­zon Prime's busi­ness mod­el of deliv­er­ing prod­ucts to cus­tomers with­in 24 to 48 hours demands that the com­pa­ny place ware­hous­es all over the coun­try. Ful­fill­ment by Ama­zon, a sep­a­rate ini­tia­tive where the com­pa­ny stores and ships prod­ucts on behalf of third par­ties, also requires Ama­zon to build lots more ware­hous­es to con­tain all those goods. Indeed, the EPI report shows that Amazon's rise in ful­fill­ment cen­ters cor­re­sponds with its key announce­ments estab­lish­ing Ama­zon Prime, and Ful­fill­ment by Ama­zon. Pri­or to the launch of Ama­zon Prime in 2005, the com­pa­ny had three ful­fill­ment cen­ters; today it has 95.
"If your busi­ness mod­el is get­ting things to peo­ple with­in 24 hours, you have to be every­where," Jones said. In oth­er words, pay­ing a com­pa­ny to locate a facil­i­ty they have to build any­way makes no sense.
Nev­er­the­less, politi­cians des­per­ate to cut a rib­bon and point to tan­gi­ble job cre­ation con­tin­u­al­ly fight with their neigh­bors over how much cash to slather on Ama­zon and oth­er com­pa­nies. Such incen­tives con­sti­tute a long­time eco­nom­ic devel­op­ment strat­e­gy. That's what makes the EPI report so use­ful, because it breaks down how the alleged job gains from such sub­si­dies don't pan out.
Researchers looked at 54 Ama­zon ful­fill­ment cen­ters in 34 coun­ties. They mea­sured back two years before the ful­fill­ment cen­ter opened and two years after­ward, con­trol­ling for pop­u­la­tion, local and nation­al eco­nom­ic changes and job growth in sur­round­ing areas.
The results showed that ware­house employ­ment in a coun­ty with an Ama­zon ful­fill­ment cen­ter goes up by around 30 per­cent with­in two years of the open­ing. That is expect­ed con­sid­er­ing how mas­sive these ful­fill­ment cen­ters are. But over­all net employ­ment in that coun­ty bare­ly budges when Ama­zon comes in.
The cumu­la­tive per­cent change two years after the open­ing, based on dif­fer­ent sam­ples of the data, ranges from ‑0.014 to 0.003 per­cent — num­bers that might as well be zero. The find­ing ​"rein­forces just how com­plete­ly inef­fec­tive Ama­zon ful­fill­ment cen­ter open­ings have been to pro­vid­ing any boost to over­all local employ­ment," the report states.
Jones offered a cou­ple hypothe­ses to explain the data. First, there may be dis­place­ment: When an Ama­zon ful­fill­ment cen­ter comes in, com­pet­ing busi­ness­es leave the area, com­peti­tors fold up shop or local com­pa­nies lose work­ers to the ware­house. The oth­er point is that ware­house employ­ment rep­re­sents an infin­i­tes­i­mal part of the over­all labor force in the Unit­ed States, and there­fore can­not be a key dri­ver of over­all employ­ment gains. Even in coun­ties with an Ama­zon ful­fill­ment cen­ter, ware­house jobs com­prise 1.4 per­cent of total work­ers. So even a large increase in those ware­house jobs fails to move the nee­dle on employ­ment with­in a com­mu­ni­ty, and can eas­i­ly be snuffed out by displacement.
This is the oppo­site of the sto­ry Ama­zon tells: that bring­ing in a new ful­fill­ment cen­ter will have knock-on effects across the coun­try, increas­ing eco­nom­ic activ­i­ty and cre­at­ing new jobs. That just doesn't hap­pen accord­ing to the EPI data. ​"You would think it would be a stim­u­lus, but that does not pick up in over­all net new jobs," Jones says.
Open­ing a ful­fill­ment cen­ter also had lit­tle to no impact on aver­age wages of ware­house work­ers, EPI found. A 2016 study from the Insti­tute for Local Self-Reliance found that hourly wages at Ama­zon ful­fill­ment cen­ters are far below the typ­i­cal ware­house work­er, and employ­ees work more hours to compensate.
The report sug­gests a bet­ter approach than effec­tive­ly brib­ing com­pa­nies to cre­ate local jobs: invest­ing in peo­ple and pub­lic works . Hand­outs for eco­nom­ic devel­op­ment deprive cities and states resources for pub­lic invest­ment. ​"Not only are you not get­ting new jobs, but you're sac­ri­fic­ing long-term eco­nom­ic devel­op­ment from uni­ver­sal pre-kinder­garten, or improv­ing infra­struc­ture," Jones says. Cut­ting the rib­bon on a new pre‑K school or rail line or pub­lic broad­band facil­i­ty, in oth­er words, makes a far big­ger con­tri­bu­tion to jobs now and in the future.
Indeed, it's far more like­ly that busi­ness­es make deci­sions on where to locate based on a tal­ent­ed work­force and top-qual­i­ty infra­struc­ture than their tax rate. The Insti­tute on Tax­a­tion and Eco­nom­ic Pol­i­cy report­ed in 2013 that state and local tax­es are only about 1.8 per­cent of a company's cost of doing busi­ness. You can­not pos­si­bly low­er the tax rate enough to super­sede all the oth­er fac­tors. The give­aways are as unnec­es­sary as they are ineffective.
The EPI report shows that the cur­rent mod­el of eco­nom­ic devel­op­ment rests on a failed premise. Sub­si­diz­ing com­pa­nies to relo­cate does next to noth­ing to cre­ate jobs. Com­pa­nies like Ama­zon don't need the incen­tive, and don't do much for the com­mu­ni­ty – cer­tain­ly noth­ing that would jus­ti­fy the expen­di­ture of hun­dreds of mil­lions of dol­lars. So when Ama­zon comes around seek­ing cash for jobs, cities and states should just tell them to stuff it.
Update:
Fol­low­ing pub­li­ca­tion, In These Times received the fol­low­ing com­ment from Amazon:
In addi­tion to the 200,000 Ama­zon employ­ees in the US, we know from 2016 data, which is more cur­rent than the EPI data, Amazon's invest­ments led to the cre­ation of 200,000 addi­tion­al non-Ama­zon jobs, rang­ing from con­struc­tion jobs to health­care indus­try posi­tions. In fact, over the last five years, coun­ties that have received Ama­zon invest­ment have seen the unem­ploy­ment rate drop by 4.8 per­cent­age points on aver­age, and in some areas, the rate has been low­er than the state average.

In regions, such as California's Inland Empire, the effects of Amazon's $2 bil­lion invest­ment between 2012 and 2016 have result­ed in cre­at­ing an esti­mat­ed 34,600 addi­tion­al jobs. In sim­i­lar regions across the US, such as Lehigh Val­ley, Fall Riv­er, Mass. and the Rust Belt, Ama­zon has cre­at­ed employ­ment oppor­tu­ni­ties for employ­ees who had been out of work due to indus­try clo­sures or had lit­tle employ­ment oppor­tu­ni­ties in their communities.

Amazon's ful­fill­ment cen­ter jobs are good jobs that offer com­pet­i­tive pay and com­pre­hen­sive ben­e­fits, which include med­ical insur­ance, bonus­es, 401(k) with 50 per­cent match, gen­er­ous mater­ni­ty and parental leave, and inno­v­a­tive pro­grams like Career Choice that pre-pays 95% of tuition and asso­ci­at­ed fees for employ­ees to get train­ing or edu­ca­tion for in-demand fields, whether they are applic­a­ble to Ama­zon or not. Our goal is to give employ­ees the oppor­tu­ni­ty to learn new skills that can help an employ­ee fur­ther build their career at Ama­zon or even in anoth­er industry.