"It is a com­mon theme" that the Unit­ed States, which ​"only a few years ago was hailed to stride the world as a colos­sus with unpar­al­leled pow­er and unmatched appeal is in decline, omi­nous­ly fac­ing the prospect of its final decay," Gia­co­mo Chioz­za writes in the cur­rent Polit­i­cal Sci­ence Quarterly.
The comic opera in Washington this summer, which disgusts the country and bewilders the world, may have no analogue in the annals of parliamentary democracy.
The theme is indeed wide­ly believed. And with some rea­son, though a num­ber of qual­i­fi­ca­tions are in order. To start with, the decline has pro­ceed­ed since the high point of U.S. pow­er after World War II, and the remark­able tri­umphal­ism of the post-Gulf War ​'90s was most­ly self-delusion.
Anoth­er com­mon theme, at least among those who are not will­ful­ly blind, is that Amer­i­can decline is in no small mea­sure self-inflict­ed. The com­ic opera in Wash­ing­ton this sum­mer, which dis­gusts the coun­try and bewil­ders the world, may have no ana­logue in the annals of par­lia­men­tary democracy.
The spec­ta­cle is even com­ing to fright­en the spon­sors of the cha­rade. Cor­po­rate pow­er is now con­cerned that the extrem­ists they helped put in office may in fact bring down the edi­fice on which their own wealth and priv­i­lege relies, the pow­er­ful nan­ny state that caters to their interests.
Cor­po­rate power's ascen­dan­cy over pol­i­tics and soci­ety — by now most­ly finan­cial — has reached the point that both polit­i­cal orga­ni­za­tions, which at this stage bare­ly resem­ble tra­di­tion­al par­ties, are far to the right of the pop­u­la­tion on the major issues under debate.
For the pub­lic, the pri­ma­ry domes­tic con­cern is unem­ploy­ment. Under cur­rent cir­cum­stances, that cri­sis can be over­come only by a sig­nif­i­cant gov­ern­ment stim­u­lus, well beyond the recent one, which bare­ly matched decline in state and local spend­ing — though even that lim­it­ed ini­tia­tive prob­a­bly saved mil­lions of jobs.
For finan­cial insti­tu­tions the pri­ma­ry con­cern is the deficit. There­fore, only the deficit is under dis­cus­sion. A large major­i­ty of the pop­u­la­tion favor address­ing the deficit by tax­ing the very rich (72 per­cent, 27 per­cent opposed), reports a Wash­ing­ton Post-ABC News poll. Cut­ting health pro­grams is opposed by over­whelm­ing majori­ties (69 per­cent Med­ic­aid, 78 per­cent Medicare). The like­ly out­come is there­fore the opposite.
The Pro­gram on Inter­na­tion­al Pol­i­cy Atti­tudes sur­veyed how the pub­lic would elim­i­nate the deficit. PIPA direc­tor Steven Kull writes, ​"Clear­ly both the admin­is­tra­tion and the Repub­li­can-led House (of Rep­re­sen­ta­tives) are out of step with the public's val­ues and pri­or­i­ties in regard to the budget."
The sur­vey illus­trates the deep divide: ​"The biggest dif­fer­ence in spend­ing is that the pub­lic favored deep cuts in defense spend­ing, while the admin­is­tra­tion and the House pro­pose mod­est increas­es. The pub­lic also favored more spend­ing on job train­ing, edu­ca­tion and pol­lu­tion con­trol than did either the admin­is­tra­tion or the House."
The final ​"com­pro­mise" — more accu­rate­ly, capit­u­la­tion to the far right — is the oppo­site through­out, and is almost cer­tain to lead to slow­er growth and long-term harm to all but the rich and the cor­po­ra­tions, which are enjoy­ing record profits.
Not even dis­cussed is that the deficit would be elim­i­nat­ed if, as econ­o­mist Dean Bak­er has shown, the dys­func­tion­al pri­va­tized health care sys­tem in the U.S. were replaced by one sim­i­lar to oth­er indus­tri­al soci­eties', which have half the per capi­ta costs and health out­comes that are com­pa­ra­ble or better.
The finan­cial insti­tu­tions and Big Phar­ma are far too pow­er­ful for such options even to be con­sid­ered, though the thought seems hard­ly Utopi­an. Off the agen­da for sim­i­lar rea­sons are oth­er eco­nom­i­cal­ly sen­si­ble options, such as a small finan­cial trans­ac­tions tax.
Mean­while new gifts are reg­u­lar­ly lav­ished on Wall Street. The House Appro­pri­a­tions Com­mit­tee cut the bud­get request for the Secu­ri­ties and Exchange Com­mis­sion, the prime bar­ri­er against finan­cial fraud. The Con­sumer Pro­tec­tion Agency is unlike­ly to sur­vive intact.
Con­gress wields oth­er weapons in its bat­tle against future gen­er­a­tions. Faced with Repub­li­can oppo­si­tion to envi­ron­men­tal pro­tec­tion, Amer­i­can Elec­tric Pow­er, a major util­i­ty, shelved ​"the nation's most promi­nent effort to cap­ture car­bon diox­ide from an exist­ing coal-burn­ing pow­er plant, deal­ing a severe blow to efforts to rein in emis­sions respon­si­ble for glob­al warm­ing," The New York Times reported.
The self-inflict­ed blows, while increas­ing­ly pow­er­ful, are not a recent inno­va­tion. They trace back to the 1970s, when the nation­al polit­i­cal econ­o­my under­went major trans­for­ma­tions, end­ing what is com­mon­ly called ​"the Gold­en Age" of (state) capitalism.
Two major ele­ments were finan­cial­iza­tion (the shift of investor pref­er­ence from indus­tri­al pro­duc­tion to so-called FIRE: finance, insur­ance, real estate) and the off­shoring of pro­duc­tion. The ide­o­log­i­cal tri­umph of ​"free mar­ket doc­trines," high­ly selec­tive as always, admin­is­tered fur­ther blows, as they were trans­lat­ed into dereg­u­la­tion, rules of cor­po­rate gov­er­nance link­ing huge CEO rewards to short-term prof­it, and oth­er such pol­i­cy decisions.
The result­ing con­cen­tra­tion of wealth yield­ed greater polit­i­cal pow­er, accel­er­at­ing a vicious cycle that has led to extra­or­di­nary wealth for a frac­tion of 1 per­cent of the pop­u­la­tion, main­ly CEOs of major cor­po­ra­tions, hedge fund man­agers and the like, while for the large major­i­ty real incomes have vir­tu­al­ly stagnated.
In par­al­lel, the cost of elec­tions sky­rock­et­ed, dri­ving both par­ties even deep­er into cor­po­rate pock­ets. What remains of polit­i­cal democ­ra­cy has been under­mined fur­ther as both par­ties have turned to auc­tion­ing con­gres­sion­al lead­er­ship posi­tions, as polit­i­cal econ­o­mist Thomas Fer­gu­son out­lines in the Finan­cial Times.
"The major polit­i­cal par­ties bor­rowed a prac­tice from big box retail­ers like Wal­mart, Best Buy or Tar­get," Fer­gu­son writes. ​"Unique­ly among leg­is­la­tures in the devel­oped world, U.S. con­gres­sion­al par­ties now post prices for key slots in the law­mak­ing process." The leg­is­la­tors who con­tribute the most funds to the par­ty get the posts.
The result, accord­ing to Fer­gu­son, is that debates ​"rely heav­i­ly on the end­less rep­e­ti­tion of a hand­ful of slo­gans that have been bat­tle-test­ed for their appeal to nation­al investor blocs and inter­est groups that the lead­er­ship relies on for resources." The coun­try be damned.
Before the 2007 crash for which they were large­ly respon­si­ble, the new post-Gold­en Age finan­cial insti­tu­tions had gained star­tling eco­nom­ic pow­er, more than tripling their share of cor­po­rate prof­its. After the crash, a num­ber of econ­o­mists began to inquire into their func­tion in pure­ly eco­nom­ic terms. Nobel lau­re­ate Robert Solow con­cludes that their gen­er­al impact may be neg­a­tive: ​"The suc­cess­es prob­a­bly add lit­tle or noth­ing to the effi­cien­cy of the real econ­o­my, while the dis­as­ters trans­fer wealth from tax­pay­ers to financiers."
By shred­ding the rem­nants of polit­i­cal democ­ra­cy, the finan­cial insti­tu­tions lay the basis for car­ry­ing the lethal process for­ward — as long as their vic­tims are will­ing to suf­fer in silence.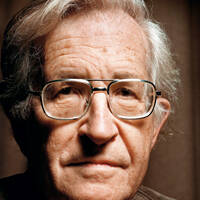 Noam Chom­sky
is Insti­tute Pro­fes­sor and Pro­fes­sor of Lin­guis­tics (Emer­i­tus) at the Mass­a­chu­setts Insti­tute of Tech­nol­o­gy, and the author of dozens of books on U.S. for­eign pol­i­cy. His most recent book is
Who Rules the World?
from Met­ro­pol­i­tan Books.