Noam Chomsky: The Republican Party Is Becoming a Real Danger to Human Survival
Nuclear weapons, climate change, and the prospects for survival.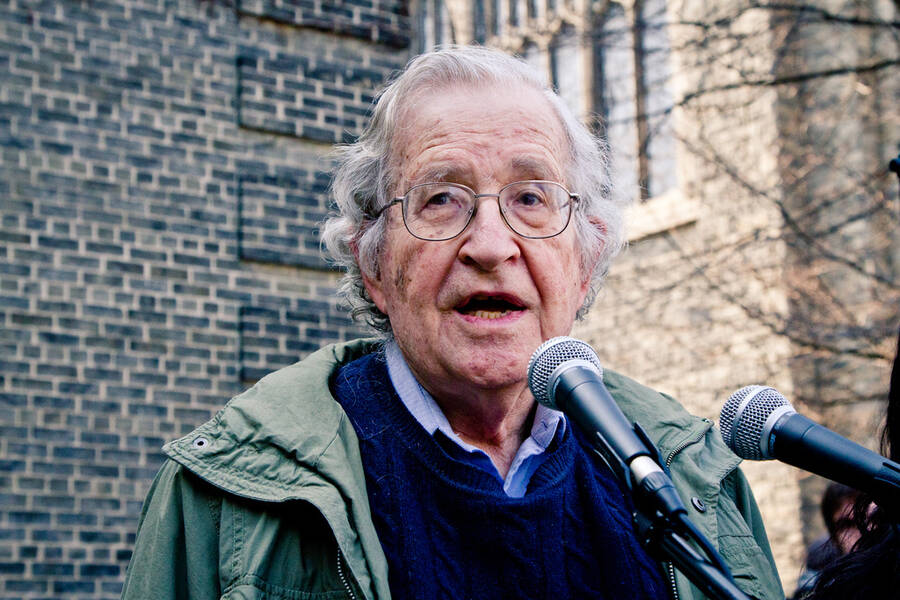 This piece first appeared in TomDis­patch. It is excerpt­ed from Noam Chomsky's new book, Who Rules the World? (Met­ro­pol­i­tan Books).
Prospects for decent long-term survival are not high unless there is a significant change of course.
In Jan­u­ary 2015, the Bul­letin of the Atom­ic Sci­en­tists advanced its famous Dooms­day Clock to three min­utes before mid­night, a threat lev­el that had not been reached for 30 years. The Bul­letin​'s state­ment explain­ing this advance toward cat­a­stro­phe invoked the two major threats to sur­vival: nuclear weapons and ​"unchecked cli­mate change." The call con­demned world lead­ers, who ​"have failed to act with the speed or on the scale required to pro­tect cit­i­zens from poten­tial cat­a­stro­phe," endan­ger­ing ​"every per­son on Earth [by] fail­ing to per­form their most impor­tant duty — ensur­ing and pre­serv­ing the health and vital­i­ty of human civilization."
Since then, there has been good rea­son to con­sid­er mov­ing the hands even clos­er to doomsday.
As 2015 end­ed, world lead­ers met in Paris to address the severe prob­lem of ​"unchecked cli­mate change." Hard­ly a day pass­es with­out new evi­dence of how severe the cri­sis is. To pick almost at ran­dom, short­ly before the open­ing of the Paris con­fer­ence, NASA's Jet Propul­sion Lab released a study that both sur­prised and alarmed sci­en­tists who have been study­ing Arc­tic ice. The study showed that a huge Green­land glac­i­er, Zachari­ae Isstrom, ​"broke loose from a glacio­log­i­cal­ly sta­ble posi­tion in 2012 and entered a phase of accel­er­at­ed retreat," an unex­pect­ed and omi­nous devel­op­ment. The glac­i­er ​"holds enough water to raise glob­al sea lev­el by more than 18 inch­es (46 cen­time­ters) if it were to melt com­plete­ly. And now it's on a crash diet, los­ing 5 bil­lion tons of mass every year. All that ice is crum­bling into the North Atlantic Ocean."
Yet there was lit­tle expec­ta­tion that world lead­ers in Paris would ​"act with the speed or on the scale required to pro­tect cit­i­zens from poten­tial cat­a­stro­phe." And even if by some mir­a­cle they had, it would have been of lim­it­ed val­ue, for rea­sons that should be deeply disturbing.
When the agree­ment was approved in Paris, French For­eign Min­is­ter Lau­rent Fabius, who host­ed the talks, announced that it is ​"legal­ly bind­ing." That may be the hope, but there are more than a few obsta­cles that are wor­thy of care­ful attention.
In all of the exten­sive media cov­er­age of the Paris con­fer­ence, per­haps the most impor­tant sen­tences were these, buried near the end of a long New York Times analy­sis: ​"Tra­di­tion­al­ly, nego­tia­tors have sought to forge a legal­ly bind­ing treaty that need­ed rat­i­fi­ca­tion by the gov­ern­ments of the par­tic­i­pat­ing coun­tries to have force. There is no way to get that in this case, because of the Unit­ed States. A treaty would be dead on arrival on Capi­tol Hill with­out the required two-thirds major­i­ty vote in the Repub­li­can-con­trolled Sen­ate. So the vol­un­tary plans are tak­ing the place of manda­to­ry, top-down tar­gets." And vol­un­tary plans are a guar­an­tee of failure.
"Because of the Unit­ed States." More pre­cise­ly, because of the Repub­li­can Par­ty, which by now is becom­ing a real dan­ger to decent human survival.
The con­clu­sions are under­scored in anoth­er Times piece on the Paris agree­ment. At the end of a long sto­ry laud­ing the achieve­ment, the arti­cle notes that the sys­tem cre­at­ed at the con­fer­ence ​"depends heav­i­ly on the views of the future world lead­ers who will car­ry out those poli­cies. In the Unit­ed States, every Repub­li­can can­di­date run­ning for pres­i­dent in 2016 has pub­licly ques­tioned or denied the sci­ence of cli­mate change, and has voiced oppo­si­tion to Mr. Obama's cli­mate change poli­cies. In the Sen­ate, Mitch McConnell, the Repub­li­can leader, who has led the charge against Mr. Obama's cli­mate change agen­da, said, ​'Before his inter­na­tion­al part­ners pop the cham­pagne, they should remem­ber that this is an unat­tain­able deal based on a domes­tic ener­gy plan that is like­ly ille­gal, that half the states have sued to halt, and that Con­gress has already vot­ed to reject.'"
Both par­ties have moved to the right dur­ing the neolib­er­al peri­od of the past gen­er­a­tion. Main­stream Democ­rats are now pret­ty much what used to be called ​"mod­er­ate Repub­li­cans." Mean­while, the Repub­li­can Par­ty has large­ly drift­ed off the spec­trum, becom­ing what respect­ed con­ser­v­a­tive polit­i­cal ana­lyst Thomas Mann and Nor­man Orn­stein call a ​"rad­i­cal insur­gency" that has vir­tu­al­ly aban­doned nor­mal par­lia­men­tary pol­i­tics. With the right­ward drift, the Repub­li­can Party's ded­i­ca­tion to wealth and priv­i­lege has become so extreme that its actu­al poli­cies could not attract vot­ers, so it has had to seek a new pop­u­lar base, mobi­lized on oth­er grounds: evan­gel­i­cal Chris­tians who await the Sec­ond Com­ing, nativists who fear that ​"they" are tak­ing our coun­try away from us, unre­con­struct­ed racists, peo­ple with real griev­ances who grave­ly mis­take their caus­es, and oth­ers like them who are easy prey to dem­a­gogues and can read­i­ly become a rad­i­cal insurgency.
In recent years, the Repub­li­can estab­lish­ment had man­aged to sup­press the voic­es of the base that it has mobi­lized. But no longer. By the end of 2015 the estab­lish­ment was express­ing con­sid­er­able dis­may and des­per­a­tion over its inabil­i­ty to do so, as the Repub­li­can base and its choic­es fell out of control.
Repub­li­can elect­ed offi­cials and con­tenders for the next pres­i­den­tial elec­tion expressed open con­tempt for the Paris delib­er­a­tions, refus­ing to even attend the pro­ceed­ings. The three can­di­dates who led in the polls at the time — Don­ald Trump, Ted Cruz, and Ben Car­son — adopt­ed the stand of the large­ly evan­gel­i­cal base: humans have no impact on glob­al warm­ing, if it is hap­pen­ing at all.
The oth­er can­di­dates reject gov­ern­ment action to deal with the mat­ter. Imme­di­ate­ly after Oba­ma spoke in Paris, pledg­ing that the Unit­ed States would be in the van­guard seek­ing glob­al action, the Repub­li­can-dom­i­nat­ed Con­gress vot­ed to scut­tle his recent Envi­ron­men­tal Pro­tec­tion Agency rules to cut car­bon emis­sions. As the press report­ed, this was ​"a provoca­tive mes­sage to more than 100 [world] lead­ers that the Amer­i­can pres­i­dent does not have the full sup­port of his gov­ern­ment on cli­mate pol­i­cy" — a bit of an under­state­ment. Mean­while Lamar Smith, Repub­li­can head of the House's Com­mit­tee on Sci­ence, Space, and Tech­nol­o­gy, car­ried for­ward his jihad against gov­ern­ment sci­en­tists who dare to report the facts.
The mes­sage is clear. Amer­i­can cit­i­zens face an enor­mous respon­si­bil­i­ty right at home.
A com­pan­ion sto­ry in the New York Times reports that ​"two-thirds of Amer­i­cans sup­port the Unit­ed States join­ing a bind­ing inter­na­tion­al agree­ment to curb growth of green­house gas emis­sions." And by a five-to-three mar­gin, Amer­i­cans regard the cli­mate as more impor­tant than the econ­o­my. But it doesn't mat­ter. Pub­lic opin­ion is dis­missed. That fact, once again, sends a strong mes­sage to Amer­i­cans. It is their task to cure the dys­func­tion­al polit­i­cal sys­tem, in which pop­u­lar opin­ion is a mar­gin­al fac­tor. The dis­par­i­ty between pub­lic opin­ion and pol­i­cy, in this case, has sig­nif­i­cant impli­ca­tions for the fate of the world.
We should, of course, have no illu­sions about a past ​"gold­en age." Nev­er­the­less, the devel­op­ments just reviewed con­sti­tute sig­nif­i­cant changes. The under­min­ing of func­tion­ing democ­ra­cy is one of the con­tri­bu­tions of the neolib­er­al assault on the world's pop­u­la­tion in the past gen­er­a­tion. And this is not hap­pen­ing just in the U.S.; in Europe the impact may be even worse.
The black swan we can nev­er see
Let us turn to the oth­er (and tra­di­tion­al) con­cern of the atom­ic sci­en­tists who adjust the Dooms­day Clock: nuclear weapons. The cur­rent threat of nuclear war amply jus­ti­fies their Jan­u­ary 2015 deci­sion to advance the clock two min­utes toward mid­night. What has hap­pened since reveals the grow­ing threat even more clear­ly, a mat­ter that elic­its insuf­fi­cient con­cern, in my opinion.
The last time the Dooms­day Clock reached three min­utes before mid­night was in 1983, at the time of the Able Archer exer­cis­es of the Rea­gan admin­is­tra­tion; these exer­cis­es sim­u­lat­ed attacks on the Sovi­et Union to test their defense sys­tems. Recent­ly released Russ­ian archives reveal that the Rus­sians were deeply con­cerned by the oper­a­tions and were prepar­ing to respond, which would have meant, sim­ply: The End.
We have learned more about these rash and reck­less exer­cis­es, and about how close the world was to dis­as­ter, from U.S. mil­i­tary and intel­li­gence ana­lyst Melvin Good­man, who was CIA divi­sion chief and senior ana­lyst at the Office of Sovi­et Affairs at the time. ​"In addi­tion to the Able Archer mobi­liza­tion exer­cise that alarmed the Krem­lin," Good­man writes, ​"the Rea­gan admin­is­tra­tion autho­rized unusu­al­ly aggres­sive mil­i­tary exer­cis­es near the Sovi­et bor­der that, in some cas­es, vio­lat­ed Sovi­et ter­ri­to­r­i­al sov­er­eign­ty. The Pentagon's risky mea­sures includ­ed send­ing U.S. strate­gic bombers over the North Pole to test Sovi­et radar, and naval exer­cis­es in wartime approach­es to the USSR where U.S. war­ships had pre­vi­ous­ly not entered. Addi­tion­al secret oper­a­tions sim­u­lat­ed sur­prise naval attacks on Sovi­et targets."
We now know that the world was saved from like­ly nuclear destruc­tion in those fright­en­ing days by the deci­sion of a Russ­ian offi­cer, Stanislav Petrov, not to trans­mit to high­er author­i­ties the report of auto­mat­ed detec­tion sys­tems that the USSR was under mis­sile attack. Accord­ing­ly, Petrov takes his place along­side Russ­ian sub­ma­rine com­man­der Vasili Arkhipov, who, at a dan­ger­ous moment of the 1962 Cuban Mis­sile Cri­sis, refused to autho­rize the launch­ing of nuclear tor­pe­does when the subs were under attack by U.S. destroy­ers enforc­ing a quarantine.
Oth­er recent­ly revealed exam­ples enrich the already fright­en­ing record. Nuclear secu­ri­ty expert Bruce Blair reports that ​"the clos­est the U.S. came to an inad­ver­tent strate­gic launch deci­sion by the Pres­i­dent hap­pened in 1979, when a NORAD ear­ly warn­ing train­ing tape depict­ing a full-scale Sovi­et strate­gic strike inad­ver­tent­ly coursed through the actu­al ear­ly warn­ing net­work. Nation­al Secu­ri­ty Advis­er Zbig­niew Brzezin­s­ki was called twice in the night and told the U.S. was under attack, and he was just pick­ing up the phone to per­suade Pres­i­dent Carter that a full-scale response need­ed to be autho­rized right away, when a third call told him it was a false alarm."
This new­ly revealed exam­ple brings to mind a crit­i­cal inci­dent of 1995, when the tra­jec­to­ry of a U.S.-Norwegian rock­et car­ry­ing sci­en­tif­ic equip­ment resem­bled the path of a nuclear mis­sile. This elicit­ed Russ­ian con­cerns that quick­ly reached Pres­i­dent Boris Yeltsin, who had to decide whether to launch a nuclear strike.
Blair adds oth­er exam­ples from his own expe­ri­ence. In one case, at the time of the 1967 Mid­dle East war, ​"a car­ri­er nuclear-air­craft crew was sent an actu­al attack order instead of an exercise/​training nuclear order." A few years lat­er, in the ear­ly 1970s, the Strate­gic Air Com­mand in Oma­ha ​"retrans­mit­ted an exer­cise… launch order as an actu­al real-world launch order." In both cas­es code checks had failed; human inter­ven­tion pre­vent­ed the launch. ​"But you get the drift here," Blair adds. ​"It just wasn't that rare for these kinds of sna­fus to occur."
Blair made these com­ments in reac­tion to a report by air­man John Bor­dne that has only recent­ly been cleared by the U.S. Air Force. Bor­dne was serv­ing on the U.S. mil­i­tary base in Oki­nawa in Octo­ber 1962, at the time of the Cuban Mis­sile Cri­sis and a moment of seri­ous ten­sions in Asia as well. The U.S. nuclear alert sys­tem had been raised to DEF­CON 2, one lev­el below DEF­CON 1, when nuclear mis­siles can be launched imme­di­ate­ly. At the peak of the cri­sis, on Octo­ber 28th, a mis­sile crew received autho­riza­tion to launch its nuclear mis­siles, in error. They decid­ed not to, avert­ing like­ly nuclear war and join­ing Petrov and Arkhipov in the pan­theon of men who decid­ed to dis­obey pro­to­col and there­by saved the world.
As Blair observed, such inci­dents are not uncom­mon. One recent expert study found dozens of false alarms every year dur­ing the peri­od reviewed, 1977 to 1983; the study con­clud­ed that the range is 43 to 255 per year. The author of the study, Seth Baum, sum­ma­rizes with appro­pri­ate words: ​"Nuclear war is the black swan we can nev­er see, except in that brief moment when it is killing us. We delay elim­i­nat­ing the risk at our own per­il. Now is the time to address the threat, because now we are still alive."
These reports, like those in Eric Schlosser's book Com­mand and Con­trol, keep most­ly to U.S. sys­tems. The Russ­ian ones are doubt­less much more error-prone. That is not to men­tion the extreme dan­ger posed by the sys­tems of oth­ers, notably Pakistan.
"A war is no longer unthinkable"
Some­times the threat has not been acci­dent, but adven­tur­ism, as in the case of Able Archer. The most extreme case was the Cuban Mis­sile Cri­sis in 1962, when the threat of dis­as­ter was all too real. The way it was han­dled is shock­ing; so is the man­ner in which it is com­mon­ly interpreted.
With this grim record in mind, it is use­ful to look at strate­gic debates and plan­ning. One chill­ing case is the Clin­ton-era 1995 STRAT­COM study ​"Essen­tials of Post-Cold War Deter­rence." The study calls for retain­ing the right of first strike, even against non­nu­clear states. It explains that nuclear weapons are con­stant­ly used, in the sense that they ​"cast a shad­ow over any cri­sis or con­flict." It also urges a ​"nation­al per­sona" of irra­tional­i­ty and vin­dic­tive­ness to intim­i­date the world.
Cur­rent doc­trine is explored in the lead arti­cle in the jour­nal Inter­na­tion­al Secu­ri­ty, one of the most author­i­ta­tive in the domain of strate­gic doc­trine. The authors explain that the Unit­ed States is com­mit­ted to ​"strate­gic pri­ma­cy" — that is, insu­la­tion from retal­ia­to­ry strike. This is the log­ic behind Obama's ​"new tri­ad" (strength­en­ing sub­ma­rine and land-based mis­siles and the bomber force), along with mis­sile defense to counter a retal­ia­to­ry strike. The con­cern raised by the authors is that the U.S. demand for strate­gic pri­ma­cy might induce Chi­na to react by aban­don­ing its ​"no first use" pol­i­cy and by expand­ing its lim­it­ed deter­rent. The authors think that they will not, but the prospect remains uncer­tain. Clear­ly the doc­trine enhances the dan­gers in a tense and con­flict­ed region.
The same is true of NATO expan­sion to the east in vio­la­tion of ver­bal promis­es made to Mikhail Gor­bachev when the USSR was col­laps­ing and he agreed to allow a uni­fied Ger­many to become part of NATO — quite a remark­able con­ces­sion when one thinks about the his­to­ry of the cen­tu­ry. Expan­sion to East Ger­many took place at once. In the fol­low­ing years, NATO expand­ed to Russia's bor­ders; there are now sub­stan­tial threats even to incor­po­rate Ukraine, in Russia's geostrate­gic heart­land. One can imag­ine how the Unit­ed States would react if the War­saw Pact were still alive, most of Latin Amer­i­ca had joined, and now Mex­i­co and Cana­da were apply­ing for membership.
Aside from that, Rus­sia under­stands as well as Chi­na (and U.S. strate­gists, for that mat­ter) that the U.S. mis­sile defense sys­tems near Russia's bor­ders are, in effect, a first-strike weapon, aimed to estab­lish strate­gic pri­ma­cy — immu­ni­ty from retal­i­a­tion. Per­haps their mis­sion is utter­ly unfea­si­ble, as some spe­cial­ists argue. But the tar­gets can nev­er be con­fi­dent of that. And Russia's mil­i­tant reac­tions are quite nat­u­ral­ly inter­pret­ed by NATO as a threat to the West.
One promi­nent British Ukraine schol­ar pos­es what he calls a ​"fate­ful geo­graph­i­cal para­dox": that NATO ​"exists to man­age the risks cre­at­ed by its existence."
The threats are very real right now. For­tu­nate­ly, the shoot­ing down of a Russ­ian plane by a Turk­ish F‑16 in Novem­ber 2015 did not lead to an inter­na­tion­al inci­dent, but it might have, par­tic­u­lar­ly giv­en the cir­cum­stances. The plane was on a bomb­ing mis­sion in Syr­ia. It passed for a mere 17 sec­onds through a fringe of Turk­ish ter­ri­to­ry that pro­trudes into Syr­ia, and evi­dent­ly was head­ing for Syr­ia, where it crashed. Shoot­ing it down appears to have been a need­less­ly reck­less and provoca­tive act, and an act with consequences.
In reac­tion, Rus­sia announced that its bombers will hence­forth be accom­pa­nied by jet fight­ers and that it is deploy­ing sophis­ti­cat­ed anti-air­craft mis­sile sys­tems in Syr­ia. Rus­sia also ordered its mis­sile cruis­er Mosk­va, with its long-range air defense sys­tem, to move clos­er to shore, so that it may be ​"ready to destroy any aer­i­al tar­get pos­ing a poten­tial dan­ger to our air­craft," Defense Min­is­ter Sergei Shoigu announced. All of this sets the stage for con­fronta­tions that could be lethal.
Ten­sions are also con­stant at NATO-Russ­ian bor­ders, includ­ing mil­i­tary maneu­vers on both sides. Short­ly after the Dooms­day Clock was moved omi­nous­ly close to mid­night, the nation­al press report­ed that ​"U.S. mil­i­tary com­bat vehi­cles parad­ed Wednes­day through an Eston­ian city that juts into Rus­sia, a sym­bol­ic act that high­light­ed the stakes for both sides amid the worst ten­sions between the West and Rus­sia since the Cold War." Short­ly before, a Russ­ian war­plane came with­in sec­onds of col­lid­ing with a Dan­ish civil­ian air­lin­er. Both sides are prac­tic­ing rapid mobi­liza­tion and rede­ploy­ment of forces to the Rus­sia-NATO bor­der, and ​"both believe a war is no longer unthinkable."
Prospects for survival
If that is so, both sides are beyond insan­i­ty, since a war might well destroy every­thing. It has been rec­og­nized for decades that a first strike by a major pow­er might destroy the attack­er, even with­out retal­i­a­tion, sim­ply from the effects of nuclear winter.
But that is today's world. And not just today's — that is what we have been liv­ing with for 70 years. The rea­son­ing through­out is remark­able. As we have seen, secu­ri­ty for the pop­u­la­tion is typ­i­cal­ly not a lead­ing con­cern of pol­i­cy­mak­ers. That has been true from the ear­li­est days of the nuclear age, when in the cen­ters of pol­i­cy for­ma­tion there were no efforts — appar­ent­ly not even expressed thoughts — to elim­i­nate the one seri­ous poten­tial threat to the Unit­ed States, as might have been pos­si­ble. And so mat­ters con­tin­ue to the present, in ways just briefly sampled.
That is the world we have been liv­ing in, and live in today. Nuclear weapons pose a con­stant dan­ger of instant destruc­tion, but at least we know in prin­ci­ple how to alle­vi­ate the threat, even to elim­i­nate it, an oblig­a­tion under­tak­en (and dis­re­gard­ed) by the nuclear pow­ers that have signed the Non-Pro­lif­er­a­tion Treaty. The threat of glob­al warm­ing is not instan­ta­neous, though it is dire in the longer term and might esca­late sud­den­ly. That we have the capac­i­ty to deal with it is not entire­ly clear, but there can be no doubt that the longer the delay, the more extreme the calamity.
Prospects for decent long-term sur­vival are not high unless there is a sig­nif­i­cant change of course. A large share of the respon­si­bil­i­ty is in our hands — the oppor­tu­ni­ties as well.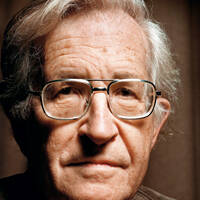 Noam Chom­sky
is Insti­tute Pro­fes­sor and Pro­fes­sor of Lin­guis­tics (Emer­i­tus) at the Mass­a­chu­setts Insti­tute of Tech­nol­o­gy, and the author of dozens of books on U.S. for­eign pol­i­cy. His most recent book is
Who Rules the World?
from Met­ro­pol­i­tan Books.