Red Cross Is Instructing Truckers to Draw Blood and Nurses to Load Trucks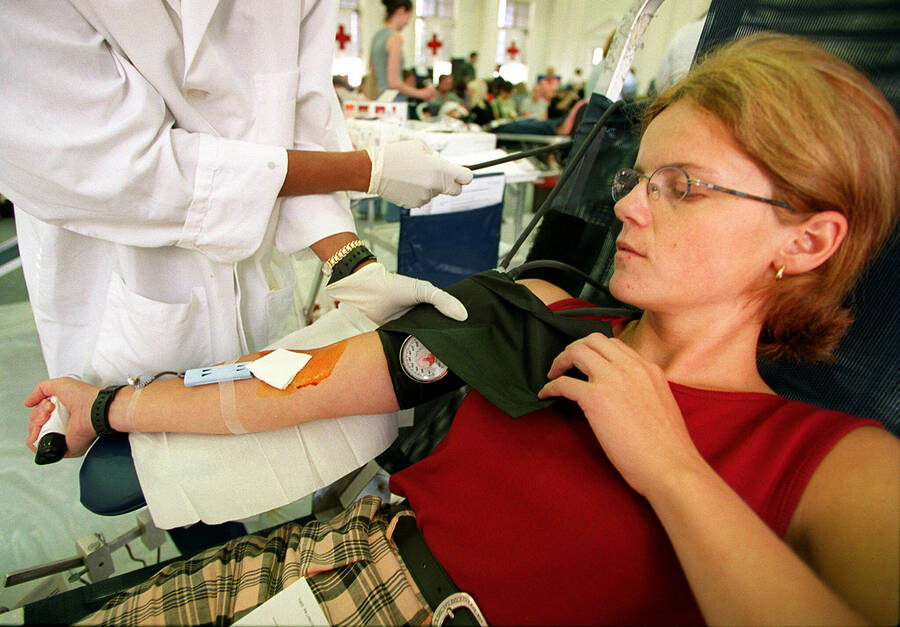 A press release about a labor dis­pute at the Amer­i­can Red Cross (ARC) is chal­leng­ing per­cep­tions of the ven­er­a­ble insti­tu­tion and how it con­ducts its mobile unit blood drives.
Issued in ear­ly Novem­ber by Coun­cil 32 of the Amer­i­can Fed­er­a­tion of State, Coun­ty and Munic­i­pal Employ­ees (AFSCME), the announce­ment states:
In recent months, the Red Cross-Bad­ger Hawk­eye Region began to require nurs­ing staff to load and dri­ve trucks and truck drivers/​loaders to draw donors' blood. Those who refuse risk the loss of their jobs.
AFSCME also notes that the Nation­al Labor Rela­tions Board (NLRB) has ​"found suf­fi­cient grounds" to hear the union's unfair labor prac­tice com­plaint on behalf of mem­bers sub­ject to the com­bined and seem­ing­ly dis­parate job duties.
ARC, the com­plaint asserts, uni­lat­er­al­ly imposed the work scheme while ​"fail­ing and refus­ing to bar­gain col­lec­tive­ly and in good faith," which is a vio­la­tion of the Nation­al Labor Rela­tions Act.
AFSCME Dis­trict Rep­re­sen­ta­tive Neil Rain­ford says a rul­ing on the com­plaint cov­er­ing mem­bers in Wis­con­sin and north­east Iowa could impact thou­sands of work­ers under a sweep­ing 2015 ​"nation­al adden­dum" between ARC and eight major unions with dozens of local affil­i­ates. Some unions have had region­al con­tracts in place for years.
AFSCME was and is will­ing to bar­gain over new clas­si­fi­ca­tions with the right pro­tec­tions, Rain­ford says, but is push­ing back as ARC push­es for­ward with a plan that's ​"bad for donors and bad for staff."
ARC's job post­ing for the hybrid Driver/​Phlebotomist posi­tion has no require­ments beyond a high school diplo­ma, peo­ple skills and the abil­i­ty to dri­ve legal­ly and move heavy objects. Rain­ford says the posi­tion pays less than what cur­rent nurs­ing staff earn — even as it morphs two jobs into one.
Long­time ARC sup­port­er Ruth Brill tells In These Times she is appalled. Since 1971, Brill says, she has giv­en 20 gal­lons of blood and served for six years on ARC's region­al blood ser­vices board of directors.
"I've seen changes from hav­ing a doc­tor at every dri­ve and then nurs­es, and then it went to phle­botomists, and now it's going to truck dri­vers with lit­tle train­ing," Brill says. ​"This is dis­re­spect­ful to donors. We should­n't have to ask or even know to ask for an expe­ri­enced per­son. They should all be qualified."
For all the exas­per­a­tion Brill feels, work­ers inter­viewed for this arti­cle are even more impact­ed. All are skilled, with as many as 30 years on the job. Unless they pre­vail at the NLRB or recast them­selves in ARC's mold, they face obso­les­cence like so many wid­gets wait­ing to be replaced by new­er, cheap­er units. They wor­ry about the risks to them­selves and the public.
Speak­ing on con­di­tion of anonymi­ty, the work­ers quot­ed here are iden­ti­fied by pseu­do­nyms. AFSCME Coun­cil 32 backs up their cen­tral claims and alle­ga­tions, and an AFSCME rep­re­sen­ta­tive has ver­i­fied their observations.
Nurs­ing staff to do truck work
Casey, Chris and Rory work out of dif­fer­ent ARC bases in the region and are mem­bers of the pre­dom­i­nate­ly female AFSCME Local 1205. They are among the nurs­es and phle­botomists whose reg­u­lar duties include direct donor con­tact and care.
They meet and greet, ask dozens of ques­tions and per­form mini phys­i­cals to assess donors' health. They locate, punc­ture and draw blood from a suit­able vein and extract the nee­dle in a way that pre­vents dan­ger­ous spills.
They use com­put­ers that track vital infor­ma­tion and run machines that col­lect life-sav­ing blood. They min­is­ter to ner­vous first-timers and admin­is­ter any after­care that's need­ed in case, for exam­ple, a donor faints.
They do all that and more. They draw the line at load­ing and dri­ving trucks.
Depend­ing on the size of the blood dri­ve, hun­dreds to thou­sands of pounds of equip­ment and sup­plies must be moved. ​"I don't know how they'd do it," Casey says of co-work­ers at her loca­tion. ​"Some of the peo­ple here weigh maybe 120 pounds — lit­tle, tiny gals. I'm 165, and I could­n't do it. Some­body's going to get hurt."
Long-term staff, some in their 50s, have resist­ed, but pres­sure from man­age­ment is mount­ing. ​"Some peo­ple say they are being bul­lied," Casey adds. ​"Nobody wants to lose their jobs, but we're try­ing to stick up for our rights."
At Chris's base, no senior staffer has had to do truck work yet, but the word is out that change is com­ing. Man­age­ment has­n't had much luck in retain­ing new hires for the hybrid posi­tions. ​"They've hired rough­ly 10 peo­ple," Chris says, ​"and only have four left."
Dis­patched to blood dri­ves at schools, are­nas and oth­er venues through­out the region, Local 1205 mem­bers already put in long days. They often arrive ear­ly in the morn­ing, work 8 – 12 hour shifts, and then return home late at night only to start all over again the next day.
Hours are irreg­u­lar and can include work on week­ends and hol­i­days. Adding dri­ver and loader duties could extend work anoth­er two to three hours.
"You can't focus if you're too tired," Chris says. ​"You've got to fol­low pro­ce­dures, and, if not, it can real­ly mess up things. It's happened!"
Chris brands the dou­ble-duty exper­i­ment with new hires as ​"tri­al and error that wast­ed so much time and mon­ey" and has some long-term staff say­ing they'll have to leave too.
"We work too hard to have to deal with donors and put on a good face, and we are not going to accept hav­ing to do all these oth­er things that are not mak­ing any­thing bet­ter," says Chris. ​"It's just mak­ing every­thing worse."
At a third loca­tion, Rory recounts sim­i­lar prob­lems — not the least of which is the train­ing ARC gives new hires for the hybrid jobs. With staff cut­backs in the edu­ca­tion depart­ment and imple­men­ta­tion of a vir­tu­al class­room, Rory says cross-trained work­ers are ​"not equipped with skills or knowl­edge" for the job — and ​"it shows."
Rory is fierce­ly pro­tec­tive of the truck dri­vers, who are most­ly men and most­ly mem­bers of AFSCME Local 1558. Clas­si­fied as Mobile Unit Assis­tants (M.U.A.s), they do the sort­ing, mov­ing, dri­ving, lift­ing and oth­er tasks that enable the nurs­ing staff to pro­vide donor ser­vices that have been cov­ered by a union con­tract for 30 years.
"I love our M.U.A.'s," Rory says, wor­ried about what will hap­pen to the dri­vers. ​"They are being pun­ished for work man­age­ment took from them and gave to us."
Truck­ers to draw blood
Drew, Sean and Mor­gan know well the rig­ors of skilled M.U.A. work. It's hard and phys­i­cal and requires work­ing out­doors in all kinds of weather.
In swel­ter­ing heat, tor­ren­tial rains or frigid temps with ​"black ice" roads, M.U.A.'s, like postal work­ers, are not deterred from their ​"appoint­ed rounds" — and they dri­ve long dis­tances while car­ry­ing expen­sive car­go, pre­cious blood and human beings.
They load, unload and set up sen­si­tive equip­ment, med­ical sup­plies, elec­tri­cal cables, beds for donor care and what­ev­er else is need­ed for the blood dri­ve. Stairs, nar­row door­ways or lack of a load­ing dock require items to be hand car­ried. They pack­age and store blood col­lect­ed at the dri­ve, do paper­work and some­times have to lift a passed-out donor off the floor. It's all in a day's work.
As much as some nurs­ing staff oppose work­ing on trucks, some M.U.A.s oppose draw­ing blood. ​"We don't want to be stick­ing nee­dles in peo­ple's arms," Drew says.
A dri­ver at Drew's base, fear­ful of get­ting laid off, has already crossed over to the hybrid job. ​"He's mis­er­able," Drew says. ​"He just does­n't seem to be engaged in the work. He did­n't want to do it in the first place. I don't think he's real good at it, and he's def­i­nite­ly expos­ing him­self to more errors, but we're so under­staffed that man­age­ment is more tol­er­ant because they can't find replacements."
Drew says that only one in ten new hires stayed on after train­ing, which itself has been lack­ing. ​"Ever since the con­sent decree got lift­ed, Red Cross has gut­ted the edu­ca­tion depart­ment," Drew explains. ​"It was man­dat­ed by the FDA before."
From 1993 through 2015, ARC was under a Food and Drug Admin­is­tra­tion (FDA) con­sent decree that cracked down on vio­la­tions of blood safe­ty laws and reg­u­la­tions. In the mid­dle of the AIDS epi­dem­ic, the FDA found that ARC's prac­tices had exposed the blood sup­ply to threats of con­t­a­m­i­na­tion. Among oth­er require­ments, ARC had to upgrade its qual­i­ty assur­ance pro­gram and train­ing for workers.
In 2001, the FDA pur­sued civ­il con­tempt charges against ARC for con­tin­ued vio­la­tions and warned of the ​"life­time risk of seri­ous dis­ease or death" from ​"viral­ly con­t­a­m­i­nat­ed blood." Media report­ed cas­es of infec­tion and death from trans­fused blood in the U.S. as well as Cana­da where over 3,000 peo­ple have died.
ARC has incurred FDA fines and penal­ties of tens of mil­lions of dol­lars. The Bad­ger Hawk­eye region was among those the FDA cit­ed for a litany of vio­la­tions, includ­ing ​"Inad­e­quate Train­ing and Staffing Levels."
Drew and oth­er work­ers wor­ry that poor train­ing, lack of expe­ri­ence and a big work­load will lead to mis­takes that com­pro­mise blood donors and recip­i­ents. ​"A pint of blood not drawn prop­er­ly can kill peo­ple," Drew says, ​"and in fact it has."
ARC dis­putes that there's any­thing wrong with its prac­tices and says train­ing is adequate.
In an email to In These Times, ARC exter­nal com­mu­ni­ca­tions man­ag­er Lau­ra McGuire says: ​"Employ­ees are pro­vid­ed safe­ty train­ing on how to per­form this work with­out harm. The Red Cross is ded­i­cat­ed to mak­ing every effort to pro­vide safe work­ing con­di­tions for all employees."
McGuire says ARC ​"adheres to all required state and reg­u­la­to­ry train­ing" and that work­ers are required to com­plete ​"reg­u­lat­ed phle­botomist train­ing as well as dri­ver train­ing, among oth­er trainings."
Phle­boto­my train­ing ​"takes approx­i­mate­ly eight to 10 weeks," she says, and ​"Col­lec­tions staff are not allowed to per­form phle­boto­my inde­pen­dent­ly until they have demon­strat­ed com­pe­ten­cy and received approval from their instruc­tor. All Red Cross employ­ees who per­form phle­boto­my receive an annu­al com­pe­ten­cy assessment."
McGuire says ARC has ​"been bar­gain­ing in good faith for the past 18 months." She says, ​"the top pri­or­i­ty of the Red Cross is the safe­ty of our blood donors, employ­ees, vol­un­teers and the patients in need of life­sav­ing blood products."
Some work­ers see it dif­fer­ent­ly. ​"The idea of com­bin­ing blood work and truck work is some­thing ​"I can't wrap my mind around," says Mor­gan. ​"It's two total­ly dif­fer­ent jobs. I can under­stand cross-train­ing, but load­ing a truck with all that equip­ment and then doing nee­dle sticks just blows my mind."
The dri­vers' ​"goofy hours," heavy-duty labor and ​"super long days" are chal­leng­ing enough with­out adding del­i­cate med­ical pro­ce­dures to the mix, Mor­gan says. ​"We have a well-oiled machine that knows every idio­syn­crasy, works hard, and gets grimy and sweaty — and we're sup­posed to do sticks too? I can't fath­om that."
It's not that dri­vers aren't will­ing to take on more. They are. But Sean believes there was a plan in progress over the years as ARC peeled away cler­i­cal duties dri­vers per­formed at blood dri­ves and assigned them to nurs­ing staff.
"They want­ed to elim­i­nate M.U.A.'s," Sean says. ​"They took respon­si­bil­i­ties from us and now view us as a boat anchor."
As work­ers tell it, the real drag on the oper­a­tion is com­ing from deci­sions made far away at ARC's head­quar­ters in Wash­ing­ton, D.C., with­out input from peo­ple like Sean and oth­ers on the front­lines. The result, they say, is a sys­tem that's slow­er, glitch­i­er and riski­er — and at the root of the worst employ­ee morale they've seen in their careers.
"We are will­ing and capa­ble of so much more," Sean says. ​"We've agreed to do more! But I would­n't be sur­prised if, two years from now, we come in and have some­one meet us at the door, say­ing, ​'Give us your ID. You're done.'"
Kathy Wilkes
is an award-win­ning labor writer and edi­tor, and a for­mer union orga­niz­er, co-founder, offi­cer, nego­tia­tor, and com­mu­ni­ca­tions direc­tor. She is based in Madison.