How the NFL Players' Union Can Block the League's New Ban on Protests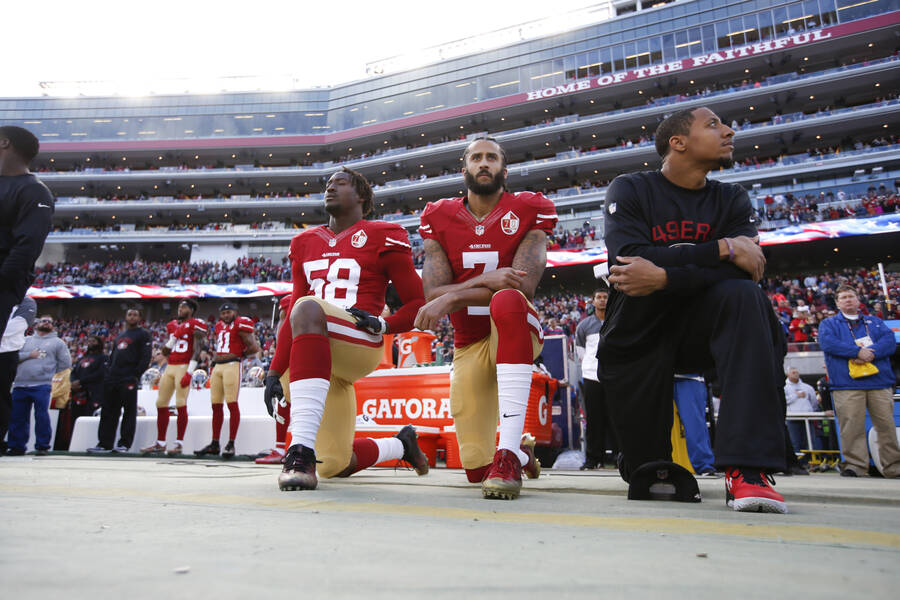 On August 26, 2016, then-San Fran­cis­co 49ers quar­ter­back Col­in Kaeper­nick refused to stand for the Nation­al Anthem, trig­ger­ing a nation­al debate around First Amend­ment rights of speech and issues of racial injus­tice.
The very next day, the Nation­al Foot­ball League (NFL) and the 49ers issued sep­a­rate state­ments about the inci­dent, and NFL Play­ers Asso­ci­a­tion (NFLPA) exec­u­tive direc­tor DeMau­rice Smith did an in-depth inter­view with The Nation​'s sports edi­tor Dave Zirin.
"Play­ers are encour­aged but not required to stand dur­ing the play­ing of the Nation­al Anthem," the NFL said, echo­ing exist­ing pol­i­cy in the NFL game oper­a­tions man­u­al. The 49ers empha­sized that ​"respect­ing such Amer­i­can prin­ci­ples as free­dom of reli­gion and free­dom of expres­sion, we rec­og­nize the right of an indi­vid­ual to choose to par­tic­i­pate, or not, in our cel­e­bra­tion of the nation­al anthem."
Smith's inter­view respons­es gen­er­al­ly sup­port­ed free­dom of expres­sion and unequiv­o­cal­ly backed Kaeper­nick. ​"There is nev­er going to be a day where this union is going to sit back idly and allow any­body to tram­ple our play­ers' rights," he said.
More than a year lat­er, Pres­i­dent Don­ald Trump launched a scathing attack on protest­ing play­ers and demand­ed they be fired. The NFL and the union respond­ed imme­di­ate­ly in the play­ers' defense. Trump con­tin­ued to denounce the protests for weeks and called on foot­ball fans to boy­cott games. Dal­las Cow­boys team own­er Jer­ry Jones threat­ened to bench protest­ing play­ers after con­sult­ing with Trump.
The con­tro­ver­sy spurred the NFLPA's Octo­ber 9 state­ment on play­er's con­sti­tu­tion­al rights. Two days lat­er, the league and the union issued a joint state­ment confirm­ing that there was no change in pol­i­cy around protests. On Octo­ber 17, a much pub­li­cized meet­ing of the NFL and NFLPA result­ed in an agree­ment ​"to review and dis­cuss plans to uti­lize our plat­form to pro­mote equal­i­ty and effec­tu­ate pos­i­tive change." No play­er would be dis­ci­plined for protest­ing dur­ing the Anthem.
Then, last week, NFL own­ers abrupt­ly and uni­lat­er­al­ly imposed a ​"new pol­i­cy" that banned on-field protests and threat­ened teams and play­ers who would vio­late it.
The announce­ment came a day after the release of a shock­ing video show­ing Mil­wau­kee police attack­ing, tas­ing and arrest­ing Ster­ling Brown — a young, unarmed, black, pro­fes­sion­al bas­ket­ball play­er — over a park­ing violation.
Con­trasts in black and white
While the NFL may believe they can shut down free speech on the field, the union puts play­ers in a strong posi­tion to defend their right to protest in the face of racial injus­tice, hos­tile boss­es and Trump.
Kaeper­nick has remained per­sona non gra­ta among team own­ers since becom­ing a free agent in March 2017. Dozens of play­ers and mem­bers of the pub­lic have protest­ed with that in mind as well as the spate of arrests, mal­treat­ment and, in some cas­es, deaths of African Amer­i­cans in the hands of police.
Even as deaths by police increased in 2017, Trump remained large­ly silent on the sub­ject — with one notable excep­tion. Speak­ing before law enforce­ment offi­cers in Suf­folk Coun­ty, NY, he evoked grim mem­o­ries of the 2015 death of Fred­die Gray: ​"When you see these towns and when you see these thugs being thrown into the back of a pad­dy wag­on, you just see ​'em thrown in rough. I said please don't be too nice."
A num­ber of police chiefs around the coun­try quick­ly con­demned his remarks as endors­ing police brutality.
Trump's his­to­ry of racism and, at best, racial insen­si­tiv­i­ty shed light on the ori­gins of his defense of so-called ​"alt right" groups — includ­ing white nation­al­ists and neo-Nazis — respon­si­ble for the vio­lent protest in Char­lottesville, Vir­ginia, that end­ed with one death and mul­ti­ple injuries of inno­cent bystanders. After com­mend­ing ​"some very fine peo­ple" among the alt right, Trump gar­nered praise from var­i­ous lead­ers of the move­ment, includ­ing Richard Spencer.
Yet, when it comes to a pro­fes­sion­al foot­ball league that is 70 per­cent African Amer­i­can, Trump has per­sis­tent­ly con­demned the play­ers' peace­ful and silent protests. He has demand­ed their ter­mi­na­tion and most recent­ly sug­gest­ed that they ​"should­n't be in the coun­try."
Ground­ed in law
Con­sti­tu­tion­al law expert Lau­rence Tribe has observed that Trump ​"appears to have vio­lat­ed or at least attempt­ed to vio­late 18 USC sec 227(a)(2)." The code forms the basis of an ethics com­plaint from an anti-Trump group charg­ing the pres­i­dent with try­ing to ​"influ­ence or threat­en to influ­ence a pri­vate employ­ment decision."
On Thurs­day, NBC Sports and oth­er out­lets report­ed on the tes­ti­mo­ny of Dal­las Cow­boys own­er Jer­ry Jones in Kaeper­nick case. Jones claimed that Trump pressed him on the protest con­tro­ver­sy, telling him: ​"This is a very win­ning, strong issue for me. Tell every­body, you can't win this one. This one lifts me."
Look­ing at the rea­sons for protests as well as the treat­ment of the play­ers, law pro­fes­sor Noah Zatz at the Uni­ver­si­ty of Cal­i­for­nia, Los Ange­les, wrote in Octo­ber, ​"There is a strong argu­ment that bench­ing, suspending…or fir­ing play­ers for ​'tak­ing a knee' would run afoul of Title VII, the fed­er­al law that pro­hibits race dis­crim­i­na­tion in employment."
Mean­while, some legal experts have chal­lenged the play­ers' First Amend­ment rights to protest dur­ing the anthem. Har­vard law pro­fes­sor emer­i­tus Alan Der­showitz was among them, assert­ing on a radio show in October:
The play­ers are enti­tled to kneel if the own­ers allow them to. Now the own­ers could say ​'no' because the play­ers don't have a First Amend­ment right in rela­tion to the own­ers. They only have a First Amend­ment right in rela­tion to the government.
Der­showitz et al, how­ev­er, over­looked two essen­tial facts: Up until last week when the NFL reversed course, the league and the union had repeat­ed­ly affirmed play­ers' First Amend­ment rights, and the per­son who had open­ly tried to sup­press those rights is the Pres­i­dent of the Unit­ed States.
Per­haps the most full-throat­ed legal opin­ion in favor of the play­ers to date comes from Ben­jamin Sachs, pro­fes­sor of labor and indus­try at Har­vard Law School. Writ­ing for Vox, he offered mul­ti­ple rea­sons why, as the head­line states, ​"The NFL's ​'take a knee' ban is flat­ly ille­gal."
Pri­mar­i­ly root­ed in the play­ers' rights as union mem­bers with a col­lec­tive bar­gain­ing agree­ment (CBA) firm­ly in place, Sachs' analy­sis aligns with In These Times' Novem­ber report on the labor laws and con­tract pro­vi­sions that yield­ed the Octo­ber NFL/NFLPA deal pre­serv­ing the sta­tus quo.
The NFL has now vio­lat­ed that deal. Absent a change of heart by the league, the union response could be to resort to the CBA's griev­ance pro­ce­dures, but there is also com­pelling labor law that could bring a com­plaint direct­ly to the Nation­al Labor Rela­tions Board. As Sachs points out:
The clear­est ille­gal­i­ty derives from the fact that the league adopt­ed its new pol­i­cy with­out bar­gain­ing with the play­ers union. When employ­ees, includ­ing foot­ball play­ers, are rep­re­sent­ed by a union, the employ­er — includ­ing a foot­ball league — can't change the terms of employ­ment with­out dis­cussing the change with the union. Doing so is a fla­grant vio­la­tion of the employer's duty to bar­gain in good faith.
Sachs notes that the recent Supreme Court deci­sion in Epic Sys­tems Corp. v. Lewis (judged by many to be a dis­as­ter for work­ing peo­ple) actu­al­ly under­scores the right of union mem­bers to engage in ​"con­cert­ed activ­i­ty," as labor law pro­vides. Where the deci­sion went wrong was in under­min­ing that right for nonunion work­ers con­trary to long­stand­ing appli­ca­tion and under­stand­ing of the law.
Sachs also brings up under­ly­ing legal prin­ci­ples to sup­port First Amend­ment and dis­crim­i­na­tion laws, but the strongest pro­tec­tions he cites arise from a legal and bind­ing union contract.
Pow­er play
The true pow­er of col­lec­tive bar­gain­ing is that, despite dif­fer­ences in rights and oblig­a­tions, both labor and man­age­ment are co-equal par­ties to the con­tract. This was evi­dent as the NFL and NLPA grap­pled with the protest con­tro­ver­sy last fall. Man­age­ment clear­ly under­stood that union work­ers are not ​"at will" employ­ees like their nonunion coun­ter­parts and con­se­quent­ly can't be fired on a whim with­out recourse — like Trump demanded.
Of course, boss­es can try — as they are now, and as they often do when the motive to breach a law or a con­tract is more entic­ing than com­pli­ance. They could argue, for exam­ple, that the con­tract gives them the right to set rea­son­able rules (which it does under Arti­cle 42), but how rea­son­able is a rule that the NFL aban­doned last year after the union intervened?
In mat­ters of dis­ci­pline, the employ­er must show just cause by prov­ing that the work­er breached a pol­i­cy that was rea­son­able, known and con­sis­tent­ly applied, and that dis­ci­pline was rea­son­able and pro­por­tion­al. Now that the NFL is push­ing a new pol­i­cy, the only pos­si­ble point to win would be on the ​"known" rule stan­dard, but every­thing else would like­ly fail. The NFL and team own­ers have advanced a mud­dled pol­i­cy with dubi­ous jus­ti­fi­ca­tions that Jay Willis of GQ frankly char­ac­ter­ized as ​"beyond stu­pid." In short, if a sports com­men­tary can punch holes in it, imag­ine what the union and its lawyers could do.
Even as an unem­ployed free agent, Col­in Kaeper­nick, too, is pro­tect­ed and is pur­su­ing a high-pro­file griev­ance charg­ing the NFL and team own­ers with vio­lat­ing Arti­cle 17, ​"Anti-Col­lu­sion," of the 2011 – 2020 col­lec­tive bar­gain­ing agree­ment. The griev­ance asserts that Kaeper­nick was deprived of employ­ment because of his ​"lead­er­ship and advo­ca­cy for equal­i­ty and social jus­tice and his bring­ing aware­ness to pecu­liar insti­tu­tions still under­min­ing racial equal­i­ty in the Unit­ed States."
The griev­ance notes the teams' ​"unusu­al and bizarre behav­ior" toward Kaeper­nick after Trump repeat­ed­ly pres­sured own­ers to fire pro­test­ers. NFL and team own­ers, the griev­ance charges, ​"retal­i­at­ed against Mr. Kaeper­nick in response to coer­cion and cal­cu­lat­ed coor­di­na­tion from the Exec­u­tive Branch of the Unit­ed States government."
The NFL and the NFLPA will joint­ly select a neu­tral arbi­tra­tor to hear and decide Kaeper­nick­'s griev­ance. If he wins, the arbi­tra­tor could award com­pen­sato­ry dam­ages, non-com­pen­sato­ry dam­ages as much as three times the amount of com­pen­sato­ry dam­ages, and fines of $5 mil­lion on each team found to have pre­vi­ous­ly vio­lat­ed ​"anti-col­lu­sion" rules at least three times.
Imag­ine that lia­bil­i­ty com­pound­ed by each play­er who could be fired as a result of a pol­i­cy born of more col­lu­sion and dis­re­gard of the law. Alter­na­tive­ly, imag­ine play­ers capit­u­lat­ing to the pol­i­cy and the hard feel­ings and low morale that would fol­low. How does either sce­nario serve the game? There is much to lose if the NFL refus­es to set­tle this dis­pute clean­ly, fair­ly and expe­di­tious­ly — and the best shot at that is a mutu­al agree­ment with the NFLPA that not every­one may like but every­one can live with. Such is the nature of col­lec­tive bargaining.
There's no ques­tion that pro­fes­sion­al foot­ball play­ers, like oth­er high-paid celebri­ties, are in a unique posi­tion com­pared to aver­age, worka­day union mem­bers. They are lit­er­al­ly and fig­u­ra­tive­ly in a league of their own. But con­sid­er their alter­na­tives with­out union pro­tec­tion when the exter­nal force exert­ed on them comes from none oth­er than ​"the leader of the free world." It's not hard to see, then, that with a union con­tract in place, it is indeed a whole oth­er ballgame.
Kathy Wilkes
is an award-win­ning labor writer and edi­tor, and a for­mer union orga­niz­er, co-founder, offi­cer, nego­tia­tor, and com­mu­ni­ca­tions direc­tor. She is based in Madison.