American Workers: From Bounty to Bleakness
This Thanksgiving, many American workers won't share in the bounty they helped create.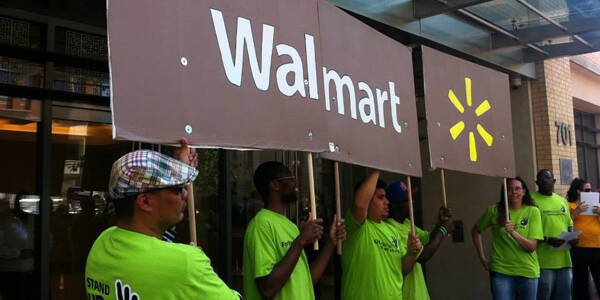 At the first Thanks­giv­ing, there was no expres­sion of the sen­ti­ment: ​"I built this feast by myself." Native Amer­i­cans sat side by side with pil­grims — reli­gious leader by hunts­man, chief by planter. They shared the boun­ty they'd all worked to create.
The six Waltons who own Wal-Mart are the richest family in the world ... Meantime, the Waltons pay such poverty wages that Wal-Mart workers can't afford their own Thanksgiving meals.
This Thanks­giv­ing will be very dif­fer­ent for too many Amer­i­can work­ers. They won't share in the boun­ty they helped cre­ate. The per­fect sym­bol of that is an Ohio Wal-Mart plac­ing bins in an employ­ee-only area ask­ing low-paid work­ers to donate Thanks­giv­ing food to their low-paid colleagues.
The six Wal­tons who own Wal-Mart are the rich­est fam­i­ly in the world. They're worth $102.7 bil­lion, more than America's poor­est 49 mil­lion fam­i­lies put togeth­er. The Wal­tons' turkeys will be served with gold leaf on gold plat­ters. By pri­vate chefs. On very, very pri­vate estates. There won't be any Wal-Mart greeters or cashiers or stock boys sit­ting side by side with Wal­tons at their opu­lent cel­e­bra­tion of boun­ty. Mean­time, the Wal­tons pay such pover­ty wages that Wal-Mart work­ers can't afford their own Thanks­giv­ing meals. The Wal­ton heirs' glut­to­nous, aris­to­crat­ic atti­tude betrays the promise of the New World.
It's not unique to the Wal­tons, although they bear spe­cial respon­si­bil­i­ty as the nation's largest pri­vate sec­tor employ­er, one that made $15.7 bil­lion last year. Oth­er high­ly prof­itable cor­po­ra­tions, par­tic­u­lar­ly fast food restau­rants, also pay pover­ty wages to work­ers while hand­ing to CEOs and stock­hold­ers vir­tu­al­ly all of the ben­e­fits derived from front-line labor.
McDonald's, like Wal-Mart, is so immersed in this patri­cian phi­los­o­phy that it offers its 700,000 U.S. work­ers clue­less advice instead of decent wages. Ear­li­er this year, McDonald's pro­vid­ed work­ers with a bud­get to help them make ends meet on pit­tance pay. McDonald's told them to take a sec­ond job, work 80 hours a week! Even then, the bud­get didn't account for heat­ing bills.
A raise would work much bet­ter for most work­ers. That's exact­ly what McDonald's gave its CEOs last year. It tripled the pay of its new and retir­ing CEOs. The new guy, Jim Skin­ner, now gets $27.7 mil­lion. That'll buy a lot of turkeys.
Now, on the eve of Thanks­giv­ing, McDonald's has offered its work­ers some more advice — includ­ing break­ing their food into small pieces so they'll feel full after eat­ing less. Good advice for work­ers who can't afford a Hap­py Meal, let alone a turkey and trimmings.
Also, McDonald's McRe­source site tells work­ers not to whine about their low wages and emp­ty stom­achs. Don't wor­ry, be hap­py, it warns: ​"Stress hor­mone lev­els rise by 15% after ten min­utes of complaining."
Many McDonald's work­ers are ignor­ing that coun­sel. Like Wal-Mart work­ers, fast food work­ers are tak­ing to the streets in strikes and protests. They want their employ­ers, who are wealthy from the sweat of labor­ers, to share the boun­ty work­ers helped create.
The biggest sin­gle action by Wal-Mart work­ers was last Black Fri­day — that big shop­ping day after Thanks­giv­ing. Since then, Wal-Mart work­ers have tak­en to the streets in increas­ing num­bers across the nation.
Sim­i­lar­ly, fast food work­ers began a wave of strikes last Novem­ber in New York City, and those protests now have spread to 60 cities.
Par­tic­i­pa­tion takes val­or from work­ers who can't make it pay­check to pay­check. They know strik­ing means risk­ing every­thing. Many have suf­fered for demand­ing decent treatment.
Just last week, the Office of Gen­er­al Coun­sel of the Nation­al Labor Rela­tions Board found mer­it to alle­ga­tions that Wal-Mart unlaw­ful­ly sur­veilled, threat­ened, pun­ished or fired work­ers who engaged in legal­ly pro­tect­ed strikes and protests in 14 states. Res­o­lu­tion for these work­ers could take years, however.
The protest­ing work­ers are ask­ing their employ­ers to pay them liv­ing wages. They don't want to depend on tax­pay­er aid.
That's right. Tax­pay­ers prop up the pay­rolls of the fab­u­lous­ly wealthy Wal­ton fam­i­ly and the high­ly prof­itable fast food corporations.
A report issued last month by researchers at Berke­ley and oth­er uni­ver­si­ties, titled ​"Fast Food, Pover­ty Wages: The Pub­lic Cost of Low-Wage Jobs in the Fast-Food Indus­try" cal­cu­lates that the cost to tax­pay­ers in wel­fare pay­ments, food stamps and oth­er pub­lic assis­tance to the fam­i­lies of fast food work­ers is more than $10 bil­lion a year.
The researchers found that fast food work­ers' fam­i­lies are enrolled in pub­lic assis­tance pro­grams at twice the rate of the over­all U.S. workforce.
It's a sim­i­lar sto­ry at Wal-Mart, where 1.4 mil­lion Amer­i­cans work. A study ear­li­er this year by the U.S. House Com­mit­tee on Edu­ca­tion and the Work­force found that one Wal-Mart Super­center can cost tax­pay­ers as much as $1.7 mil­lion a year in pub­lic ben­e­fits for low-paid work­ers. That study is apt­ly titled, ​"The Low-Wage Drag on Our Econ­o­my: Wal-Mart's Low Wages and Their Effect on Tax­pay­ers and Eco­nom­ic Growth."
A Wal-Mart spokesman, Kory Lund­berg, tried to put a pos­i­tive spin on the Thanks­giv­ing food dona­tion bins at the Ohio store. He said the food dri­ve is proof that work­ers care about each oth­er. That is true. It is work­ers sup­port­ing workers.
Then he added: ​"This is part of the company's cul­ture to ral­ly around asso­ciates and take care of them when they face extreme hardships."
That is not true. The Wal­tons aren't deposit­ing turkeys and yams in those bins. Those bins are there because the Wal­tons don't ral­ly around their asso­ciates; the Wal­tons don't care that their work­ers face extreme hard­ships — hard­ships that would be avoid­ed if the Wal­tons paid a liv­ing wage.
Wal-Mart work­ers are plan­ning more protests this week on Black Fri­day, as many as 1,500 across the coun­try. They are ask­ing for your help, and you can find out how by going to this Work­ing Amer­i­ca site. It will be too late to change this year's Thanks­giv­ing for low-paid work­ers. But if you take McDonald's advice to not wor­ry and be hap­py, you can par­tic­i­pate with the belief that your efforts will change next year's Thanks­giv­ing from bleak­ness to some sem­blance of boun­ty for mil­lions of Amer­i­can workers.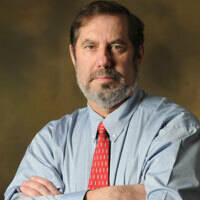 Leo Ger­ard is inter­na­tion­al pres­i­dent of the Unit­ed Steel­work­ers Union, part of the AFL-CIO. The son of a union min­er; Ger­ard start­ed work­ing at a nick­el smelter in Sud­bury, Ontario, at age
18
, and rose through the union's ranks to be appoint­ed the sev­enth inter­na­tion­al pres­i­dent Feb.
28
,
2001
. For more infor­ma­tion about Ger­ard, vis­it
usw​.org
.