Amherst College Students Are Occupying Their Library Right Now Over Racial Justice Demands
The students join what appears to be a growing wave of student activism around racism at universities around the country.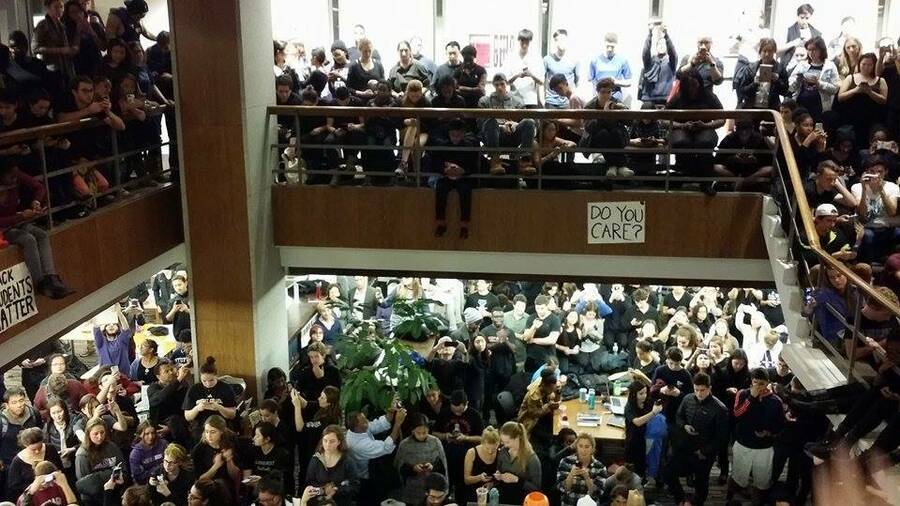 Stu­dent activists at Amherst Col­lege, a small lib­er­al arts insti­tu­tion in West­ern Mass­a­chu­setts, are the lat­est to join stu­dents of col­or protest­ing racial injus­tice in schools across the country.
"[We're] really trying to incorporate teachings about racism into our curriculum. Not just on our campus, but in our history."
The nation­al move­ment began at the Uni­ver­si­ty of Mis­souri, where a hunger strike from Jonathan But­ler, a black grad­u­ate stu­dent, was sup­port­ed by strik­ing foot­ball play­ers, forc­ing the school's pres­i­dent to resign on Novem­ber 9 over what the activists say was his unwill­ing­ness to address numer­ous racial inci­dents that occurred under his watch. At Yale Uni­ver­si­ty, a series of emails on offen­sive Hal­loween cos­tumes and the over-sen­si­tiv­i­ty of stu­dents blos­somed into mass protests about racism on campus.
At Amherst Col­lege, what began as a sit-in in the school's Frost Library on Thurs­day in sol­i­dar­i­ty with stu­dent activism at Mis­souri, Yale, Itha­ca Col­lege and sim­i­lar insti­tu­tions then devel­oped into a protest of racism at Amherst itself, and even­tu­al­ly evolved into a move­ment call­ing itself Amherst Upris­ing. (Full dis­clo­sure: I am active­ly involved in AC Voice, a pub­li­ca­tion on Amher­st's cam­pus, and Amherst Unit­ed Left, both of which have tak­en for­mal stands in sup­port of the protests.) Col­lege pres­i­dent Bid­dy Mar­tin had pre­vi­ous­ly been en route to Japan when she learned of the protest and flew back from Wash­ing­ton, D.C. to arrive at around 9:30 PM.
Upon her arrival at the tense, packed library — some esti­mate that as many as three-quar­ters of the cam­pus was present at this time, some 1,200 stu­dents — Mar­tin was pre­sent­ed with a list of eleven demands, detailed here. Many of the demands were for apolo­gies from var­i­ous admin­is­tra­tive offi­cials, excus­es from class­es for stu­dents par­tic­i­pat­ing in the protest and promis­es that the job secu­ri­ty of fac­ul­ty, staff, and admin­is­tra­tors sup­port­ing the demands would not be threat­ened. How­ev­er, stu­dent activists also not­ed that these demands were mere­ly the pre­cur­sor to a list of short- and long-term requests that would be forthcoming.
Fol­low­ing the pre­sen­ta­tion of the demands, the orga­niz­ers announced to thun­der­ous applause that, until a gen­uine response to the demands was ini­ti­at­ed, Amherst Upris­ing would con­tin­ue to occu­py Frost Library, where stu­dents still remain.
Despite this esca­la­tion, the pro­tes­tors have over­all stressed a strat­e­gy of coop­er­a­tion with the admin­is­tra­tion. Stu­dents don't feel that Pres­i­dent Mar­tin has done any­thing wrong; rather, she has over­seen a col­lege that has not done enough for stu­dents. Amherst Sopho­more Iris­delia Gar­cia said that stu­dents of col­or need ​"Bet­ter sup­port spaces. The coun­sel­ing cen­ter is not enough. The coun­sel­ing center's per­for­mance has not been accept­able, in my opinion."
Gar­cia went on to rec­om­mend two more long-term goals. ​"Real­ly try­ing to incor­po­rate teach­ings about racism into our cur­ricu­lum. Not just on our cam­pus, but in our his­to­ry." Gar­cia says doesn't feel that the nar­ra­tives of peo­ple of col­or are taught in class­es like his­to­ry and Amer­i­can Stud­ies. Last­ly, Amherst needs ​"spaces where stu­dents can have uncom­fort­able but healthy dia­logue about these things."
Oth­er long-term goals pro­posed in the ear­ly hours of the sit-in, where an open mic facil­i­tat­ed dis­cus­sion between stu­dents, includ­ed the hir­ing of more fac­ul­ty of col­or and sup­port for these fac­ul­ty mem­bers. Activists say many fac­ul­ty mem­bers and staff of col­or have left Amherst in recent months.
The pro­test­ers' com­mit­ment to what they call ​"rad­i­cal com­pas­sion" has led to the movement's will­ing­ness to work with the admin­is­tra­tion. Pro­test­ers say they are pri­or­i­tiz­ing inclu­siv­i­ty and equal­i­ty. In a state­ment, orga­niz­er Car­o­line Rose explained that ​"The ulti­mate goal of our move­ment is to cre­ate a free, safe and equal space where all stu­dents, mar­gin­al­ized or not, can feel at home. … Our cre­ation of safe spaces, of com­mu­ni­ca­tion, allows us to speak our truths, under­stand one anoth­er and does no small bit of anti-racist work."
Orga­niz­ers say they hope not just to encour­age engage­ment with issues of race, gen­der, sex­u­al­i­ty and oth­er facets of iden­ti­ty, but also to spread under­stand­ing of the pain inher­ent to being a mem­ber of a mar­gin­al­ized group in a soci­ety of sys­temic oppres­sion. This under­stand­ing, they say, will pro­voke real change and allow all stu­dents to feel safe on cam­pus. In the spir­it of rad­i­cal com­pas­sion, Gar­cia describes Amherst Upris­ing as ​"full of anger but not aggression."
The occu­pa­tion of the library has con­tin­ued to today, and orga­niz­ers recent­ly announced that it would extend at least until this evening. Cam­pus police pro­vid­ed pro­tes­tors pro­tec­tion overnight and have not indi­cat­ed they plan to remove stu­dents from the library. The occu­pa­tion has gen­er­al­ly been char­ac­ter­ized by a jovial atmos­phere, includ­ing per­for­mances from var­i­ous musi­cal groups. Sleep­ing bags for those remain­ing overnight were pro­vid­ed by the Out­ing Club, an out­doors orga­ni­za­tion on cam­pus. Sym­pa­thet­ic fac­ul­ty and depart­ments have also pro­vid­ed food for the stu­dent activists.
Since the start of the sit-in on Thurs­day, the num­ber of stu­dents present has fluc­tu­at­ed, with any­where between 400 – 600 dur­ing the day and around 100 at night. The major­i­ty of those present are stu­dents of col­or, as are most of Amherst Uprising's orga­niz­ers. Stu­dents have orga­nized crews to pick up trash and keep the area clean. The buzz of con­ver­sa­tion in the library can be heard at all times on the first floor, and the Cen­ter for Human­is­tic Inquiry on the library's sec­ond floor has been con­vert­ed into an orga­niz­ing space.
Numer­ous stu­dents have described the occu­pied library as a com­mu­ni­ty, embrac­ing inclu­siv­i­ty and chal­leng­ing pre­con­ceived notions of race and racism. Gar­cia not­ed that ​"You saw stu­dents pop­ping into Frost to check out a book and then being wel­comed … into this com­mu­ni­ty of teach­ing and edu­ca­tion." Stu­dents have spo­ken out about their expe­ri­ences with racism on cam­pus through open mics and infor­mal discussions.
By Fri­day morn­ing, the protests had gar­nered the atten­tion of local and nation­al media. Both the Dai­ly Beast and the Wash­ing­ton Post ran neg­a­tive pieces about the upris­ing. Like many cam­pus move­ments in recent days, Amherst's was crit­i­cized as oppos­ing free speech and aca­d­e­m­ic free­dom, with the Dai­ly Beast​'s head­line read­ing ​"Amherst Stu­dents Protest ​'Free Speech,' Demand ​'Train­ing' for Offenders."
But stu­dents say they aren't inter­est­ed in sti­fling free speech — rather, they want to expand it to mar­gin­al­ized groups who have been denied such free­dom in the past.
Amherst Upris­ing media rep­re­sen­ta­tive Andrew Lind­say allud­ed to this in his own expla­na­tion of rad­i­cal com­pas­sion. ​"What our move­ment stands for is the cre­ation of equal spaces for indi­vid­u­als that didn't nec­es­sar­i­ly have them in times past. We want to be able to cre­ate spaces where mar­gin­al­ized stu­dents and non-mar­gin­al­ized stu­dents will be able to speak togeth­er on the same terms," he says. ​"That's pret­ty rad­i­cal to me."
Marc Daalder
is a jour­nal­ist based in Detroit, Michi­gan and Welling­ton, NZ who writes on pol­i­tics, pub­lic hous­ing, and inter­na­tion­al rela­tions. Twit­ter: @marcdaalder.