The Left Victories That Defined 2018—And Give Us Hope for the New Year
Despite Trump's destructive presidency, the Left made important strides this year—from electoral victories to strikes, union campaigns, movement organizing and popularizing left-wing policies.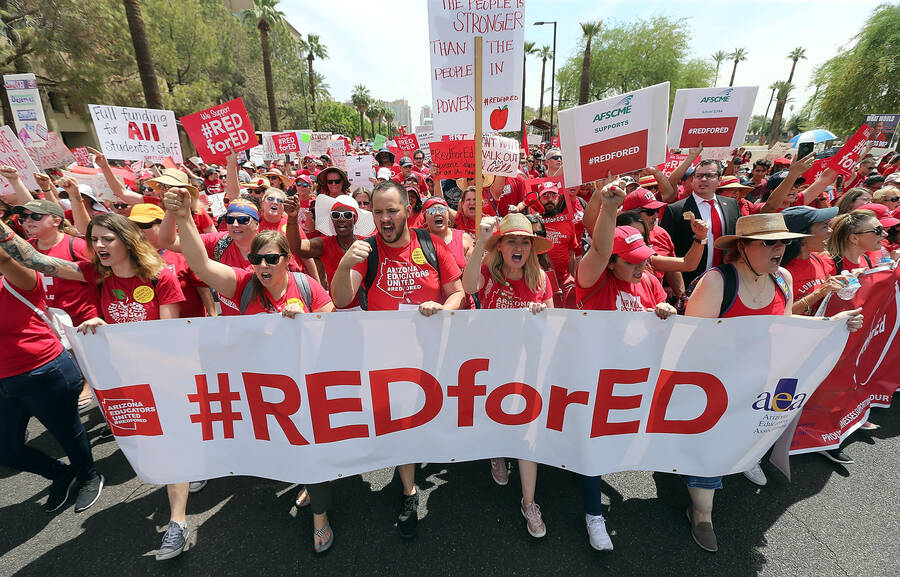 In many ways, 2018 was a polit­i­cal garbage fire of a year. From the con­fir­ma­tion of con­ser­v­a­tive jus­tice Brett Kavanaugh to the Supreme Court to the impo­si­tion of fas­cist bor­der poli­cies to Pres­i­dent Trump's con­tin­ued attacks on every­thing from work­ers' rights to the very plan­et itself, the year saw plen­ty of rea­sons for dismay.
The year saw more vile disregard for human dignity from the Trump administration, but it was also marked by fierce and effective resistance to every aspect of the Trump agenda.
But it wasn't all bad. There were a num­ber of impor­tant vic­to­ries over the course of 2018 that are worth cel­e­brat­ing and remem­ber­ing. Left-wing activism today shouldn't just be about oppo­si­tion to the Trump admin­is­tra­tion but must also focus on mov­ing the coun­try in a pro­gres­sive direc­tion and build­ing a long-term move­ment capa­ble of achiev­ing last­ing change.
In that spir­it, here are 10 big wins the left achieved in the Unit­ed States in 2018:
Pro­gres­sive Pri­ma­ry Wave
As vot­ers went to the polls for pri­maries between March and Sep­tem­ber, a num­ber of pro­gres­sive chal­lengers won stun­ning upsets. Chief among these was Alexan­dria Oca­sio-Cortez, the then-28-year-old open demo­c­ra­t­ic social­ist who unseat­ed pow­er­ful House Demo­c­rat Joe Crow­ley in New York's 14th con­gres­sion­al dis­trict. Wis­con­sin iron­work­er Randy Bryce won his pri­ma­ry with the aim of tack­ling Paul Ryan in the gen­er­al elec­tion. Although Ryan ulti­mate­ly decid­ed not to run for reelec­tion and Bryce lost to the Republican's suc­ces­sor, the pri­ma­ry vic­to­ry still put pro­gres­sive Wis­con­sin pol­i­tics back on the map. Oth­er note­wor­thy left pri­ma­ry wins were Ilhan Omar in Min­neso­ta, Rashi­da Tlaib in Michi­gan Ayan­na Pres­se­ly in Mass­a­chu­setts, Stacey Abrams in Geor­gia and Andrew Gillum in Flori­da. Over­all, the pri­ma­ry sea­son showed that the Demo­c­ra­t­ic Party's left flank is ascen­dant.
Medicare for All and a Green New Deal Gain Over­whelm­ing Support
An August poll found that a full 70 per­cent of Amer­i­cans, includ­ing 52 per­cent of Repub­li­cans, back Medicare for All—the high­est lev­el of pub­lic sup­port ever record­ed. The sin­gle-pay­er plan, which was con­sid­ered pie-in-the-sky by lib­er­al com­men­ta­tors when pushed by Sen. Bernie Sanders dur­ing the 2016 pres­i­den­tial pri­maries, now has sup­port from 124 House mem­bers and 16 sen­a­tors, includ­ing most high-pro­file like­ly 2020 pres­i­den­tial con­tenders. Health­care was also the top con­cern for vot­ers in the 2018 midterms, mak­ing Medicare for All the obvi­ous pol­i­cy choice for Democ­rats who want to win on the issue of healthcare.
And it wasn't just uni­ver­sal health­care. Anoth­er bold and trans­for­ma­tive pol­i­cy also gained enor­mous sup­port this year: The Green New Deal. The plan, pushed by Oca­sio-Cortez and oth­ers, would move the Unit­ed States to 100 per­cent renew­able ener­gy through a tran­si­tion away from fos­sil fuels, infra­struc­ture improve­ments, a mas­sive pub­lic jobs pro­grams and oth­er major pol­i­cy changes. A poll from Data for Progress in Sep­tem­ber put sup­port for a Green New Deal at 55 per­cent, but a more recent sur­vey showed the pro­pos­al with 81 per­cent behind it, includ­ing strong bipar­ti­san back­ing. And 35 mem­bers of Con­gress have now come out in sup­port of the plan.
Tak­ing Back the House
On Novem­ber 6, Democ­rats took back the House of Rep­re­sen­ta­tives in stun­ning fash­ion, end­ing two long years of one-par­ty rule in Wash­ing­ton. Democ­rats won by the largest mar­gin in U.S. midterm his­to­ry—smash­ing the 1974 ​"Water­gate midterm" record by 100,000 votes. With a House major­i­ty, Democ­rats are poised to do more to keep the Trump admin­is­tra­tion in check while halt­ing Trump's leg­isla­tive endeav­ors. Pro­gres­sives, mean­while, can intro­duce their own leg­is­la­tion — from Medicare for All to free col­lege and a Green New Deal — and push mod­er­ate Democ­rats left on health­care, labor, for­eign pol­i­cy and more.
Youth Activism
Although it was pro­voked by the trag­ic school shoot­ing in Park­land, Fla., the March for Our Lives kicked off a new wave of stu­dent activism. Gun con­trol — at the core of this move­ment — is a worth­while goal, but its impact reach­es even beyond this sin­gle issue, as 2018 saw youth polit­i­cal involve­ment surge. A record 31 per­cent of youth turned out to vote in the Novem­ber midterms, Teen Vogue reports. The pri­or record for youth vote dur­ing a midterm elec­tion was just 21 per­cent in 1986. Young peo­ple are also attend­ing more demon­stra­tions and protests. Near­ly 20 per­cent of Amer­i­cans say they have attend­ed a protest since 2016 and there were more demon­stra­tions in March (when the March for Our Lives took place), April and June than in any oth­er month since Trump's inau­gu­ra­tion. While these gains may not all be direct­ly con­nect­ed to the March for Our Lives, it's clear that the move­ment has inspired Amer­i­cans of all ages and back­grounds to increase their polit­i­cal involvement.
Red-state Teach­ers' Strikes
While stu­dents walked out of their class­rooms across the coun­try to protest the scourge of gun vio­lence, teach­ers were prepar­ing their own dis­rup­tion. A 13-day strike by West Vir­ginia teach­ers, which won a 5 per­cent pay increase, launched a cas­cade of actions around the nation. Teach­ers walked off the job statewide in Okla­homa—where a 1990s-era bal­lot mea­sure makes rais­ing tax­es pro­hib­i­tive­ly dif­fi­cult, and where near­ly 20 per­cent of schools are only open four days a week. Anoth­er statewide teacher strike fol­lowed in Ari­zona in April. Col­orado, Ken­tucky and North Car­oli­na also saw strikes in numer­ous coun­ties, and Los Ange­les teach­ers end­ed the year with a march of 50,000 peo­ple ahead of a city­wide strike set to begin Jan­u­ary 10. Look for the wave to keep spread­ing in 2019.
Grad­u­ate Stu­dent Union Organizing
A new labor front has opened in the field of high­er edu­ca­tion—the rights of grad­u­ate stu­dent work­ers. Stu­dent work­ers at pri­vate and pub­lic uni­ver­si­ties alike have cham­pi­oned the cause of grad­u­ate stu­dent unions in 2018. Grad stu­dents at Colum­bia Uni­ver­si­ty, Ford­ham Uni­ver­si­ty, Bran­deis Uni­ver­si­ty, Loy­ola Uni­ver­si­ty Chica­go, George­town Uni­ver­si­ty and Brown Uni­ver­si­ty have all seen major gains this year, from union recog­ni­tion to con­tract nego­ti­a­tions to suc­cess­ful strike actions. These vic­to­ries have come in the face of the Trump NLRB's attacks on grad work­ers' rights.
Stop­ping Key­stone XL
One of the top left-wing vic­to­ries of 2015, the halt­ing of the Key­stone XL Pipeline, saw a redux in 2018. After Pres­i­dent Oba­ma halt­ed the pipeline in 2015 (and, lat­er, the Dako­ta Access Pipeline), Trump signed exec­u­tive orders start­ing the process back up again in 2017. DAPL became oper­a­tional lat­er that year and already leaked five times in 2017, accord­ing to the Inter­cept. Mean­while, Key­stone XL has been mired in legal trou­bles — includ­ing, most con­se­quen­tial­ly, a fed­er­al court order in Novem­ber of this year that blocked any fur­ther work on the pipeline until the Trump admin­is­tra­tion under­takes a seri­ous review of its cli­mate impact. The rul­ing came after years of care­ful­ly-coor­di­nat­ed activism from a coali­tion of envi­ron­men­tal and indige­nous rights groups.
Back­lash to Yemen War
The Octo­ber killing of jour­nal­ist Jamal Khashog­gi by Sau­di Ara­bi­an agents in the kingdom's con­sulate in Istan­bul was a tragedy the made head­lines across the globe. And while the Trump admin­is­tra­tion offered a non­cha­lant response to the mur­der, the U.S. president's refusal to take mean­ing­ful action pro­voked a bipar­ti­san back­lash against U.S. pol­i­cy towards Sau­di Ara­bia. This helped lead to a his­toric Sen­ate rebuke of the Sau­di-led and U.S.-funded war in Yemen, which has claimed thou­sands of lives and led the coun­try to the brink of cat­a­stroph­ic famine. Although the House didn't fol­low suit, a new Demo­c­rat-led House could well do so in 2019.
Drain­ing Trump's Swamp
Being a mem­ber of the Trump admin­is­tra­tion has nev­er come with much job secu­ri­ty, and in 2018, even more cor­rupt offi­cials were forced out of the White House by pop­u­lar pres­sure. EPA head Scott Pruitt was made to resign in July after his bizarre scan­dals threat­ened to sink the administration's vin­dic­tive envi­ron­men­tal agen­da. Like­wise, the ousters of oil mogul-turned-Sec­re­tary of State Rex Tiller­son in March and Inte­ri­or Sec­re­tary Ryan Zinke in Decem­ber are worth cel­e­brat­ing. While the Novem­ber fir­ing of Attor­ney Gen­er­al Jeff Ses­sions threat­ened the integri­ty of the inves­ti­ga­tion into Trump's Russ­ian con­nec­tions, it also meant there would be one less racist in the Depart­ment of Jus­tice. Activists worked tire­less­ly this year to repeat­ed­ly draw atten­tion to the cor­rup­tion of major Trump offi­cials, and their work paid off.
Rad­i­cal­iz­ing Sil­i­con Valley
The many abus­es of Sil­i­con Val­ley com­pa­nies — from the mis­han­dling of pri­vate data by Face­book to anti-union­iza­tion dri­ves and harsh con­di­tions in Tes­la fac­to­ries — made head­lines in 2018. Under­neath the front­pages, how­ev­er, is a dif­fer­ent sto­ry: that employ­ees are fight­ing back. This year saw a new form of labor move­ment come to the fore in the tech indus­try, as Google employ­ees wrote an open let­ter not in protest of work con­di­tions but to demand that their com­pa­ny not coop­er­ate with either Chi­nese cen­sor­ship or the Pen­ta­gon. Like­wise, Microsoft employ­ees agi­tat­ed against the corporation's con­tract with ICE and Ama­zon work­ers called on Jeff Bezos to stop sup­ply­ing facial recog­ni­tion tech­nol­o­gy to law enforce­ment. Big tech has enor­mous poten­tial — and with that poten­tial comes a respon­si­bil­i­ty that many Sil­i­con Val­ley work­ers appear eager to uphold.
All in all, 2018 was a mixed bag. The year saw more vile dis­re­gard for human dig­ni­ty from the Trump admin­is­tra­tion, but it was also marked by fierce and effec­tive resis­tance to every aspect of the Trump agen­da. Let's take that fight­ing spir­it into 2019 to secure even more vic­to­ries for mar­gin­al­ized peo­ple, work­ers and the environment.
Marc Daalder
is a jour­nal­ist based in Detroit, Michi­gan and Welling­ton, NZ who writes on pol­i­tics, pub­lic hous­ing, and inter­na­tion­al rela­tions. Twit­ter: @marcdaalder.