Why Every Democrat In Congress Should Support Bernie Sanders' $15 Minimum Wage Bill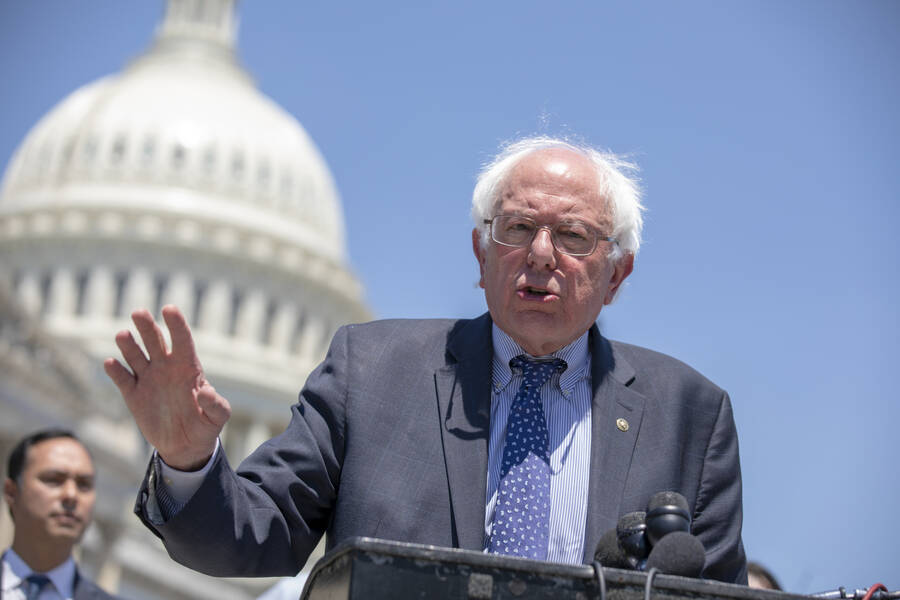 Brit­tany Williamson is 24 and lives in Detroit, the poor­est big city in the Unit­ed States. Over the past three years, she has worked two — and some­times three — jobs just to make ends meet, shuf­fling between Detroit-area McDonald's fran­chis­es. That's why, Williamson told the Detroit Free Press, she turned out to a Fight for 15 protest in Octo­ber and was arrest­ed for block­ing Wood­ward Avenue, one of the city's main thoroughfares.
Williamson isn't alone. Mil­lions of peo­ple earn the min­i­mum wage in their respec­tive states — includ­ing 1.8 mil­lion who are paid at or below the fed­er­al min­i­mum of $7.25 — and thou­sands have turned out to protest their insuf­fi­cient pay. Final­ly, that sit­u­a­tion could be about to change.
On Fri­day, Sen. Bernie Sanders (I‑Vt.) announced that when the new Con­gress con­venes in Jan­u­ary, he will rein­tro­duce his bill to raise the fed­er­al min­i­mum wage to $15 an hour. The cur­rent ver­sion of the leg­is­la­tion would grad­u­al­ly increase the min­i­mum wage, until it reach­es $15 an hour in 2024. While the bill almost cer­tain­ly won't make it past the Repub­li­can-con­trolled Sen­ate, it sig­nals the sort of dif­fer­ence pro­gres­sives can make if they seize pow­er in 2020.
Although right-wing crit­ics of rais­ing the fed­er­al min­i­mum wage often point to the Bureau of Labor Sta­tis­tics (BLS) fig­ure quot­ed above — 1.8 mil­lion — as evi­dence that only around 4 per­cent of work­ers will be helped by a wage hike, this is mis­lead­ing. The BLS sta­tis­tic doesn't take into account the peo­ple in states with a min­i­mum wage above the fed­er­al stan­dard. These res­i­dents of 29 states and Wash­ing­ton, D.C., rep­re­sent more than half the country's pop­u­la­tion and are left out of the 1.8 mil­lion figure.
More­over, a vast num­ber of peo­ple work for less than $15 an hour, even if they earn above min­i­mum wage. Accord­ing to Cen­sus Bureau data, 40.2 mil­lion hourly work­ers earned at or below $14.63 an hour in 2017. In 2016, accord­ing to the Pew Research Cen­ter, 20.6 mil­lion peo­ple earned less than $10.10 an hour but above min­i­mum wage in their state. All of these work­ers would ben­e­fit from the wage bump Sanders' bill would provide.
The bill would great­ly ben­e­fit black and brown com­mu­ni­ties, as min­i­mum wage work­ers are dis­pro­por­tion­ate­ly peo­ple of col­or. These work­ers also tend to be paid less, on aver­age. The medi­an wage for black hourly work­ers is $12.90 and the medi­an for Lati­no work­ers is $13.16, while the medi­an for white work­ers is $14.89.
Women and peo­ple with low­er lev­els of edu­ca­tion will also dis­pro­por­tion­ate­ly ben­e­fit. Accord­ing to Pew, the ​"near min­i­mum wage" work­ers who earn above their local min­i­mum but below $10.10 are most­ly women and 93 per­cent have no bachelor's degree. Also, con­trary to pop­u­lar sen­ti­ment, these low-wage work­ers aren't all teenagers on sum­mer jobs — a major­i­ty are over 30 years old.
But Sanders' bill goes beyond bump­ing the min­i­mum wage. While a flat increase would no doubt make a huge dif­fer­ence, the pro­posed leg­is­la­tion also seeks to ensure future Con­gres­sion­al action isn't need­ed on the min­i­mum wage. After reach­ing $15, the min­i­mum wage would increase as wages around the coun­try grow, ensur­ing that hourly work­ers aren't left behind.
Pre­vi­ous min­i­mum wage bills haven't includ­ed such auto­mat­ic increas­es. Accord­ing to Pew, if the amount min­i­mum wage work­ers were paid had kept up with the val­ue they pro­duce from the peak in 1968 of (in 2016 dol­lars) $8.68, in 2017 it would have sat at $19.33. Index­ing the min­i­mum wage to oth­er wage growth would allow work­ers to ben­e­fit as costs con­tin­ue to rise.
Sanders' bill also elim­i­nates a com­mon loop­hole that allows employ­ers to pay some work­ers a pit­tance. Cur­rent min­i­mum wage law man­dates a min­i­mum pay of $7.25 for hourly work­ers — unless those work­ers receive tips. Tipped work­ers can receive as lit­tle as $2.13 an hour, so long as they receive $30 each month in tips. Since a plu­ral­i­ty of low-wage work­ers (18 per­cent of Pew's ​"near min­i­mum wage" work­ers) are con­cen­trat­ed in the food ser­vice indus­try, where tips are com­mon, this loop­hole is com­mon­ly exploited.
Even worse, dis­abled work­ers can be paid $1 or less an hour, if employ­ers deem they can't do their job as well as work­ers who are not dis­abled. Sanders' pro­posed leg­is­la­tion would grad­u­al­ly elim­i­nate both loop­holes, as well as scrap the ​"youth min­i­mum wage," which allows employ­ers to pay less to new hires under 20 years of age for their first 90 days on the job.
The new bill isn't flaw­less. In many parts of the coun­try, $15 an hour isn't enough. In fact, accord­ing to the Nation­al Low-Income Hous­ing Coali­tion, $15 hourly is enough to afford a two-bed­room rental in only six states and Puer­to Rico. In an addi­tion­al 27 states, between $15 and $20 is need­ed, while more than $20 an hour is need­ed in the remain­ing 17 states and Wash­ing­ton D.C.
How­ev­er, these are issues that any fed­er­al-lev­el bill would have dif­fi­cul­ty address­ing, since each state faces their own chal­lenges when it comes to wages.
This leg­is­la­tion could help anchor a pro­gres­sive agen­da plat­form for the new class of left-lean­ing Democ­rats in Con­gress. Rais­ing the min­i­mum wage is a con­sis­tent­ly pop­u­lar idea: In 2016, Pew found 58 per­cent of peo­ple sup­port­ed a $15 wage, while Quin­nip­i­ac found 54 per­cent sup­port in 2017.
It's also a pol­i­cy that vot­ers are famil­iar with. See­ing Democ­rats get on board with a min­i­mum wage bump would show that they stand on the side of work­ing peo­ple, draw­ing a clear line in the sand with Trump and mem­bers of the GOP who would rather get rid of the fed­er­al min­i­mum wage altogether.
Every mem­ber of Con­gress should be forced to vote on whether they will pass a bill help­ing tens of mil­lions of peo­ple bet­ter afford hous­ing, food and health­care. Sanders' bill would do just that.
Marc Daalder
is a jour­nal­ist based in Detroit, Michi­gan and Welling­ton, NZ who writes on pol­i­tics, pub­lic hous­ing, and inter­na­tion­al rela­tions. Twit­ter: @marcdaalder.