A Farm Organizer Visits Fish Country: An Alaska Journal, Part I
With record runs of shin­ing, sil­ver-flanked salmon, Alas­ka rep­re­sents the last great food com­mons in the Unit­ed States. This ​"sus­tain­able fish­ery" surges in year­ly runs, when mil­lions of strong, red-fleshed fish race upriv­er to spawn in clean water, under the reflec­tion of end­less toothy rows of white-capped moun­tains. For years I've been aching to go to Alaska.
The invi­ta­tion came last spring, from the Alas­ka Marine Con­ser­va­tion Coun­cil and the Alas­ka Food Pol­i­cy Coun­cil. They'd seen me speak at the BALLE (Busi­ness Alliance for Local Liv­ing Economies) con­fer­ence about my work sup­port­ing cul­tur­al infra­struc­ture for young farm­ers in the low­er 48, and want­ed me to come speak with the young fish­er­man — the next gen­er­a­tion of marine stewards.
I've spent the last 10 years hip deep in the young farm­ers move­ment, with the mis­sion to ​"sup­port, pro­mote and recruit" the incom­ing gen­er­a­tion of organ­ic agrar­i­ans. I'm a cir­cuit rid­er, orga­niz­er, grass-roots doc­u­men­tar­i­an and over­all cel­e­brant of the young farm­ers move­ment; direc­tor of Green­horns, an 8‑year-old grass­roots orga­ni­za­tion; found­ing board mem­ber of Farm Hack, an appro­pri­ate tech plat­form; and co-founder of the Nation­al Young Farm­ers Coali­tion.
Pri­or to my Alaskan adven­ture, I was up in north­ern­most Maine — a part of the low­er 48 that feels almost as remote as Alas­ka — film­ing an upcom­ing episode of Our Land, the Green­horns' new film series. We were vis­it­ing the fam­i­ly home and veg­etable-freez­ing facil­i­ty of Mara­da Cook and her sis­ter Leah, aka North­ern Girl. Their fam­i­ly has been ship­ping food out of and around Maine for the past decade with their com­pa­ny Crown of Maine Organ­ic Coop, and have just begun their adven­ture in ​"val­ued added" root vegetables.
As I left Presque Isle, Maine for Anchor­age, Mara­da (core part­ner on our sum­mer­long Maine Sail Freight Adven­ture) laugh­ing­ly teased, ​"Bring back a bush pilot from Alas­ka."
Man-hunt­ing was low on the list. I had (and still have) ques­tions for Alaska:
What can the farm­ing com­mu­ni­ty learn from the high­ly man­aged, and high­ly abun­dant com­mons of Alas­ka? Are these lessons applic­a­ble to land?
What do young agrar­i­ans have to learn from the gov­er­nance and pol­i­tics of a wild fishery?
What does a wild fish­ery have to learn from the cul­tur­al activ­i­ties of agrar­i­an organizers?
The fol­low­ing arti­cles sum­ma­rize my insights into these ques­tions while doc­u­ment­ing this once-in-a-life­time chance to study com­mu­ni­ty rela­tions of the wild fish com­mons — the aspi­ra­tions and net­work shape of a fron­tier local food scene whose high­est aim is to avoid fur­ther plun­der of their mag­nif­i­cent nat­ur­al wealth.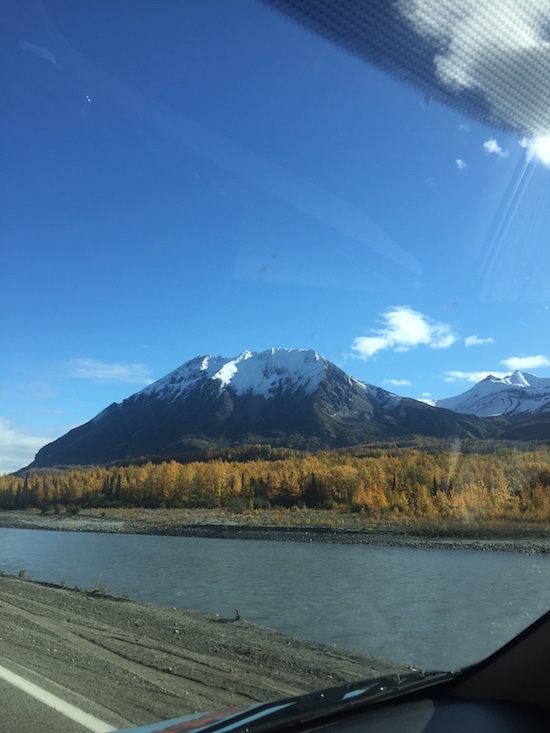 A view from the car. (Pho­to: Sev­er­ine von Tscharn­er Fleming)
Rid­ing it down
First, a look at the­o­ries of management.
In 1968, Gar­rett Hardin described the phe­nom­e­non of the Tragedy of the Com­mons—in which gra­ziers (cow own­ers), each pur­su­ing their own self-inter­est, over-exploit a shared pas­turage, or ​"com­mons" — lead­ing to a col­lapse of the resource.
The basic les­son was: only pri­vate prop­er­ty can pro­tect resources from deple­tion and ruin. This is the view of the Koch-broth­ers fund­ed Prop­er­ty and Envi­ron­ment Research Cen­ter (PERC)— which cur­rent­ly ques­tions the ​"effi­ca­cy" of our nation­al parks and pub­lic lands — an inter­pre­ta­tion that affirms, when it comes to con­ser­va­tion, ​"the mar­ket" is the only ratio­nal sys­tem for admin­is­ter­ing land.
Begin­ning in 1604, the Eng­lish empire ratio­nal­ized enclo­sure of com­mons lands based on this same log­ic. Effi­cient farm­ing meant keep­ing sheep on pri­vate prop­er­ty, as opposed to shared graz­ing areas. Obvi­ous­ly, this is a les­son that applies just as much to aquat­ic sys­tems as ter­res­tri­al ones — water and land being the two faces of nature's economy.
But as it turns out, today both our pri­vate prop­er­ty and con­ven­tion­al farm­ing regimes — with their rearrange­ment of nat­ur­al sys­tems, water­ways and land­scape forms; with min­ing, degra­da­tion and genet­ic selec­tion — are in cri­sis. Most who study the issue rec­og­nize it can­not con­tin­ue to sus­tain our species unchanged.
So why would we try to apply pri­vate prop­er­ty log­ic to the ocean?
A dif­fer­ent perspective
Eli­nor Ostrum, win­ner of the 2009 Nobel Prize in Eco­nom­ics, car­ried a dif­fer­ent mes­sage in her sem­i­nal work, Gov­ern­ing the Com­mons. Her con­clu­sions — after a career spent doc­u­ment­ing com­mon-resource based economies and soci­eties around the world — were far less com­pat­i­ble with econ­o­mized notions of indi­vid­ual self-inter­est and mar­ket-based solu­tions to which we've been unwit­ting­ly accul­tur­at­ed. Unlike Hardin's exam­ple, which employed a con­coct­ed metaphor to prove a point, her work was based on actu­al study and doc­u­men­ta­tion of graz­ers and fish­er­peo­ple around the world who had man­aged (over cen­turies) to sus­tain the often del­i­cate and fluc­tu­at­ing ecosys­tems that sup­port­ed them.
She was inter­est­ed to learn how they mod­u­lat­ed indi­vid­ual self-inter­est, oppor­tunism, free-load­ing, greed and the impacts of tech­nol­o­gy on resource use. She stud­ied Alpine pas­ture sys­tems in Switzer­land, irri­ga­tion ditch­es, com­mu­ni­ties in Spain and the Philip­pines (to name a few), and dis­cov­ered the ​"bot­tom up" rules that gov­ern both human and nature's economies. These rules (below) and prac­tices were high­ly spe­cif­ic, but as sys­tems (not exclu­sive­ly reg­u­lat­ed by only the mar­ket, or only the state) they shared eight characteristics:
Define clear group boundaries.
Match the rules that gov­ern use of com­mon goods to local needs and conditions.
Ensure that those affect­ed by the rules can par­tic­i­pate in mod­i­fy­ing the rules.
Make sure the rule-mak­ing rights of com­mu­ni­ty mem­bers are respect­ed by out­side authorities.
Devel­op a sys­tem, car­ried out by com­mu­ni­ty mem­bers, for mon­i­tor­ing each member's behavior.
Use grad­u­at­ed sanc­tions for rule violators.
Pro­vide acces­si­ble, low-cost means for dis­pute resolution.
Build respon­si­bil­i­ty for gov­ern­ing the com­mon resource in nest­ed tiers from the low­est lev­el up to the entire inter­con­nect­ed system.
Her con­clu­sion, after a career spent observ­ing sys­tem dynam­ics, was that nei­ther the state nor the mar­ket alone could result in the kind of adap­tive, fluc­tu­at­ing gov­er­nance that these sys­tems required for sus­tained health.
What this infers is that direct, stakeholder/​practitioner engage­ment with gov­er­nance sys­tems is cru­cial to the sus­tained health of ecosys­tems. In oth­er words, the reg­u­la­tion of the envi­ron­ment can­not be left only to the state, nor only to corporations.
Ostrum had won­der­ful words to describe the sys­tems that did work — fea­tures of sub­sidiar­i­ty, a pol­yarchy and poly­cen­tric gov­er­nance with mul­ti­ple agents of con­trol, and peo­ple local­ly embed­ded and in direct con­tact with the nat­ur­al sys­tem itself.
My study of Ostrum, pri­or to my trip, had been focused on issues of land access as it relates to respon­si­ble farm­ing and how com­mu­ni­ty own­er­ship of cru­cial farm­land resources can be struc­tured to max­i­mize stew­ard­ship by con­strain­ing ​"use rights." (See the Agrar­i­an Trust) But these lessons apply equal­ly to range­land man­agers, farm­ers and fish­er peo­ple. Per­haps look­ing across con­texts at one anoth­er might help us see our rel­a­tive predicaments.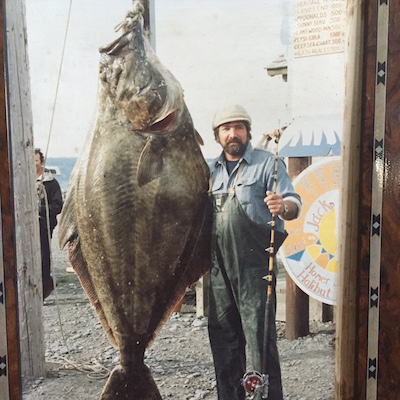 A framed por­trait of a Homer man and his hal­ibut. (Pho­to: Sev­er­ine von Tscharn­er Fleming)
The Alaskan commons
Turns out the last ​"sus­tain­able fish­ery" in the world, is the last fron­tier we've got— the wildest of our ​"com­mon pool" resources and a food source that approach­es the abun­dance of the buf­fa­lo. Unlike many com­mons, it seems to have avoid­ed tragedy because of mas­sive struc­tur­al effort. Unlike suc­cess­ful com­mons stud­ied by Eli­nor Ostrum, this com­mons is admin­is­trat­ed by the state, specif­i­cal­ly the Alas­ka Depart­ment of Fish and Game and the Pacif­ic Fish­ery Man­age­ment Coun­cil, as part of the Mag­nu­son-Stevens Act that has man­dat­ed ​"sus­tain­able yield" man­age­ment of fish­eries since 1976.
Thus far, the wild Alas­ka salmon fish­ery has been able (through bio­log­i­cal man­age­ment pro­grams paid for in large-part by state oil) to thwart the trend towards degra­da­tion that we've seen in so many oth­er ecosys­tems and so many oth­er fisheries.
[If you like what you are read­ing, help us spread the word. ​

"

Like" Rur­al Amer­i­ca In These Times on Face­book. Click on the ​

"

Like Page" but­ton below the wolf on the upper right of your screen.]
After a breath­tak­ing jour­ney down fjords and giant riv­er val­leys, I arrived in Homer for the First Annu­al Homer Hal­ibut Fes­ti­val. Held on Sep­tem­ber 19, my job was to give a talk to young fish­er­men and trans­mit ​"lessons from the young farmer move­ment." The Alas­ka Marine Con­ser­va­tion Coun­cil, and a grow­ing inter­na­tion­al coali­tion of fish­work­ers, com­mu­ni­ty fish­eries and com­mu­ni­ty sup­port­ed fish­er peo­ple believe that a fleet of small­er, local­ly-owned boats makes for a sus­tain­able place-based econ­o­my com­prised of those who will defend the water that feeds from pol­lu­tion, min­ing and over­fish­ing. What a plea­sure to be host­ed by orga­niz­ers with a base­ment full of frozen fish, a prac­ti­cal approach and who hap­pen to be expert jun­ket-coor­di­na­tors. (Here is a link to some of the local press atten­tion my vis­it received.)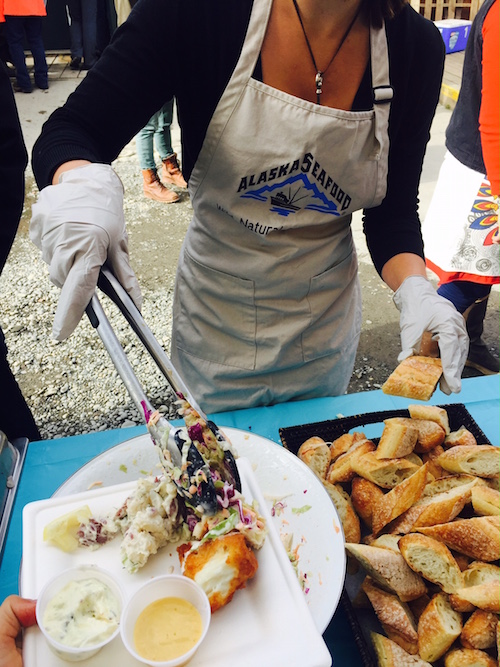 A vol­un­teer serves lunch at the First Annu­al Homer Hal­libut Fes­ti­val. (Pho­to: Sev­er­ine von Tscharn­er Fleming)
Under the sea
For many ter­res­tri­als, and cer­tain­ly for me, the ocean and fish­eries are a for­eign place. We can­not see into the sea and don't know much at all about what goes on there, except per­haps famil­iar­i­ty with the blan­ket-term ​"over-fish­ing." Young agrar­i­ans of the range­land know well that a blan­ket cri­tique — that the Bureau of Land Man­age­ment and For­est Service's poli­cies lead to ​"over-graz­ing," for exam­ple — is not enough. Indeed after decades of hand­ing over min­ing, drilling, graz­ing and min­er­al rights on pub­lic lands, there's a flank of the envi­ron­men­tal move­ment call­ing for pri­va­ti­za­tion of over 400 mil­lion acres of pub­lic lands. Anoth­er flank, the Rain­for­est Action Net­work, is call­ing for a mora­to­ri­um on the sale of min­er­al rights on pub­lic lands.
We need to look more close­ly. We need to sur­vey what we already know. And we need to build from there.
Some of us have fol­lowed the cam­paigns against fac­to­ry fish—the Cost­co vic­to­ry against GMO salmon, GMO soy oil being sold as pel­letized fish food and the pol­lu­tion caused by fish farms. And we have heard hype about aqua­cul­ture projects and been con­found­ed by this glam­or­iza­tion of inter­na­tion­al fish farm devel­op­ment projects. We use kelp sup­ple­ments for our dairy ani­mals and soil mix, but don't know much about the con­tro­ver­sy behind them. For the most part, we aren't much con­nect­ed as pro­duc­ers with fish­er peo­ple whose fish-meal we farm­ers buy. (I hope this arti­cle may woo a few young farm­ers to study across the bound­ary of the seashore and help us dis­cov­er our com­mon causes.)
So, what's the dif­fer­ence between a well man­aged and a poor­ly man­aged com­mons?
Suc­cess and failure
Farm­ers, farm­land, food com­mu­ni­ties and economies share much in com­mon with fish­er­men and fish­eries. We share an ecosys­tem. We share the water cycle. And we share an eco­nom­ic rela­tion­ship with hydrol­o­gy, geol­o­gy, topog­ra­phy, and the depo­si­tion of silts and nutri­ents over eons. Farm­ers and fish­ers face many sim­i­lar dilem­mas, the mar­ket and cli­mate not least among them. Where incom­ing farm­ers strug­gle with access to land and cap­i­tal, fish­ers face a gray­ing of the fleet and high bar­ri­ers for new entrants into a com­mon pool resource with declin­ing nat­ur­al cap­i­tal. Recent fish­ery col­laps­es have seen a con­trac­tion in the fish­ing fleet, con­sol­i­da­tion, for­eign invest­ment and a new kind of share-cropping.
From a gov­er­nance per­spec­tive, domes­ti­cat­ed lands have a more direct human feed­back loop than the wild ocean — and yet, many of the recent ​"pri­va­ti­za­tion rules" in fish­eries apply ​"land log­ic" to a wild, under­wa­ter sys­tem far beyond our com­pre­hen­sion. (But even then, look how lit­tle we curb our poor man­age­ment of the land, even when its con­se­quences are star­ing us in the face — over-graz­ing, soil ero­sion, flood­ing, soil com­paction, etc.) Imag­ine what habi­tat frag­men­ta­tion hap­pens below the sur­face of the ocean, in the for­eign aquat­ic. Who will speak for the fish? As my new favorite author, Paul Molyneaux, says, fish have ​"over 90 per­cent infant mor­tal­i­ty, 100 per­cent illit­er­a­cy, zero health­care and no prop­er­ty rights!"
Young fish­er­man, old homesteaders
As it stands, the fleet is gray­ing. Accord­ing to an Alas­ka Sea Grant report, the aver­age age of fish­er­man is sim­i­lar to that of farm­ers, hov­er­ing around 65. Sim­i­lar to the quandary faced by young farm­ers look­ing for afford­able farm­land, young fish­er­men strug­gle to ​"work them­selves into own­er­ship" in the way that was pos­si­ble in the 1970s and 1980s. Organ­ic farming's ​"back to the lan­ders" and the ear­ly entrants into the Alaskan Fish­ery found cheap ter­ri­to­ry in which to work. Since those hey­days, like the price of land, fish­ing per­mits, boats, fuel, nets and dock­ing fees have all risen with­out a cor­re­spond­ing rise in the price of the actu­al fish caught or food grown.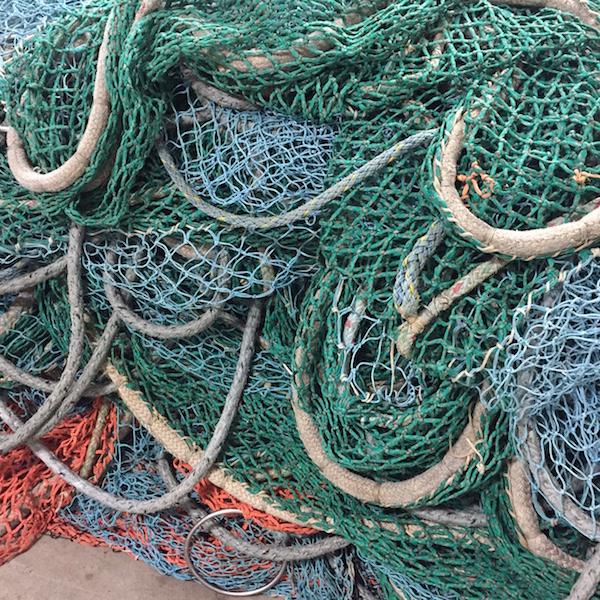 A pile of (expen­sive) fish­ing nets. (Pho­to: Sev­er­ine von Tscharn­er Fleming)
Like young farm­ers, young fish­er­men point to the unjus­ti­fied infla­tion in the prices of fish­ing per­mits and absen­tee per­mit own­ers tak­ing ever larg­er cuts of the fish­eries quo­tas. They note that these cre­ate the incen­tive to fish a greater and greater vol­ume, which dri­ves the prices still low­er. In a pro­tect­ed fish­ery, there are only so many days, or pounds, that are per­mis­si­ble. But rid­ing hard up into reg­u­la­tions set by biol­o­gists and state reg­u­la­tors is no way to grow a ​"con­ser­va­tion-mind­ed fish­er gen­er­a­tion." Redefin­ing what sub­sis­tence fish­ing means to include not just food, but income gen­er­a­tion as well is one option. This, how­ev­er, this would be very risky.
In the real word, these price quan­daries dri­ve fish­er­men and aspir­ing fish­er-peo­ple to a patch­work of income streams. Strate­gies for farm­ers include leas­ing, direct mar­ket­ing, off-farm income and insti­tu­tion­al part­ner­ships. Strate­gies for young fish­er­man include off-fish sea­son income, direct and val­ue-added mar­ket­ing, diver­si­fy­ing per­mits, and work­ing oth­er people's boats and fish­ing rights. Though there are excep­tions to the rule, for struc­tur­al rea­sons nei­ther of these options offer the prospect of a decent liveli­hood as the gen­er­a­tional skew clear­ly indicates.
Old­er fish­er­man, like old­er farm­ers, may scratch their heads and won­der why the young green­horns aren't will­ing to boot­strap in, but there is no short­age of young blood milling around the dock or will­ing to work as deck­hands — they just aren't mak­ing it as ves­sel own­ers and captains.
A leg­is­la­tor and a fish­eries trust
In atten­dance at my Hal­ibut Fes­ti­val talk was a diminu­tive, clean-clothed char­ac­ter in wire-rimmed glass­es. He didn't look like a fish­er­man, but was the most obvi­ous­ly atten­tive and inci­sive voice regard­ing fish­ery policy.
Turns out he, Jonathan Kreiss-Tomkins, is a 26-year-old state rep from Sit­ka who dropped out of Yale to return home and get involved in local gov­ern­ment. His pri­ma­ry pre­oc­cu­pa­tion is the health of the fish­ery and the com­mu­ni­ty it sup­ports. He's involved in a scheme worth look­ing at— a scheme that bypass­es many of the issues asso­ci­at­ed with pri­va­tized quo­ta, con­sol­i­da­tion and absen­tee own­er­ship. It's called the Sus­tain­able Fish­eries Trust.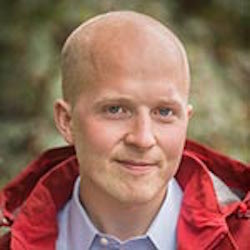 Jonathan Kreiss-Tomkins, a Demo­c­rat, was elect­ed to the Alas­ka House of Rep­re­sen­ta­tives in 2012. (Pho­to: akde​moc​rats​.org)
Sim­i­lar to a com­mu­ni­ty land trust, where farm­land is held in com­mu­ni­ty own­er­ship and its ​"use rights" are leased by farm­ers, Sus­tain­able Fish­eries Trust shares the log­ic of com­mons-based gov­er­nance. In the case of the fish­ery, it is the quo­ta and the right to fish that is owned as a com­mu­ni­ty. This quo­ta is leased exclu­sive­ly to local, young, new entrant or con­ser­va­tion-mind­ed fish­er peo­ple who can bring the fish and wealth cre­at­ed ashore to the places clos­est to the resource. In this way too, the eco­nom­ic pow­er of the fish stays firm­ly sit­u­at­ed in local pol­i­tics and in the hands of those polit­i­cal con­stituents who share the home geog­ra­phy with its habitat.
(To read An Alas­ka Jour­nal Part II, click here)