A Farm Organizer Visits Fish Country: An Alaska Journal, Part III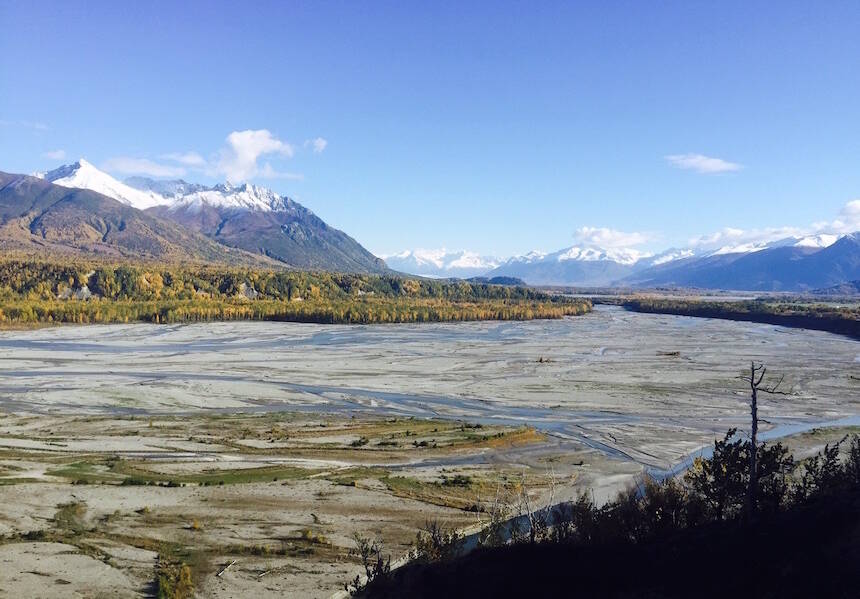 Edi­tor's note: Sev­er­ine Von Tscharn­er Flem­ing was invit­ed to Alas­ka to study the com­mons and speak to young peo­ple on behalf of the Alas­ka Marine Con­ser­va­tion Coun­cil and the Alas­ka Food Pol­i­cy Coun­cil. Part three of her three part report con­tin­ues here. (Read An Alas­ka Jour­nal Part I or Part II)
Here are a few of the con­found­ing fac­tors I learned about while in Alas­ka, all of which are log­i­cal, but large­ly not under­stood by the land-man­ag­ing com­mu­ni­ty of which I am a part.
The fish­ery is a com­mons. The right to fish is usu­al­ly assigned by the region­al depart­ment of marine resources in the form of a per­mit that is issued based on marine biol­o­gy sci­ence aimed at pre­serv­ing the fish stocks. Increas­ing­ly though, the quo­ta or ​

"

right to fish" is pri­vate­ly owned, and increas­es in prices occur as they do with farm­land, hous­ing and rare man­u­fac­tur­ing equip­ment. This pro­vokes con­sol­i­da­tion, foreign/​absentee own­er­ship and a loss of liveli­hoods for small­er play­ers. Sim­i­lar­ly, the val­ue of the boats them­selves go up and down with the price of the fish on the com­mod­i­ty market.
Prof­it is a crap shoot. Fish­er peo­ple do not set the price of their fish. They sell their har­vest to can­ner­ies, who give them pink slips of paper that get redeemed after the sea­son is over, at a price set by the can­ner­ies and world market.
It's a vol­ume game, which makes chang­ing sys­tems quite hard. Because they are fish­ing hun­dreds of thou­sands or even a mil­lion pounds of fish in a

4

‑month sea­son, the young fish­er­men I met do not feel they can get into direct sales at that kind of vol­ume. Those who try are quite over­whelmed by infra­struc­ture costs. Mean­while, there's a glut of canned salmon in the mar­ket­place, alleged­ly dri­ving the price down­wards from $

1

.

50

last year to $

0

.

50

per-pound this year. We're har­vest­ing a mas­sive quan­ti­ty, only to find it (like oil at the moment) doesn't have a buy­er. Alas­ka recent­ly scored a coup by get­ting the USDA's school lunch pro­gram to start buy­ing com­mod­i­ty salmon, a mod­est price-sup­port effort.
Dif­fer­ent fish­eries have dif­fer­ent sys­tems — dif­fer­ent kinds of hooks, nets, trails, trolls, purs­es pots and seines. Each boat has a dif­fer­ent method of entrap­ping the fish whether it's using hydraulics, bouys, drains, door-flaps or lead weights. Some fish­eries are more destruc­tive than oth­ers, most­ly because the way they fish doesn't just kill the tar­get species, but kills ​

"

non tar­get'" or ​

"

by catch" at great vol­umes. This is espe­cial­ly destruc­tive in the case of juve­nile fish — valu­able fod­der fish that sup­port the high­er-ups. Many of the drag­ging nets frag­ment and destroy the fish habi­tat, sea-bot­tom cor­rals, sen­ti­ments and under­wa­ter topog­ra­phy that guide migrat­ing fish. These under­wa­ter struc­tures also hold worms and sponges and oth­er ocean-floor flora.
Dif­fer­ent parts of the fish­ery har­bor antag­o­nism for one anoth­er, par­tic­u­lar­ly those work­ing at dif­fer­ent scales. Large indus­tri­al fish­ing boats catch mas­sive loads with their trawls and often their ​

"

by catch" is larg­er than the per­mit­ted catch for small­er boats. These boats are more ​

"

eco­nom­i­cal­ly effi­cient" mean­ing they catch more fish per dol­lar invest­ed in labor, diesel and ice. The trou­ble is that they also tend to accel­er­ate the rate, vol­ume and range of catch in an effort to use their equip­ment to the max­i­mum. Expe­ri­ence has shown that these mas­sive boats will run a resource right down to the nub­bins, far faster than the fish­eries' man­agers can track and pre­vent it.
Farmed fish are CAFO fish. Despite high hopes, tech­no-opti­mism, mas­sive pub­lic invest­ment and a rhetoric of ​

"

feed the world" in case after case it is shown that fish-farm­ing only pol­lutes a degrad­ed coastal ecosys­tem. It can­not replace or restore the nat­ur­al wealth already plun­dered, and indeed its pro­duc­tion is based on over-har­vest of fod­der fish that are turned into fish food, as well as indus­tri­al­ly pro­duced soy-bean meal, pes­ti­cides, lice-icides, and oth­er chem­i­cals that dis­rupt sur­round­ing shell­fish and aquat­ic life. Author and for­mer fish­er­man Paul Molyneaux's book, Swim­ming in Cir­cles, is the best source I've found on this top­ic, and it's crit­i­cal that food-sys­tem lit­er­ate con­sumers and farm­ers alike tune in to the details of farmed fish, and use our spoke­man­ship to cau­tion eaters with­in our sphere of influence.
What can young agrar­i­ans learn from these fish­eries issues?
First, nei­ther mar­kets nor state-reg­u­la­tions are ade­quate dri­vers of stew­ard­ship. We know this from look­ing over the fence on our pub­lic lands. Bet­ter care of wild and semi-domes­ti­cat­ed land­scapes can take place only where stake­hold­ers with­in a water­shed take respon­si­bil­i­ty for the health of their ter­ri­to­ry, and adapt their stock­ing rates and cat­tle move­ment to the health of the land. This is hap­pen­ing in some places.
Sec­ond, in the urban Unit­ed States, the ​"food com­mons" may be less glam­orous­ly wild, but we can still use the water­shed to ori­ent our­selves. Land, even pri­vate prop­er­ty lands with­in the peri-urban zones, form a resource com­mons for the water­shed and food­shed of the city. Recent flood­ing in the Mid­west helps make this trag­i­cal­ly visual.
Our Peri-urban and sub­ur­ban lands have tremen­dous ​"infra­struc­ture" impact on the ecol­o­gy of the urban envi­ron­ment, for drainage and water-infil­tra­tion espe­cial­ly. Already the state (through tax pol­i­cy and agri­cul­ture assess­ment) gives incen­tives to pre­serve open space. The next step may be rec­og­niz­ing that this land can serve the com­mon-goal of food secu­ri­ty. This land, even small parcels, back­yards, urban lots and slices of for­mer-farms, could and should be made avail­able for food production.
In more pros­per­ous (coastal and scenic) parts of our coun­try, this is hap­pen­ing thru non-state actors, such as land trusts and com­mu­ni­ty land trusts, which use state-tax incen­tives and pri­vate deductible dona­tions to con­serve open space and remove the ​"right to devel­op." This is not hap­pen­ing as much in our prime agri­cul­tur­al areas, nor are the restraints to devel­op­ment result­ing in land afford­able for farm­ers, par­tic­u­lar­ly ones just start­ing out.
What's clear is that the scale, scope and speed of cli­mate de-sta­bi­liza­tion will con­tin­ue to wreak hav­oc with­in our agri­cul­tur­al sys­tem. Many parts of our agri­cul­tur­al land­scape are major­i­ty com­mod­i­ty-based, spe­cial­ized, indus­tri­al­ized and focused on export. Oth­er regions are more diverse, more self-sup­port­ing — with water­shed as well as food­shed ben­e­fits. As the weath­er-pat­terns con­tin­ue to shift and fluc­tu­ate, my pre­dic­tion is that some regions will suf­fer far more as a result.
Cit­i­zen action and com­mu­ni­ty orga­niz­ing gives us the chance to artic­u­late a dif­fer­ent path­way with­in our own water­shed and food shed; to treat our own head­wa­ters and food­lands with the respect and stew­ard­ship man­date that the Alaskans know so well. Like the Sus­tain­able Fish­eries Trust, which focus­es so much on new-entrant and local­ly based fish­er­peo­ple, to the exclu­sion of fore­gin com­pa­nies, sub-con­trac­tors and com­mod­i­ty export mod­els, I believe we can devel­op mod­els that suit com­mu­ni­ty food secu­ri­ty needs.
In con­clu­sion
Fish­er­peo­ple all come into port to sell their fish, or sell direct­ly to the can­ner­ies — these har­bor com­mu­ni­ties have the feel of log­ging towns and car­ry many of the ver­nac­u­lar aspects of extrac­tion economies. My mod­est pro­pos­al to the young fish­er­men was: get your­selves a club­house, a set of reg­u­lar fes­ti­vals, a lit­er­ary space and a more eas­i­ly com­pre­hendible com­mit­ment to eco­log­i­cal stew­ard­ship. As GM farmed salmon comes online, you're going to have to do a stel­lar job of artic­u­lat­ing to the pub­lic why they should pay more to sup­port fish-hunt­ing in the wild, the glam­our of rus­tic indi­vid­u­als haul­ing nets in the cold water feels like only the start. What about cit­i­zen sci­ence? What about inter-gen­er­a­tional part­ner­ship? What about com­mu­ni­ty own­er­ship? What about coop­er­a­tive dis­tri­b­u­tion? Could some of these add to the argu­ment as well as the rich­ness for the enter­ing fish­er peo­ple? Could an empha­sis on team-build­ing help with recruit­ment, reten­tion and eco­nom­ic via­bil­i­ty for this sec­tor? I think yes.
This is the time for us to learn from each oth­er — across the shore­line — to fuse our his­to­ries and holis­tic goals, and cre­ative­ly man­age a sys­tem healthy enough to sus­tain life. As young agrar­i­ans come to com­pre­hend the pol­i­tics of fish­eries and fish­er peo­ple, we can become more adept at gov­er­nance ques­tions and logis­tics ques­tions. Land farm­ers are only just enter­ing the new era of land-com­mon­ing, just start­ing the work of restor­ing and repair­ing dam­age to our arid com­mon lands.
[If you like what you are read­ing, help us spread the word. ​

"

Like" Rur­al Amer­i­ca In These Times on Face­book. Click on the ​

"

Like Page" but­ton below the wolf on the upper right of your screen.]
The impulse of Alas­ka Marine Con­ser­va­tion Coun­cil and the Alas­ka Food Pol­i­cy Coun­cil to engage an agrar­i­an activist like me was a good one. As over­worked and under­paid as the organ­ic agri­cul­ture move­ment is, we do have an incred­i­ble cul­tur­al infra­struc­ture. Every region in the Unit­ed States has its local food groups, its movers and shak­ers, com­mu­ni­ty potlucks and Grange halls. We have a pow­er­ful, shared cul­ture and rou­tine gath­er­ings — win­ter con­fer­ences, seed and scion exchanges, breed­ers-meet­ings, agro-forestry mon­i­tor­ing com­mu­ni­ties, protests, mix­ers, barn dances and inspi­ra­tional speak­ers. We are very involved with the group process and col­lab­o­ra­tive sell­ing: Look how many of us sell direct at a farm­ers mar­ket or thru a CSA.
As keep­ers of genet­ic food com­mons, and the evolv­ing prac­tices of land-care, our sub-cul­ture of organ­ic agri­cul­ture holds a vocal and open cri­tique of fac­to­ry farm­ing, genet­ic engi­neer­ing, and indus­tri­al meth­ods and scale, as well as the labor prac­tices and eco­log­i­cal con­se­quences of these sys­tems. Seems like the ​"sus­tain­able fish­eries" peeps are sim­i­lar­ly posi­tion­ing them­selves — per­haps a bit behind agri­cul­ture, but catch­ing up!
Of course, the agri­cul­tur­al cul­tur­al milieu is a result of our par­tic­u­lar his­to­ry as a com­mu­ni­ty of set­tlers, then yeo­man, then pet­ty cap­i­tal­ists, then play­ers in a glob­al food sys­tem, then increas­ing­ly as coor­di­na­tors of a local econ­o­my. Our lin­eage of coor­di­na­tion in agri­cul­ture arose in con­fronting not deple­tion of a wild resource, but con­cen­tra­tion, con­trol, monop­oly, price-pres­sure and manip­u­la­tion by exter­nal mar­ket forces. The coun­ter­cul­ture of organ­ic farm­ing, the youth cul­ture of Green­horns, the pop­ulist cul­ture of the Grange, the par­i­ty cul­ture of the farm cri­sis — each of these episodes has fur­ther crys­tal­ized a view of how to opti­mize human rela­tions and stew­ard­ship of our land economy.
We may still dress like lum­ber­jacks with sus­penders and mus­tach­es, but I'd argue a large and grow­ing farm sub­cul­ture has left the 1840s home­stead mind­set. This is borne out by the self-orga­niz­ing wiki approach to appro­pri­ate tech­nol­o­gy-shar­ing exem­pli­fied by FarmHack, col­lab­o­ra­tive data gath­er­ing in the man­age­ment of soil car­bon and glob­al vol­un­teer net­works such as WWOOF. These bring us much clos­er into prax­is with com­mons approach­es, and I'd argue that we have quite a num­ber of par­a­digm shifts ahead of us. First on my list is to not remain stuck in the 1840s and depart from the lim­it­ing notions of ​"pri­vate property."
We're run­ning into new times, and as cli­mate pat­terns impact our land­scapes we'll increas­ing­ly need new frame­works. Indeed, we should be pre­pared to enact these new sys­tems in times of cri­sis. The log­ic of state con­trol, based on " sus­tain­able yield" of a com­plex and inscrutable sea — the log­ic of mar­ket-approach­es to car­bon seques­tra­tion and emis­sion, the log­ic of cap­i­tal­ist wealth — is oper­at­ing in an out­dat­ed (and extrac­tive) pat­tern with rules and assump­tions left over from the Enlightenment!
The prospects for a farm­land com­mons sits on the hori­zon for young agrar­i­ans, who dis­persed as we are nonethe­less in direct con­tact with both ecosys­tems and local com­mu­ni­ties. We're in a per­fect posi­tion to inno­vate, to explore new sys­tems and agree­ments of land use, land gov­er­nance, land-own­er­ship, access, tran­si­tion and repair.
In a col­lab­o­ra­tive part­ner­ship with our cus­tomers, eaters and adja­cent move­ments we're float­ing our lit­tle farm boats on a ter­res­tri­al land­scape shared by the entire human and non-human world. This project will go beyond cul­ture, logis­tics, gov­er­nance and cri­sis-man­age­ment. Prob­a­bly it will also require re-grow­ing a capac­i­ty for more spir­i­tu­al notions of our com­mon human­i­ty — dai­ly con­tact with the liv­ing forces of life itself. Good thing spring is right around the corner.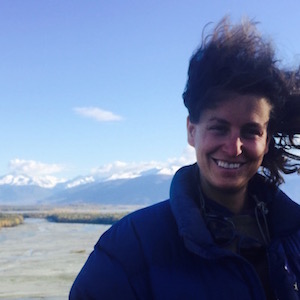 Sev­er­ine von Tscharn­er Fleming
Ref­er­ences
Learn more about our vision for a farm­land com­mons at Agrar­i­an Trust.
For infor­ma­tion on com­mu­ni­ty fish­eries, or to inquire about get­ting access to large vol­umes of fish to your CSA/​local food out­let, please be in touch with North Atlantic Marine Alliance and Local Catch to learn about com­mu­ni­ty sup­port­ed fish­eries, vol­ume whole­sale options, and coastal coop­er­a­tives, and native-led lake-fish pro­duc­ers. Keep it real, keep it wild, eat wild fish.
Here are a few of my radio inter­views with fish­er peo­ple on Her­itage Radio Net­work.
The com­ing issue of New Farm­ers Almanac deals with issues of the com­mons, its gov­er­nance, and the increas­ing need to evolve bet­ter local and col­lab­o­ra­tive sys­tems, or as Eli­nor Ohrstrum would say: the poly-archy, and poly-cen­trism approach. This means many peo­ple work­ing not " alone on the fron­tierr" but togeth­er, in inter-gen­er­a­tional, cross-sec­toral groups to solve for pat­terns, not just for individuals.
For infor­ma­tion on the young farm­ers move­ment, and our work on leg­is­la­tion for stu­dent loan for­give­ness check out Green­horns and the Nation­al Young Farm­ers Coali­tion. To find a farm job or appren­tice­ship, check out Good Food Jobs and the ATTRA sus­tain­able farm­ing net­work.