A Farm Organizer Visits Fish Country: An Alaska Journal, Part II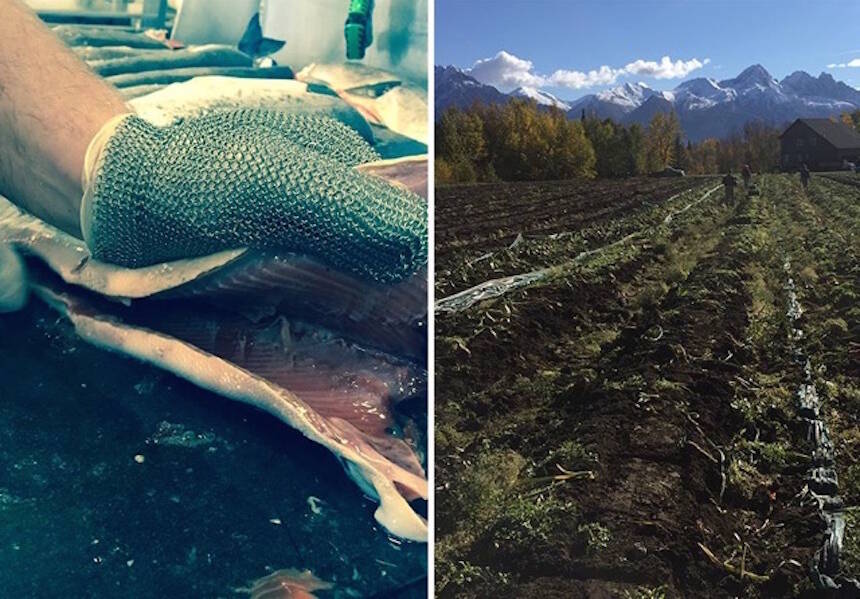 Edi­tor's note: Sev­er­ine Von Tscharnar Flem­ing was invit­ed to Alas­ka to study the com­mons and speak to young peo­ple on behalf of the Alas­ka Marine Con­ser­va­tion Coun­cil and the Alas­ka Food Pol­i­cy Coun­cil. Part two of her three part report con­tin­ues here. (Read An Alas­ka Jour­nal Part I)
What is it about the ruth­less sea? An accul­tur­a­tion in agri­cul­tur­al land­scapes, full of flower buds, dew­drops, fresh hay, kit­tens and baby lambs can­not pre­pare you for the hard, chill­ing mechan­ics of a mech­a­nized fish har­vest. To my ten­der agrar­i­an eyes, the fish­ing busi­ness is bru­tal. We may call them ​"stew­ards of the ocean" but lets face it — they are killing fish.
The ves­sels them­selves vary a lot in size — from com­bine, to dump truck to barn size — with hydraulics over­head and $60,000-plus nets piled up wait­ing for use. The fish get hauled in and killed by the dozens of tons by hulk­ing large steel ves­sels — machines out back, over­head, swing­ing in the air, these ves­sels bare­ly accom­mo­date the needs of the humans aboard. I think it must be like liv­ing inside a cot­ton gin, with wave-action. This fish­ery is for real — a har­bor full of boats, ware­hous­es, con­tainer­ized freez­ers, semis, box trucks and ice machines on such a scale as you can­not imag­ine. This is no rinky-dink out­fit. But then the scale of the land­scape (com­pared to a place like Maine) means that these boats are dwarfed by the har­bor they're moored in, look­ing like lit­tle met­al toys.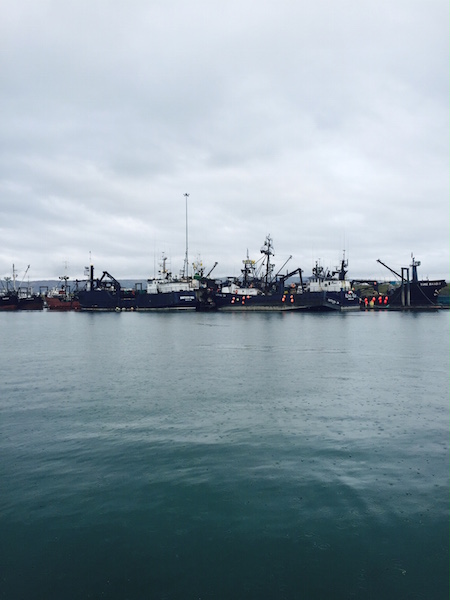 The aver­age size of a salmon boat, accord­ing to the Alas­ka Seafood Mar­ket­ing Insti­tute, is 37 feet. (Pho­to: Sev­er­ine von Tscharn­er Fleming)
Food man­age­ment
Reg­u­la­tors work­ing close­ly with biol­o­gists and fish-coun­ters are cred­it­ed with ​"man­ag­ing the resource," the health­i­est salmon runs and fish­eries in the world. No one can fish until the fish-coun­ters are sat­is­fied that enough salmon have returned upriv­er to repro­duce. Only then can the fish­ing begin. Of course, more than the tech­ni­cians, it's the unedit­ed land­scape that's to blame for all the fish — vast head­wa­ters of steep sloped for­est land­scape, the nat­ur­al wealth of ocean and uplands com­bine to sup­port this mega-ecosys­tem. Alaskans evoke " the resource" fre­quent­ly in con­ver­sa­tion, and express pride in its guardian­ship. Indeed, one could argue that the ecosys­tem is opti­mized for salmon above oth­er species. Each year, the infu­sion of mil­lions of dol­lars into state-run smolt (baby salmon) hatch­eries yields fer­til­ized eggs by the mul­ti­mil­lions that get released into the ecosys­tem. The manip­u­la­tion of spawn takes a few forms, from fer­til­iz­ing ponds to fat­ten up the zoo­plank­ton which feed the baby fish, to notch­ing beaver dams to ensure the return­ing salmon can get up to their spawn­ing grounds, to elab­o­rate fish lad­ders across dams and roads that cut up the habitat.
These inter­ven­tions on behalf of the salmon rep­re­sent ​"sci­en­tif­ic excel­lence" and mas­sive pub­lic invest­ment in the health and dura­bil­i­ty of the fish­ery. But they are by no means ​"nat­ur­al." Just to put the num­bers in con­text, these non-prof­it hatch­eries sell the right to fish the runs they sup­port in order to pay for their own oper­a­tions. The annu­al income they're look­ing at (accord­ing to the brochure I picked up dur­ing my slide show there) was $2.9 mil­lion. That's a lot of fish!
Man­age­ment involves a com­plex algo­rithm of stew­ard­ship and finance, and one key to its stew­ard­ship is that it's shield­ed from glob­al plun­der. Until the Mag­nu­son-Stevens Act of 1976, for­eign ves­sels fished off the coast of Alas­ka with hard­ly any over­sight or restraint. In the 1950s, the threat to their fish­eries gave Alaskans incen­tive to fight for state­hood in order to pro­tect them­selves from plun­der, and this leg­is­la­tion cre­at­ed a frame­work and man­date to man­age for ​"sus­tain­able yield." It makes sense that a nation of our scale would cre­ate bound­aries and struc­tur­al efforts to ensure our access to one of the worlds most nutri­tious foods — the wild salmon. And the anadro­mous fish­ery has been pro­tect­ed and adju­di­cat­ed for our pub­lic ben­e­fit by decades of lit­i­ga­tion between var­i­ous con­stituen­cies, natives, rur­al pop­u­la­tions, sub­sis­tence fish­ers and sports fishers.
The labor
Fish pro­cess­ing is wet, cold-fin­gered work. Fil­let­ing, gut­ting, wash­ing, pack­ing, vac­u­um seal­ing. The suck pop sound of a freez­er door lurched open, alu­minum cast­ers, the slap of fish-heads into the slop buck­et, hot hood­ed teenagers with curved knifes, show-off phys­i­cal­i­ty and scrawly hand­writ­ing. The water in the har­bor is misty, with oily sheen, fil­a­ments of dead algae and paint flakes. A kiosk shows ​"learn­ing videos" about ocean acidification.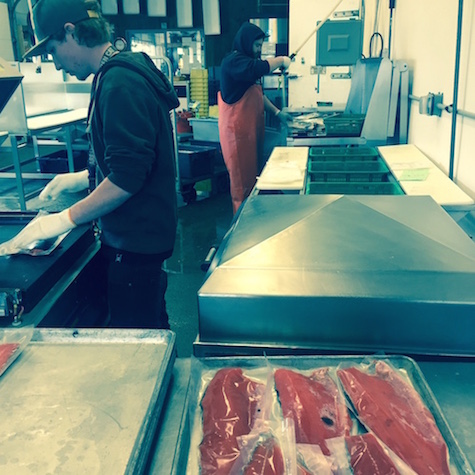 The state seafood indus­try con­tributes 78,500 jobs to the Alaskan econ­o­my and an esti­mat­ed $5.8 bil­lion annu­al­ly. (Pho­to: Sev­er­ine von Tscharn­er Fleming)
This seems like a cru­cial moment to get involved with the cul­ture and engage the idioms and atti­tudes of these young guys on the fish scene. Their atti­tudes, enti­tle­ment, con­ser­va­tion eth­ic, knowl­edge of the habi­tat, fish-size base­lines and expec­ta­tions of remu­ner­a­tion all con­sti­tute a dock­side cul­ture. Do they have the atti­tude of debt, diesel and a fat pay­day — like those boom-town, high-school lob­ster­men in Maine? Is it the machis­mo of a ​"Most Dan­ger­ous Job" like the Bering Sea crab­bers, tum­bled on the biggest seas? Is it a bit like a rodeo, where the man­li­ness and scenery con­spire to keep labor costs low, and young blood flood­ing in the gates? These are ques­tions I can­not defin­i­tive­ly answer — but it seems so.
The Peb­ble Mine
Right in the glo­ri­ous head­wa­ter armpit of a penin­su­la that casts its scat­ter far out into the Bering Bea lies a mas­sive, poi­so­nous pock­et of gold. This is one of the largest ​"plays" in the world of gold, cop­per and molyb­de­num (a high­ly sought after met­al used in mak­ing elec­tron­ics). In a sto­ry that feels like a Bat­man car­toon, Peb­ble Mine is backed by incred­i­ble hulks of inter­na­tion­al finance: Anglo Amer­i­can and North­ern Dynasty. These com­pa­nies, who are among the largest min­ing con­cerns in the world, want to build one of the largest mines in the world in the great (and one of the last) remain­ing Salmon runs of the world. Thus far the bat­tle to stop Peb­ble Mine has waged for more than 8 years — gal­va­niz­ing envi­ron­men­tal­ists, salmon fish­er­men and recre­ation­al users, most of whom live in the rich ecosystem.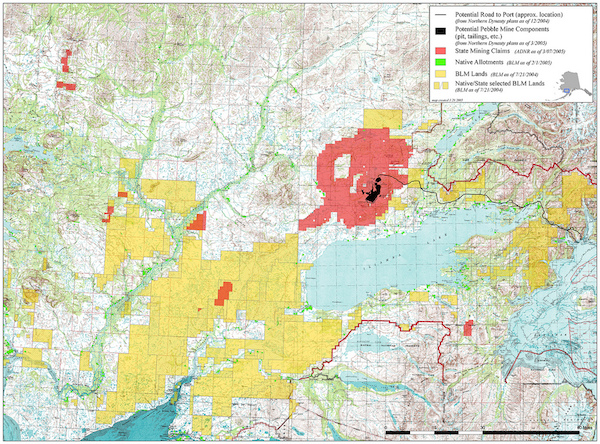 Map of the pro­posed Peb­ble Mine. (Image: Flickr)
Bore­al exper­i­ment station
One of the talks I gave was 36 miles north of Anchor­age, in Palmer, at the load­ing dock/​processing area of the Matanus­ka Exper­i­ment Farm. Flanked by an under­ground rab­bits war­ren of pota­to stor­age caves, with exper­i­men­tal crops care­ful­ly select­ed for the food bank, it was a facil­i­ty built for many dozens of state-paid work­ers. The proud offi­cial­dom of framed notices and gov­ern­ment posters in the long hall­way fed into large but aban­doned-smelling class­rooms and soil test­ing labs, with equip­ment from the 1980s and ear­li­er. The exper­i­ment sta­tion is most­ly mori­bund now, the equip­ment — vehi­cles, heat­ed green­hous­es, barns, ware­hous­es of grain/​potato equip­ment, trac­tors and tillage imple­ments — all dor­mant. It's capa­bly and lov­ing­ly stew­ard­ed by a skele­ton crew who over­see tri­als of the indige­nous super­food rho­di­o­la and a large col­lec­tion of rhubarb vari­eties from around the world. Giv­en our chang­ing cli­mate, it seems like these kinds of facil­i­ties could play a part in exper­i­men­tal crop­ping sys­tems— learn­ing ahead of the curve what crops will grow in our north­ern­most lat­i­tudes, places many cli­mate sci­en­tists think will soon see new rel­e­vance as pro­duc­tive ecosystems.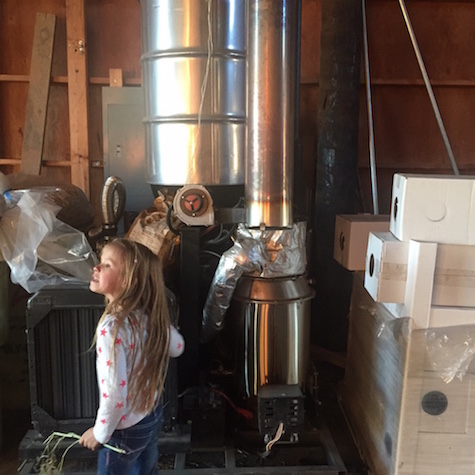 A child has a look around the the Matanus­ka Exper­i­ment Farm, part of the Agri­cul­ture & Forestry Exper­i­ment Sta­tion. (Pho­to: Sev­er­ine von Tscharn­er Fleming)
Liv­ing the sub­sis­tence dream
Far up-riv­er in the Man­tanus­ka Val­ley, in the Chick­aloon Val­ley, I vis­tit­ed for­mer high-alti­tude trekker, avalanche expert and home­stead farmer, Allie Bark­er at Chugach Farm. Allie runs a mar­ket gar­den with pigs and chick­ens — all off grid. She sells pick­les at mar­kets in Anchor­age, and pre­serves a cave-full of self-suf­fi­cien­cy sup­plies includ­ing canned salmon, sauer­kraut, fer­ment­ed blue­ber­ries, hon­ey, canned moose, squash­es and stor­age cab­bages. She and her part­ner live off the land — wild and domes­ti­cat­ed — the sub­sis­tence dream. As I came to vis­it, she was launch­ing her part­ner Jed off into the riv­er in an inflat­able boat to hunt moose. Here, in the uplands of Alaska's most agri­cul­tur­al val­ley, they are fight­ing one of the largest coal min­ing com­pa­nies in the world, try­ing to raise aware­ness that the open pit coal mine would blow dust on the best ground for Alaskan food secu­ri­ty. Clear­ly, the com­mons needs more defenders.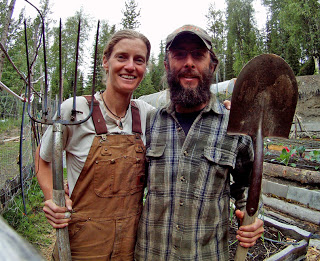 Allie Bark­er and Jed Work­man on Chugach Farm. (Pho­to: spe​nards​farm​ers​mar​ket​.org)
Look­ing toward our future
On land, we're learn­ing more and more about land­scape recov­ery, restora­tion, scar tis­sue and resid­ual tox­i­c­i­ty. We're learn­ing that nat­ur­al cap­i­tal, when dimin­ished by extrac­tion, under­goes fun­da­men­tal changes that reduce com­plex­i­ty and bio­log­i­cal poten­tial, often for decades or scores of decades. We can see how rebound­ing hap­pens, some places slow­ly, some more quickly.
In the young farm­ers move­ment, more and more of us are enter­ing the field with reform on our minds, with an aim to heal land, restore wild-lands, and reclaim a bet­ter bal­ance between the domes­tic and self-willed ecosys­tems. I won­der if the incom­ing gen­er­a­tion of young fish­er­man, could team up with the mar­kets we've cre­at­ed — if they can ade­quate­ly artic­u­late their con­ser­va­tion eth­ic to the mar­ket­place, and whether direct sales, new eco­nom­ic mod­els and eco­log­i­cal­ly based eval­u­a­tion of fish-har­vest can give these play­ers a fair-deal in the mar­ket­place. Could every CSA in the low­er 48-Green­horns net­work make con­nec­tion with a com­mu­ni­ty fish­ery, and help dis­trib­ute fish at a fair price and large-enough vol­ume to our already ded­i­cat­ed consumers?
[If you like what you are read­ing, help us spread the word. ​

"

Like" Rur­al Amer­i­ca In These Times on Face­book. Click on the ​

"

Like Page" but­ton below the wolf on the upper right of your screen.]
Land and sea share the com­mons of ecosys­tem as a foun­da­tion. We think of land as pri­vate and water as pub­lic, but in fact more than one-quar­ter of U.S. acreage is pub­lic land, and increas­ing­ly the ocean floor, the right to fish and even the sea­weed grow­ing on the wild shore are becom­ing pri­va­tized. Con­fronting the com­mon conun­drum of land access, has made me a stu­dent of the com­mons and its management.
The cal­lus-like shapes extrac­tive cap­i­tal­ism can inspire
Alaska's license plates say ​"the last fron­tier." Fron­tier sug­gests the edge of civ­i­liza­tion, and the begin­ning of the wild-lands. Fron­tier economies have their own pecu­liar log­ic and life­way — lum­ber camps, mine camps, boom­towns — in Alaska's case this is dom­i­nat­ed by petro­le­um. With antlers stacked in hip-high heaps besides the hasti­ly built cab­ins and sheds, it felt like every sin­gle road we trav­eled was get­ting widened or repaved, and every sin­gle farmer we met was fight­ing a mine project. This is the fish­ery that inspired state­hood and carved out sov­er­eign­ty in a 200-mile zone around the splayed coast­line exclu­sive­ly for U.S. fish­ing inter­ests. Alas­ka, as an icon of wilder­ness, seems like a large, white-capped cap­il­lary of resource exchange. Most of what makes the econ­o­my tick and tock, is what gets flown, shipped, piped and pumped out of here.
A farmer in the field. (Pho­to: Sev­er­ine von Tscharn­er Fleming)
Econ­o­my and Ecology
Anchor­age is a mighty big city. ​"Eat wild fish!" read the bill­boards and yet, in the super­mar­kets here there is shrimp from Mex­i­co, farmed fish from Chile and not much in the way of local veg­eta­bles. It's very clear that this econ­o­my is built on resource extrac­tion. Set­tle­ment pat­terns reflect the dis­tor­tion. The major­i­ty of food eat­en in Alas­ka is flown or barged in from the low­er 48 and deliv­ered to remote areas by bush plane. Most places set­tled by humans before the age of petro­le­um have a struc­ture that doesn't require it quite so dra­mat­i­cal­ly. As a result of the ener­gy-seek­ing econ­o­my, there are hard­ly any farms here rel­a­tive to pop­u­la­tion. Indeed, most of the ter­rain is hard­ly hab­it­able for a land-based econ­o­my, except for this extreme import-dri­ven sup­ply chain that's jus­ti­fied by mining.
Old­er places, in terms of human set­tle­ment, are usu­al­ly those ori­ent­ed around fish­ing and farm­ing com­mu­ni­ties. These places and geo­gra­phies often make more eco­log­i­cal sense in many ways — har­bors become ports, moun­tains become head­wa­ters, rivers become cor­ri­dors of trade. These kinds of places also make more sense from the per­spec­tive of an agrar­i­an democ­ra­cy. Strange bed­fel­lows join in alliance against a tox­ic mine. But what log­ic of con­ser­va­tion can work in a tum­bling cas­cade of bio­log­i­cal and eco­log­i­cal sys­tems whose mem­bers have nei­ther votes, nor dol­lars, nor lobbyists?
(To read an Alas­ka Jour­nal Part III, click here)