An Indigenous Organizer at Standing Rock Speaks on Police Repression, Climate Chaos and Donald Trump
The water protectors at Standing Rock are still defiant in opposing the Dakota Access Pipeline.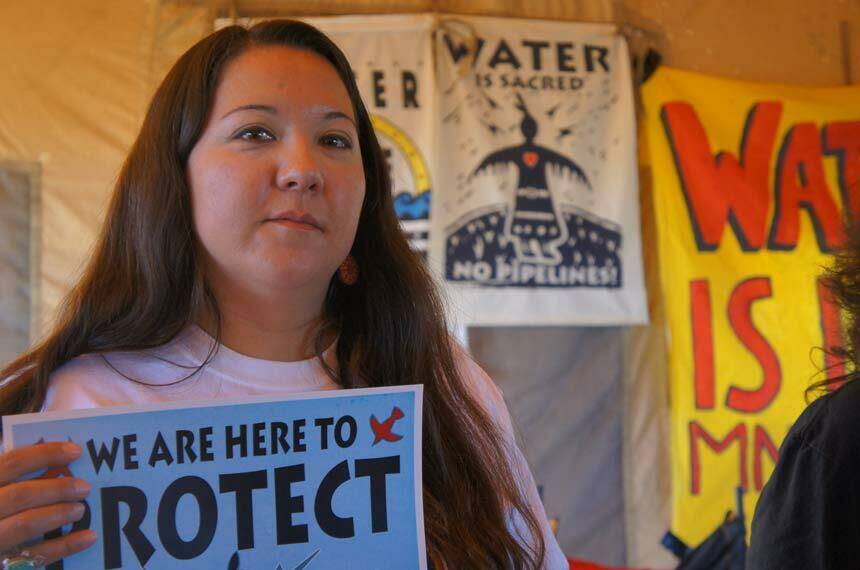 The $3.8 bil­lion Dako­ta Access Pipeline (DAPL), if com­plet­ed, would car­ry up to 570,000 bar­rels of crude oil dai­ly from the Dako­tas to refiner­ies in Illi­nois. Along the way it would cross the Mis­souri Riv­er, the main source of drink­ing water and irri­ga­tion for 8,200 res­i­dents of the Stand­ing Rock reser­va­tion. Those facts have turned DAPL into a flash­point in dual strug­gles for cli­mate jus­tice and Native rights. In April, demon­stra­tors led by the Stand­ing Rock Sioux launched an encamp­ment at the site of the pro­posed pipeline, which the tribe also says cross­es over land that — accord­ing to the terms of an 1868 treaty — should still belong to them. They've been con­front­ed with mul­ti­ple rounds of police repres­sion, most recent­ly the night of Novem­ber 20, when, Democ­ra­cy Now reports, ​"more than 100 Native Amer­i­cans and allies … have been injured by police, who attacked them with rub­ber bul­lets, tear gas, mace can­is­ters and water can­nons in freez­ing temperatures."
It shows how strong we are as a nation because we're still here and still fighting.
Kan­di Mos­sett is one of hun­dreds of ​"water pro­tec­tors" who have gath­ered at Stand­ing Rock in recent months. As an orga­niz­er with the Indige­nous Envi­ron­men­tal Net­work (IEN), she has spent near­ly a decade work­ing toward a ​"just tran­si­tion" from fos­sil fuels — for exam­ple, by help­ing indige­nous youth find green jobs. Since arriv­ing at Stand­ing Rock on August 15, she's helped with media out­reach, logsitics and imple­ment­ing sus­tain­abil­i­ty pro­grams in the community.
A mem­ber of the Man­dan, Hidat­sa and Arikara Nation, Mos­sett grew up on the Fort Berthold reser­va­tion in North Dako­ta. While in col­lege at the Uni­ver­si­ty of North Dako­ta, she got her first real taste of activism when she and fel­low Native stu­dents pres­sured the insti­tu­tion to replace its mas­cot, the ​"Fight­ing Sioux." After years of work­ing in state and nation­al parks, she became con­cerned that those parts of the plan­et not set aside as parks were get­ting destroyed. She shift­ed her efforts to fight­ing against frack­ing, the Key­stone XL pipeline and, most recent­ly, DAPL. Mos­sett spoke to In These Times from Stand­ing Rock, as she and oth­er orga­niz­ers dealt with the after­math of mass arrests and a dis­turb­ing election.
Don­ald Trump has been elect­ed pres­i­dent. How does this affect your struggle?
I'm try­ing to remain pos­i­tive. But he is a known cli­mate denier. I'm hop­ing we can use this as a wake-up call for every­body in this coun­try to come togeth­er. And we're hop­ing that what­ev­er Oba­ma can do before Jan­u­ary 20, he will do. What has he got to lose?
[Edi­tors' note: When this issue went to press on Novem­ber 12, Oba­ma had tak­en no new action on the pipeline since the elec­tion; last week the Army Corps of Engi­neers released a state­ment say­ing that ​"addi­tion­al dis­cus­sion and analy­sis" are nec­es­sary before it approves the planned route.]
Would re-rout­ing the pipeline, as Oba­ma has sug­gest­ed the gov­ern­ment might do, solve the problem?
It's not about NIM­BY (Not In My Back­yard); that's why we aren't say­ing reroute it. We don't want it to poi­son some­body else.
We are demand­ing a full Envi­ron­men­tal Impact State­ment (EIS), which was nev­er done. Com­pa­nies some­how got away with get­ting per­mits typ­i­cal­ly used for small-scale projects, like boat ramps and bike trails, by tak­ing this over-1100-mile long pipeline and break­ing it down into lit­tle tee­ny sec­tions. Each sec­tion was looked at as an indi­vid­ual project, not part of a whole. They knew if they had to do a full EIS the pipeline would nev­er hap­pen, because so many cul­tur­al sites and endan­gered species would be affected.
Were you expect­ing Stand­ing Rock to grow as it has?
I had no expec­ta­tions. LaDon­na Allard of the Stand­ing Rock Sioux tribe was the landown­er liv­ing clos­est to where DAPL was going to be built. She found out about it in 2014, and she said, ​"No, we can't have this." She real­ized where they were try­ing to go through: her son's grave is out there on a hill.
LaDon­na met with mem­bers of IEN, and they said, ​"let's go build a camp against DAPL." In April, peo­ple came to put up tents and teepees. Some­times there was only a hand­ful, five or six; some­times it would swell to 30 people.
In August, we found out with less than 48-hour notice that they were going to start dig­ging near Stand­ing Rock. LaDon­na put out a call and said, ​"I don't know if any­one is going to see this, but if you do see this come and help us."
Over the course of the two next days, there were 200 peo­ple there.
There have been hun­dreds of arrests at Stand­ing Rock. How have these crack­downs affect­ed the movement?
With­in two days of the first arrests [in August], 700 more peo­ple showed up, and then around 1,200 more. We had to form a new camp.
The camps grew, we con­tin­ued to pray each time we did direct action and we were con­tin­u­al­ly met with vio­lence. Fast-for­ward to Octo­ber 27 [when police arrest­ed more than 140 peo­ple]. It real­ly felt like we were in a war zone. Peo­ple were injured, shot at close-range with rub­ber bul­lets. One of the police took a pipe from one man and broke it in half — you don't do that with a sacred object.
We were just pray­ing. The police kept telling us to move, but we wouldn't. I told them my grand­fa­ther was a World War II vet. He didn't fight and get two Pur­ple Hearts for this to hap­pen to his tribe. It was a real­ly sur­re­al moment.
Now we're deal­ing with post-trau­mat­ic stress dis­or­der. We nev­er thought that, in 2016, we would still be attacked as Native Americans.
But it shouldn't sur­prise us. Reser­va­tions used to be pris­ons. They couldn't decide what to do with us — ​"What are we going to do about the Indi­an prob­lem?" That's what this whole fight is about now: send­ing out cops from oth­er states to deal with the Indi­an prob­lem. It shows how strong we are as a nation because we're still here and still fighting.
Some have crit­i­cized non-Native envi­ron­men­tal­ists for fram­ing Stand­ing Rock pri­mar­i­ly as a fight against cli­mate change, as opposed to a strug­gle for indige­nous land rights.
There's no ten­sion there because it's all con­nect­ed. Stud­ies show that this pipeline would increase car­bon emis­sions the equiv­a­lent of 29.5 coal plants per year, or 21.4 mil­lion new cars on the road. If this coun­try were seri­ous about reduc­ing emis­sions, it would not allow this pipeline to be built.
Cli­mate chaos exists. It's human-pro­duced. It also stems from cap­i­tal­ism and col­o­niza­tion. The pipeline has already been rerout­ed once, [to avoid] the most­ly white pop­u­la­tion of Bis­mar­ck. So it was rerout­ed to north of Stand­ing Rock Sioux tribe. Right off the bat, it's an envi­ron­men­tal racism issue.
Peo­ple are start­ing to wake up and real­ize that. We're not going to turn away our allies for final­ly wak­ing up, because we're hop­ing to show every­body that there are alter­na­tives to oil. There are no alter­na­tives to clean water.
In Sep­tem­ber, the AFL-CIO put out a state­ment back­ing the Dako­ta Access pipeline and the ​"fam­i­ly sup­port­ing jobs" it would pro­vide. How do we move beyond jobs vs. the environment?
We're not against the work­ers. Some of the larg­er unions like the AFL-CIO came out against us, but then oth­ers in sup­port of us. Their slo­gan became ​"There are no jobs on a dead plan­et." And I was like, ​"Yes!"
We need to look at how we're going to ful­ly phase out the extrac­tion projects we already have and clean them up, while at the same time hav­ing jobs and infra­struc­ture for all of those work­ers just try­ing to feed their families.
If we switch to renew­ables, we could have far more green jobs than there are total jobs in the fos­sil fuel indus­try — and the coun­try isn't doing it. Why? It's crazy, how human nature fears change. We are try­ing lit­er­al­ly to save us from our­selves. And fos­sil fuel resources are finite any­way — it's like we're play­ing a game of Russ­ian roulette to see what's going to last longer: fos­sil fuels, or humans?
How can peo­ple who aren't able to trav­el to Stand­ing Rock sup­port the movement?
Our call-out for allies is to put pres­sure on the Army Corps of Engi­neers (ACE). Allies need to tell the ACE not to issue the per­mit for pipeline builders to bore under the Mis­souri Riv­er. Inci­den­tal­ly, the ACE is under­neath the Oba­ma admin­is­tra­tion. He could step in, but so far there's been most­ly silence.
We've also been call­ing for allies across the coun­try to tar­get the banks and any of the peo­ple financ­ing DAPL. If peo­ple do want to donate but can't come to North Dako­ta, you can go to Indige​nous​Ris​ing​.org. We will con­tin­ue to be at the camp.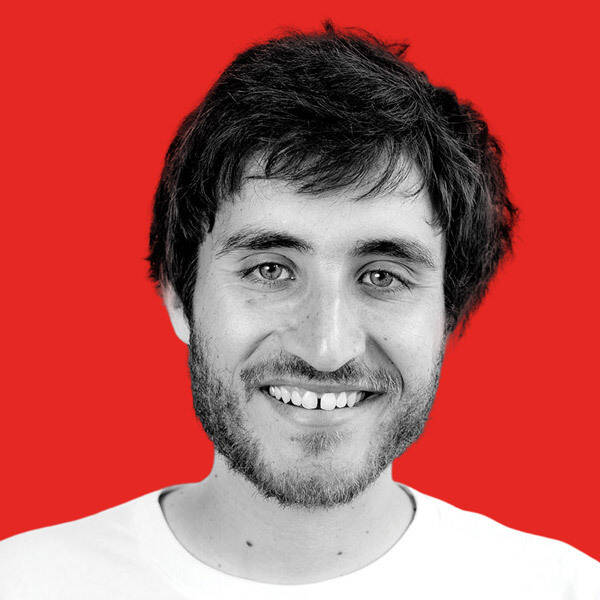 Day­ton Mar­tin­dale is a free­lance writer and for­mer asso­ciate edi­tor at In These Times. His work has also appeared in Boston Review, Earth Island Jour­nal, Har­bin­ger and The Next Sys­tem Project. Fol­low him on Twit­ter: @DaytonRMartind.