An Indigenous Organizer at Standing Rock Speaks on Police Repression, Climate Chaos and Donald Trump
The water protectors at Standing Rock are still defiant in opposing the Dakota Access Pipeline.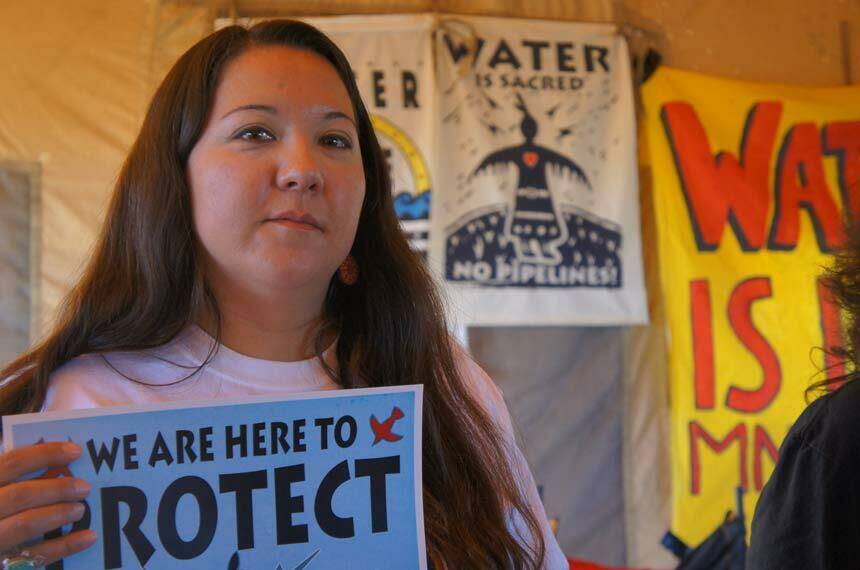 The $3.8 billion Dakota Access Pipeline (DAPL), if completed, would carry up to 570,000 barrels of crude oil daily from the Dakotas to refineries in Illinois. Along the way it would cross the Missouri River, the main source of drinking water and irrigation for 8,200 residents of the Standing Rock reservation. Those facts have turned DAPL into a flashpoint in dual struggles for climate justice and Native rights. In April, demonstrators led by the Standing Rock Sioux launched an encampment at the site of the proposed pipeline, which the tribe also says crosses over land that — according to the terms of an 1868 treaty — should still belong to them. They've been confronted with multiple rounds of police repression, most recently the night of November 20, when, Democracy Now reports, ​"more than 100 Native Americans and allies … have been injured by police, who attacked them with rubber bullets, tear gas, mace canisters and water cannons in freezing temperatures."
It shows how strong we are as a nation because we're still here and still fighting.
Kandi Mossett is one of hundreds of ​"water protectors" who have gathered at Standing Rock in recent months. As an organizer with the Indigenous Environmental Network (IEN), she has spent nearly a decade working toward a ​"just transition" from fossil fuels — for example, by helping indigenous youth find green jobs. Since arriving at Standing Rock on August 15, she's helped with media outreach, logsitics and implementing sustainability programs in the community.
A member of the Mandan, Hidatsa and Arikara Nation, Mossett grew up on the Fort Berthold reservation in North Dakota. While in college at the University of North Dakota, she got her first real taste of activism when she and fellow Native students pressured the institution to replace its mascot, the ​"Fighting Sioux." After years of working in state and national parks, she became concerned that those parts of the planet not set aside as parks were getting destroyed. She shifted her efforts to fighting against fracking, the Keystone XL pipeline and, most recently, DAPL. Mossett spoke to In These Times from Standing Rock, as she and other organizers dealt with the aftermath of mass arrests and a disturbing election.
Donald Trump has been elected president. How does this affect your struggle?
I'm trying to remain positive. But he is a known climate denier. I'm hoping we can use this as a wake-up call for everybody in this country to come together. And we're hoping that whatever Obama can do before January 20, he will do. What has he got to lose?
[Editors' note: When this issue went to press on November 12, Obama had taken no new action on the pipeline since the election; last week the Army Corps of Engineers released a statement saying that ​"additional discussion and analysis" are necessary before it approves the planned route.]
Would re-routing the pipeline, as Obama has suggested the government might do, solve the problem?
It's not about NIMBY (Not In My Backyard); that's why we aren't saying reroute it. We don't want it to poison somebody else.
We are demanding a full Environmental Impact Statement (EIS), which was never done. Companies somehow got away with getting permits typically used for small-scale projects, like boat ramps and bike trails, by taking this over-1100-mile long pipeline and breaking it down into little teeny sections. Each section was looked at as an individual project, not part of a whole. They knew if they had to do a full EIS the pipeline would never happen, because so many cultural sites and endangered species would be affected.
Were you expecting Standing Rock to grow as it has?
I had no expectations. LaDonna Allard of the Standing Rock Sioux tribe was the landowner living closest to where DAPL was going to be built. She found out about it in 2014, and she said, ​"No, we can't have this." She realized where they were trying to go through: her son's grave is out there on a hill.
LaDonna met with members of IEN, and they said, ​"let's go build a camp against DAPL." In April, people came to put up tents and teepees. Sometimes there was only a handful, five or six; sometimes it would swell to 30 people.
In August, we found out with less than 48-hour notice that they were going to start digging near Standing Rock. LaDonna put out a call and said, ​"I don't know if anyone is going to see this, but if you do see this come and help us."
Over the course of the two next days, there were 200 people there.
There have been hundreds of arrests at Standing Rock. How have these crackdowns affected the movement?
Within two days of the first arrests [in August], 700 more people showed up, and then around 1,200 more. We had to form a new camp.
The camps grew, we continued to pray each time we did direct action and we were continually met with violence. Fast-forward to October 27 [when police arrested more than 140 people]. It really felt like we were in a war zone. People were injured, shot at close-range with rubber bullets. One of the police took a pipe from one man and broke it in half — you don't do that with a sacred object.
We were just praying. The police kept telling us to move, but we wouldn't. I told them my grandfather was a World War II vet. He didn't fight and get two Purple Hearts for this to happen to his tribe. It was a really surreal moment.
Now we're dealing with post-traumatic stress disorder. We never thought that, in 2016, we would still be attacked as Native Americans.
But it shouldn't surprise us. Reservations used to be prisons. They couldn't decide what to do with us — ​"What are we going to do about the Indian problem?" That's what this whole fight is about now: sending out cops from other states to deal with the Indian problem. It shows how strong we are as a nation because we're still here and still fighting.
Some have criticized non-Native environmentalists for framing Standing Rock primarily as a fight against climate change, as opposed to a struggle for indigenous land rights.
There's no tension there because it's all connected. Studies show that this pipeline would increase carbon emissions the equivalent of 29.5 coal plants per year, or 21.4 million new cars on the road. If this country were serious about reducing emissions, it would not allow this pipeline to be built.
Climate chaos exists. It's human-produced. It also stems from capitalism and colonization. The pipeline has already been rerouted once, [to avoid] the mostly white population of Bismarck. So it was rerouted to north of Standing Rock Sioux tribe. Right off the bat, it's an environmental racism issue.
People are starting to wake up and realize that. We're not going to turn away our allies for finally waking up, because we're hoping to show everybody that there are alternatives to oil. There are no alternatives to clean water.
In September, the AFL-CIO put out a statement backing the Dakota Access pipeline and the ​"family supporting jobs" it would provide. How do we move beyond jobs vs. the environment?
We're not against the workers. Some of the larger unions like the AFL-CIO came out against us, but then others in support of us. Their slogan became ​"There are no jobs on a dead planet." And I was like, ​"Yes!"
We need to look at how we're going to fully phase out the extraction projects we already have and clean them up, while at the same time having jobs and infrastructure for all of those workers just trying to feed their families.
If we switch to renewables, we could have far more green jobs than there are total jobs in the fossil fuel industry — and the country isn't doing it. Why? It's crazy, how human nature fears change. We are trying literally to save us from ourselves. And fossil fuel resources are finite anyway — it's like we're playing a game of Russian roulette to see what's going to last longer: fossil fuels, or humans?
How can people who aren't able to travel to Standing Rock support the movement?
Our call-out for allies is to put pressure on the Army Corps of Engineers (ACE). Allies need to tell the ACE not to issue the permit for pipeline builders to bore under the Missouri River. Incidentally, the ACE is underneath the Obama administration. He could step in, but so far there's been mostly silence.
We've also been calling for allies across the country to target the banks and any of the people financing DAPL. If people do want to donate but can't come to North Dakota, you can go to Indige​nous​Ris​ing​.org. We will continue to be at the camp.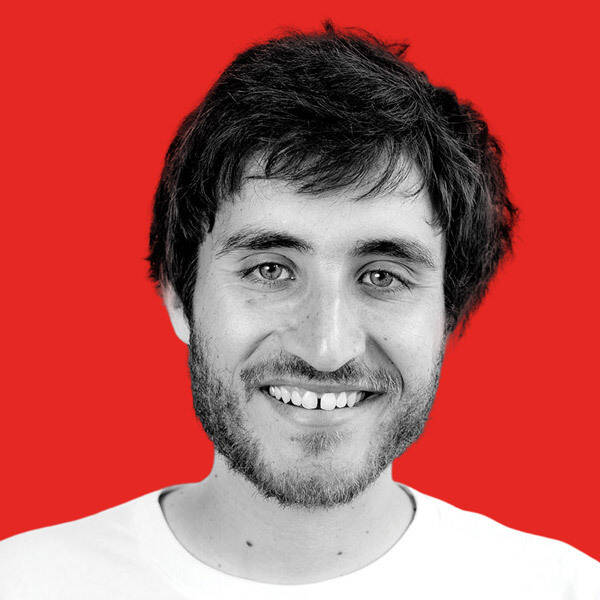 Dayton Martindale is a freelance writer and former associate editor at In These Times. His work has also appeared in Boston Review, Earth Island Journal, Harbinger and The Next System Project. Follow him on Twitter: @DaytonRMartind.