An Israeli Refuseniks Good Fight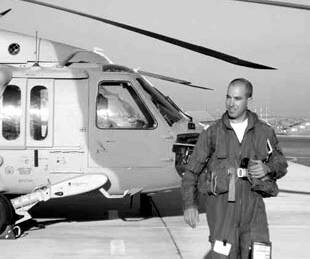 In September 2003, in the midst of Israel's campaign of targeted assassinations against Palestinian terrorists, a 31-year-old Black Hawk helicopter pilot named Yonatan Shapira terrorized Israel's military high command without committing a single act of violence.
In the Pilots' Letter of Refusal that he authored and 26 other pilots signed, these historic words were written: ​"We, who were raised to love the state of Israel and contribute to the Zionist enterprise, refuse to take part in Air Force attacks on civilian population centers. … These actions are illegal and immoral, and are a direct result of the ongoing occupation which is corrupting all of Israeli society." Reading those words to an audience of progressive Jews, he added, ​"We will continue to serve the Israeli Defense Forces (IDF), but not the Israeli occupation forces."
It wasn't the first time Israeli soldiers refused to serve – dissident soldiers forged a movement called Yesh Gvul (There Is A Limit) during the first Lebanese war in the early ​'80s. Shapira's letter, however, did mark the first time that pilots, the elite of the military and the darlings of society, defied military orders for reasons of conscience. They were promptly dismissed from the Air Force.
Shapira, the son of an Israeli pilot from an Ashkenazi family, is currently living with his girlfriend in Brooklyn and finishing his thesis for the European Center For Peace and Conflict Studies in Austria. His subjects are the Israeli pilots with whom he conducted countless hours of interviews.
How did the Israeli public react to you and to the other pilot-refusers?
There was a big uproar in the entire country. We had many supporters, and many opponents, of course. Yedioth Aharonoth, the biggest newspaper in Israel, and Channel Two, the popular TV station, presented the statements, the interviews, the filming we prepared with them in advance. It was a scoop.
We had a lot of support within the Air Force. Many pilots who didn't agree to sign gave us moral support. The opposition, including Zionist leftists, called us traitors. People condemned us, but we were convinced, and still are, that we did the right thing for the country.
And those who ruled the country?
We made them feel afraid, vulnerable and weak, because we broke ranks, because we touched the very nerve of the system. It can't work without obedience. That's why the support we got from many pilots disturbed the Air Force and the government.
Following your own refusal, you called upon other pilots to say no to being pilots of the occupation. Didn't that put you at risk of doing major jail time?
I understood by then that they would not imprison us, or put us on trial, because that would serve our interests. We don't shoot or attack anyone. Our ammunition is public attention. We would have welcomed being charged with acting against an illegal and immoral occupation.
Tell me about Combatants For Peace, the group of former Israeli and Palestinian fighters that you belong to.
Early in 2005, my brother Zohar made contact with Sulaiman Al Hamri, a former Fatah fighter, in Bethlehem. Some weeks later a meeting took place between Israeli refuseniks and Palestinian ex-prisoners and fighters. We were suspicious of each other at first, but by telling our stories, we created a bond. We agreed that we should meet, dialogue, struggle together against the occupation. One of our actions was to help rebuild a Palestinian house that was destroyed by the army. Last April, we had a public lunch in a schoolyard in Anata, which was cut in two by the wall – 60 Israeli and 60 Palestinian former fighters. We were joined by members of the European Parliament, even by members of the Knesset. The army fired a shock grenade over our heads.
Many in the Israeli peace movement supported the war in Lebanon. Why did they support it and you did not?
I think what differentiated us from groups like Shalom Achshav [Peace Now] was that, unlike them, we spent a lot of time in the occupied territories with the Palestinians, and with their suffering. We lost faith in our government and in the army. Many of my friends are against the occupation, but they still have faith in the government. They allowed themselves to be manipulated by the government. What was involved was a combination of basic fears, because we were attacked, and their buying into the idea that we could destroy Hezbollah.
What do you think about Defense Minister Amir Peretz, the former Labor Party leader whose name will forever be linked with the war in Lebanon?
Amir Peretz was a very sad example of someone in whom we had great hope, because he was not from the typical Ashkenazi [European Jewish] leftist background. Unfortunately, he was easy for the army to manipulate. He made an impressive statement before the elections: ​"There is no difference between a child in Gaza and a child in Sderot." He was a lefty leader who spoke of peace and social justice, and was one of those responsible for the absolutely crazy war in Gaza, and the war in Lebanon after that. I guess it was smart of Prime Minister Ehud Olmert to make him defense minister and ruin him completely.
What is known about the morale of Israeli soldiers who fought in Lebanon?
There was a lot of confusion in the way the war was conducted. Soldiers were fighting a guerrilla war that they were not prepared or trained for. Many had previously manned checkpoints or roadblocks in the occupied territories. Their experience was in policing the West Bank. Pilots complained that their targets were not well-chosen. Moshe Yaalon, the former chief of staff, has said that some of the operations, especially those at the end of the war, when many soldiers were brought in, were carried out to make it appear to the public that we had won a victory.
My brother Itamar was called up and refused to go to war. As a citizen, he felt the best way to protect his country was to try to prevent this war, to demonstrate against it, and to try to convince other soldiers not to go. He was jailed for eight days. Others were put in jail for four weeks. Some soldiers refused, but not publicly. I have a friend who called in to refuse. They told him, ​"OK, call us next week, and we may ask you to come in and talk with your commander." He didn't call, and nothing happened. But he was ready to go to jail.
What accounts for you and your brothers all being public dissidents?
We are just acting on the values we were raised with: democracy, equality, justice, caring about those who suffer. That's what we were taught at home, that's what we learned at school. Those values have been eroded by 40 years of occupation. But in the case of my brothers and I, and thousands of refusers and conscientious objectors, they are the values we live by.
Have you been threatened in Israel or the United States for speaking out?
I haven't been seriously threatened in Israel and certainly not here.
Yes, I received threats in Israel. One veteran right wing pilot said that people like me who disobey orders in wartime should be ​"put against the wall." But people these days are for the most part indifferent. And the foreign ministry said that our actions, and the fact that we weren't punished, shows that Israel is a democracy. Politically, they made it work to their advantage.
What is your perspective on Israel since the war in Lebanon, which many believe Israel lost?
I had the feeling at the end of this war that something good may come out of this loss. We have been trained and educated to think that winning wars is always good, and that's wrong. Having the strongest army, and being the most aggressive country, will not help us survive forever. To survive, we have to make peace with the Palestinians, with Syria, with Lebanon. I think this current generation of leaders will not lead us to that peace. That will happen only with massive international pressure, and when we have a new generation of leaders less controlled by fears and Holocaust syndromes. I see great potential in many of the young people now graduating high school, some of whom are going to jail instead of going into the army.
Also, you had reservists who came back from the war very disillusioned. They protested against Olmert, Peretz and IDF Chief of Staff Dan Halutz, demanding that they resign. But at the same time, Israel is becoming more and more nationalistic. A Nazi commander at the Nuremberg trials said, it's not hard to get people to go to war, just tell them they are being attacked. That's what happened here. Even the Labor Party, with its ​"peace agenda" agreed to remain in the government when Olmert made Avigdor Lieberman, the head of the extreme right wing Yisrael Beiteinu [Our Home], deputy prime minister.
What can be done here in the United States to pressure Israel to end the occupation?
First of all, the military aid to Israel has to stop. This coming year [2007??] it will amount to $2.4 billion. Products from the settlements, and official representatives of the Israeli government should be boycotted. AIPAC [American Israel Public Affairs Committee], which works against the interests of my country, should be replaced by more moderate Jewish organizations.
The majority of Jews in America must start to act and stop worshipping the State of Israel like it was God. Some people say it's like the worship of the Golden Calf in the Bible. Idolatry.
Robert Hirschfield
is a New York-based writer who covers Israeli and Palestinian peace activists. He has written for
The Progressive, The National Catholic Reporter
and
Sojourners
.