Independence and 'Catastrophe'?
An Israeli group tries to democratize memory by recognizing Palestinians' 'Nakba.'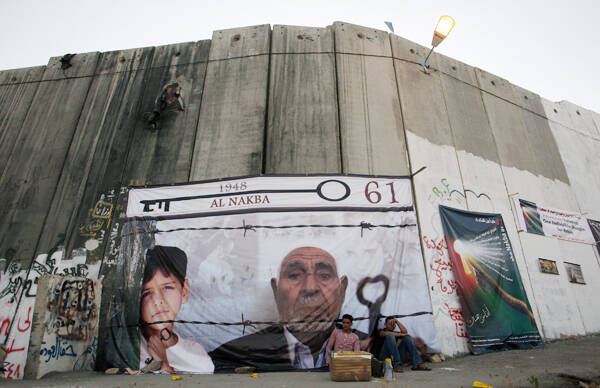 In a coun­try root­ed in the Zion­ist nar­ra­tive of how Israel was cre­at­ed, the orga­ni­za­tion Zochrot (Hebrew for ​"remem­ber­ing") says to its adver­saries what the black nurse in Angels in Amer­i­ca says to the dying Roy Cohn: ​"I am your negation."
Found­ed in 2002 by activists, most­ly Israeli Jews but a few from Pales­tin­ian polit­i­cal par­ty Fatah, Zochrot is root­ed in mem­o­ry: the mem­o­ry of the ​"Nak­ba," Ara­bic for ​'cat­a­stro­phe', and how Pales­tini­ans refer to the cre­ation of Israel on their land.
Zochrot tries to democ­ra­tize mem­o­ry. Each year on Israeli Inde­pen­dence Day, it holds its Nak­ba Day ral­ly in Rabin Square in Tel Aviv, where a mon­u­ment to the Holo­caust stands. In that square in 2005, it unveiled its Nak­ba Map, which restores the loca­tions of Pales­tin­ian vil­lages destroyed dur­ing the ​'47 War of Inde­pen­dence and afterwards.
"The Jews in Israel," says Eitan Bron­stein, the direc­tor of Zochrot, ​"know almost noth­ing about the Nak­ba." That must change, he says, if ​"our respon­si­bil­i­ty for tak­ing part in the Nak­ba" is to be under­stood. ​"In school, when we stud­ied Israel's War of Inde­pen­dence, we learned about Oper­a­tion Gideon and Oper­a­tion Dan­ny, which con­quered Ram­le, but we nev­er learned about who were expelled because of these oper­a­tions." Bron­stein esti­mates that 750,000 Pales­tini­ans were forced from their homes, and 500 vil­lages and neigh­bor­hoods were destroyed.
Zochrot mem­bers reg­u­lar­ly take groups of Israelis and Pales­tini­ans on tours of these vil­lages and neigh­bor­hoods, some­times accom­pa­nied by the Pales­tini­ans who once lived there. Tour par­tic­i­pants are told of the lives and fate of the van­ished inhabitants.
Zochrot is known for putting up in signs at the sites of the wiped-out vil­lages with their orig­i­nal Ara­bic names. ​"The signs are usu­al­ly removed after 15 min­utes," says Nor­ma Musih, one of Zochrot's founders. ​"At most, two hours."
Ear­ly in 2004, Zochrot activists were pre­vent­ed from res­ur­rect­ing the names of the vil­lages of Yalu and Imwas in Cana­da Park, a sub­urb north of Jerusalem. Zochrot took the town to court and in March 2006, the court ruled in its favor. A com­mem­o­ra­tive sign was post­ed that read in part: ​"The vil­lages, Imwas and Yalu, exist­ed in the area of the park until 1967. In the vil­lage of Imwas there lived 2,000 res­i­dents who now reside in and around Ramallah."
Musih was both out­raged and amused. ​"Noth­ing is writ­ten about what hap­pened to the res­i­dents. It's as if they just decid­ed one day to move to Ramal­lah." Most Israelis hold Zochrot in con­tempt for its iden­ti­fi­ca­tion with Nak­ba. This is espe­cial­ly true of old­er Israelis who cling to the tra­di­tion­al nar­ra­tive of how the Jew­ish state was cre­at­ed. The younger gen­er­a­tion, says Bron­stein, is more cyn­i­cal and open to hear­ing out hereti­cal chal­lenges to cher­ished beliefs.
While Dan Flesh­er, of the Israeli-Pales­tin­ian blog, Real­is­tic Dove, stress­es the impor­tance for the Pales­tin­ian side of hav­ing their nar­ra­tive pre­sent­ed unedit­ed to Israelis, he ques­tions Zochrot's inter­pre­ta­tion: ​"I am not sure it is entire­ly accu­rate. Each side has its own ver­sion. Each side com­mit­ted atroc­i­ties, and were guilty of injus­tices. The nar­ra­tive is not a sim­ple one."
This past Nak­ba Day, Yediot Aharonot, Israel's largest news­pa­per, ran an op-ed piece by a Zochrot mem­ber explain­ing why she doesn't cel­e­brate Israeli Inde­pen­dence Day. Much of the response to the piece was nasty, said Musih. ​"Peo­ple wrote: ​'You are trai­tors. You should be jailed.' But we did actu­al­ly get some very nice let­ters sent to our website."
Bron­stein was pleased with Yediot, but he remains fun­da­men­tal­ly at odds with the Israeli press. ​"They get things twist­ed. They say we have the Pales­tin­ian nar­ra­tive about the Nak­ba. It's our narrative."
The Knes­set is cur­rent­ly con­sid­er­ing a weak ver­sion of an anti-Nak­ba Day Law, first pro­posed last spring by MK Alex Miller of the right-wing Israel Beit­einu Par­ty. Miller called for the crim­i­nal­iza­tion of any obser­vance of Nak­ba Day. Vio­la­tors of the law would have faced up to three years impris­on­ment. The amend­ed law, expect­ed to pass short­ly, would result in the denial of gov­ern­ment fund­ing for leg­is­la­tors in Israeli Arab towns that orga­nize Nak­ba Day ral­lies. Zochrot respond­ed with a state­ment, say­ing the leg­is­la­tion reflects the Israeli estab­lish­ment fears ​"the inevitable encounter with the Pales­tin­ian Nak­ba, and the under­stand­ing that the Nak­ba is a foun­da­tion­al part of the Israeli identity."
Robert Hirschfield
is a New York-based writer who cov­ers Israeli and Pales­tin­ian peace activists. He has writ­ten for
The Pro­gres­sive, The Nation­al Catholic Reporter
and
Sojourn­ers
.