India's Green Party Maverick
The 'poor man's Ralph Nader' tries to turn a green movement into a mass movement.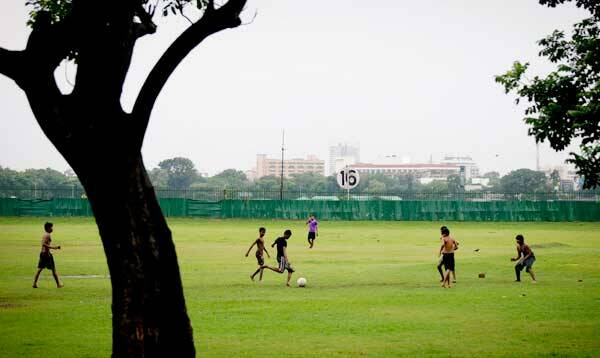 CAL­CUT­TA – Sub­has Dut­ta does not look like the man busy father­ing the Green Par­ty of India. Bald­ing, with a pen­cil thin mus­tache, the leg­endary green activist looks more like an accoun­tant, which he was trained to be.
Dut­ta is best known in West Ben­gal for beat­ing envi­ron­men­tal pol­luters in court. In 2008, the Cal­cut­ta High Court ruled in favor of his peti­tion to per­ma­nent­ly remove the city's most tox­ic vehi­cles, those more than 15 years old, from the roads. Two-thirds of Calcutta's air pol­lu­tion is caused by its 1.2 mil­lion vehi­cles, accord­ing to Jayan­ta Basu of Calcutta's Tele­graph newspaper.
The local trans­port indus­try, sup­port­ed by West Bengal's rul­ing Com­mu­nist Par­ty of India Marx­ist (CPIM), resist­ed the cam­paign against Calcutta's anti­quat­ed vehi­cles. But Dut­ta, the 61-year-old son of refugees from Dha­ka, Bangladesh, prevailed.
Some­times called ​"the poor man's Ralph Nad­er," Dut­ta also fought the CPIM, along with the Pub­lish­ers & Book­sellers Guild, to stop hold­ing the city's annu­al book fair on the Maid­an, the largest of Calcutta's few green spaces. ​"The Maid­an is Calcutta's lungs. [It] com­pris­es six­ty per­cent of the green cov­er of the city," Dut­ta says dur­ing an inter­view in the mas­sive park, with which he is twinned in the minds of Calcuttans.
Every year the grass was torn up and smoth­ered in garbage by more than 1.5 mil­lion peo­ple attend­ing the week-long book fair. ​"It was an assault on the most pre­cious green space the peo­ple of Cal­cut­ta have," Dut­ta says. In Jan­u­ary 2008, the Cal­cut­ta High Court upheld his peti­tion and the fair was relo­cat­ed to the east­ern reach­es of the city. (These vic­to­ries were made pos­si­ble because Dut­ta suc­cess­ful­ly peti­tioned India's Supreme Court in 1996 to set up a Green Bench in Calcutta's High Court to hear envi­ron­men­tal cas­es; it was the first such bench in India.)
Eco­log­i­cal­ly imper­iled West Ben­gal has become more envi­ron­men­tal­ly friend­ly in oth­er ways. (Cal­cut­ta oceanog­ra­ph­er Sug­a­ta Hazra pre­dicts that the pris­tine Sun­der­bans man­grove swamps, a UNESCO World Her­itage site, will lose 15 per­cent of their area by 2020 due to glob­al warm­ing.) ​"The com­mu­nist gov­ern­ment made West Ben­gal the first state in India to appoint a Min­is­ter of Envi­ron­ment," Basu says. ​"And the Ben­gali media has lent strong sup­port to Dut­ta, espe­cial­ly for his court cas­es. It has helped him build credibility."
In a world where cit­i­zens feel increas­ing­ly pow­er­less­ness, Dut­ta is liv­ing proof that one per­son can effect sig­nif­i­cant­ly change. Now he's try­ing to change not just Cal­cut­ta, but India's polit­i­cal land­scape, by build­ing a Green Par­ty. ​"The envi­ron­men­tal issue is the issue of today. The polit­i­cal par­ties, all of them, have let us down," he says. ​"We want to be part of the deci­sion-mak­ing process on the state and nation­al lev­els. The strug­gle for the envi­ron­ment has to be fought politically."
Grow­ing up in the pover­ty of Cal­cut­ta has left him with few illu­sions about how the world works. The mon­ey need­ed to get a Green Par­ty off the ground and finance elec­tion cam­paigns (State assem­bly elec­tions are slat­ed for this spring) has proven hard to raise, because cor­po­ra­tions won't give him money.
Dut­ta points sad­ly to the gray haze enclos­ing the icon­ic Vic­to­ria Memo­r­i­al, which resem­bles an immense, uneat­en wed­ding cake left over from the British Raj. Can he actu­al­ly see him­self accom­plish­ing more as a lone Green in India's par­lia­ment than by assault­ing a more mal­leable judi­cia­ry with his peti­tions? Dut­ta can. The char­tered accoun­tant is a believ­er, like Gand­hi, in polit­i­cal mir­a­cles. ​"The Green move­ment can be a mass move­ment in India," he explains. ​"The future of India is tied up with the future of India's environment."
Robert Hirschfield
is a New York-based writer who cov­ers Israeli and Pales­tin­ian peace activists. He has writ­ten for
The Pro­gres­sive, The Nation­al Catholic Reporter
and
Sojourn­ers
.