Why Dreams of Striking It Rich Are Actually Anti-Capitalist
The quest for buried treasure is a quest to escape the market.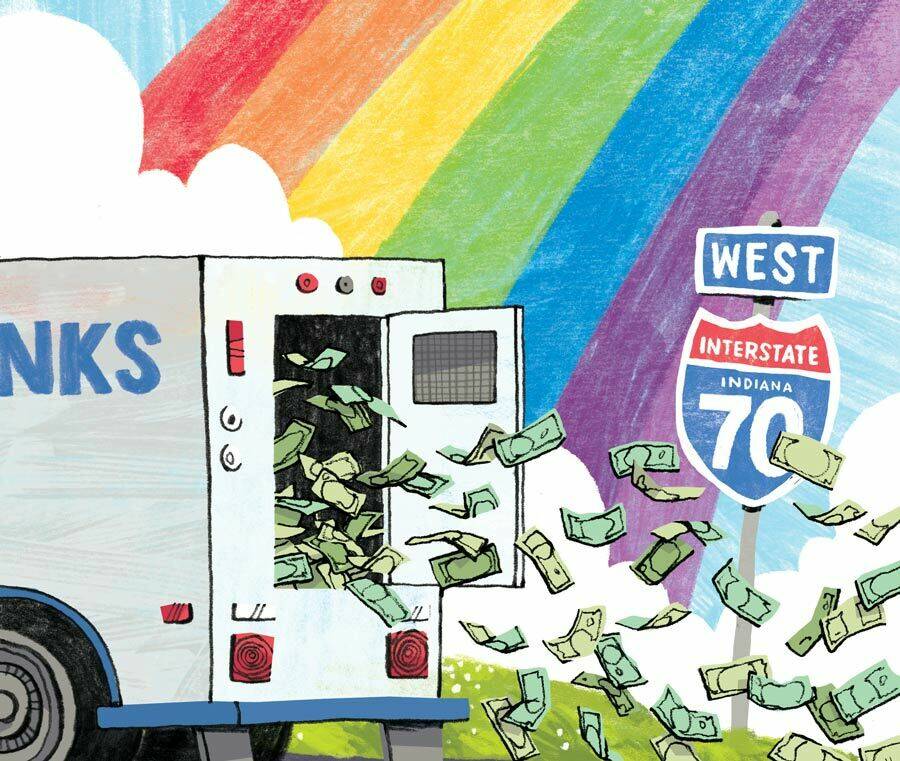 By all accounts, it was like a scene out of a movie, or maybe a fairy tale. On May 2, the back doors of a Brinks armored truck flew open and $600,000 spilled out onto Inter­state 70 in Indi­anapo­lis. Peo­ple stopped their cars in the mid­dle of the road to scoop up the cash. Word spread on social media, and local res­i­dents raced to join the fray. As a woman named Jazmyne Danae put it while livestream­ing the fren­zy on Face­book, ​"Peo­ple just came out here, and was get­tin' hel­la mon­ey. … Look at all this mon­ey. … This man came and got a bag a mon­ey, ya'll. Look at this. All this mon­ey is on the highway."
The same sort of magical thinking that goes into the longing for found treasure might also help us challenge the central tenet of Trump's America—that if you're not wealthy, it's your fault.
Unsur­pris­ing­ly, nation­al media seized on the inci­dent as a mea­sure of our col­lec­tive hon­esty, or lack there­of. The New York Times called it ​"a moment that instant­ly test­ed the core of human moral­i­ty, the def­i­n­i­tion of right and wrong." On ABC's Amer­i­ca This Morn­ing, a sar­don­ic Diane Mace­do said, ​"Legal­ly, find­ers keep­ers does not apply here." She went on to dis­play a screen­shot of the fol­low­ing Twit­ter state­ment from Indi­anapo­lis police: ​"Any­one who picked up mon­ey can be charged with theft."
But in this, the sec­ond year of Don­ald Trump's pres­i­den­cy, the inci­dent sure­ly reflects more than America's fail­ure to pass an ethics exam. Indeed, if that were the case, why both­er? The con­tin­ued nation­al sup­port for Trump in the face of his own pen­chant for grab­bing cash tells us we've failed. I would sug­gest instead that the mad scram­ble for mon­ey on I‑70 is a reminder of a per­sis­tent Amer­i­can fan­ta­sy: that of stum­bling sud­den­ly upon a hid­den cache of gold or cash. And this isn't evi­dence of mon­ey wor­ship, or some dream of cap­i­tal­ist orgy. Rather, this is wish ful­fill­ment — the longed-for moment of being freed from the con­straints and anx­i­eties of try­ing to get by in cap­i­tal­ist America.
This theme runs through some of America's most pop­u­lar sto­ries. From ear­ly buried-trea­sure tales by Edgar Allan Poe and Wash­ing­ton Irv­ing to recent nov­els-turned-films such as A Sim­ple Plan (1998) and No Coun­try for Old Men (2007), the sto­ry of stum­bling upon a cache of mon­ey is a ver­i­ta­ble genre unto itself. ​"It's the Amer­i­can Dream in a god­damn gym bag!" Lou Cham­bers says of the $4.4 mil­lion in $100 bills he and two friends find in A Sim­ple Plan.
The key fea­ture of this genre is that one hap­pens upon the mon­ey through serendip­i­ty, not thiev­ery; it's trea­sure, rather than loot. In count­less bank heist films the char­ac­ters are pro­fes­sion­al crooks; as the old adage goes, rob­bing a bank is sim­ply the flip­side of own­ing one. But in the found mon­ey genre, the pro­tag­o­nists are eco­nom­ic inno­cents who exist out­side the sys­tem. As such, these sto­ries give expres­sion to our col­lec­tive desire for a rela­tion­ship to mon­ey that isn't bound up with con­ven­tion­al notions of ​"suc­cess" and ​"fail­ure" under cap­i­tal­ism. Instead, as the crit­ic Fredric Jame­son argues in Ide­olo­gies of The­o­ry, Vol. I (1988), the nar­ra­tive about found mon­ey evokes an ear­li­er, pre-cap­i­tal­ist era, one in which for­tune and luck, rather than the invis­i­ble hand, rule human lives. When Llewe­lyn Moss finds a suit­case full of drug mon­ey in No Coun­try for Old Men, it is akin to Jack's dis­cov­ery of the giant's trea­sure atop the beanstalk. Jack is no mar­ket guru (he sells the fam­i­ly cow for a hand­ful of beans), and Moss, a Viet­nam vet and welder, strug­gles eco­nom­i­cal­ly. But for each, the dis­cov­ery of trea­sure sug­gests they've exit­ed the realm of the mar­ket and entered a fan­ta­sy space where mirac­u­lous, even mag­i­cal events deter­mine one's fate.
Moss' reac­tion to the mon­ey in Cor­mac McCarthy's nov­el is telling: ​"His whole life was sit­ting there in front of him. Day after day from dawn till dark until he was dead. All of it cooked down to forty pounds of paper in a satchel." On the one hand, Moss sees his life's labor abstract- ed into the pile of mon­ey he has dis­cov­ered. But he has also found the goose that lays the gold­en eggs, and — much like peo­ple on I‑70 — he grabs at the chance to step out of the worka­day flow of mod­ern capitalism.
In Some­thing for Noth­ing: Luck in Amer­i­ca (2003), Jack­son Lears dis­cuss­es the long-stand­ing ten­sions between two world­views — one advo­cat­ing the self-made man who ris­es through ratio­nal­i­ty and dis­ci­pline, and the oth­er cham­pi­oning the gam­bler and con­fi­dence man who embraces the vagaries of for­tune. As he puts it, ​"Long­ings for a lucky strike have been coun­ter­bal­anced by a sec­u­lar Protes­tant Eth­ic that has ques­tioned the very exis­tence of luck." In Amer­i­ca, he says, the stan­dard atti­tude is that ​"you make your own luck."
But what if we step out­side this relent­less­ly ungen­er­ous ide­ol­o­gy, and admit that we are all sub­jects under the invis­i­ble hand? Lears sug­gests that the same sort of mag­i­cal think­ing that goes into the long­ing for found trea­sure (and that moti­vates our iden­ti­fi­ca­tion with char­ac­ters such as Moss) might also help us acknowl­edge the role of for­tune and acci­dent in our lives, and help chal­lenge the cen­tral tenet of Trump's Amer­i­ca — that if you're not wealthy, it's your fault. Instead, we might admit that both wealth and pover­ty are more close­ly linked to luck than to character.
One might say those seek­ing a wind­fall on I‑70 stepped into a fairy tale. Of course, that world was sealed off almost imme­di­ate­ly. The police made sure of that, after which media com­men­ta­tors like Diane Mace­do sought to dis­cred­it any­one not hew­ing to the Protes­tant eth­ic of mar­ket advance­ment. The unspo­ken log­ic here, of course, is that only the rich can be lucky.
Still, for a brief few min­utes in ear­ly May, there real­ly were peo­ple on the high­way grab­bing hand­fuls of loose cash. May they live hap­pi­ly ever after.
David Antho­ny
is a pro­fes­sor of Eng­lish at South­ern Illi­nois Uni­ver­si­ty Car­bon­dale. He has writ­ten about mon­ey and cap­i­tal­ism in var­i­ous venues, includ­ing Paper Mon­ey Men (Ohio State Uni­ver­si­ty Press) and Some­thing for Noth­ing: A Nov­el (Algo­nquin Books).