What a Century-Old Socialist Newspaper Can Teach Us About the Left
Inside Appeal to Reason, the paper that inspired In These Times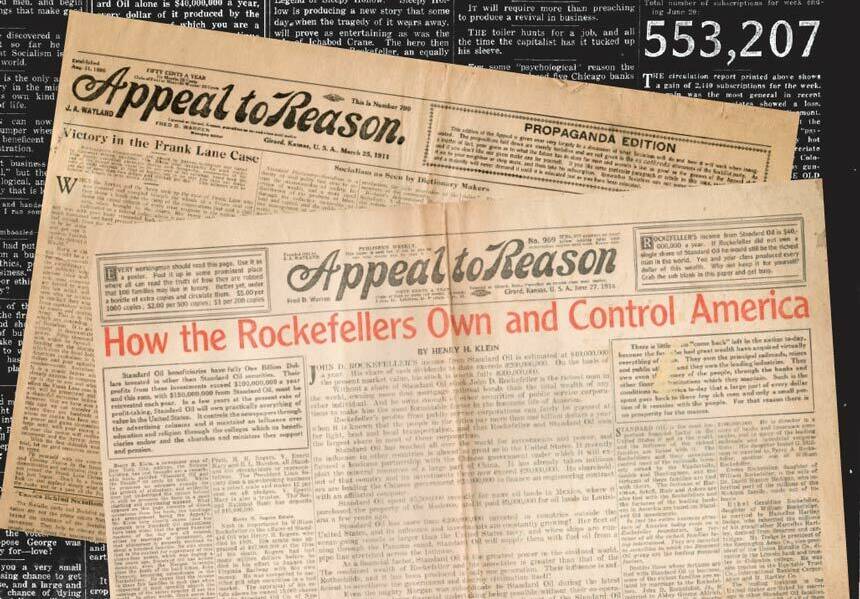 When In These Times began 41 years ago, founder James Wein­stein looked for inspi­ra­tion to Appeal to Rea­son. This Kansas-based social­ist news­pa­per ran from 1895 to 1922, reach­ing 720,000 sub­scribers at its height in 1912.
The Appeal published a range of socialist writers, from Eugene Debs, Mother Jones and Kate Richards O'Hare to William Morris, Charlotte Perkins Gilman and Jack London.
For most of its 27 years, the Appeal oper­at­ed out of Girard, a small south­east­ern Kansas town. Today, if you dri­ve the back roads around Girard, you'll pass old min­ing pits filled with water and res­i­dent water­fowl. In the 2016 pres­i­den­tial elec­tion, 58 per­cent of the county's vot­ers went for Don­ald Trump. But the his­to­ry of the Appeal is a reminder that cur­rent rhetoric reduc­ing the com­plex­i­ty of the Mid­west and the Plains to red-state stereo­types ignores the oth­er ​"red" his­to­ry of the region, the coun­try and, of course, the press.
Julius A. Way­land, a long­time inde­pen­dent social­ist jour­nal­ist and edi­tor, found­ed the Appeal in Kansas City, Mo. He moved the paper to the small­er, less expen­sive Girard two years lat­er. The town's social con­di­tions also made it ripe for a press project focused on labor issues. It had rail­road access and was locat­ed in the mid­dle of coal coun­try, in a region full of recent­ly arrived Euro­pean mine workers.
By the ear­ly 20th cen­tu­ry, large stacks of the paper had to be car­ried off in long lines of carts or rail­road cars, and the town drew left­ists from across the nation. The Appeal pub­lished a range of social­ist writ­ers, from Eugene Debs, Moth­er Jones and Kate Richards O'Hare to William Mor­ris, Char­lotte Perkins Gilman and Jack Lon­don. In 1904, edi­tor Fred War­ren gave Upton Sin­clair the advance that sent him to the Chica­go stock­yards for what became one of the most famous works of Amer­i­can social crit­i­cism, The Jun­gle (1906), which first appeared as a ser­i­al in the Appeal.
John Gra­ham, author of Yours for the Rev­o­lu­tion, a defin­i­tive his­to­ry of the Appeal, writes, ​"If there were work­ing con­di­tions or a strike to pub­li­cize in West Vir­ginia, Col­orado or Cal­i­for­nia, the Appeal was there; if Mil­wau­kee, Wis., and Sch­enec­tady, N.Y., vot­ed the Social­ist tick­et, Appeal cor­re­spon­dents report­ed the vic­to­ries; if states were with­out their own social­ist papers, the Appeal print­ed indi­vid­ual state edi­tions." The Appeal spon­sored ​"study clubs" and sent spe­cial edi­tions to union orga­niz­ers and strik­ers around the country.
Amer­i­can social­ism in the era of Appeal to Rea­son was diverse and per­sua­sive to many, but social­ists had their lim­i­ta­tions. Read­ing through the archives is a cau­tion­ary reminder of the con­tra­dic­to­ry his­to­ry of the Amer­i­can Left, espe­cial­ly with respect to race and immigration.
You will find, for exam­ple, Appeal arti­cles call­ing for seg­re­ga­tion­ist approach­es to labor orga­niz­ing. In 1915's ​"Social­ism and the Negro," staff writer John Walk­er Gunn argued for ​"the same rights of free­dom and oppor­tu­ni­ty" for African-Amer­i­can work­ers, but assured his white read­ers this did not mean ​"inti­mate social equality."
The Appeal weath­ered many legal and polit­i­cal attacks. In 1909, Appeal edi­tor Fred D. War­ren was sent to Leav­en­worth pen­i­ten­tiary for mail­ing ​"defam­a­to­ry and threat­en­ing" mate­ri­als. (In a pub­lic­i­ty stunt meant to high­light union issues, he'd offered a reward for the cap­ture of Kentucky's ex-gov­er­nor, who had been indict­ed for mur­der.) War­ren used his time behind bars to doc­u­ment atro­cious con­di­tions at the prison itself. He and Appeal staff were then indict­ed for send­ing ​"inde­cent" mate­ri­als through the mail — name­ly, Warren's report on prison con­di­tions, includ­ing sex­u­al assaults against inmates. (The charges were dismissed.)
The toll of these attacks became espe­cial­ly severe for Way­land, who was left exhaust­ed by his work and per­son­al strug­gles; he com­mit­ted sui­cide in 1912. When World War I broke out, the Appeal ini­tial­ly opposed the war, in line with the Social­ist Par­ty. But under an esca­lat­ing Red Scare, includ­ing cen­sor­ship of the rad­i­cal press, then-edi­tor Emmanuel Halde­man-Julius renamed the paper the New Appeal and shift­ed its stance. After the war, edi­to­r­i­al focus con­tin­ued to drift away from social­ist pol­i­tics, and cir­cu­la­tion wob­bled under sub­se­quent edi­tors until the paper final­ly ceased publication.
Pres­sures against an open and pro­gres­sive press nev­er sub­side in the Unit­ed States — but nei­ther does pub­lic appetite for pro­gres­sive jour­nal­ism. The chal­lenge of find­ing the places, peo­ple and means to do vibrant work is ongo­ing, and on us.
Sharon Car­son
works in pro­gres­sive jour­nal­ism and human­i­ties, and teach­es lit­er­a­ture and phi­los­o­phy at the Uni­ver­si­ty of North Dakota.