Thir­ty armed U.S. bor­der patrol agents flanked by at least 15 vehi­cles and a heli­copter over­head invad­ed an Ari­zona human­i­tar­i­an aid camp near the Mex­i­can bor­der on Thurs­day and arrest­ed four peo­ple while they were receiv­ing med­ical care, aid work­ers report. As tem­per­a­tures climbed over 100 degrees, the raid severe­ly ham­pered the oper­a­tions of the human­i­tar­i­an group No More Deaths/​No Más Muertes. The orga­ni­za­tion's Ari­va­ca camp — which pro­vides emer­gency food, water and med­ical care to peo­ple cross­ing the Sono­ran Desert — was trans­formed into a hon­ey­pot for depor­ta­tion authorities.
This was a pointed attack on a humanitarian aid station.
U.S. agents' tar­get­ing of human­i­tar­i­an oper­a­tions puts lives at risk in a bor­der region already in the grips of a cri­sis of mass deaths and dis­ap­pear­ances. While not the first raid endured by No More Deaths, Thursday's inva­sion is unprece­dent­ed in scale, say vol­un­teers, mark­ing a dan­ger­ous esca­la­tion under a pres­i­den­tial admin­is­tra­tion that rose to pow­er on a tide of white-suprema­cist incitement.
In this inter­view, Julia Milan, a Tuc­son-based vol­un­teer with No More Deaths, tells of how bor­der patrol stalked and sur­veilled the camp before launch­ing the inva­sion. ​"Our abil­i­ty to admin­is­ter aid has been entire­ly com­pro­mised," she warns.
Sarah Lazare: Tell me about who you are and what hap­pened on Thursday.
Julia Milan: We pro­vide human­i­tar­i­an aid and med­ical care to those who have become injured and exhaust­ed. We pro­vide aid to peo­ple cross­ing, includ­ing food and blan­kets, as well as med­ical care to those who need it.
The attack was pre­cip­i­tat­ed by agents com­ing at rough­ly 4:30 p.m. on Tues­day after­noon say­ing they had been track­ing four peo­ple for about 18 miles, and they were going to pur­sue war­rants to enter our struc­tures. The camp is on pri­vate prop­er­ty, so a war­rant is need­ed. It took them two days to obtain a war­rant. The camp was entire­ly sur­round­ed by bor­der patrol agents. Dur­ing the two days, the tem­per­a­tures rose well above 100 degrees. Bor­der patrol estab­lished a mobile check­point at the gate of the camp where agents asked peo­ple enter­ing and exit­ing about their cit­i­zen­ship sta­tus. This made it impos­si­ble for any­one seek­ing aid or emer­gency med­ical care to enter the camp. It imped­ed our admin­is­tra­tion of care 100 percent.
A war­rant was served last night, at which point 30 armed agents entered the camp in 15 vehi­cles, two [all-ter­rain vehi­cles] and one heli­copter. They entered the camp and searched tents, where they found four patients receiv­ing med­ical care at that time. They then appre­hend­ed those four individuals.
They said they had been fol­low­ing those indi­vid­u­als for 18 miles. A big ques­tion we are ask­ing is, why did they not appre­hend them dur­ing those 18 miles but instead wait until they reached the camp? This was a point­ed attack on a human­i­tar­i­an aid station.
At this point, our work is incred­i­bly com­pro­mised. They are using our aid sta­tion as a trap, in direct vio­la­tion of inter­na­tion­al human­i­tar­i­an law.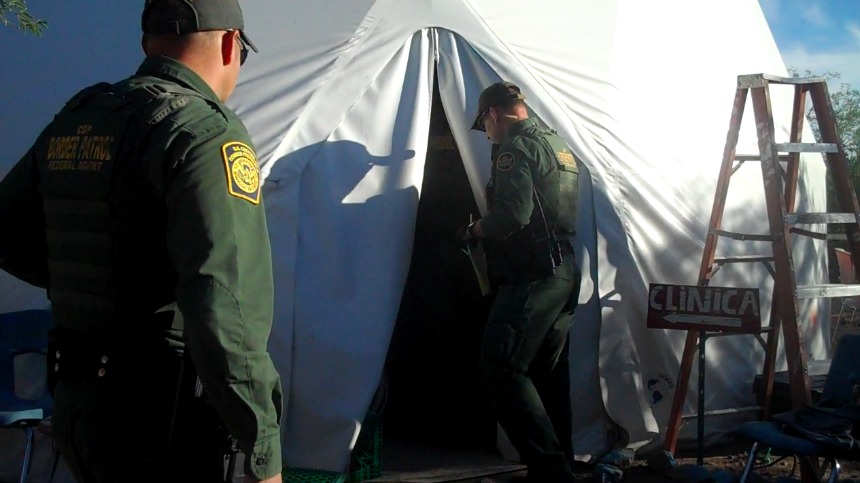 Sarah: Your orga­ni­za­tion recent­ly released a report on the cri­sis of miss­ing per­sons and deaths in the bor­der­lands, at the hands of U.S. bor­der patrol. Can you explain how this lat­est raid will impact this death toll?
Julia: There are some bor­der patrol strate­gies that have been doc­u­ment­ed. One is ​"pre­ven­tion through deter­rence," in which a bor­der wall is built in places where it is eas­i­er and safer to cross. In parts of the desert that are dead­ly or dif­fi­cult to cross, and more remote, there is often no bor­der wall or just barbed wire. This is often in the most dan­ger­ous parts of the desert.
They also use a tac­tic called ​"chase and scat­ter." Agents will see a group cross­ing and use a heli­copter to [cre­ate a cloud of dust]. Agents who use chase and scat­ter often will not actu­al­ly appre­hend the peo­ple. Indi­vid­u­als become iso­lat­ed and sep­a­rat­ed from their groups. Often, they drop their packs or any food or water they might have had. Those indi­vid­u­als are left in the desert with­out any life-sav­ing tools.
Our orga­ni­za­tion aims to end death and suf­fer­ing in the U.S.-Mexico bor­der­lands. Our aid is a response to life-threat­en­ing injury that peo­ple face. Our organization's human­i­tar­i­an aid efforts are being direct­ly tar­get­ed by bor­der patrol, and they are not allow­ing us to pro­vide crit­i­cal care. More than 6,000 indi­vid­ual remains have been found near the U.S.-Mexico bor­der since 1998. That's esti­mat­ed to rep­re­sent rough­ly half of the peo­ple actu­al­ly killed.
Our abil­i­ty to admin­is­ter aid has been entire­ly com­pro­mised in a week that is pro­ject­ed [to approach] 115-degree weather.
Sarah: Have you noticed a changed under the admin­is­tra­tion of Don­ald Trump?
Julia: We have been raid­ed sev­er­al times before, but this type of raid is entire­ly unprece­dent­ed in terms of the num­ber of per­son­nel and use of a war­rant. This is the sec­ond raid in two weeks, and there has been a doc­u­ment­ed increase in bor­der patrol sur­veil­lance and harass­ment since Trump. That's some­thing we were all brac­ing for, but the real­i­ty of the polit­i­cal cli­mate is mak­ing it impos­si­ble for us to give care where care is needed.
We have been offer­ing aid on the U.S.-Mexico bor­der since 2004. Desert aid work­ers include ded­i­cat­ed legal and med­ical pro­fes­sion­als. We under­go train­ing before we go into the field. We are a pret­ty diverse group. Many of us have a degree of health­care expe­ri­ence. We have been giv­ing aid over a decade. That this is hap­pen­ing now is indica­tive of the polit­i­cal climate.