Armed U.S. Agents Just Raided a Humanitarian Aid Center in the Arizona Borderlands
'No More Deaths' says unprecedented invasion has compromised life-saving operations on the U.S.-Mexico border.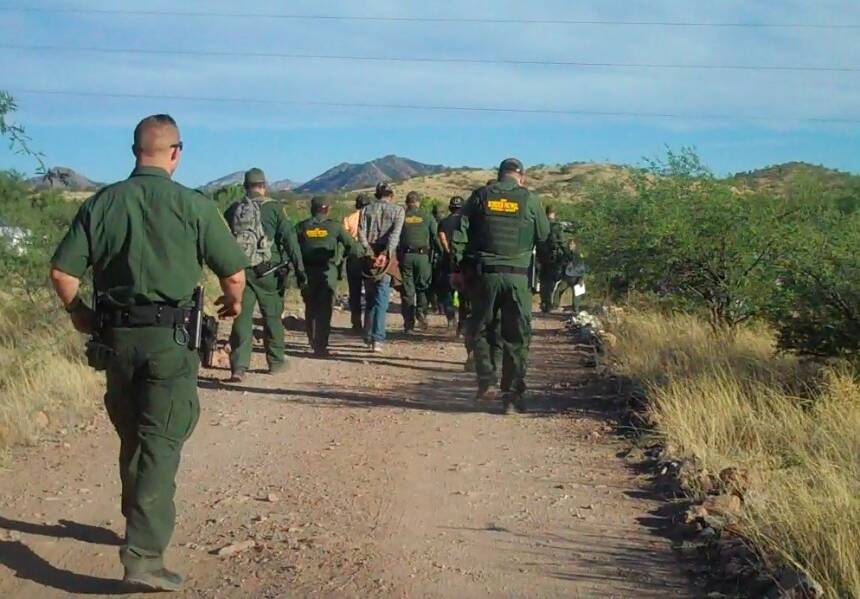 Thirty armed U.S. border patrol agents flanked by at least 15 vehicles and a helicopter overhead invaded an Arizona humanitarian aid camp near the Mexican border on Thursday and arrested four people while they were receiving medical care, aid workers report. As temperatures climbed over 100 degrees, the raid severely hampered the operations of the humanitarian group No More Deaths/​No Más Muertes. The organization's Arivaca camp — which provides emergency food, water and medical care to people crossing the Sonoran Desert — was transformed into a honeypot for deportation authorities.
This was a pointed attack on a humanitarian aid station.
U.S. agents' targeting of humanitarian operations puts lives at risk in a border region already in the grips of a crisis of mass deaths and disappearances. While not the first raid endured by No More Deaths, Thursday's invasion is unprecedented in scale, say volunteers, marking a dangerous escalation under a presidential administration that rose to power on a tide of white-supremacist incitement.
In this interview, Julia Milan, a Tucson-based volunteer with No More Deaths, tells of how border patrol stalked and surveilled the camp before launching the invasion. ​"Our ability to administer aid has been entirely compromised," she warns.
Sarah Lazare: Tell me about who you are and what happened on Thursday.
Julia Milan: We provide humanitarian aid and medical care to those who have become injured and exhausted. We provide aid to people crossing, including food and blankets, as well as medical care to those who need it.
The attack was precipitated by agents coming at roughly 4:30 p.m. on Tuesday afternoon saying they had been tracking four people for about 18 miles, and they were going to pursue warrants to enter our structures. The camp is on private property, so a warrant is needed. It took them two days to obtain a warrant. The camp was entirely surrounded by border patrol agents. During the two days, the temperatures rose well above 100 degrees. Border patrol established a mobile checkpoint at the gate of the camp where agents asked people entering and exiting about their citizenship status. This made it impossible for anyone seeking aid or emergency medical care to enter the camp. It impeded our administration of care 100 percent.
A warrant was served last night, at which point 30 armed agents entered the camp in 15 vehicles, two [all-terrain vehicles] and one helicopter. They entered the camp and searched tents, where they found four patients receiving medical care at that time. They then apprehended those four individuals.
They said they had been following those individuals for 18 miles. A big question we are asking is, why did they not apprehend them during those 18 miles but instead wait until they reached the camp? This was a pointed attack on a humanitarian aid station.
At this point, our work is incredibly compromised. They are using our aid station as a trap, in direct violation of international humanitarian law.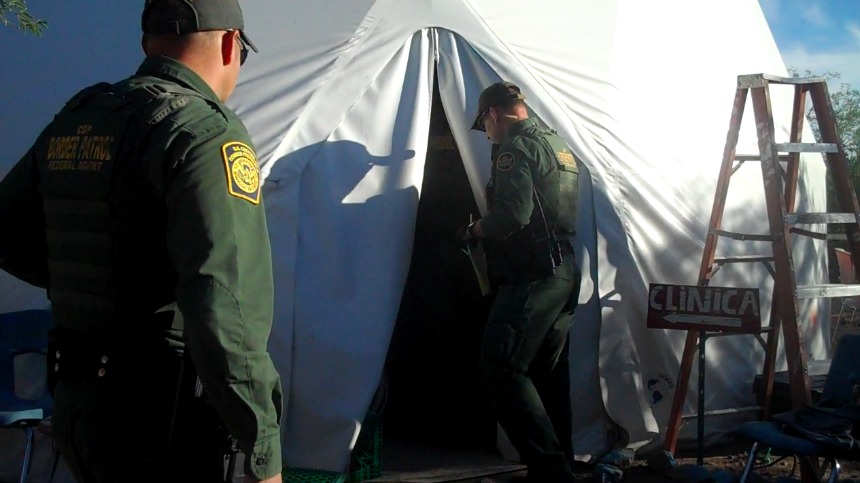 Sarah: Your organization recently released a report on the crisis of missing persons and deaths in the borderlands, at the hands of U.S. border patrol. Can you explain how this latest raid will impact this death toll?
Julia: There are some border patrol strategies that have been documented. One is ​"prevention through deterrence," in which a border wall is built in places where it is easier and safer to cross. In parts of the desert that are deadly or difficult to cross, and more remote, there is often no border wall or just barbed wire. This is often in the most dangerous parts of the desert.
They also use a tactic called ​"chase and scatter." Agents will see a group crossing and use a helicopter to [create a cloud of dust]. Agents who use chase and scatter often will not actually apprehend the people. Individuals become isolated and separated from their groups. Often, they drop their packs or any food or water they might have had. Those individuals are left in the desert without any life-saving tools.
Our organization aims to end death and suffering in the U.S.-Mexico borderlands. Our aid is a response to life-threatening injury that people face. Our organization's humanitarian aid efforts are being directly targeted by border patrol, and they are not allowing us to provide critical care. More than 6,000 individual remains have been found near the U.S.-Mexico border since 1998. That's estimated to represent roughly half of the people actually killed.
Our ability to administer aid has been entirely compromised in a week that is projected [to approach] 115-degree weather.
Sarah: Have you noticed a changed under the administration of Donald Trump?
Julia: We have been raided several times before, but this type of raid is entirely unprecedented in terms of the number of personnel and use of a warrant. This is the second raid in two weeks, and there has been a documented increase in border patrol surveillance and harassment since Trump. That's something we were all bracing for, but the reality of the political climate is making it impossible for us to give care where care is needed.
We have been offering aid on the U.S.-Mexico border since 2004. Desert aid workers include dedicated legal and medical professionals. We undergo training before we go into the field. We are a pretty diverse group. Many of us have a degree of healthcare experience. We have been giving aid over a decade. That this is happening now is indicative of the political climate.