Around the World, Forced Labor Persists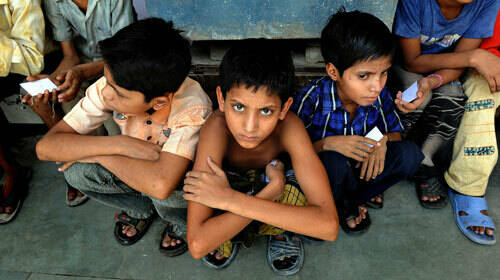 Forced labor — slavery, debt bondage and human trafficking — is not a thing of the past.
Last week I wrote about the UN's ongoing efforts to stop forced labor in Myanmar, noting that the problems there are just a reflection of the 12.3 million people who are subject to coercive work conditions all over the world. Women, children and historically marginalized ethnic groups are often the most vulnerable to these conditions.
Here's a brief tour of forced labor problems around the globe. What emerges is a disturbing picture of workers indebted to employment recruiters who charge inflated fees, or those who were simply improperly paid for their labor.
Asia
Forced labor is most prevalent in this continent, especially in South Asia, where bonded labor, sex trafficking and exploitative worker recruitment is pervasive.
Bonded labor occurs in places like Nepal and India. For example, employers pay a lump sump of three to seven months worth of wages up front to brick-producing laborers before the start of the employment season. Once the term is over, the wages for working sixteen-hour days and six-day weeks fall short of the advance payment. The underpayment forces workers to return to the same place next season to receive their wages.
China highlights workers who acquire debt to employment recruiters. Migrants who move internally or abroad to places like the United States for employment are docked as much as 2.5 times their annual income, or 90 percent of what they make during their first 5 months of work. Their employers also confine workers, subject them to mandatory overtime and arbitrarily deduct pay.
In response, the UN's International Labour Organization is working with India and Nepalese governments to improve transparency and provide social protections. Likewise, Chinese authorities have set regulatory laws on labor contracts to prohibit these violations.
Americas
The Americas have the second highest number of forced laborers. Like in Asia, debt bondage is also a problem for migrants who are enticed by intermediaries to work in sweatshops, agriculture or domestic service.
Government responses in Brazil and Peru have helped to reduce the rate of forced labor. Brazil has produced a ​"dirty list" of companies who engage in illegal practices. They also have a program that sends inspectors to workplaces. Since 1995, more than 30,000 workers have been freed from forced labor. Peru, Bolivia and Argentina have also adopted task forces or commissions for oversight of forced labor.
In the United States, law enforcement and anti-trafficking legislation have helped to curb forced labor, but migrants who immigrate to America through the ​"guest-worker" program may be subject to debt bondage or harsh working conditions, the ILO said.
Africa
After Asia and the Americas, Africa is the continent with the third highest rate of forced labor. In Western Africa, the legacy of slavery still exists — servants are still bonded to their former ​"owners." The ILO found that there is no ​"outright slavery," but a similar stratified relationship among slave descendants and their former masters is still a problem.
The exploitation of migrant workers and human trafficking is also a concern. A report Kenyan Institute of Policy Analysis and Research stated that the country is a hub for trafficking of women, men and children in forced labor or prostitution. Many are from the rural areas who come to urban regions, and some have been trafficked to as far as Europe by deceptive practices by their employer.
The ILO says that growing concern over forced labor has started to spur legislative measures and discussions among African leaders. Mauritania has criminalized slavery. Mozambique, Tanzania and Zambia have passed laws prohibited trafficking. There have been several regional and national meetings by countries to increase awareness. However, according to the International Trade Union Confederation, the extent to which any new policies will be enforced is still up in the air.
Middle East
The Middle East has a strong correlation between trafficking and forced labor. Many of the migrant workers, mostly from Asia, arrive through temporary employment sponsorships known as the kafeel system. The lack of regulation in the Gulf region has facilitated a climate where employers have significant control over the laborers. The ILO reports that recruiters and employers pass the costs of work visas onto the worker with inflated fees. There have been instances of bait-and-switch tactics on employment contracts for lower wages, confiscation of passports and other identity documents, non-payment of wages and long working hours.
In response, governments have been promoting principles and improving migration governance. But the ILO suggests that the regional countries need to be more ​"proactive in addressing the root causes of the problems and drawing up appropriate policies and laws."
Europe and Central Asia
Labor trafficking has increased in countries that have recently become members of the European Union. Ukraine in particular is known for being a hub for sexual trafficking, more so than labor trafficking. But over the years, the margin of incidence of the two forms of exploitation has narrowed. Migrants from Moldova, Kyrgyzstan, Uzbekistan and the Russia have had their salaries withheld, had their identification documents confiscated by employers, and have been threatened with violence.