The every­day lives of every­day peo­ple are expe­ri­enc­ing a major dis­rup­tion. Mil­lions are unem­ployed or over­whelmed with child care while strug­gling to keep an income. Feel­ings of iso­la­tion and anx­i­ety abound. No one real­ly knows what comes next.
"When statistics revealed the disproportionate Black and Brown [Covid-19] fatalities, white people resumed their carefree, mask-free lives." —Johnalynn Holland
Annee Schwank, an illus­tra­tor in Tam­pa, Fla., says, ​"When I became a mom in 2019 after a dif­fi­cult preg­nan­cy, I felt invin­ci­ble. I believed I'd be able to han­dle what­ev­er life threw at me." In her illus­tra­tion Schwank explores how self-quar­an­tine upend­ed her expec­ta­tions. ​"The days begin before the sun ris­es and end long after the sun sets. I squeeze in work dur­ing my daughter's naps and steal pre­cious time hid­ing in the bath­room to work in peace with­out her slap­ping on the key­board. Despite the exhaus­tion and the chaos, I con­sid­er myself lucky. I wit­nessed her first words and steps, which I would have oth­er­wise missed sit­ting in traffic."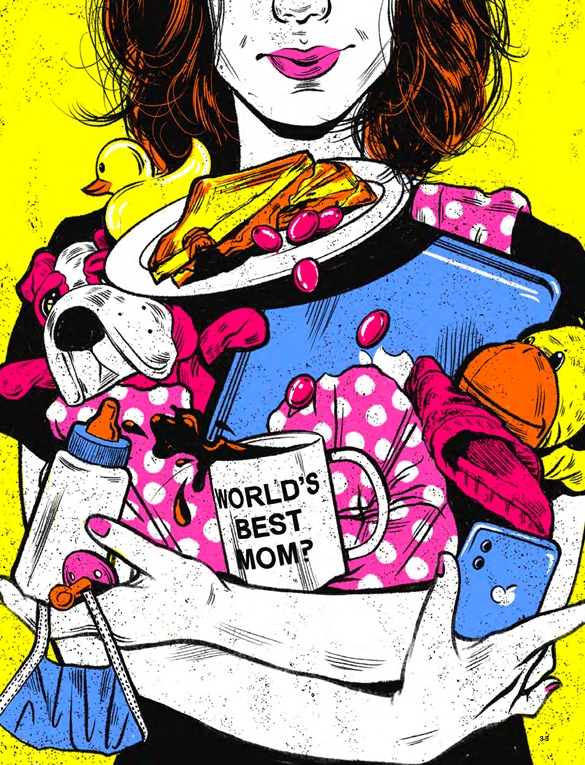 (Illus­tra­tion by Annee Schwank)

Nar­ciso Espir­i­tu had just moved to Detroit with his girl­friend ear­li­er this year. ​"This was my first time mov­ing away from home," he says. "[I thought] I would be able to find work eas­i­ly, make new friends, maybe adopt a pup­py." But it's been hard, he says. ​"I've been deal­ing with iso­la­tion and job­less­ness. I've just been apply­ing for work on the days where I wasn't so belea­guered with anx­i­eties over the state of the world." Espiritu's illus­tra­tion depicts feel­ings of claus­tro­pho­bia and help­less­ness against time sinks like Net­flix, the video game Ani­mal Cross­ing and bak­ing sour­dough bread — as visions of real­i­ty fil­ter through.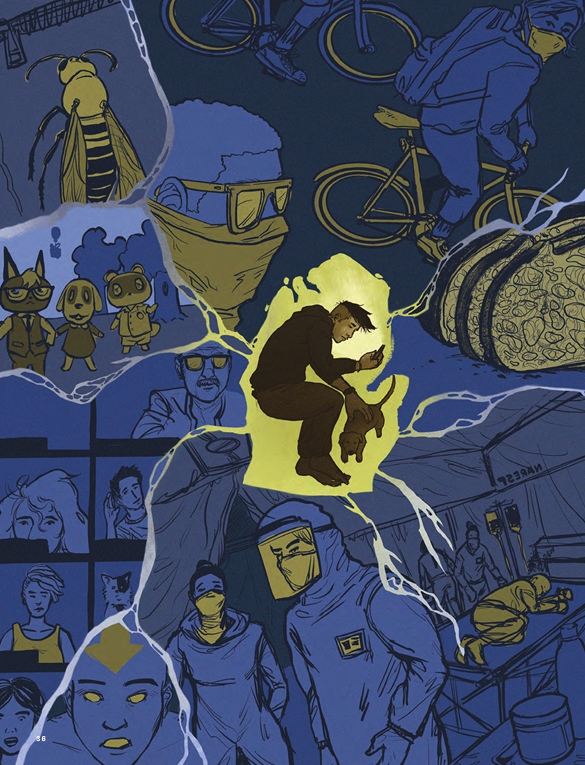 (Illus­tra­tion by Nar­ciso Espiritu)

Johna­lynn Hol­land is a mul­ti­me­dia pro­duc­er and writer in Wash­ing­ton, D.C. ​"In the first weeks of the out­break, every­one in my most­ly white, afflu­ent build­ing made an effort to fol­low the CDC guide­lines, wear­ing masks and social­ly iso­lat­ing," she says. ​"But when sta­tis­tics revealed the dis­pro­por­tion­ate Black and Brown fatal­i­ties, white peo­ple resumed their care­free, mask-free lives. White res­i­dents con­gre­gate in the lob­by where Black and Brown main­te­nance and concierge staff — all in masks and gloves — have to work." Holland's illus­tra­tion jux­ta­pos­es these dis­par­i­ties lay­ered over a bar graph of Covid-19 deaths in her city. ​"As I walk my dog in a face mask, gloves and hair cov­er­ing, I wit­ness white peo­ple jog­ging with­out masks past Black and Brown elders and work­ers, past the home­less," Hol­land says. ​"I notice the smirks of white women at the full pro­tec­tive gear I wear — because, I know as a Black woman with a com­pro­mised immune sys­tem, my med­ical care would not be prioritized."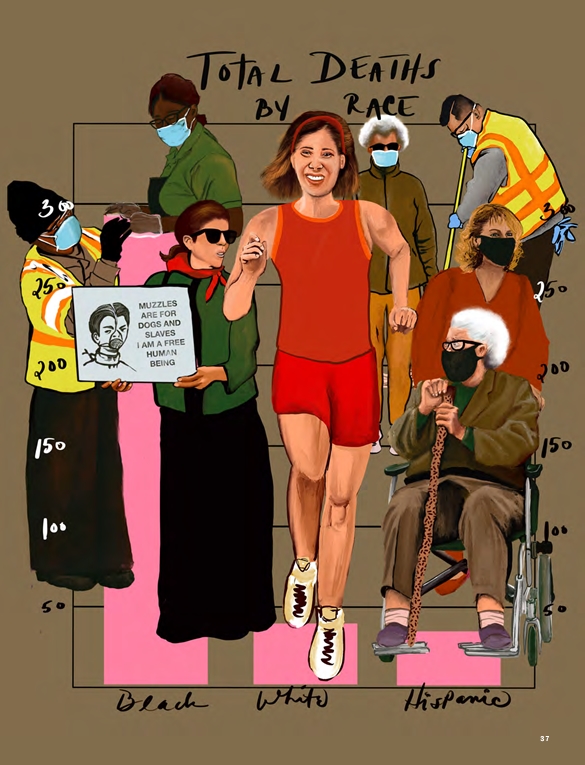 (Illus­tra­tion by Johna­lynn Holland)