Portland Church Fights a Worker Center Activist's Deportation—And a Broken Immigration System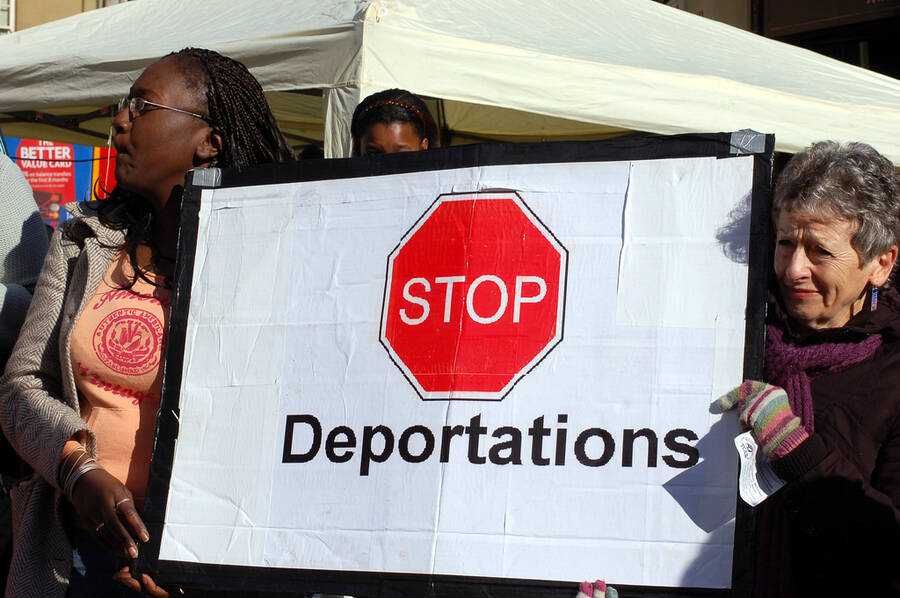 Pres­i­dent Oba­ma has punt­ed fix­ing our immi­gra­tion sys­tem until after the midterm elec­tions, but fam­i­lies con­tin­ue suf­fer­ing under it. On Sep­tem­ber 30, Augus­tana Evan­gel­i­cal Luther­an Church of Port­land, Ore­gon, host­ed a ser­vice to show sup­port for labor activist Fran­cis­co Aguirre. Aguirre has been resid­ing in the church since Sep­tem­ber 19 after Immi­gra­tion and Cus­toms Enforce­ment (ICE) offi­cials showed up at his door.
Aguirre has received wide­spread com­mu­ni­ty sup­port. Accord­ing to The Ore­gon­ian:
More than a week after Aguirre began liv­ing in a pri­vate room in the church base­ment, rep­re­sen­ta­tives from mul­ti­ple orga­ni­za­tions and offices announced their sup­port for Aguirre at Tues­day's inter­faith service.

Port­land City Com­mis­sion­er Nick Fish said the City Coun­cil stood in sol­i­dar­i­ty with Aguirre. Last week, Port­land May­or Char­lie Hales also announced his support.

Oth­er sup­port­ers sang songs and said they were pray­ing for Aguir­re's appli­ca­tion for a U Visa — a non­im­mi­grant visa for vic­tims of seri­ous crimes — to be approved.
Aguirre is active in the VOZ Worker's Rights Edu­ca­tion Project. The orga­ni­za­tion ​"is a work­er-led orga­ni­za­tion that empow­ers immi­grants and day labor­ers to gain con­trol over their work­ing con­di­tions through lead­er­ship devel­op­ment, orga­niz­ing and com­mu­ni­ty education."
Dur­ing his speech at Tuesday's ral­ly, Aguirre described his expe­ri­ences work­ing as a day labor­er when he first came to the U.S. In one instance, he was hired to trim trees and broke his arm. His employ­er drove him to the hos­pi­tal and left him there, pay­ing nei­ther the hos­pi­tal nor Aguirre.
"At that moment I decid­ed that I should learn about the laws of this coun­try," Aguirre said on Tues­day. ​"I decid­ed that I want to learn about work­ers' rights… I became a human rights pro­mot­er and I start­ed help­ing my community."
Aguirre has been liv­ing in Amer­i­ca for near­ly 20 years, except for a brief depor­ta­tion back to El Sal­vador in 2000, fol­low­ing an arrest for drug trafficking.
"I'm part of this com­mu­ni­ty," Aguirre said short­ly after his sanc­tu­ary began. ​"This is where I belong, and this is where I want to stay."
Kevin is an edu­ca­tor and free­lance writer in Chica­go. Fol­low him on Twit­ter at @kevinsolari_.