At CPAC, Conservatives Glorify Attacks on Public-Sector Unions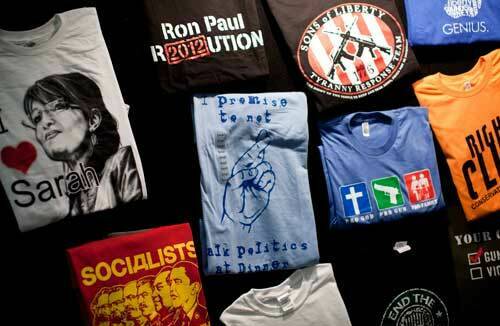 WASH­ING­TON, D.C. — Right-wing activists who gath­ered over the week­end for the annu­al Con­ser­v­a­tive Polit­i­cal Action Con­fer­ence (CPAC) cheered a polit­i­cal cli­mate that is increas­ing­ly hos­tile to pub­lic-sec­tor unions.

Pan­elists on a Sat­ur­day morn­ing pan­el called ​"Bleed­ing Amer­i­ca Dry: The Threat of Pub­lic Sec­tor Unions" point­ed to Repub­li­can vic­to­ries in state cap­i­tals across the coun­try and to Demo­c­ra­t­ic gov­er­nors in New York and Cal­i­for­nia who have vowed to fight labor. Most dra­mat­i­cal­ly, the Repub­li­can gov­er­nor of Wis­con­sin, Scott Walk­er, has called for rad­i­cal­ly lim­it­ing state employ­ees' col­lec­tive bar­gain­ing rights, and says he is pre­pared to mobi­lize the Nation­al Guard to deal with dis­tur­bances.

​"I think it's okay right now to talk about unions and tell the truth about unions. And I think the pub­lic is start­ing to under­stand," said Tom McCabe, who led the Build­ing Indus­try Asso­ci­a­tion of Wash­ing­ton (BIAW) for two decades. The night before, McCabe received CPAC's Ronald Rea­gan Award for his activism. ​"It's thanks, of course, to the think tanks on this panel…You can say stuff now in Wash­ing­ton, in New Jer­sey, any lib­er­al state, that you could not say ten years ago."


The cam­paign to shift the pub­lic per­cep­tion of pub­lic-sec­tor work­ers has in many ways been a suc­cess. The present moment is a per­fect storm for an attack on pub­lic-sec­tor unions: a con­ser­v­a­tive pop­ulism that encour­ages jeal­ousy of union­ized work­ers rather than anger toward busi­ness and Wall Street; nation­wide short­falls in pen­sion funds thanks to under-fund­ing dur­ing flush times and invest­ment loss­es; and an eco­nom­ic cri­sis that has blown a hole through the mid­dle of count­less state and munic­i­pal bud­gets.

​"You have to under­stand some­thing," Steve Malan­ga of the Man­hat­tan Institute's City Jour­nal said at CPAC. ​"If we just stop and cure the pen­sion prob­lem, we have not gone far enough."

As the sit­u­a­tions in Wis­con­sin and New Jer­sey demon­strate, the right is mov­ing not only to per­ma­nent­ly cur­tail retire­ment ben­e­fits but to fun­da­men­tal­ly cur­tail the pow­er of unions. ​"We know who the ene­my is," Malan­ga said. ​"What we need in so much of pub­lic life is courage. I was very for­tu­nate to work for a guy who per­son­i­fied courage. His name was Ronald Rea­gan."

Rea­gan demon­strat­ed that courage, of course, by fir­ing all of the country's air traf­fic con­trollers in 1981 — the men­tion of which drew wild applause.
CPAC was all about being tough: on work­ers, on the poor, on the envi­ron­ment, and on crap­py lit­tle coun­tries that dare to mess with the Unit­ed States (though the Ron Paul folks would take excep­tion to that last one).

New Jer­sey Gov­er­nor Chris Christie, an anti-union stal­wart in a ​"blue" state, is the paragon. Inter­est­ing­ly, Christie was not present at CPAC. I don't think that is an acci­dent. He excels at appeal­ing to the right-wing base while pre­sent­ing him­self as a prag­mat­ic, com­mon­sense con­ser­v­a­tive to every­day vot­ers. The fight against unions is part and par­cel of a broad­er con­ser­v­a­tive assault on the tat­tered remains of the wel­fare state. In fact, it's the linchpin.
'The big gov­ern­ment coalition'
"Everyone's been talk­ing about pub­lic-sec­tor unions," said Vin­cent Ver­nuc­cio, labor pol­i­cy coun­sel at Com­pet­i­tive Enter­prise Insti­tute, a big-busi­ness think tank. ​"No. These are gov­ern­ment sec­tor unions. They are the main force that are fight­ing for big­ger fed­er­al, big­ger state, big­ger local bud­gets. They are one of the main rea­sons for the bloat­ed bureau­cra­cy and deficits we're see­ing today. More gov­ern­ment equals more work­ers equals more dues mon­ey for them."

Com­mu­ni­ty activists and advo­cates for the poor and unin­sured are just a Tro­jan Horse for pub­lic-sec­tor unions, invent­ing social prob­lems out of whole cloth to line the pock­ets of bureau­crats. Malan­ga calls it ​"the big gov­ern­ment coali­tion" of unions and ​"social ser­vice advo­ca­cy groups."

​"We hap­pen to have in the White House today a for­mer com­mu­ni­ty activist," he said, adding:
A for­mer gov­ern­ment-fund­ed com­mu­ni­ty activist who was elect­ed with tremen­dous sup­port from pub­lic sec­tor unions. I can guar­an­tee you that no pub­lic sec­tor union offi­cial in Amer­i­ca could be elect­ed pres­i­dent. But a com­mu­ni­ty activist could be.

This is the way this coali­tion has worked for thir­ty, forty years. The com­mu­ni­ty activists are the sym­pa­thet­ic part of this coali­tion. They have com­mand­ed the high ground. They pro­duce the stud­ies that say, ​'we have a prob­lem here, we have a prob­lem here in our soci­ety and we need to spend more mon­ey on it.
There was no dis­cus­sion of the things that pub­lic sec­tor work­ers do: edu­cat­ing chil­dren, pick­ing up our trash, ensur­ing pub­lic safe­ty. It's the same for every­thing at CPAC: gov­ern­ment pro­grams are the prob­lem. There is no acknowl­edge­ment of prob­lems that are caused by any­thing but gov­ern­ment or someone's per­son­al and moral failings.
Nor do they acknowl­edge the unique role that munic­i­pal unions have had in black eco­nom­ic advance­ment over the 70 years, pro­vid­ing an eco­nom­ic foothold long denied them in the pri­vate sec­tor. With the dis­ap­pear­ance of indus­try, pub­lic-sec­tor jobs are some of the only good jobs left for work­ing class peo­ple in Amer­i­can cities.
Upside-down con­ser­v­a­tive martyrdom
Con­ser­v­a­tives are par­tic­u­lar­ly thrilled to see Demo­c­ra­t­ic pun­dits and politi­cians tak­ing up the fight against labor. There was an entire pan­el ded­i­cat­ed to the doc­u­men­tary Wait­ing for Super­man, which attacks tra­di­tion­al pub­lic schools as an intrin­sic fail­ure and touts char­ter schools as the sole solu­tion. Super­man, direct­ed by An Incon­ve­nient Truth direc­tor Davis Guggen­heim, was panned by many edu­ca­tion schol­ars. But for many con­ser­v­a­tives, the film's suc­cess was proof that con­ser­v­a­tive ideas can win ground on the left, espe­cial­ly when they're dressed up as a sto­ry of poor peo­ple of col­or fight­ing for jus­tice.

Break­ing pub­lic-sec­tor unions is a pri­or­i­ty for the right as a whole — not only of busi­ness, but for con­ser­v­a­tives of any stripe who want to defeat pro­gres­sives at the bal­lot box or in gov­ern­ment.

​"I think every­one under­stands here that unions are the most impor­tant pow­er on the oth­er side of the polit­i­cal equa­tion," said Don­ald Devine, direc­tor of the U.S. Office of Per­son­nel Man­age­ment under Ronald Rea­gan. ​"Remem­ber, Karl Marx said there are only three things nec­es­sary to over­throw cap­i­tal­ism: one, is the unions need to orga­nize the mass­es; two, some of the businessmen…need to sell out…and third­ly intel­lec­tu­als. And that's still the three pow­ers that are most impor­tant in fight­ing against the free con­sti­tu­tion­al soci­ety that we are all about."

The entire con­fer­ence is infused with an air of con­ser­v­a­tive mar­tyr­dom and belief in a world where the peo­ple on top are the ones who are always get­ting stepped on.

Some­one in the audi­ence asked if unions had threat­ened McCabe with vio­lence. He said no, but that his ​"wife is good friends with some police offi­cers in the Olympia Police Depart­ment. Because the union offi­cials do come by our house fre­quent­ly."

A reporter from anoth­er news orga­ni­za­tion told me he thought it was the day's most caus­tic pan­el. He was right — despite the fact that David Horowitz had just fin­ished a speech in which he com­pli­ment­ed the McCarthy-era House Un-Amer­i­can Activ­i­ties Com­mit­tee.

​"I believe you must under­stand the oppo­si­tion in order to defeat the oppo­si­tion," said McCabe.
It was one point which the country's embold­ened con­ser­v­a­tives and embat­tled union­ists can agree on.
Daniel Den­vir
is the author of
All Amer­i­can Nativism
(forth­com­ing from Ver­so) and host of
The Dig
, a pod­cast from
Jacobin
magazine.