Six-Day Philly Transit Strike Ends After Pension Accord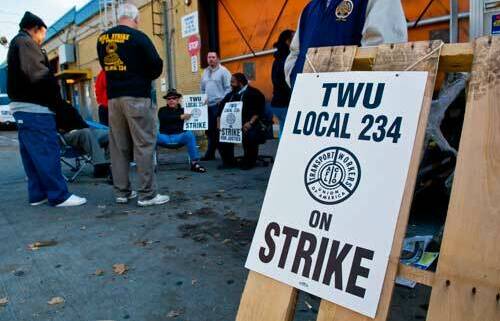 PHILADEL­PHIA, PA. — Trains, bus­es and trol­leys are mov­ing again here after tran­sit work­ers end­ed a six-day strike late Sun­day. Mem­bers of the Tran­sit Work­ers Union (TWU) Local
234
are expect­ed to rat­i­fy an agree­ment in the com­ing week, end­ing a dis­pute that had cen­tered on pen­sion issues.
The union demand­ed that the South­east­ern Penn­syl­va­nia Trans­porta­tion Author­i­ty (SEP­TA) pay more mon­ey into the under­fund­ed pen­sion, but as of Mon­day morn­ing it was unclear what pen­sion con­ces­sions the union suc­ceed­ed in win­ning from man­age­ment.
Under the new con­tract, work­ers will increase their con­tri­bu­tion to the pen­sion fund to
3
per­cent of their salaries from the cur­rent two per­cent, and max­i­mum pen­sions will be increased by $
3
,
000
, to $
30
,
000
a year. The five-year con­tract also stip­u­lates a
2
.
5
‑percent raise in the sec­ond year, and a
3
‑percent raise each year there­after.
Media cov­er­age of the strike has been marked by hos­til­i­ty to strik­ers — and a scarci­ty of reli­able information.
On Fri­day night, it was wide­ly report­ed that a deal would be reached with­in hours. When the deal fell apart, SEP­TA man­age­ment, May­or Michael Nut­ter and Gov­er­nor Ed Ren­dell accused the union of back­ing out of an agreement.
The union, how­ev­er, con­tends that they had only agreed to a gen­er­al frame­work with the gov­er­nor and were sur­prised on Sat­ur­day morn­ing when SEP­TA deliv­ered a con­tract con­tain­ing a num­ber of sep­a­rate pro­vi­sions.

​"The gov­er­nor was cor­rect," Local 234 spokesman Jamie Horowitz told the Philadel­phia Inquir­er. ​"There was essen­tial­ly a hand­shake agree­ment on some of the big issues relat­ed to salary and pen­sion fund­ing. But the dev­il is in the details. And when the con­tract was sent over [Sat­ur­day], it includ­ed a cou­ple things that were dif­fi­cult for the union."

Local 234 reject­ed SEPTA's demand that the union agree to re-open health­care pro­vi­sions of the con­tract if the pend­ing health­care over­haul in Con­gress raised costs. Local 234 also demand­ed a foren­sic audit of the work­ers' chron­i­cal­ly under­fund­ed pen­sion fund. For rea­sons that are unclear, SEP­TA resist­ed the audit even though the union offered to pay for it. It appears that no audit was includ­ed in the final con­tract, but the union is expect­ed to con­tin­ue push­ing for an inves­ti­ga­tion.

Anoth­er mys­te­ri­ous aspect of the deal is a three-year den­tal plan that has been wide­ly report­ed as one of the cen­ter­pieces of today's agree­ment. No den­tal issues were pre­vi­ous­ly report­ed as a point of con­tention and it is still unclear what role it played in the dis­pute.

Mike Zap­pone, who works at SEPTA's 69th St Ter­mi­nal, says that there is wide­spread con­cern among union mem­bers that their pen­sion mon­ey has been mis­ap­pro­pri­at­ed and calls the den­tal issue a diver­sion. ​"On the news they're talk­ing about a den­tal plan? We haven't heard about den­tal the whole time."

In Penn­syl­va­nia, a state known for ram­pant cor­rup­tion, there is abun­dant sus­pi­cion of malfea­sance on the part of both Democ­rats and Repub­li­cans.

What is clear is that Local 234's pen­sion has long been under­fund­ed, com­pared to man­agers' pen­sion fund. (The work­ers' pen­sion fund is cur­rent­ly 53-per­cent fund­ed, com­pared to the man­agers' 65 per­cent.)

Pen­sion funds for pub­lic sec­tor work­ers are in cri­sis across the coun­try, due to the finan­cial cri­sis on Wall Street and years of man­age­ment push­back against defined-ben­e­fit pack­ages. 401(k)s increas­ing­ly dom­i­nate the pri­vate sec­tor, and pub­lic employ­ees are fight­ing to main­tain a secure retirement.
In Philadel­phia, pen­sions are also the stick­ing point in stalled nego­ti­a­tions with pub­lic-sec­tor work­ers.

The dom­i­nant nar­ra­tive in the media, how­ev­er, has framed SEP­TA work­ers as a labor aris­toc­ra­cy insen­si­tive to the reces­sion­ary trou­bles of oth­er work­ing-class Philadel­phi­ans. The Media Mobi­liz­ing Project, a media activist group that works with labor and com­mu­ni­ty orga­ni­za­tions through­out the city, put togeth­er a video high­light­ing the media bias.

Ron­nie Polaneczky wrote one par­tic­u­lar­ly incen­di­ary col­umn for The Philadel­phia Dai­ly News enti­tled ​"SEP­TA strik­ers, how dare you!" She argued that pub­lic sec­tor work­ers should not demand bet­ter con­di­tions while those of oth­er work­ers were deteriorating:
Unem­ploy­ment is ram­pant in this region, and your union actu­al­ly chose to strike rather than con­tin­ue ham­mer­ing out the details of your already excel­lent jobs? Jobs that we, the tran­sit-depen­dent pub­lic, need you to per­form so that our own finan­cial­ly tee­ter­ing lives don't crash and burn?
The union argues that the rais­es keep wages on pace with infla­tion and will be par­tial­ly off­set by increased con­tri­bu­tions to the pen­sion plan.

Chris Sat­ul­lo, news direc­tor at Philadel­phia pub­lic radio sta­tion WHYY, also jumped into the fray. Not­ing that he grew up in a union house­hold, he charged that pub­lic employ­ee strikes under­mine pub­lic sup­port for unions — but neglect­ed to sug­gest how else such a union could defend mem­bers' rights.

Zap­pone says that the media con­sis­tent­ly took management's side in the dis­pute. ​"They backed the politi­cians," he said. Zap­pone says that work­ers had no choice but to strike. Yet report­ing on the strike's impact over­shad­owed dis­cus­sion of work­er issues.

​"How long are we sup­posed to work with­out a con­tract?" he asked. ​"SEP­TA just ignored us." (The Media Mobi­liz­ing Project has also put togeth­er a video high­light­ing work­er voic­es.)

Nego­ti­a­tions between SEP­TA and Local 234 have often led to con­flict. SEP­TA work­ers struck for sev­en days in 2005 over health­care issues and 40 days in 1998 over man­age­ment attempts to con­vert posi­tions to part-time, change work rules and increase out­sourc­ing. ​"I've been work­ing 36 years for SEP­TA," Zap­pone says. ​"Every time we go for a con­tract, it's a bat­tle. They always want to take some­thing from us."

U.S. Rep. Bob Brady played a lead role in nego­ti­at­ing a set­tle­ment – espe­cial­ly, it seems, giv­en the per­son­al ani­mos­i­ty between May­or Nut­ter and the union lead­er­ship. May­or Michael Nut­ter was kicked out of the nego­ti­a­tions on the strike's sec­ond day. Local 234 accused Nut­ter of intran­si­gence at the bar­gain­ing table.

Accord­ing to Horowitz, Nut­ter was wor­ried that a suc­cess­ful out­come for Local 234 would bol­ster the bar­gain­ing posi­tion of the four munic­i­pal unions that have been work­ing with­out a con­tract since June 30.

Pub­lic employ­ees are often the tar­get of deri­sion in Philadel­phia media. But in a de-indus­tri­al­ized city like Philly, once the ​"work­shop of the world," pub­lic sec­tor jobs are one of the few oppor­tu­ni­ties left for a poor per­son to make a decent liv­ing.

The union, how­ev­er, has been round­ly crit­i­cized for fail­ing to reach out to tran­sit users, and even Local 234 Pres­i­dent Willie Brown con­cedes that the strike was poor­ly timed. But a Sun­day demon­stra­tion called to protest the strike fiz­zled. Accord­ing to The Inquir­er, one pro­test­er showed up, great­ly out­num­bered by an overea­ger press corps.

Work­ers say that man­age­ment is out of touch with the work­ing-class pub­lic. ​"They don't care about the peo­ple," says Zap­pone. ​"A lot of these man­agers wouldn't know an El from a trol­ley."

Brown has called his deci­sion to call the strike — at 3 a.m. on Novem­ber 3, just after the World Series moved back to Yan­kee Sta­di­um in New York — the way he did a mis­take. Zap­pone agrees, say­ing, ​"We messed up the first day." The mis­step gave SEP­TA an ini­tial advan­tage in direct­ing pub­lic anger against the union.

"[Brown] has pub­licly said that it was a mis­take to go out at 3 a.m. with­out giv­ing pub­lic advance notice," says Horowitz. ​"And frankly, we prob­a­bly could have put a lot of pres­sure on the employ­er if we said, ​'Hey, the clocks tick­ing. The train won't run if there's not move­ment on these issues.'"

But he says that the union recov­ered their foot­ing. ​"The pri­ma­ry issue is pen­sions. And I think we did suc­ceed in get­ting that across to the public."
Daniel Den­vir
is the author of
All Amer­i­can Nativism
(forth­com­ing from Ver­so) and host of
The Dig
, a pod­cast from
Jacobin
magazine.