We Can Fight for Gun Control Without Locking People Up
Solutions rooted in policing and prisons just contribute to a culture of violence.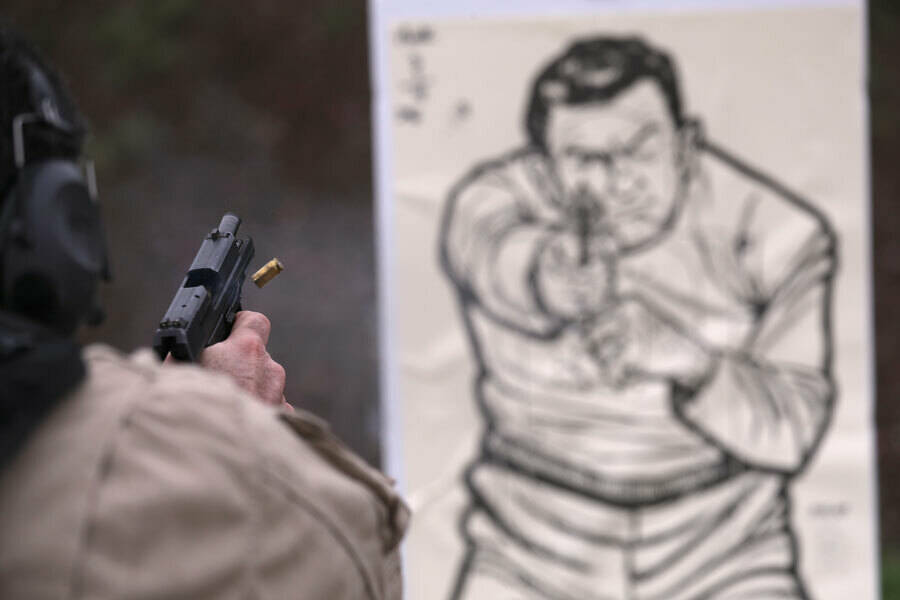 Mass shoot­ings, as main­stream gun con­trol advo­cates con­tend, no doubt con­firm that AR-15s shouldn't be on the street. But they can obscure more ordi­nary forms of indi­vid­ual gun vio­lence — inter­per­son­al neigh­bor­hood feuds, sui­cides, domes­tic vio­lence—and also the vio­lence per­pe­trat­ed by gov­ern­ment, which through mass polic­ing, incar­cer­a­tion and glob­al war­fare has made armed force the pre­ferred lan­guage of state even as vio­lent street crime has declined dramatically.
Just as the only path to a nuclear-free world is negotiated disarmament between nuclear powers, we can only hope for a peaceful America if all sides agree to downgrade their stockpiles.
To address all this, we need a trans­for­ma­tive pol­i­tics that dis­arms Amer­i­ca, state and cit­i­zen alike, and con­fronts the roots of vio­lence per­pe­trat­ed at home and abroad. That means a long, method­i­cal and rad­i­cal polit­i­cal project to reduce not only the preva­lence of lethal weapons but also the socio-eco­nom­ic con­di­tions that encour­age peo­ple to use them.
This is not to equate all forms of gun pos­ses­sion. A gun in the hands of a Klans­men is an utter­ly dif­fer­ent thing than one seized by black peo­ple in self-defense. That's why dis­ar­ma­ment must be uni­ver­sal, encom­pass­ing the carcer­al state itself, and take place on racial­ly and eco­nom­i­cal­ly just terms. A gun con­trol régime that per­pet­u­ates vio­lence is con­trary to the cause of peace.
We place pre­cious few lim­i­ta­tions on the pro­duc­tion and dis­tri­b­u­tion of guns but then impose dra­con­ian penal­ties on poor black men who pos­sess them. As Mar­co Rubio recent­ly put it in a moment of acci­den­tal insight: ​"Our laws today reflect a time when deal­ing with gun vio­lence was large­ly keep­ing hand­guns out of the pos­ses­sion of a gang­banger or street thug." This approach — a col­lab­o­ra­tion between lib­er­als and con­ser­v­a­tives — has led to huge num­bers of peo­ple, dis­pro­por­tion­ate­ly black, locked up for ille­gal­ly pos­sess­ing firearms that are oth­er­wise per­mit­ted to cir­cu­late almost freely.
A felony con­vic­tion, even for a non­vi­o­lent drug offense, typ­i­cal­ly makes it ille­gal for some­one to pos­sess the firearms that mil­lions deem to be a basic con­sti­tu­tion­al right. It's esti­mat­ed that rough­ly one-third of adult black males have a felony record, mak­ing them, if they try to live the ful­ly-loaded Amer­i­can dream, sub­ject to impris­on­ment. Oth­er laws tur­bocharge sen­tences if a gun is involved, how­ev­er tan­gen­tial­ly, in a crime. Even if the gun is nev­er brandished.
The results shouldn't sur­prise us. As of the end of 2015, accord­ing to the Bureau of Jus­tice Sta­tis­tics (BJS), an esti­mat­ed 78,800 peo­ple were locked up in fed­er­al and state pris­ons with their most seri­ous charge being pub­lic order offens­es involv­ing a weapon. This fig­ure doesn't include many oth­ers serv­ing time on gun charges, or whose sen­tence for a crime was extend­ed because of firearms, because BJS only clas­si­fies pris­on­ers based on what is deemed to be their most seri­ous offense. For exam­ple, accord­ing to a 2015 BJS report, near­ly a quar­ter of fed­er­al pris­on­ers clas­si­fied as drug offend­ers (among those sen­tenced after 1998) had also received a sen­tence involv­ing weapons.
Guns are involved in every oper­a­tion of the carcer­al state: The New York Police Department's stop-and-frisk drag­net was jus­ti­fied in the name of root­ing out ille­gal­ly pos­sessed firearms; police use the threat of lethal force to jus­ti­fy arrest­ing mil­lions of Amer­i­cans and shoot­ing some in the process; and it's armed sen­tries, in the last instance, that enable pris­ons and jails to incar­cer­ate an esti­mat­ed 2.3 million.
Gun pro­lif­er­a­tion stems from the lack of gen­uine grass­roots demo­c­ra­t­ic polit­i­cal pow­er in this coun­try. For many, guns — and a lib­er­tar­i­an ethos of indi­vid­ual over col­lec­tive reliance — fill that void, which is what NRA exec­u­tive vice pres­i­dent Wayne LaPierre is tap­ping into when he says that social­ists want ​"to elim­i­nate … our firearms free­doms so they can elim­i­nate all indi­vid­ual freedoms."
Dis­arm­ing Amer­i­ca will require increas­ing democ­ra­cy, and dis­arm­ing the police out­side of extra­or­di­nary cir­cum­stances. Cit­i­zens need not arm them­selves against a gov­ern­ment whose repres­sion they don't fear. The con­verse is also true: A soci­ety that is not brim­ming with firearms does not require an armed police force — in fact, in some coun­tries, unarmed police are the norm. Just as the only path to a nuclear-free world is nego­ti­at­ed dis­ar­ma­ment between nuclear pow­ers, we can only hope for a peace­ful Amer­i­ca if all sides agree to down­grade their stockpiles.
The cul­ture of vio­lence that pre­vails at home has in part been forged abroad through decades of impe­r­i­al war­fare. Man­ag­ing a glob­al empire entails not only direct­ly deploy­ing mur­der­ous quan­ti­ties of muni­tions world­wide but also ped­dling arma­ments to allied armed forces. In 2015 alone, the Unit­ed States made $40.2 bil­lion in arms trans­fer agree­ments glob­al­ly, the major­i­ty with the devel­op­ing world. What's more, untold quan­ti­ties of ille­gal­ly divert­ed but legal­ly pur­chased guns have become the weapons of choice amongst crim­i­nal gangs through­out Mex­i­co and Cen­tral America.
Stop­ping the vio­lence will also require pro­vid­ing poor com­mu­ni­ties with eco­nom­ic pow­er: pover­ty is the indis­putable back­drop of the every­day car­nage that destroys lives in poor black neigh­bor­hoods from Chica­go to Bal­ti­more. Mean­while, the specter of vio­lent crime — which, con­trary to Trump, has plum­met­ed in recent years — dri­ves gun own­er­ship across the board, encour­ag­ing vig­i­lante killers like George Zimmerman.
Our gun cul­ture is a mor­bid one: A large major­i­ty of gun deaths have been the result of sui­cide, the rates of which have risen dra­mat­i­cal­ly in recent years, one piece of the ris­ing num­ber of white Amer­i­cans whose lives are cut short by ​"deaths of despair" — a per­va­sive social despair that must be addressed rather than stig­ma­tized as idio­syn­crat­ic men­tal ill­ness pos­sessed by monsters.
Dis­ar­ma­ment may seem a daunt­ing task, con­sid­er­ing the polit­i­cal oppo­si­tion we con­front, and the fact that 327 mil­lion-odd Amer­i­cans own, between them, more than 300 mil­lion guns.
But it's pre­cise­ly what we must do, one step at a time.
Daniel Den­vir
is the author of
All Amer­i­can Nativism
(forth­com­ing from Ver­so) and host of
The Dig
, a pod­cast from
Jacobin
magazine.