Sensata Workers File NLRB Charges; Update: Jesse Jackson Arrested at Solidarity Protest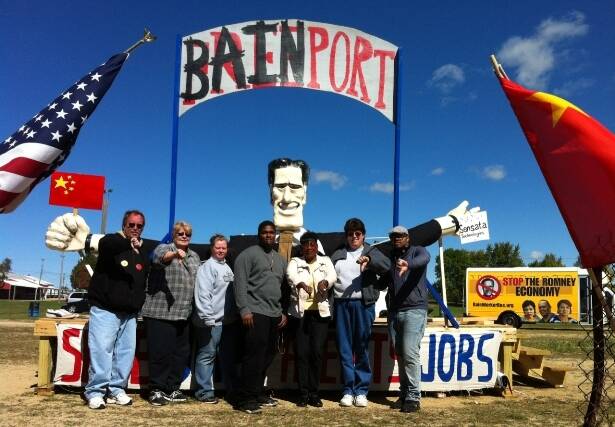 Update Octo­ber
24
,
10
:
05
p.m.:
14
pro­test­ers were arrest­ed this after­noon at Bain-owned Sen­sa­ta Tech­nolo­gies after march­ing onto plant prop­er­ty to demand a meet­ing with the plant
&
rsquo;s man­ag­er. The arrestees includ­ed Rev. Jesse Jack­son, Bish­op Tavis Grant, Rock­ford Alder­man Vic­to­ry Bell, three Sen­sa­ta work­ers, com­mu­ni­ty mem­bers and rep­re­sen­ta­tives from Unit­ed Auto Work­ers, Unit­ed Steel­work­ers and SEIU Health­care Illi­nois. Today
&
rsquo;s arrests brings the total count to
23
.This morn­ing, work­ers filed charges with the Nation­al Labor Rela­tions Board alleg­ing unfair labor prac­tices at Sen­sa­ta Tech­nolo­gies, a car-sen­sor man­u­fac­tur­er owned by Bain Cap­i­tal (which Mitt Rom­ney found­ed). The charges come after the Freeport, Ill. com­pa­ny threat­ened to close the plant imme­di­ate­ly – two months ahead of sched­ule – if employ­ees con­tin­ued to ral­ly against the out­sourc­ing of their jobs to China.
The work­ers filed two charges with the NLRB: one over Sen­sa­ta's threat to shut the plant down ear­ly, the oth­er
&
nbsp;accus­ing the com­pa­ny of
&
ldquo;increas­ing secu­ri­ty and announc­ing a new pol­i­cy, or a pre­vi­ous­ly unen­forced pol­i­cy, pro­hibit­ing off-duty employ­ees from enter­ing work areas at non-work times, in response to and in retal­i­a­tion for employ­ees engag­ing in pro­tect­ed con­cert­ed activ­i­ty."The employ­ees received the shut-down threat Tues­day via the Freeport Police – Sen­sa­ta man­age­ment asked the police to relay the mes­sage rather than com­mu­ni­cate with work­ers direct­ly. The work­ers were told that the plant, which is sched­uled to close its doors this Decem­ber after
170
jobs and equip­ment are shipped to the new plant in Chi­na, would be shut down ear­ly if protests con­tin­ue. Demon­stra­tors, some of whom have worked there more than
40
years and will receive only
26
weeks of sev­er­ance pay, were incensed. In a press release from orga­niz­ers at Bain­port (the coun­ty fair­grounds across the street from Sen­sa­ta that has been con­vert­ed into a protest camp), Joanne Pen­nis­ton says:Not only are they ship­ping our jobs to Chi­na, they are also try­ing to take away our rights as Amer­i­can work­ers. We are not going to be intim­i­dat­ed. We are going to stand up for our rights and our jobs.This is a not-so-sur­pris­ing move for the Freeport com­pa­ny, which shut down oper­a­tions over the week­end to sti­fle ris­ing protests. Last week, six pro­test­ers were arrest­ed on com­pa­ny grounds for a sit-in protest­ing the plant man­ager's refusal to meet with them, and three more work­ers were arrest­ed a week pri­or for block­ing the path of trucks remov­ing equip­ment from the plant for ship­ment to Chi­na. But Sensata
&
rsquo;s con­tin­ued threats of arrest and clo­sure haven
&
rsquo;t slowed the demon­stra­tors. This after­noon at
4
p.m., at least a dozen activists
&
mdash;including Rev­erend Jesse Jack­son, three Sen­sa­ta work­ers and rep­re­sen­ta­tives from Unit­ed Steel­work­ers, UAW, SEIU and the NAACP
&
mdash;were sched­uled to hold a
&
nbsp;march from Bain­port to the plant if they
&
rsquo;re still denied a meet­ing with the plant man­ag­er.Along with call­ing for a meet­ing, the pro­test­ers have plead­ed with Mitt Rom­ney to help save their jobs. But Rom­ney has refused to help or even meet with the pro­test­ers. Bain­port orga­niz­ers have a the­o­ry as to why:Not only does Rom­ney stand to prof­it from the out­sourc­ing of these jobs through the stock he still owns in the com­pa­ny, his
2011
tax returns show that he got a
&
nbsp;huge tax break
&
nbsp;by mov­ing Sen­sa­ta stock to a char­i­ty orga­ni­za­tion he controls
&
mdash;and that he
&
nbsp;con­tin­ues to prof­it
&
nbsp;from Bain
&
rsquo;s off­shore hold­ings and tax avoid­ance strate­gies.Of course, Romney
&
rsquo;s refusal to inter­vene doesn
&
rsquo;t fall in line with his promis­es to, if elect­ed, cre­ate
12
mil­lion jobs by, among oth­er things,
&
ldquo;crack­ing down on Chi­na.
&
rdquo;