Sensata Workers File NLRB Charges; Update: Jesse Jackson Arrested at Solidarity Protest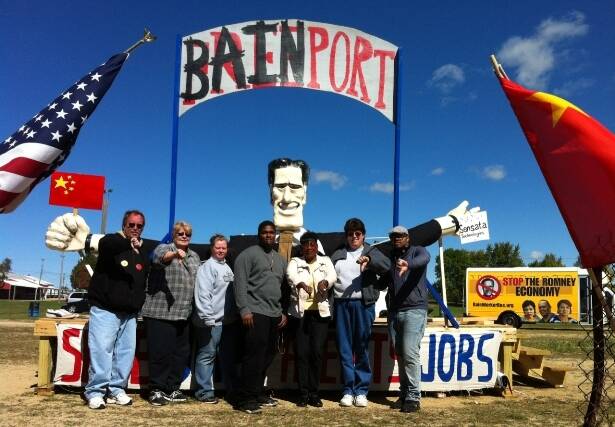 Update October
24
,
10
:
05
p.m.:
14
protesters were arrested this afternoon at Bain-owned Sensata Technologies after marching onto plant property to demand a meeting with the plant
&
rsquo;s manager. The arrestees included Rev. Jesse Jackson, Bishop Tavis Grant, Rockford Alderman Victory Bell, three Sensata workers, community members and representatives from United Auto Workers, United Steelworkers and SEIU Healthcare Illinois. Today
&
rsquo;s arrests brings the total count to
23
.This morning, workers filed charges with the National Labor Relations Board alleging unfair labor practices at Sensata Technologies, a car-sensor manufacturer owned by Bain Capital (which Mitt Romney founded). The charges come after the Freeport, Ill. company threatened to close the plant immediately – two months ahead of schedule – if employees continued to rally against the outsourcing of their jobs to China.
The workers filed two charges with the NLRB: one over Sensata's threat to shut the plant down early, the other
&
nbsp;accusing the company of
&
ldquo;increasing security and announcing a new policy, or a previously unenforced policy, prohibiting off-duty employees from entering work areas at non-work times, in response to and in retaliation for employees engaging in protected concerted activity."The employees received the shut-down threat Tuesday via the Freeport Police – Sensata management asked the police to relay the message rather than communicate with workers directly. The workers were told that the plant, which is scheduled to close its doors this December after
170
jobs and equipment are shipped to the new plant in China, would be shut down early if protests continue. Demonstrators, some of whom have worked there more than
40
years and will receive only
26
weeks of severance pay, were incensed. In a press release from organizers at Bainport (the county fairgrounds across the street from Sensata that has been converted into a protest camp), Joanne Penniston says:Not only are they shipping our jobs to China, they are also trying to take away our rights as American workers. We are not going to be intimidated. We are going to stand up for our rights and our jobs.This is a not-so-surprising move for the Freeport company, which shut down operations over the weekend to stifle rising protests. Last week, six protesters were arrested on company grounds for a sit-in protesting the plant manager's refusal to meet with them, and three more workers were arrested a week prior for blocking the path of trucks removing equipment from the plant for shipment to China. But Sensata
&
rsquo;s continued threats of arrest and closure haven
&
rsquo;t slowed the demonstrators. This afternoon at
4
p.m., at least a dozen activists
&
mdash;including Reverend Jesse Jackson, three Sensata workers and representatives from United Steelworkers, UAW, SEIU and the NAACP
&
mdash;were scheduled to hold a
&
nbsp;march from Bainport to the plant if they
&
rsquo;re still denied a meeting with the plant manager.Along with calling for a meeting, the protesters have pleaded with Mitt Romney to help save their jobs. But Romney has refused to help or even meet with the protesters. Bainport organizers have a theory as to why:Not only does Romney stand to profit from the outsourcing of these jobs through the stock he still owns in the company, his
2011
tax returns show that he got a
&
nbsp;huge tax break
&
nbsp;by moving Sensata stock to a charity organization he controls
&
mdash;and that he
&
nbsp;continues to profit
&
nbsp;from Bain
&
rsquo;s offshore holdings and tax avoidance strategies.Of course, Romney
&
rsquo;s refusal to intervene doesn
&
rsquo;t fall in line with his promises to, if elected, create
12
million jobs by, among other things,
&
ldquo;cracking down on China.
&
rdquo;
Support this work
Reader donations, many as small as just $5, are what fund the work of writers like this—and keep our content free and accessible to everyone. If you support this work, will chip in to help fund it?

It only takes a minute to donate. Click here to make a tax-deductible donation.
Help support this work
As a reader-supported, nonprofit publication, all of the journalism In These Times produces is made possible by readers like you. If you support this work, will you chip in $5 or more to help fund it?