Baltimore Joins Global Movement, Becoming the First Major U.S. City to Ban Water Privatization
The global movement to stop privatization deals and expand public ownership just scored a huge victory in Baltimore, as residents voted overwhelmingly to ban putting their water in private hands.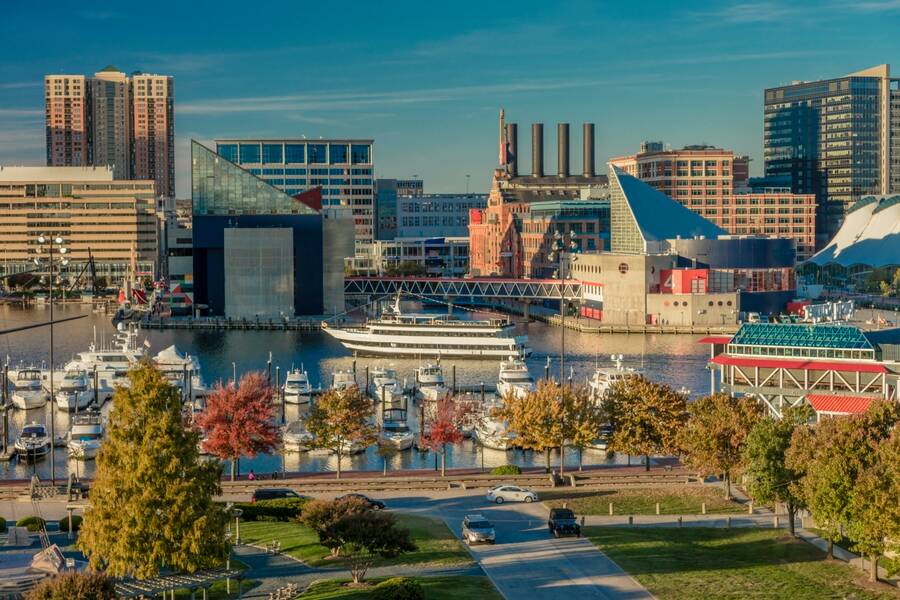 On Novem­ber 6, Bal­ti­more became the first major city in the Unit­ed States whose res­i­dents vot­ed to ban water pri­va­ti­za­tion. Near­ly 77 per­cent of vot­ers cast bal­lots in favor of Ques­tion E, which declared the ​"inalien­abil­i­ty" of the water and sew­er sys­tems and exempt­ed them from any city char­ter pro­vi­sions relat­ed to fran­chis­ing or oper­a­tional rights.
The decades-long and seemingly unassailable neoliberal "consensus" of globalization, economic liberalization, privatization, austerity and monetary orthodoxy is now facing a deep legitimacy crisis.
This vote result­ed from an ongo­ing strug­gle waged by Bal­ti­more com­mu­ni­ty activists, unions and civic lead­ers demand­ing afford­able access to water for low-income res­i­dents. That strug­gle emerged in response to con­cern the city could sell off the community's water infra­struc­ture to for-prof­it investors.
The vote is also part of an emerg­ing world­wide move­ment to fight back against pri­va­ti­za­tion and to munic­i­pal­ize or re-munic­i­pal­ize (put under pub­lic con­trol) local enter­pris­es and ser­vices. Between 2007 and 2014, the num­ber of pri­vate­ly owned water sys­tems in the Unit­ed States fell by 7 percent.
As in Bal­ti­more, the mere threat of water pri­va­ti­za­tion now sparks com­mu­ni­ty resis­tance around the world. A 2017 study by the Ams­ter­dam-based Transna­tion­al Insti­tute iden­ti­fied 835 munic­i­pal­iza­tions and re-munic­i­pal­iza­tions involv­ing some 1,600 cities in 45 coun­tries. These devel­op­ments were most preva­lent in the ener­gy and water sec­tors, but have also occurred in trans­porta­tion, edu­ca­tion, hous­ing and health­care. ​"These (re)municipalizations gen­er­al­ly suc­ceed­ed in bring­ing down costs and tar­iffs, improv­ing con­di­tions for work­ers and boost­ing ser­vice qual­i­ty, while ensur­ing greater trans­paren­cy and account­abil­i­ty," the report found.
In Ger­many, dozens of new munic­i­pal-lev­el pub­licly owned elec­tric util­i­ties have been estab­lished since 2007 and hun­dreds of ser­vice con­ces­sions have been acquired by pub­lic enti­ties from pri­vate oper­a­tors, revers­ing the pri­va­ti­za­tion wave that swept the sec­tor in the 1990s. This process of rekom­mu­nal­isierung ('re-com­mu­nal­iza­tion') is part of a larg­er effort called energiewende ("ener­gy tran­si­tion") to replace the country's use of coal and nuclear with renew­able sources.
In Boul­der, Col­orado, a sim­i­lar effort by civic and com­mu­ni­ty lead­ers has been under­way for sev­er­al years to take the local elec­tric util­i­ty into pub­lic own­er­ship for ener­gy tran­si­tion reasons.
In the Unit­ed King­dom, the Labour Par­ty under the lead­er­ship of Jere­my Cor­byn and John McDon­nell has made revers­ing pri­va­ti­za­tions and re-estab­lish­ing pub­lic own­er­ship a major pol­i­cy pil­lar. The par­ty now unapolo­get­i­cal­ly calls for rena­tion­al­iza­tion of the rail­ways, the ener­gy sys­tem, the water sys­tem and Roy­al Mail, as well as the estab­lish­ment of a pub­licly owned Nation­al Invest­ment Bank, a net­work of region­al pub­lic devel­op­ment banks and new local pub­licly owned banks. Dozens of British cities are estab­lish­ing new pub­licly owned ener­gy com­pa­nies as local alter­na­tives to the big cor­po­rate sup­pli­ers in order to low­er costs for res­i­dents and address the issue of fuel poverty.
Such rena­tion­al­iza­tion and remu­nic­i­pal­iza­tion efforts are being dri­ven by grow­ing frus­tra­tion with privatization's fail­ures. Recent­ly, a Labour Par­ty study revealed that rail­road pri­va­ti­za­tion in the UK has cost tax­pay­ers £5 bil­lion a year and result­ed in 20 per­cent high­er fares for rid­ers (on top of dete­ri­o­rat­ing ser­vice qual­i­ty). Sim­i­lar­ly, in 2017, a report found that pri­va­ti­za­tion of the Eng­lish water sys­tem was not only cost­ing res­i­dents £2.3 bil­lion per year, but pri­vate water com­pa­nies were financ­ing invest­ments almost exclu­sive­ly with debt and had ​"extract­ed near­ly all of their post-tax prof­its as dividends."
Many Amer­i­cans recall the Chica­go park­ing meter pri­va­ti­za­tion fias­co, which every year gets worse: Pri­vate investors reap hun­dreds of mil­lions in prof­its while park­ing rates rise expo­nen­tial­ly and the city faces decades of lost rev­enue. (The pri­va­ti­za­tion was so cat­a­stroph­ic that it helped scut­tle an unre­lat­ed attempt to pri­va­tize Chicago's Mid­way Airport.)
Pri­va­ti­za­tion crit­i­cisms are also com­ing from unex­pect­ed sources. In Octo­ber, the Inter­na­tion­al Mon­e­tary Fund (IMF) issued a report sug­gest­ing that the sup­posed fis­cal ben­e­fits of pri­va­ti­za­tion are often mere­ly an ​"illu­sion" — they ​"increase rev­enue and low­er deficits but also reduce the government's asset hold­ings." This report came on the heels of anoth­er from the Unit­ed Nations rap­por­teur on extreme pover­ty and human rights that was even more damn­ing. ​"Pri­va­ti­za­tion," Philip Alston sum­ma­rized, ​"often involves the sys­tem­at­ic elim­i­na­tion of human rights pro­tec­tions and fur­ther mar­gin­al­iza­tion of the inter­ests of low-income earn­ers and those liv­ing in poverty."
Such pro­nounce­ments are fur­ther evi­dence that the decades-long and seem­ing­ly unas­sail­able neolib­er­al ​"con­sen­sus" of glob­al­iza­tion, eco­nom­ic lib­er­al­iza­tion, pri­va­ti­za­tion, aus­ter­i­ty and mon­e­tary ortho­doxy is now fac­ing a deep legit­i­ma­cy cri­sis. His­to­ry may mark the turn­ing point as the Great Finan­cial Cri­sis of 2008. A high­ly-lever­aged and implod­ing finan­cial sec­tor that threat­ened to bring down the entire glob­al econ­o­my laid bare the myth of free-mar­ket and pri­vate sec­tor infallibility.
Mean­while, in the Unit­ed States, pub­lic own­er­ship — espe­cial­ly at the local and state lev­el — remains vibrant and broad­ly pop­u­lar. Amer­i­cans inter­act with pub­lic own­er­ship every day — from local, low-cost pow­er and var­i­ous modes of trans­porta­tion to land, hous­ing and schools. Even for those who believe neolib­er­al talk­ing points about gov­ern­ment being the ​"prob­lem" and pri­vate busi­ness being supe­ri­or, as Bal­ti­more demon­strates, there is usu­al­ly lit­tle appetite for the han­dover of, say, a pub­licly owned elec­tric or water util­i­ty or a pub­lic trans­porta­tion sys­tem to extrac­tive, for-prof­it corporations.
Re-munic­i­pal­iza­tion efforts around the world offer an oppor­tu­ni­ty to build upon this base of sup­port. Com­mu­ni­ties can con­nect their grow­ing aware­ness of the pow­er of pub­lic own­er­ship to emerg­ing move­ments mobi­liz­ing around eco­nom­ic democ­ra­cy, water secu­ri­ty, local con­trol and cli­mate jus­tice to affect far-reach­ing, sys­temic change.