Banking on Detention: Demonstrators Call on Wells Fargo to Divest from Private Prisons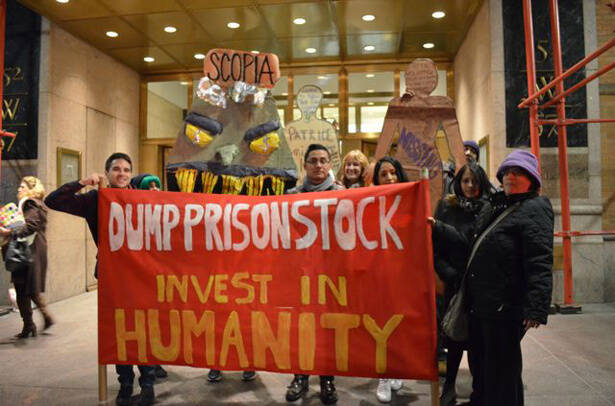 After Ancelma's hus­band was deport­ed to Mex­i­co, she found her­self unable to close a bank account with Wells Far­go that was accru­ing over­draft fees. Though it has mar­ket­ed itself as a bank of choice for the Lati­no com­mu­ni­ty — accept­ing matric­u­la cards that give undoc­u­ment­ed immi­grants access to bank­ing ser­vices and even estab­lish­ing ​"Wells Far­go Ami­gos" out­reach teams — the bank refused to accept her husband's autho­riza­tion to close the account because it was writ­ten in Spanish.
The fam­i­ly soon learned this wasn't the only way in which Wells Far­go is less ​"immi­grant-friend­ly" than it first appears: The finan­cial insti­tu­tion also invests heav­i­ly in the pri­vate prison indus­try that lob­bies for and prof­its from harsh­er immi­gra­tion enforce­ment and detention.
Ancelma's sto­ry is one of sev­er­al detailed in a series of reports urg­ing Wells Far­go to break ties with pri­vate prison oper­a­tors. In Sep­tem­ber, Nation­al People's Action and the Nation­al Prison Divest­ment Cam­paign exposed that the bank was heav­i­ly invest­ed in two major such com­pa­nies with near­ly $100 mil­lion of hold­ings in GEO Group and near­ly $3 mil­lion in the Cor­rec­tions Cor­po­ra­tion of Amer­i­ca (CCA). The groups launched a pub­lic pres­sure cam­paign, brand­ing the bank ​"Jails Far­go" and hold­ing demon­stra­tions out­side its branches.
In late Octo­ber, they declared vic­to­ry when Wells Fargo's most recent SEC fil­ings revealed that it had divest­ed more than a third of its hold­ings in GEO Group.
Help keep this report­ing pos­si­ble by mak­ing a dona­tion today.
Prison divest­ment orga­niz­ers are encour­aged by this move, but say it doesn't yet go far enough. Dur­ing a nation­al day of action yes­ter­day, activists in nine cities staged demon­stra­tions to call for full divest­ment from the pri­vate prison indus­try. ​"Wells Far­go still pro­vides a $700 mil­lion line of cred­it with­out which CCA could not build new pris­ons," explains Peter Cer­vantes-Gautschi, exec­u­tive direc­tor of Enlace, a nation­al alliance of low-wage work­er cen­ters that coor­di­nates the Nation­al Prison Divest­ment Cam­paign. ​"And beyond this, we're ask­ing all insti­tu­tions, pub­lic and pri­vate, to cut ties with this indus­try — much as peo­ple of con­science divest­ed from apartheid South Africa in the 1980s."
The Nation­al Prison Divest­ment Cam­paign, launched in spring 2011, brings togeth­er labor and faith orga­ni­za­tions with immi­grant rights groups alarmed by the explo­sion of pri­vate deten­tion cen­ters. In 2005, pri­vate prison oper­a­tors gained a major foothold in the field of immi­grant deten­tion with the start of Oper­a­tion Stream­line, a pol­i­cy man­dat­ing crim­i­nal, as opposed to civ­il, pros­e­cu­tion of undoc­u­ment­ed immi­grants cross­ing the bor­der. As the result of this shift, and the rede­f­i­n­i­tion of acts like ​"ille­gal bor­der cross­ing" as immi­gra­tion felonies, Lati­nos now con­sti­tute the major­i­ty of those sen­tenced for fed­er­al crimes. Near­ly half of immi­grants con­vict­ed of such crimes are held in pri­vate facilities.
The pri­vate prison indus­try has been involved in lob­by­ing heav­i­ly for both new immi­grant deten­tion cen­ters and tougher enforce­ment poli­cies that will help fill them. In 2010, In These Times reporter Beau Hodai uncov­ered CCA's piv­otal role in shap­ing SB 1070, Arizona's anti-immi­grant law. Thir­ty out of the 36 state leg­is­la­tors who co-spon­sored the bill received cam­paign con­tri­bu­tions from pri­vate prison com­pa­nies. Though the Supreme Court struck down three out of the bill's four pro­vi­sions ear­li­er this year, the ​"show me your papers" law that invites racial pro­fil­ing by law enforce­ment remained intact, and has since tak­en effect in Arizona.
SB 1070 is far from the only instance where pri­vate prison com­pa­nies have pre­vailed in secur­ing such lucra­tive arrange­ments. Dur­ing the past decade, the AP report­ed in August, the three major pri­vate prison com­pa­nies have spent $45 mil­lion in lob­by­ing and cam­paign con­tri­bu­tions. This was mon­ey well-spent: Where­as ten years ago, pri­vate prison oper­a­tors held two fed­er­al con­tracts worth about $760 mil­lion, the Fed­er­al Bureau of Pris­ons today pays these com­pa­nies $5.1 bil­lion through 13 dif­fer­ent contracts.
The result is more than 23,000 immi­grants detained for fed­er­al crimes, up from just over 3,000 a decade ago. Cer­vantes-Gautschi asserts that this dras­tic increase is clear­ly the result of prof­it-moti­vat­ed pol­i­cy shifts: ​"More than half of immi­grants in the fed­er­al prison sys­tem are being held for things not even con­sid­ered crimes six years ago," he says.
Demon­stra­tions held across the coun­try yes­ter­day tar­get­ed Wells Far­go, GEO head­quar­ters, and the hedge fund Scopia, which accord­ing to Enlace is the largest investor in GEO Group among hedge funds. As New York demon­stra­tors assem­bled out­side Scopia's offices, pro­test­ers car­ried life-sized black sil­hou­ettes labeled ​"miss­ing" to sym­bol­ize the destruc­tion of com­mu­ni­ties wrought by ris­ing lev­els of detention.
​"Each sil­hou­ette rep­re­sents a miss­ing mem­ber of our com­mu­ni­ty," explains Andalu­sia Soloff of the group Fam­i­lies for Free­dom. ​"A per­son who, no mat­ter the legal sta­tus, res­i­den­cy, or cit­i­zen­ship of the per­son has been removed and sent away, leav­ing their fam­i­lies and loved ones behind."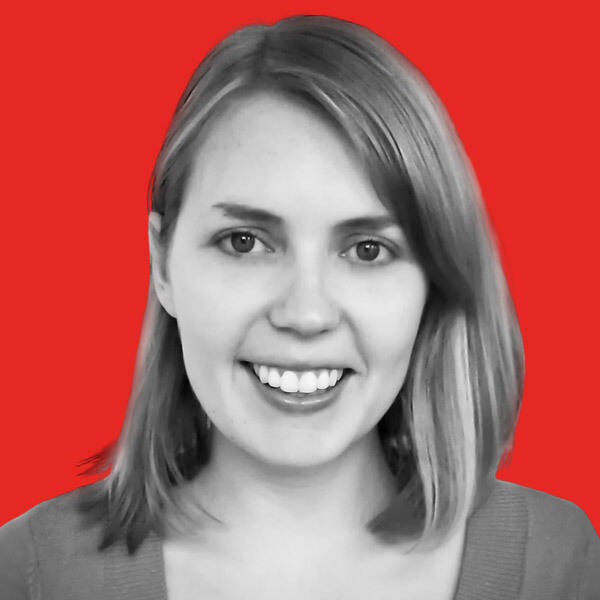 Rebec­ca Burns
is an award-win­ning inves­tiga­tive reporter whose work has appeared in The Baf­fler, the Chica­go Read­er, The Inter­cept and oth­er out­lets. She is a con­tribut­ing edi­tor at In These Times. Fol­low her on Twit­ter @rejburns.