Bernie's Platform Could Win in Maryland's Gov. Race, With Support From Clinton Voters
Former NAACP President Ben Jealous is building a broad coalition of progressives to take out a popular GOP governor in Maryland.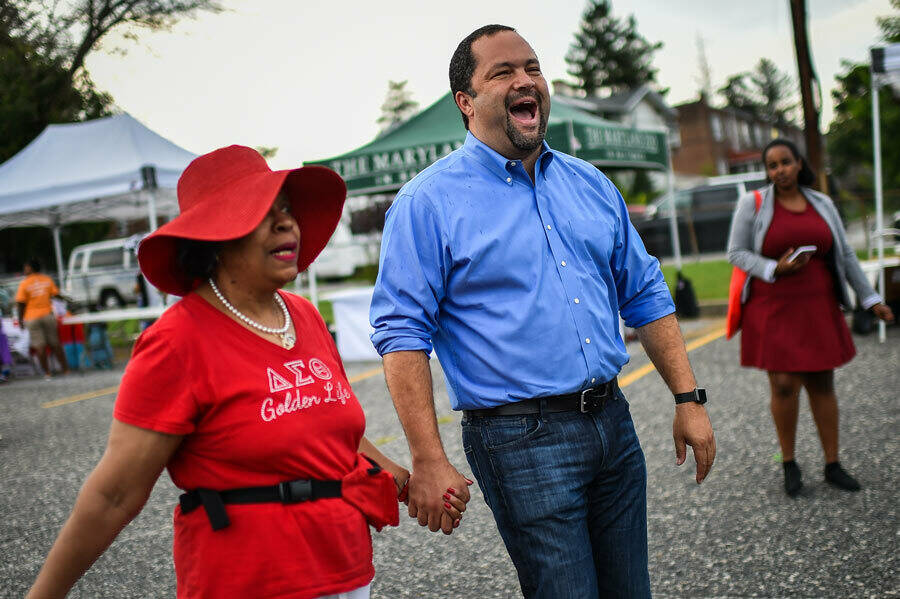 BAL­TI­MORE — Bernie Sanders is not on Maryland's guber­na­to­r­i­al bal­lot, but cor­ner­stones of his 2016 plat­form will be. Ben Jeal­ous, for­mer NAACP pres­i­dent and Sanders loy­al­ist, is run­ning in the June 26 Demo­c­ra­t­ic pri­ma­ry on a bold pro­gres­sive agen­da that includes free tuition at pub­lic uni­ver­si­ties, Medicare for all, an end to mass incar­cer­a­tion and a $15 min­i­mum hourly wage. If he is suc­cess­ful, he will take on sit­ting Repub­li­can Gov. Lar­ry Hogan in November.
Jealous says his coalition departs from traditional Democratic politics in its strong commitment to attacking poverty as the root cause of problems facing working people.
Dur­ing a Feb­ru­ary mini-debate at sub­ur­ban Baltimore's Gouch­er Col­lege attend­ed by six of the sev­en Demo­c­ra­t­ic can­di­dates, Jeal­ous laid out his pro­gres­sive aims. The can­di­dates received a restrained recep­tion from the 50-odd stu­dents in the audi­ence: It's ear­ly in the race and none of the cam­paigns has caught fire.
Nev­er­the­less, Jeal­ous stands out. In 2016, he was Sanders' most promi­nent African-Amer­i­can sup­port­er on the nation­al stage, serv­ing as a del­e­gate and work­ing for the cam­paign. Jeal­ous has been endorsed by Sanders and Our Rev­o­lu­tion, the polit­i­cal orga­ni­za­tion that sprung from Sanders' cam­paign, as well as Sanders' key labor back­ers — the Com­mu­ni­ca­tions Work­ers of Amer­i­ca and Nation­al Nurs­es United.
Ear­ly polling places Jeal­ous sec­ond to Rush­ern Bak­er III, a pop­u­lar local politi­cian from Prince Georges Coun­ty in sub­ur­ban D.C. Baker's lead, how­ev­er, is not over­whelm­ing, and a Gouch­er Col­lege poll found that half the state's Demo­c­ra­t­ic vot­ers have no can­di­date pref­er­ence yet.
Jeal­ous' suc­cess may depend on his abil­i­ty to mend the rift with the Clin­ton wing of the par­ty. Mary­land Democ­rats vot­ed 63 – 33 per­cent in Clinton's favor. Jeal­ous tells In These Times that the state has moved on: ​"That was 2016. It's 2018."
Still, in Novem­ber 2017 Jeal­ous announced as his run­ning mate Susie Turn­bull, a long-time state par­ty leader asso­ci­at­ed with the pro-Clin­ton wing. Promi­nent Clin­ton sup­port­ers Sen. Cory Book­er (D‑New Jer­sey) and Los Ange­les May­or Eric Garcetti came out ear­ly for Jealous.
Jeal­ous appears espe­cial­ly well-suit­ed to bridge the per­ceived ten­sion between class and ​"iden­ti­ty pol­i­tics" that made the Bernie-Hillary divide so fraught. His cam­paign announce­ment stat­ed: ​"We must … make all forms of dif­fer­ence less impor­tant: whether it be race, class, region or religion."
Jeal­ous, 45, has worked for racial jus­tice through­out his adult life. His par­ents first met as deseg­re­ga­tion cam­paign­ers in Bal­ti­more in the 1960s. He was raised in Mon­terey, Calif., and strong­ly influ­enced by vis­its with his Bal­ti­more grand­moth­er, a social work­er and AFSCME mem­ber. As an under­grad­u­ate at Colum­bia Uni­ver­si­ty, he was briefly sus­pend­ed for his role in stu­dent protests over a plan to demol­ish the famed Audubon Ball­room, where Mal­colm X was assas­si­nat­ed. (The sus­pen­sion didn't pre­vent him from becom­ing a Rhodes Schol­ar). In 2008, at age 35, he was elect­ed the NAACP's youngest-ever pres­i­dent. His five-year tenure was seen as a reju­ve­na­tion of the orga­ni­za­tion and expand­ed its focus to stop-and-frisk, the DREAM Act and LGBTQ rights.
But the most rel­e­vant chap­ter of Jeal­ous' biog­ra­phy may be his time vol­un­teer­ing for Jesse Jackson's 1988 pres­i­den­tial cam­paign as a teenag­er. ​"We're mod­el­ing our cam­paign after Jackson's Rain­bow Coali­tion — and also on Obama's 2008 cam­paign," Jeal­ous says. His coali­tion reflects that aspi­ra­tion. Casa de Mary­land, a cham­pi­on for the Lati­no com­mu­ni­ty, is a backer. He earned a nod from SEIU, which has a strong base among black vot­ers in Mary­land. Pro­gres­sive Mary­land and the Mary­land Work­ing Fam­i­lies Par­ty, which rep­re­sent the left flank of the state's Demo­c­ra­t­ic Par­ty, are behind him. And cli­mate change activist Bill McK­ibben and LGBTQ orga­niz­er Rea Carey are in Jeal­ous' camp.
He says his coali­tion departs from tra­di­tion­al Demo­c­ra­t­ic pol­i­tics in its strong com­mit­ment to attack­ing pover­ty as the root cause of prob­lems fac­ing work­ing peo­ple. He links gun vio­lence in the streets of Bal­ti­more and the opi­oid cri­sis in rur­al Mary­land to crushed hopes for a bet­ter eco­nom­ic future. ​"Young peo­ple who are full of hope don't kill each oth­er, and they don't kill them­selves," he says. Restor­ing hope, he says, means ​"open­ing oppor­tu­ni­ty for everyone."
SEIU 1199 spokesper­son Girume Ashenafi says his union's endorse­ment was ​"a no brain­er. He's the most pro­gres­sive can­di­date in the field, no ques­tion about it."
The Gouch­er Col­lege debate, how­ev­er, high­light­ed a cen­tral prob­lem for Jeal­ous: a crowd­ed field of can­di­dates who all appear left-lean­ing. Rais­ing the min­i­mum wage, pro­tect­ing Oba­macare and invest­ing in pub­lic schools were com­mon themes, although Jeal­ous' plans sound­ed the most ambi­tious. His focus on mass incar­cer­a­tion also set him apart in the field of (most­ly white) candidates.
Can­di­dates drew the loud­est cheers when they com­pared Gov. Hogan to Trump and called for his defeat. But Hogan is regard­ed as a for­mi­da­ble oppo­nent for Democ­rats. The Cook Polit­i­cal Report, for exam­ple, rates the race a ​"Like­ly Repub­li­can" win even though reg­is­tered Democ­rats out­num­ber Repub­li­cans in the state by about 2‑to‑1. Hogan has tried to main­tain his pop­u­lar­i­ty by adopt­ing a mod­er­ate tone and keep­ing his dis­tance from Trump. It is far too ear­ly to count the Democ­rats out, though, espe­cial­ly if there is a strong Trump backlash.
Nei­ther Jeal­ous nor Turn­bull has held elec­tive office before, and their oppo­nents may exploit this as a weak­ness. Bill Fletch­er Jr., a labor and social jus­tice activist and a sup­port­er of Jeal­ous, notes that Demo­c­ra­t­ic pri­ma­ry vot­ers val­ue ​"the sense that you've ​'paid your dues' by par­ty work."
Jeal­ous' lack of expe­ri­ence in glad-hand­ing became painful­ly obvi­ous fol­low­ing the Gouch­er Col­lege debate. He stood in earnest con­ver­sa­tion with aides while fel­low can­di­date Kevin Kamenetz worked the crowd.
"For­tu­nate­ly, Ben is a very hard work­er," Fletch­er says. ​"If we still have five can­di­dates in the race on pri­ma­ry day, then this thing can be won with 35 per­cent of the vote. He can get that."
Or, as Bernie Sanders put it when endors­ing Jeal­ous, ​"Sounds like Mary­land is ready for a polit­i­cal revolution!"
Bruce Vail
is a Bal­ti­more-based free­lance writer with decades of expe­ri­ence cov­er­ing labor and busi­ness sto­ries for news­pa­pers, mag­a­zines and new media. He was a reporter for Bloomberg BNA's Dai­ly Labor Report, cov­er­ing col­lec­tive bar­gain­ing issues in a wide range of indus­tries, and a mar­itime indus­try reporter and edi­tor for the Jour­nal of Com­merce, serv­ing both in the newspaper's New York City head­quar­ters and in the Wash­ing­ton, D.C. bureau.