Bernie Sanders: Corporate Media Threatens Our Democracy
This is a crisis we can no longer afford to ignore.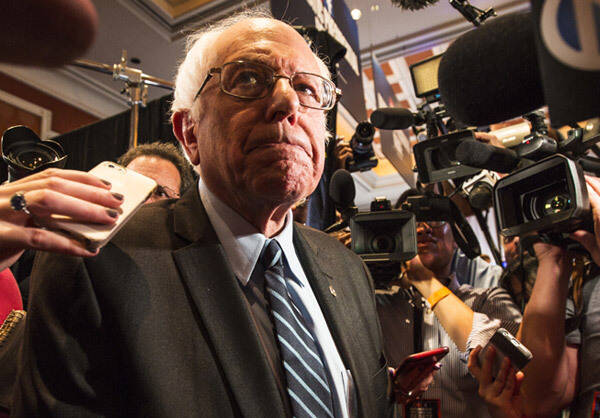 Media shapes our very lives. It tells us what prod­ucts we need to buy and, by the quan­ti­ty and nature of cov­er­age, what is ​"impor­tant" and what is ​"unim­por­tant." Media informs us as to the scope of what is ​"real­is­tic" and ​"pos­si­ble."
Why does the mainstream media see politics as entertainment, and largely ignore the major problems facing our country? Because six multinational corporations control 90 percent of what we see, hear and read.
When we see con­stant cov­er­age of mur­ders and bru­tal­i­ty on tele­vi­sion, cor­po­rate media is telling us that crime and vio­lence are impor­tant issues that we should be con­cerned about. When there is round-the-clock cov­er­age of the Super Bowl, we are being informed that foot­ball and the NFL deserve our rapt atten­tion. When there is very lit­tle cov­er­age of the suf­fer­ing of the 43 mil­lion Amer­i­cans liv­ing in pover­ty, or the thou­sands of Amer­i­cans with­out health insur­ance who die each year because they can't get to a doc­tor when they should, cor­po­rate­ly owned media is telling us that these are not issues of major con­cern. For years, major crises like cli­mate change, the impact of trade agree­ments on our econ­o­my, the role of big mon­ey in pol­i­tics and youth unem­ploy­ment have received scant media cov­er­age. Trade union lead­ers, envi­ron­men­tal­ists, low-income activists, peo­ple pre­pared to chal­lenge the cor­po­rate ide­ol­o­gy, rarely appear on our TV screens.
Media is not just about what is cov­ered and how. It is about what is not cov­ered. And those deci­sions, of what is and is not cov­ered, are not made in the heav­ens. They are made by human beings who often have major con­flicts of interest.
As a gen­er­al rule of thumb, the more impor­tant the issue is to large num­bers of work­ing peo­ple, the less inter­est­ing it is to cor­po­rate media. The less sig­nif­i­cant it is to ordi­nary peo­ple, the more atten­tion the media pays. Fur­ther, issues being pushed by the top 1 per­cent get a lot of atten­tion. Issues advo­cat­ed by rep­re­sen­ta­tives of work­ing fam­i­lies, not so much.
For the cor­po­rate media, the real issues fac­ing the Amer­i­can peo­ple— pover­ty, the decline of the mid­dle class, income and wealth inequal­i­ty, trade, health­care, cli­mate change, etc. — are fair­ly irrel­e­vant. For them, pol­i­tics is large­ly pre­sent­ed as enter­tain­ment. With some notable excep­tions, reporters are trained to see a cam­paign as if it were a game show, a base­ball game, a soap opera, or a series of conflicts.
I saw this time and time again.
Turn on CNN or oth­er net­works cov­er­ing pol­i­tics and what you will find is that the over­whelm­ing amount of cov­er­age is ded­i­cat­ed to per­son­al­i­ty, gos­sip, cam­paign strat­e­gy, scan­dals, con­flicts, polls and who appears to be win­ning or los­ing, fundrais­ing, the ups and downs of the cam­paign trail, and the dumb things a can­di­date may say or do. It has very lit­tle to do with the needs of the Amer­i­can peo­ple and the ideas or pro­grams a can­di­date offers to address the prob­lems fac­ing the country.
Accord­ing to a study of media cov­er­age of the 2016 pri­maries by the Shoren­stein Cen­ter on Media, Pol­i­tics and Pub­lic Pol­i­cy, only 11 per­cent of cov­er­age focused on can­di­dates' pol­i­cy posi­tions, lead­er­ship abil­i­ties and pro­fes­sion­al his­to­ries. My per­son­al sense is that num­ber is much too high.
The ​"pol­i­tics as enter­tain­ment" approach works very well for some­one like Don­ald Trump, an expe­ri­enced enter­tain­er. That kind of media approach didn't work so well for a cam­paign like ours, which was deter­mined to focus on the real prob­lems fac­ing our coun­try and what the solu­tions might be. For the cor­po­rate media, name-call­ing and per­son­al attacks are easy to cov­er, and what it prefers to cover.
While I was still con­sid­er­ing whether or not to run, I did a long inter­view with a very promi­nent nation­al news­pa­per writer. Over and over I stressed that I want­ed to talk about my assess­ment of the major prob­lems fac­ing the coun­try, and how I pro­posed to address them. And for 45 min­utes, that's what the dis­cus­sion was about. The reporter appeared inter­est­ed in what I had to say, and I thought we had a good con­ver­sa­tion. At the very end, as he was leav­ing, he said: ​"Oh, by the way, Hillary Clin­ton said such and such. What's your com­ment?" I fell for it. Need­less to say, that one-minute response became the major part of his sto­ry. And that occurred time after time after time.
On a CNN show, an inter­view­er became vis­i­bly angry because I chose not to respond to her ques­tions with per­son­al attacks against Sec­re­tary Clin­ton. The inter­view­er opined that I didn't have ​"sharp enough elbows" to become a seri­ous can­di­date, that I wasn't tough enough. Iden­ti­fy­ing the major prob­lems fac­ing our coun­try, and pro­vid­ing ideas as to how we could address them, was just not good enough.
In fact, I was gen­tly fault­ed by some for hav­ing exces­sive ​"mes­sage dis­ci­pline," for spend­ing too much time dis­cussing real issues. Bor­ing. The result of all of these fac­tors is that while I was get­ting cov­er­age, it was far less than what oth­er can­di­dates were getting.
In a Dec. 11, 2015, blog post for Media Mat­ters for Amer­i­ca, Eric Boehlert wrote:
ABC World News Tonight has devot­ed less than one minute to Bernie Sanders' cam­paign this year.
In his arti­cle, Boehlert also report­ed that:
Trump has received more net­work cov­er­age than all the Demo­c­ra­t­ic can­di­dates combined.
Repub­li­can Jeb Bush received 56 min­utes of coverage.
On May 25, 2016, Media Mat­ters for Amer­i­ca dis­cussed the cov­er­age of pover­ty issues on the major tele­vi­sion net­works for the first quar­ter of 2016. This is what was writ­ten in a sto­ry titled ​"Bernie Sanders Left a Mark on Sun­day Show Cov­er­age of Inequal­i­ty and Poverty":
Dur­ing the sur­vey peri­od, Sun­day polit­i­cal talk shows on ABC, CBS, CNN, Fox Broad­cast­ing, and MSNBC fea­tured 27 seg­ments focused on eco­nom­ic inequal­i­ty and nine focused specif­i­cal­ly on pover­ty. Inter­views with Demo­c­ra­t­ic pres­i­den­tial can­di­date Sen. Bernie Sanders (I‑Vt.) account­ed for 16 of the 27 seg­ments focused on eco­nom­ic inequal­i­ty and six of the nine seg­ments address­ing poverty.
What does it say about cor­po­rate media cov­er­age of the major issues fac­ing our coun­try when my can­di­da­cy, alone, account­ed for the major­i­ty of atten­tion (lim­it­ed though it may have been) that net­work Sun­day news shows paid to poverty?
On the oth­er hand, from the begin­ning of the cam­paign to the end, there were major arti­cles and TV cov­er­age on all kinds of stuff that no nor­mal human being was par­tic­u­lar­ly inter­est­ed in. When was I going to announce my inten­tion to run? When was I going to announce my inten­tion to drop out? When was I was going to endorse Clin­ton? Why wasn't I spend­ing more time shak­ing hands and kiss­ing babies? Why did cer­tain staff mem­bers leave the cam­paign? Why were the cam­paign staffing lev­els reduced? What did I have for breakfast?
I remem­ber cring­ing when the car I was trav­el­ing in was pulled over in Iowa because we were speed­ing to an event, with a New York Times reporter in the back seat. The state troop­er was pro­fes­sion­al and polite and gave us a warn­ing. Not so the reporter, who, it goes with­out say­ing, made it a major part of her coverage.
Why is it that the main­stream media sees pol­i­tics as enter­tain­ment, and large­ly ignores the major crises fac­ing our coun­try? The answer lies in the fact that cor­po­rate media is owned by, well, large multi­na­tion­al corporations.
These pow­er­ful cor­po­ra­tions also have an agen­da, and it would be naïve not to believe that their views and needs impact cov­er­age of issues impor­tant to them. Seen any spe­cials late­ly as to why we pay the high­est prices in the world for our pre­scrip­tion drugs, or why we are the only major coun­try on earth not to have a nation­al health care pro­gram? That may have some­thing to do with the hun­dreds of mil­lions of dol­lars each year that drug com­pa­nies and insur­ance com­pa­nies spend on advertising.
And let us also not for­get that the lead­ing per­son­al­i­ties we see on tele­vi­sion are them­selves, in most cas­es, mul­ti­mil­lion­aires with very gen­er­ous con­tracts. That does not make them evil or bad peo­ple. It just makes them very wealthy, cor­po­rate employ­ees who bring to their jobs the per­spec­tive that very wealthy cor­po­rate employ­ees bring.
Dis­ney, the own­er of ABC, has many thou­sands of employ­ees in Chi­na man­u­fac­tur­ing their prod­ucts at very low wages. In the Unit­ed States, they have uti­lized guest work­er pro­grams to fire Amer­i­cans and replace them with low-wage for­eign work­ers. Fur­ther, despite mak­ing huge prof­its, they pay the peo­ple who work at their theme parks here very low wages. I could be wrong, but I don't expect that you will see pro­gram­ming tonight on ABC dis­cussing the plight of lowwage work­ers here in the Unit­ed States or, for that mat­ter, in China.
Let me also give a shout-out to peo­ple who, with resources far more lim­it­ed than their cor­po­rate com­peti­tors, try to inform the Amer­i­can peo­ple about the real issues fac­ing our coun­try. We received very fair cov­er­age from Thom Hart­mann, Cenk Uygur of The Young Turks, and Amy Good­man of Democ­ra­cy Now! The folks at The Nation, In These Times, The Pro­gres­sive, and a num­ber of oth­er small­er pub­li­ca­tions and blogs also worked extreme­ly hard to allow us to con­vey our mes­sage to the Amer­i­can peo­ple. Ed Schultz, the Rev­erend Al Sharp­ton, Rachel Mad­dow and Chris Hayes pro­vid­ed us with the very fair cov­er­age we received on MSNBC. I was also pleased to have been on the Bill Moy­ers pro­gram on PBS on sev­er­al occasions.
In my cam­paign for pres­i­dent, I received 46 per­cent of the pledged del­e­gates, won twen­ty-two states, and lost some states by a few votes. In oth­er words, we had a sig­nif­i­cant amount of sup­port from ordi­nary peo­ple. On the oth­er hand, I did not win 46 per­cent of the endorse­ments from the print estab­lish­ment and the lead­ing news­pa­pers in the coun­try. In fact, I won vir­tu­al­ly none. In almost every state, the own­ers of the estab­lish­ment news­pa­pers sup­port­ed Sec­re­tary Clinton.
I was very proud to have received the endorse­ment of the Seat­tle Times. Among all the major news­pa­pers through­out this coun­try, that was it. We received one major news­pa­per endorsement.
Who owns the media?
In 1983, the largest 50 cor­po­ra­tions con­trolled 90 per­cent of the media. Today, as a result of mas­sive merg­ers and takeovers, six cor­po­ra­tions con­trol 90 per­cent of what we see, hear, and read. Those six cor­po­ra­tions are Com­cast, News Corp, Dis­ney, Via­com, Time Warn­er and CBS. In 2010, the total rev­enue of these six cor­po­ra­tions was $275 bil­lion. In a recent arti­cle in Forbes mag­a­zine dis­cussing media own­er­ship, the head­line appro­pri­ate­ly read: ​"These 15 Bil­lion­aires Own America's News Media Companies."
No sane per­son denies that the media plays an enor­mous­ly impor­tant role in shap­ing pub­lic con­scious­ness and deter­min­ing polit­i­cal out­comes. The cur­rent media sit­u­a­tion is a very seri­ous threat to our democracy.
The very first amend­ment to our Con­sti­tu­tion guar­an­tees free­dom of speech and free­dom of the press, the right of the peo­ple to express their points of view from the rooftops, to allow them­selves to be heard. That is some­thing I pas­sion­ate­ly believe in.
Unfor­tu­nate­ly, as A. J. Liebling wrote back in 1960: ​"Free­dom of the press is guar­an­teed only to those who own one." And the peo­ple who own the press, radio and tele­vi­sion sta­tions, and book pub­lish­ing and movie com­pa­nies are becom­ing few­er and few­er, with more and more pow­er. This is a cri­sis that can no longer be ignored.
From Our Rev­o­lu­tion: A Future to Believe In by Bernie Sanders. Copy­right © 2016 by the author and reprint­ed by per­mis­sion of Thomas Dunne Books, an imprint of St. Martin's Press, LLC.

Bernie Sanders
(I‑Vt.) was elect­ed to the U.S. Sen­ate in
2006
after serv­ing
16
years in the House of Rep­re­sen­ta­tives. He is the longest serv­ing inde­pen­dent mem­ber of Con­gress in Amer­i­can his­to­ry. Elect­ed May­or of Burling­ton, Vt., by
10
votes in
1981
, he served four terms. Before his
1990
elec­tion as Ver­mon­t's at-large mem­ber in Con­gress, Sanders lec­tured at the John F. Kennedy School of Gov­ern­ment at Har­vard and at Hamil­ton Col­lege in upstate New York. Read more at his
web­site
.