Bernie Sanders Still Has a Path to Victory. Here It Is.
The media says Clinton is inevitable (again), but the battle for delegates could be closer than anyone expects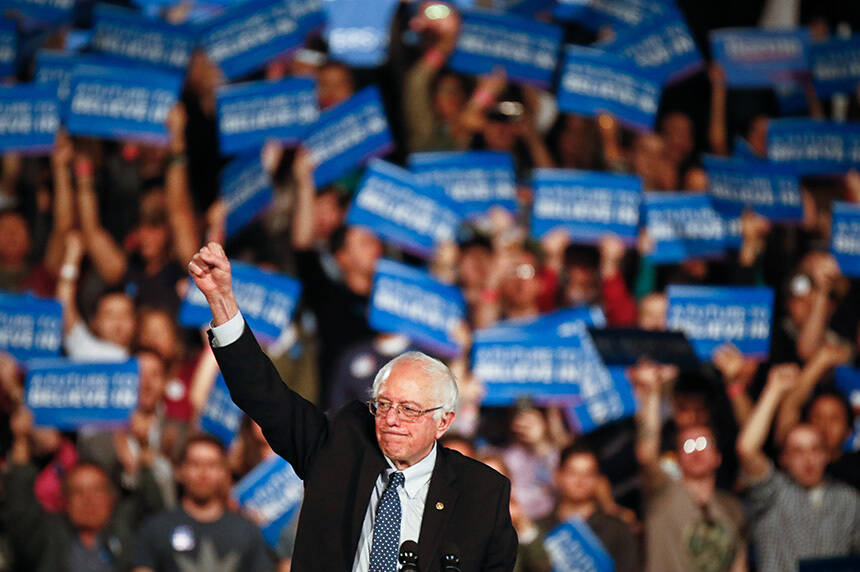 Note: This arti­cle has been updat­ed to reflect the out­come of the South Car­oli­na pri­ma­ry. You can read the sec­ond install­ment in this series here.
The early states account for only a fraction of the total delegates needed. And though every delegate is a zero sum game (either Clinton wins it or Sanders does), every state is not. The margins matter.
The main media nar­ra­tive com­ing out of Saturday's Neva­da cau­cus was clear: Hillary Clinton's got her inevitabil­i­ty back, and Bernie Sanders' cam­paign is toast. You can see it across a broad swath of the polit­i­cal spec­trum, from Salon ("Hillary Clinton's Path Is Clear: Bar­ring a cat­a­stro­phe, her nom­i­na­tion is inevitable") to the Drudge Report ("Bern Out: Hillary could end it all in two weeks!").
But if you put aside con­jec­ture and spec­u­la­tion for a moment, there's real­ly only one fact we can know for cer­tain: Sanders trailed Clin­ton by just a sin­gle pledged del­e­gate, 51 – 52, after Neva­da. Yes, it's true that, includ­ing superdel­e­gates (which we'll get to in a bit), a can­di­date needs to amass at least 2,383 total del­e­gates in order to claim the Demo­c­ra­t­ic nom­i­na­tion — but that's just anoth­er way of say­ing that you have to win by one.
That's not how the media tends to talk about the nom­i­na­tion, but it's the frame­work to keep in mind as things unfold over the next few weeks and months — and it's a frame­work the cam­paigns them­selves clear­ly under­stand. For all the talk of momen­tum, it's math that will deter­mine the winner.
(Re)setting expec­ta­tions
When polls closed in New Hamp­shire, two things hap­pened with­in sec­onds: the net­works declared Sanders the win­ner, and the Clin­ton cam­paign released a three-page memo that attempt­ed to reframe not just her loss but the entire­ty of the race to come. The memo explained:
While impor­tant, the first four states rep­re­sent just 4% of the del­e­gates need­ed to secure the nomination. …

The way to win the nom­i­na­tion is to max­i­mize the num­ber of del­e­gates we secure from each pri­ma­ry and cau­cus. That means, in many cas­es, that the mar­gin of vic­to­ry (or defeat) with­in a giv­en state is actu­al­ly more impor­tant than whether the state is won or lost.
Giv­en its tim­ing, the memo may have looked like sleight of hand to dis­guise an embar­rass­ing loss, but the under­ly­ing point is absolute­ly cor­rect. The ear­ly states, with their rel­a­tive­ly small pop­u­la­tions, account for only a frac­tion of the total pri­ma­ry votes. And though every del­e­gate is a zero sum game (either Clin­ton wins it or Sanders does), every state is not. The mar­gins matter.
So, let's look at the margins.
What it takes
Try­ing to map the 2008 race to 2016 is an imper­fect sci­ence, but 2008 does pro­vide the most recent exam­ple of what a long, con­test­ed Demo­c­ra­t­ic pri­ma­ry looks like (and of course, there's one con­stant in both: Hillary Clinton).
Most every­one remem­bers the excit­ing first act of 2008: Barack Oba­ma's his­toric vic­to­ry in the Iowa cau­cus, Clin­ton's teary-eyed come-from-behind win in New Hamp­shire, and the pho­to-fin­ish of the Neva­da cau­cus. When seen in terms of del­e­gate dif­fer­en­tial, how­ev­er, it looks likes this:

The real­i­ty is con­sid­er­ably less dra­mat­ic, isn't it? Math will do that. Now, here is where the race stands at the same point in 2016:

Next, let's look at how the rest of the race unfold­ed in 2008, focus­ing on pledged del­e­gates won by each can­di­date in each con­test on the night of the elec­tion or cau­cus*, as well as the mar­gin of del­e­gate victory: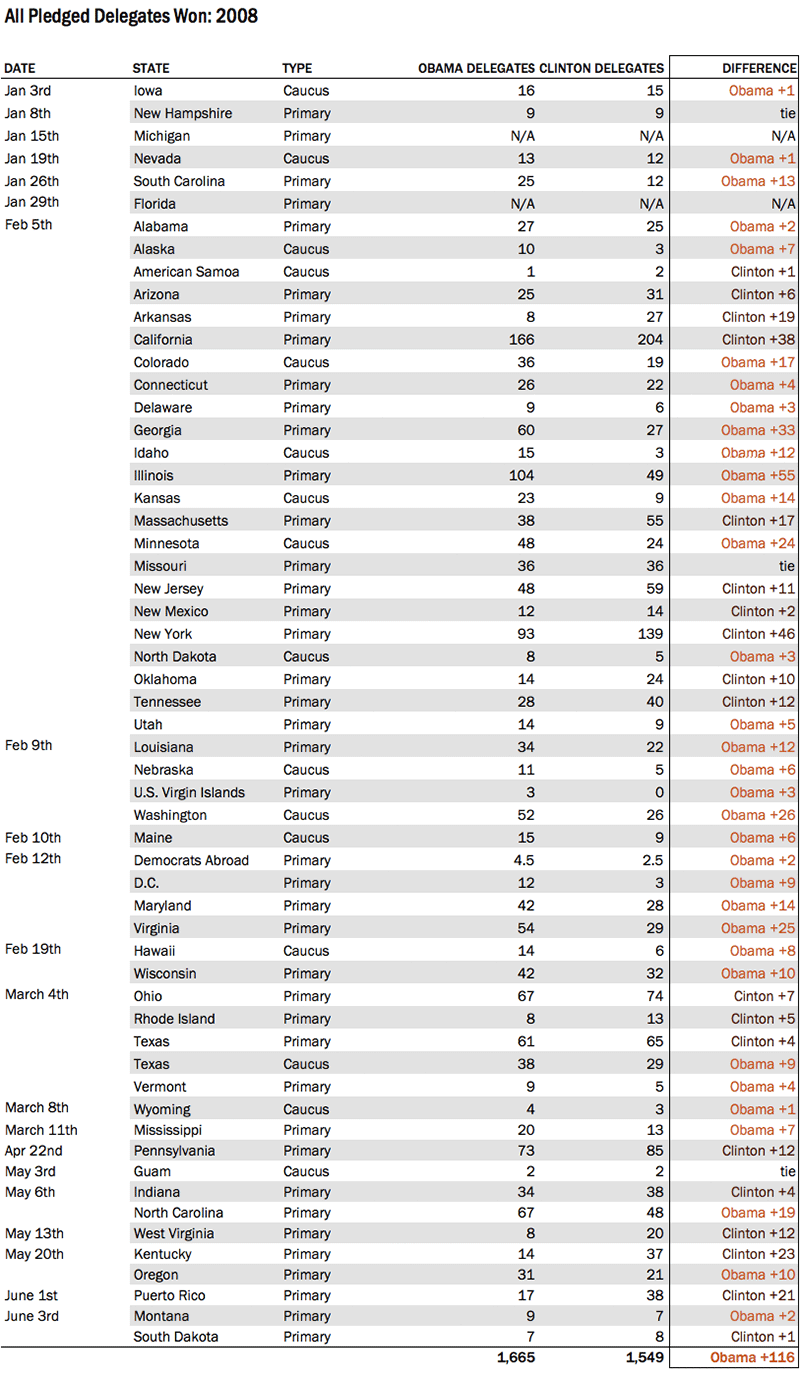 Note: The pri­ma­ry results in both Michi­gan and Flori­da were ini­tial­ly nul­li­fied because the states broke par­ty rules by hold­ing their elec­tions too ear­ly in the year.
Three things stand out:
First, blow-outs are rare, but they can be dev­as­tat­ing. Near­ly half of Oba­ma's total del­e­gate mar­gin came from just one state: Illi­nois. Clin­ton had a chance to return the favor in New York, but despite the fact that her home state had many more del­e­gates to award than Obama's, her mar­gin of vic­to­ry was much narrower.
Sec­ond, a big win in a small state can be just as impor­tant as a small win in a big state. In 2008, the epic six-week bat­tle for Penn­syl­va­nia (which saw the release of the Rev­erend Wright videos and Obama's sub­se­quent speech on race in Philadel­phia) was one of the most intense and cost­ly of the cam­paign. Yet, after more than 2.3 mil­lion votes were cast, Clin­ton's mar­gin of vic­to­ry of +12 del­e­gates was iden­ti­cal to what Oba­ma gained in win­ning Ida­ho, a cau­cus of less than 22,000 peo­ple that flew com­plete­ly under the radar.
Third, it's hard to rack up big del­e­gate wins, even with a clear major­i­ty of the vote. Each state has its own way of appor­tion­ing del­e­gates, and whether you see it as a fea­ture or a flaw, the sys­tem is designed in a way that pro­vides even the los­er with a large num­ber of del­e­gates. As an exam­ple, in New Hamp­shire ear­li­er this month, if Clin­ton had just man­aged to break 45 per­cent the del­e­gate split would have been 8 – 8: a draw.
Super freak
Before we go on, a word about superdel­e­gates. In addi­tion to the pledged del­e­gates award­ed in each state based on the vot­ing, there are 712 unpledged del­e­gates — so-called ​"super" del­e­gates — who are free to vote for whomev­er they choose, when­ev­er they choose — and they can change their minds when­ev­er they like. These are Demo­c­ra­t­ic Par­ty lead­ers such as gov­er­nors, mem­bers of Con­gress and par­ty offi­cials. They make up 15 per­cent of the total num­ber of del­e­gates, more than enough to upend the result in a close race. But that will nev­er happen.
In 2008, there was a fair amount of hand­wring­ing over the pos­si­bil­i­ty that superdel­e­gates sup­port­ing Clin­ton would deny Barack Oba­ma the nom­i­na­tion even if he won the most pledged del­e­gates, and we're see­ing the same anx­i­ety among Sanders' sup­port­ers today. A num­ber of pro­gres­sive groups are already putting pres­sure on superdel­e­gates to hon­or the results of the indi­vid­ual pri­maries and cau­cus­es, and the superdel­e­gate freak-out is like­ly only beginning.
But despite Clinton's mas­sive 452-to-19 lead among superdel­e­gates who have endorsed so far, par­ty offi­cials sim­ply aren't going to over­rule the will of Demo­c­ra­t­ic vot­ers. Doing so would dam­age the par­ty and almost cer­tain­ly doom the nom­i­nee. Imag­ine, say, Don­ald Trump being able to (accu­rate­ly) claim that his gen­er­al elec­tion oppo­nent couldn't even win over a major­i­ty of Democ­rats, and was only on the bal­lot because the estab­lish­ment rigged the game. That's not going to hap­pen. This is going to be decid­ed by voters.
What is dis­turb­ing, how­ev­er, is that many main­stream out­lets (includ­ing MSNBC and Politi­co) have begun com­bin­ing superdel­e­gate totals in with pledged del­e­gates as part of their results on elec­tion night, and The New York Times, the Asso­ci­at­ed Press, Bloomberg news and oth­ers have begun includ­ing superdel­e­gate endorse­ments in their over­all del­e­gate counts. Fair­ness and Accu­ra­cy in Report­ing points out that this didn't use to be the case, and doing so gives the false impres­sion that superdel­e­gates are some­how con­nect­ed to the vot­ing itself. They are not, and the media should stop pre­tend­ing otherwise.
What hap­pens next? ¯\_(ツ)_/¯
It's dif­fi­cult to go much fur­ther with­out mak­ing lots of assump­tions about some 30 mil­lion peo­ple who have yet to vote, each and every one of whom will ulti­mate­ly decide between Hillary Clin­ton or Bernie Sanders for rea­sons unique and know­able only to themselves.
But FiveThirtyEight's Nate Sil­ver recent­ly took a close look at the two dozen or so states where Sanders seem­ing­ly has the best chance to do well, and Sil­ver and oth­ers have begun to paint a more detailed, nuanced por­trait of the emerg­ing Sanders coali­tion and how it's already mak­ing for a much dif­fer­ent race than we saw in 2008. The one thing that hasn't changed since 2008 is that the slow accu­mu­la­tion of del­e­gates — not states — will be what deter­mines the even­tu­al winner.
Polling in upcom­ing states, to the extent that polling can even be trust­ed in the mod­ern cam­paign era, is vir­tu­al­ly nonex­is­tent. Sanders won huge mar­gins of young vot­ers in both Iowa and New Hamp­shire, but we've yet to see if that will hold true with young vot­ers of col­or. Clin­ton is win­ning the African-Amer­i­can vote, but it's unclear yet if she'll be able to con­tin­ue doing so with the same over­whelm­ing mar­gin that Oba­ma did in 2008. Sanders is reach­ing white vot­ers that Oba­ma lost to Clin­ton, and Clin­ton is win­ning over house­holds with high­er incomes that Oba­ma won. Turnout so far has not been near­ly as high as it was in 2008. There are a lot of unan­swered (and unan­swer­able) questions.
But for the pur­pose of this thought exper­i­ment, let's assume that a best-case sce­nario for Sanders would need to com­bine some or all of the following:
• Good per­for­mances in cau­cus states: Oba­ma won 15 out of 16 cau­cus­es in 2008, where turnout is low­er and the activist base of the par­ty has an out­sized impact. The Clin­ton cam­paign knows this, and they're focus­ing much more atten­tion on the kind of orga­niz­ing it takes to win these. That paid off in Neva­da, but the cau­cus states could still pro­vide Sanders (and his enthu­si­as­tic sup­port­ers) some of his best chances.
• Win­ning (enough) African Amer­i­can votes: Nation­wide, Oba­ma won the African-Amer­i­can vote 85 per­cent to 13 per­cent, and this trans­lat­ed into some of his biggest wins, includ­ing South Car­oli­na, North Car­oli­na and Geor­gia. This time, it's Clin­ton who is win­ning the ear­ly sup­port of African Amer­i­cans. Sanders will have to nar­row that gap enough to pre­vent big blowouts.
• Win­ning (enough) white work­ing class vot­ers in the South: Some of Oba­ma's biggest loss­es in 2008 were Ken­tucky, West Vir­ginia and Ten­nessee — states with a large pro­por­tion of white, work­ing-class Democ­rats. These may not seem like ide­al states for a demo­c­ra­t­ic social­ist either, but there are signs that Sanders could con­ceiv­ably be com­pet­i­tive—or even win—in places like this where Oba­ma lost big.
• Win­ning large states with pro­gres­sive vot­ers: No mat­ter how close Sanders keeps his loss­es, he'll have to win some­where. Three of Oba­ma's five biggest wins in terms of del­e­gates were Wash­ing­ton, Vir­ginia and Min­neso­ta, and it is states like these — with rel­a­tive­ly large pop­u­la­tions of white, pro­gres­sive vot­ers — that may be Sanders' best bet.
• Keep­ing it close: If Sanders does win, it's like­ly to be much, much clos­er than Oba­ma's even­tu­al 116-del­e­gate mar­gin. In 2008, many of Clinton's top cam­paign advi­sors famous­ly failed to plan for—or even under­stand—the actu­al mechan­ics of the nom­i­nat­ing process. This time around, both cam­paigns have shown that they get how del­e­gate math works and what it takes to win.
With all of this in mind, here's a look at one hypo­thet­i­cal out­come where Sanders runs the table on all the fac­tors above — and wins by one delegate: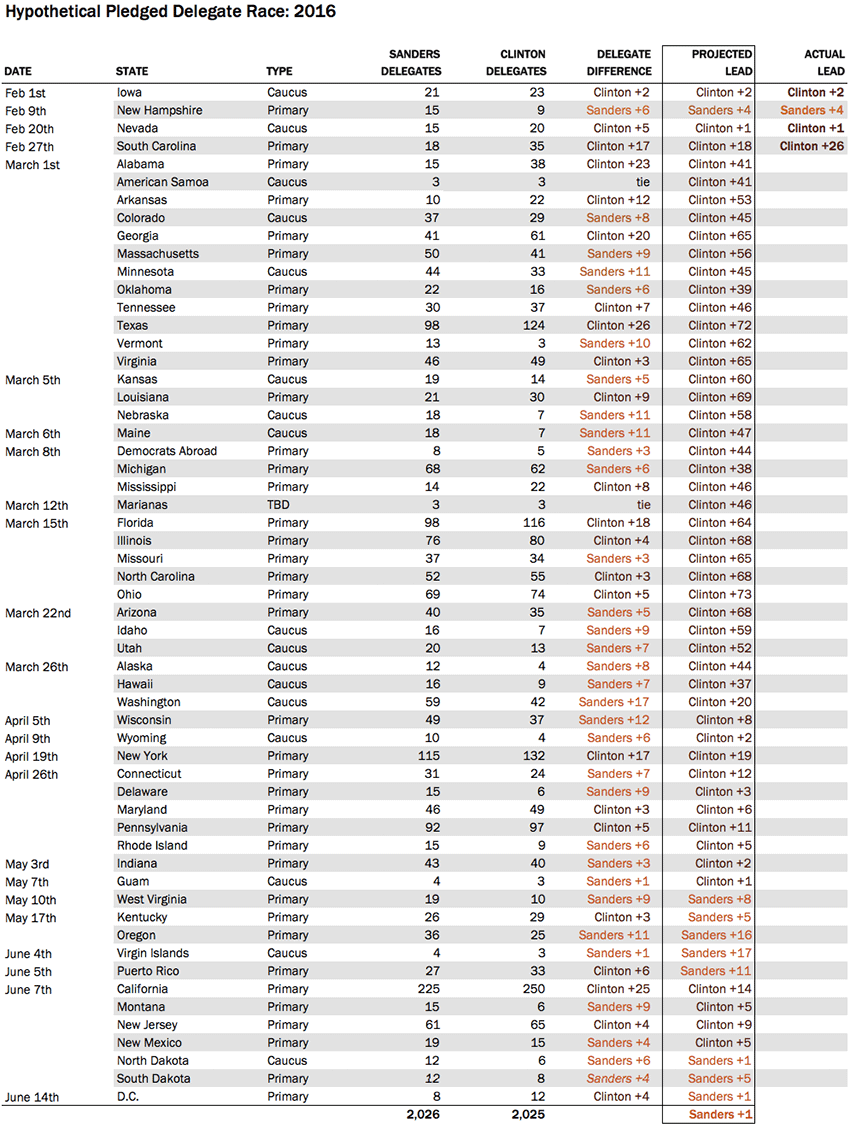 This isn't nec­es­sar­i­ly meant to be pre­dic­tive — you could eas­i­ly argue any (or all) of the indi­vid­ual out­comes above. There are plen­ty of sce­nar­ios where Clin­ton ulti­mate­ly wins by even more than Obama's 116 pledged-del­e­gate mar­gin from 2008, and she remains the clear favorite over­all. But the point is this: As the elec­tion goes on, the math takes over — and the math is incre­men­tal, not momen­tous. The cam­paign will undoubt­ed­ly con­tain more big moments, but the vic­to­ry will lie in the margins.
The last and per­haps most inter­est­ing thing illus­trat­ed by the sce­nario above is that Sanders will almost cer­tain­ly have to come from behind to win, maybe more than once. The sched­ule for ear­ly March heav­i­ly favors Clin­ton. But from March 22 on, things look con­sid­er­ably more favor­able for Sanders, and a string of pri­maries and cau­cus­es could pro­vide him with a chance to rack up a series of con­sec­u­tive wins. If that hap­pens, we could see an ever-tight­en­ing race to the fin­ish. This is a long way from over.
* Every state has its own (often byzan­tine) rules for award­ing del­e­gates, and in some cas­es the pledged del­e­gate count isn't final­ized for some time. The 2008 del­e­gate tal­lies ref­er­enced here reflect, to the extent pos­si­ble, the results from each elec­tion or cau­cus on the day it took place.
This is the first in an ongo­ing series on the del­e­gate race for the Demo­c­ra­t­ic nom­i­na­tion. Sign up here to make sure you don't miss any upcom­ing installments.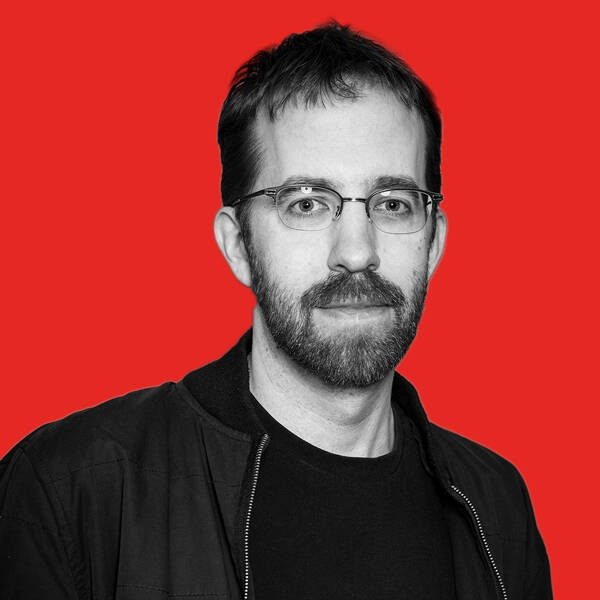 Christo­pher Hass is the exec­u­tive pub­lish­er of In These Times. Before join­ing ITT, he spent eight years work­ing on polit­i­cal and advo­ca­cy cam­paigns, includ­ing both the 2008 and 2012 Barack Oba­ma pres­i­den­tial cam­paigns. He is also the for­mer edi­tor and pub­lish­er of P8NT Mag­a­zine.