Bernie's Army Is Already Deploying in Down-Ballot Races
Volunteers plug in to progressive races nationwide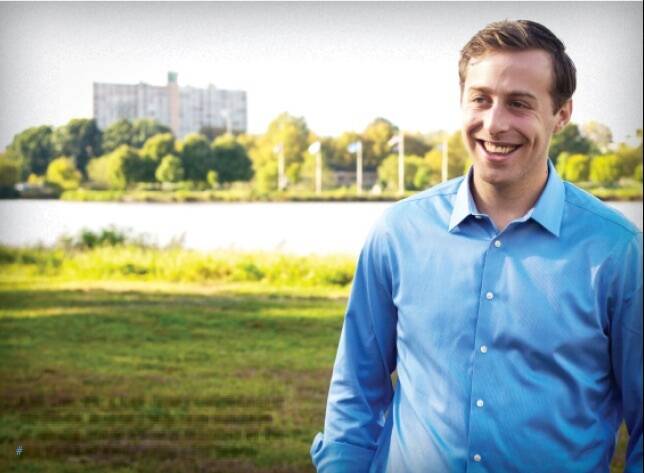 When Bernie Sanders talks about the need for ​"polit­i­cal rev­o­lu­tion," he's talk­ing about build­ing a gov­ern­ment that's respon­sive to the wants and needs of the Amer­i­can peo­ple, not the demands and inter­ests of wealthy donors.
Mahler sees Law's campaign as a model of how effective grassroots strategies can overcome funding disadvantages that many progressive candidates face. "We're talking about races that aren't about money," he says.
The prob­lem, of course, is that with­out the sup­port of such donors, it's exceed­ing­ly dif­fi­cult to get elect­ed. In the 2014 midterm elec­tions, can­di­dates who out­spent their oppo­nents won in all but 28 of the 468 con­gres­sion­al races: a 94 per­cent suc­cess rate, up from 91 per­cent in 2012. And the ante keeps get­ting upped: Since 1998, each elec­tion cycle has cost more than the last, and 2016 is already on track to exceed a record $5 bil­lion in cam­paign spend­ing by can­di­dates and out­side groups, near­ly dou­ble the amount spent in 2012.
But many pro­gres­sive activists believe the huge and enthu­si­as­tic grass­roots move­ment inspired by the Sanders cam­paign has cre­at­ed an oppor­tu­ni­ty to turn the tide. In many states, Sanders sup­port­ers orga­nized can­vass­ing, phone-bank­ing and vot­er reg­is­tra­tion dri­ves months before any paid staffers came to town. And that's not to men­tion the legions of online sup­port­ers who helped get the word out about Sanders back when most Amer­i­cans had nev­er heard his name. Now, many of those sup­port­ers are look­ing for new ways to exer­cise their polit­i­cal voice.
One ear­ly hub for Sanders sup­port­ers was Red­dit, one of the old­est and largest online mes­sage boards. Red­dit is famous both for its use of direct democ­ra­cy to deter­mine which con­tent gets pro­mot­ed to larg­er audi­ences (any user can vote ​"up" or ​"down" on posts) and for its free-wheel­ing nature, embod­ied in the pop­u­lar ​"Ask Me Any­thing" (AMA) threads in which any­one from a local plumber to the pres­i­dent of the Unit­ed States answers ques­tions about, well, anything.
In Feb­ru­ary, mem­bers of the 200,000-strong pro-Sanders Red­dit sub-group began ask­ing how they could find and sup­port oth­er can­di­dates who shared Sanders' vision. In response, a group of Red­di­tors, led by web devel­op­er Jon Hugh­es and then-high school senior Ian Boyd, band­ed togeth­er to cre­ate Grass­roots Select. Its lead­ing orga­niz­ers were polit­i­cal neo­phytes pri­or to Sanders' cam­paign kick­off last May, but they've grown Grass­roots Select into a bud­ding polit­i­cal oper­a­tion that's already raised tens of thou­sands of dol­lars and recruit­ed hun­dreds of vol­un­teers for pro­gres­sive can­di­dates across the country.
The group's research team seeks out and vets can­di­dates based on via­bil­i­ty and sup­port for Sanders' plat­form, though it errs on the side of inclu­siv­i­ty. Then, its cam­paign and social media teams help can­di­dates tap into the broad­er online pro-Sanders community.
One of its first picks, in ear­ly April, was Alex Law, a 25-year-old rel­a­tive unknown run­ning for Con­gress in New Jersey's 1st Con­gres­sion­al Dis­trict. At first glance, Law looks like a long shot. Not only is he young and polit­i­cal­ly inex­pe­ri­enced, but his oppo­nent in the Demo­c­ra­t­ic pri­ma­ry, Don­ald Nor­cross, is an incum­bent who also hap­pens to be the broth­er of George Nor­cross, the head of South Jersey's pow­er­ful Demo­c­ra­t­ic machine. His oppo­nent has out­spent Law more than 20 to 1.
But Law has waged an aggres­sive elec­toral insur­gency that's brought him with­in strik­ing dis­tance. Law's inter­nal polling has the two can­di­dates in a dead heat, and Nor­cross was rat­tled enough to agree to two online debates, a rare move for an incumbent.
Law's unex­pect­ed momen­tum stems from a unique com­bi­na­tion of tech­nol­o­gy and more tra­di­tion­al grass­roots orga­niz­ing. His cam­paign web­site fea­tures a dig­i­tal phone-bank­ing tool that allows vol­un­teers, many of whom are recruit­ed by Grass­roots Select, to make calls from any­where in the coun­try. Grass­roots Select has heav­i­ly pro­mot­ed Law to its net­work of sup­port­ers, fea­tur­ing Law on an AMA thread and rais­ing more than $4,000 from 154 donors.
Help­ing can­di­dates put togeth­er effec­tive cam­paigns with­out deep-pock­et­ed donors is a cen­tral part of Grass­roots Select's strat­e­gy. Though the orga­ni­za­tion does some fundrais­ing, its main focus is con­nect­ing cam­paigns with skilled vol­un­teers who can sup­ple­ment the paid staff by build­ing web­sites, con­duct­ing oppo­si­tion research, plan­ning cam­paign events, man­ag­ing social media, field orga­niz­ing and more.
"The peo­ple who cre­ate info­graph­ics in their free time, why not do it for a can­di­date?" says Grass­roots Select direc­tor of oper­a­tions Dave Mahler. ​"The peo­ple who are on Twit­ter com­pul­sive­ly, why not put that work into cre­at­ing buzz for a candidate?"
This elec­tion cycle, Grass­roots Select has sup­port­ed about 40 can­di­dates — most­ly in con­gres­sion­al races, plus a few state leg­isla­tive and guber­na­to­r­i­al elec­tions. It plans to increase that num­ber to 300 or 400 in 2018.
In addi­tion to serv­ing as a test case for Grass­roots Select, Law is an exam­ple of how tech­nol­o­gy is allow­ing small cam­paigns to spend their lim­it­ed resources more effi­cient­ly. A for­mer IBM con­sul­tant, Law devel­oped a dynam­ic com­put­er mod­el that allows him to tar­get the most like­ly pri­ma­ry vot­ers. In a dis­trict with few­er than 500,000 reg­is­tered vot­ers, and a state with a typ­i­cal Demo­c­ra­t­ic pri­ma­ry turnout of about 1 in 10, find­ing those vot­ers is par­tic­u­lar­ly impor­tant. Law has tak­en a two-pronged approach, tap­ping his base of younger sup­port­ers to find vol­un­teers and focus­ing his vot­er out­reach on old­er con­stituents (who are much more like­ly to vote). He's recruit­ed more than 1,000 local vol­un­teers, who have helped him knock on 40,000 doors — 10,000 by Law per­son­al­ly — over the course of the campaign.
Apart from win­ning the elec­tion, Law's ulti­mate goal is to devel­op his algo­rithm into a mod­el that can be adapt­ed by grass­roots cam­paigns across the coun­try. He's already worked with sev­er­al cam­paigns, includ­ing Sanders', to help them take advan­tage of the pow­er of data analy­sis. His hope is that by allow­ing cam­paigns to focus on tar­get­ed face-to-face vot­er out­reach, mon­ey will no longer be the decid­ing fac­tor. ​"We've been priced out of our democ­ra­cy," he says. ​"We want to prove this con­cept that could open up the doors to democ­ra­cy to so many more people."
Mahler sees Law's cam­paign as a mod­el of how effec­tive grass­roots strate­gies can over­come fund­ing dis­ad­van­tages that many pro­gres­sive can­di­dates face. ​"We're talk­ing about races that aren't about mon­ey," he says. ​"They're about find­ing the peo­ple who are like­ly sup­port­ers, get­ting in touch with them and build­ing those connections."
Jamie Raskin, a Mary­land state sen­a­tor, believes that such a par­tic­i­pa­to­ry approach to pol­i­tics is key to fight­ing back against the influ­ence of mon­ey in pol­i­tics. He would know, since in April he defeat­ed eight oppo­nents in the Demo­c­ra­t­ic pri­ma­ry for Maryland's 8th Con­gres­sion­al Dis­trict, the most expen­sive con­gres­sion­al pri­ma­ry in U.S. history.
"Most con­sul­tants will tell you to go out and raise as much mon­ey as you can from rich peo­ple and give it to con­sul­tants to spend on TV," he says. But accord­ing to Raskin, pro­gres­sives run­ning against bet­ter-fund­ed oppo­nents have lit­tle chance of win­ning with that strat­e­gy. His two best-fund­ed oppo­nents spent near­ly $18 mil­lion on ads against him, far more than the $2 mil­lion his cam­paign raised and spent. Instead, Raskin invest­ed his resources in win­ning the elec­tion ​"one liv­ing room at a time."
Using social media and word of mouth, Raskin's sup­port­ers orga­nized near­ly 170 small-scale cam­paign events in liv­ing rooms and back­yards across his dis­trict. In the days lead­ing up to an event, vol­un­teers knocked on doors and blan­ket­ed the neigh­bor­hood with fliers. The goal, he says, was to empha­size face-to-face com­mu­ni­ca­tion between com­mu­ni­ty mem­bers and the polit­i­cal lead­ers that rep­re­sent them. His oppo­nents may have dom­i­nat­ed the air­waves, but the per­son­al con­nec­tions he built with vot­ers helped ensure turnout on Elec­tion Day.
Though Raskin admits his polit­i­cal ties from the state sen­ate gave him an advan­tage unavail­able to many pro­gres­sive upstarts, he believes his suc­cess proves cam­paigns built on human con­nec­tion can trans­form the polit­i­cal equa­tion: ​"You don't have to out­spend big mon­ey. Pub­lic office is some­thing that you earn. It's not some­thing that you buy."
Mon­ey in pol­i­tics isn't going away any­time soon. But the suc­cess of can­di­dates such as Raskin sug­gests that the grass­roots ener­gy unleashed by the Sanders cam­paign is here to stay, too.
"There are mil­lions and mil­lions of pro­gres­sives across this coun­try," Mahler notes. ​"If we can make local pol­i­tics nation­al, we can lev­el the play­ing field. We can make it so that you don't need rich donors to run a campaign."
Ethan Corey
is a writer and researcher based in New York. His work has appeared in The Nation, Rolling Stone and MEL magazine.