After His New York Loss, Bernie Sanders Should Focus on Democratizing the Democratic Party
A convention fight this summer in Philadelphia offers Sanders the opportunity to make significant reforms to the Democratic Party.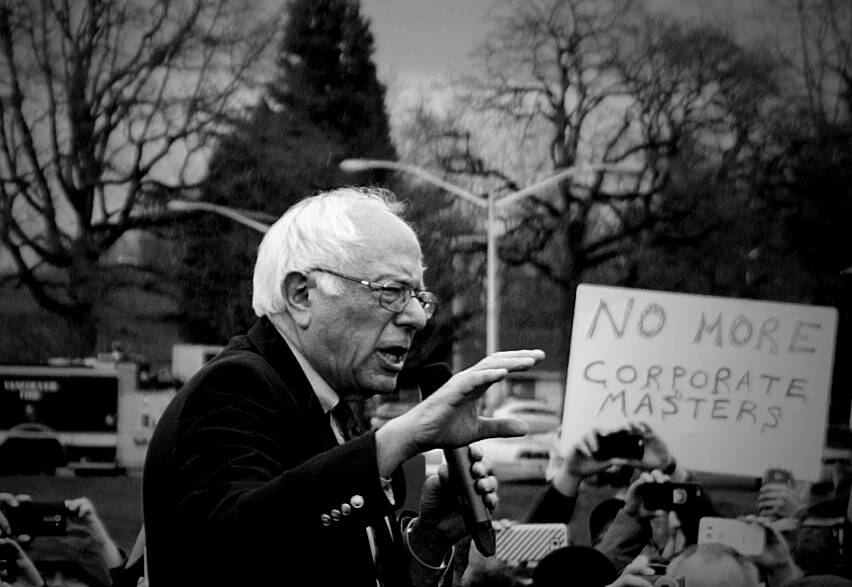 Today, after his 16-point loss in New York, it is extreme­ly dif­fi­cult for Bernie Sanders to secure the Demo­c­ra­t­ic nom­i­na­tion for Pres­i­dent. Then again, it was extreme­ly dif­fi­cult before yes­ter­day and has been every day since he announced his inten­tion to run near­ly a year ago.
Democratizing the Democratic Party is not a revolutionary act, but it could open up institutional space for a revolutionary politics.
Sanders' cam­paign has always been a long shot: he start­ed out with vir­tu­al­ly no nation­al pro­file, insub­stan­tial sup­port among Demo­c­ra­t­ic office­hold­ers and pow­er-play­ers, and a hos­tile news media intent on ignor­ing him as long as pos­si­ble and ridi­cul­ing him there­after. In the face of such long odds, the cam­paign has accom­plished remark­able things: break­ing fundrais­ing records, pro­duc­ing some of the great­est cam­paign ads ever and coa­lesc­ing polit­i­cal will around frames and ideas that will be essen­tial for the ascen­dant left in com­ing years.
His path to the con­ven­tion is clear. Sanders should con­tin­ue fight­ing to mobi­lize every last vot­er and del­e­gate behind his agen­da of guar­an­teed uni­ver­sal rights to health­care, edu­ca­tion, and dig­ni­fied con­di­tions — and con­tin­ue impress­ing the neces­si­ty for ongo­ing mass agi­ta­tion (what he calls the ​"polit­i­cal rev­o­lu­tion") to accom­plish the same. That way, when he gets to Philadel­phia in July, even if he has­n't man­aged to catch up to Clin­ton, he will pos­sess max­i­mal lever­age to affect the convention.
One field he may want to influ­ence is the Demo­c­ra­t­ic Par­ty plat­form. It would advance some of his planks to fea­ture them as offi­cial par­ty doc­trine — postal bank­ing, social secu­ri­ty expan­sion, and auto­mat­ic vot­er reg­is­tra­tion are among the attrac­tive can­di­dates. That vic­to­ry, how­ev­er, would be large­ly sym­bol­ic. Sanders should set his eyes high­er: par­ty struc­ture. The best use of his del­e­gate clout will be to democ­ra­tize the DNC, the bet­ter to pave the way for future can­di­dates after his fashion.
An end to superdelegates
Superdel­e­gates are a major struc­tur­al imped­i­ment to insur­gent can­di­da­cies that are hos­tile to the cap­i­tal­ist inter­ests of the Demo­c­ra­t­ic Par­ty. In the wake of the 1980 con­ven­tion, the par­ty intro­duced the insti­tu­tion of superdel­e­gates so that, ​"in cas­es where the vot­ers' man­date is less than clear," par­ty lead­ers would have the flex­i­bil­i­ty to ​"make a rea­soned choice." So where del­e­gates have to count on vot­ers to del­e­gate them to the con­ven­tion, superdel­e­gates del­e­gate them­selves: Demo­c­ra­t­ic Gov­er­nors, fed­er­al leg­is­la­tors and DNC mem­bers totalling 712 peo­ple are auto­mat­i­cal­ly grant­ed votes at the convention.
Deb­bie Wasser­man-Schultz, the hap­less head of the DNC, recent­ly protest­ed that the ele­va­tion of par­ty lead­ers above del­e­gates con­sti­tutes an attempt to empow­er ​"grass­roots par­ty activists" who don't have to run against politi­cians with pro­hib­i­tive­ly advanced elec­toral machines at their dis­pos­al. In actu­al­i­ty, not only are superdel­e­gates on stand­by to fore­close the pos­si­bil­i­ty of par­ty over­haul in a pinch, they weighed in ear­ly so that the cor­po­rate media might report them along­side pledged del­e­gates, inflat­ing claims of Clinton's inevitability.
Superdel­e­gates have got to go — and Sanders should escort them out.
Nation­al stan­dards around same-day registration
Though the New York pri­ma­ry vote was in mid-April, and cam­paign­ing only began a few weeks ear­li­er, the dead­line for chang­ing par­ty affil­i­a­tion to Demo­c­ra­t­ic (a pre­req­ui­site for vot­ing in the closed pri­ma­ry) was in Octo­ber. This effec­tive­ly dis­en­fran­chised many peo­ple who only began pay­ing atten­tion to the race when the politi­cians began vying for their vote. Per­haps an ad or ral­ly or the can­di­dates' debate inspired an inde­pen­dent vot­er, and they dis­cov­ered they were already half a year late to get to vote.
It is cru­cial for the demo­c­ra­t­ic project that peo­ple have the oppor­tu­ni­ty to vote for the can­di­date that speaks to them, and that means giv­ing them time to engage with cam­paigns in their state. If New York's politi­cians can switch par­ties and cau­cus­es at will, vot­ers should be able to as well.
Open pri­maries
Peo­ple are sick of the par­ties. The lat­est Gallup poll showed par­ty iden­ti­fi­ca­tion approach­ing his­toric lows nation­al­ly: 29% con­sid­er them­selves Democ­rats, 26% Repub­li­cans, and 42% as inde­pen­dents. By effec­tive­ly mobi­liz­ing these inde­pen­dents in states with open pri­maries, Sanders found a way to cob­ble togeth­er a pow­er­ful polit­i­cal coali­tion that was not pre­scribed by par­ty bosses.
It has been shame­ful watch­ing lib­er­als defend the con­cep­tion of polit­i­cal par­ties as pri­vate clubs. Let that be true for Repub­li­cans: a ​"demo­c­ra­t­ic" par­ty should pri­or­i­tize the enfran­chise­ment of peo­ple. It is bald­ly anti­de­mo­c­ra­t­ic to want exclude the plu­ral­i­ty of Amer­i­cans from hav­ing a say in which two peo­ple they are asked to choose between in November.
If there is one thing that mustn't intim­i­date social­ists, it is the extreme unlike­li­ness of our vic­to­ry. In the great­est cap­i­tal­ist nation in his­to­ry, we have to remain as undaunt­ed as Bernie Sanders, refus­ing to pass up a sin­gle oppor­tu­ni­ty to advance our cause. Democ­ra­tiz­ing the Demo­c­ra­t­ic Par­ty is not a rev­o­lu­tion­ary act, but it could open up insti­tu­tion­al space for a rev­o­lu­tion­ary pol­i­tics. If this cam­paign isn't to attain ulti­mate vic­to­ry, that will be a fine legacy.
Jesse A. Myer­son is a New York – based activist and writer.