Repulsed by Pharma-Bro Martin Shkreli? Maybe You Also Hate Capitalism.
Far from being some kind of moral outlier, the pharma-bro embodies all of our economic system's defining characteristics.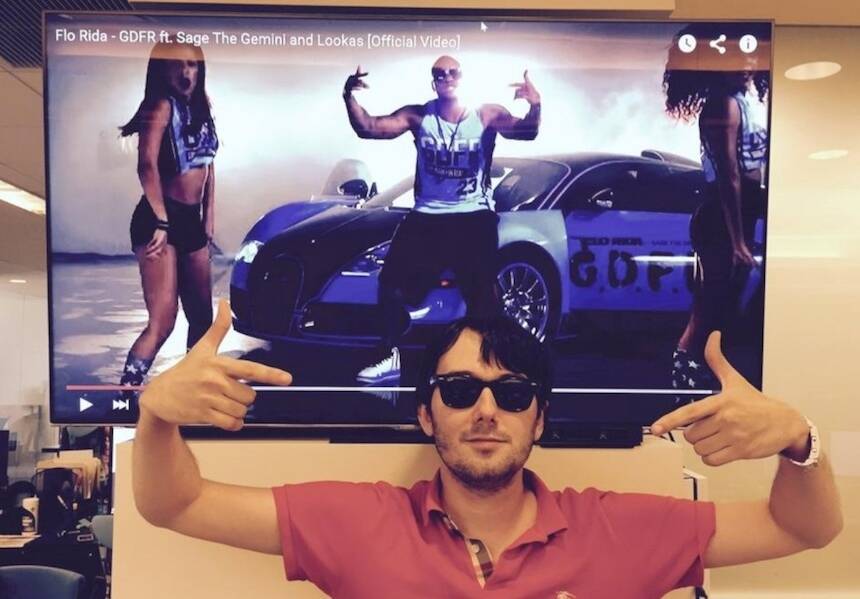 Watch­ing Mar­tin Shkre­li ​"respect­ful­ly decline" to tes­ti­fy before the House Over­sight Com­mit­tee, it is almost pos­si­ble to feel grate­ful to the reviled 32-year-old hedge fund cap­i­tal­ist: he knows we love to hate him, and he gen­er­ous­ly offers up so much to hate.
Capitalism upends the basic tenets of decency, glorifying instead the eternal righteousness of profits.
His bat-like smirk con­vey­ing the sense of invin­ci­bil­i­ty that must accom­pa­ny a 9‑digit port­fo­lio, arched eye­brows beg­ging his ques­tion­ers for anoth­er oppor­tu­ni­ty to invoke the Fifth Amend­ment, to unveil anoth­er sim­per for the cam­eras — it's enough to make ones fin­gers tin­gle with the urge to punch.
Sat­is­fy­ing though it might be to adorn his face with a black eye, how­ev­er, there are more wor­thy objects of our loathing. All of Shkre­li's appalling antics and char­ac­ter­is­tics are in fact emblem­at­ic of the real vil­lain: cap­i­tal­ism. Shkre­li is cap­i­tal­ism embod­ied, and if you hate him, you'd do well to take up hat­ing cap­i­tal­ism with at least equal fervor.
Goug­ing AIDS patients
It is near mirac­u­lous that we even know of Shkre­li. The episode that first brought him mass atten­tion, his deci­sion to increase the cost of life­sav­ing drug Dara­prim by 5,000% in a sin­gle stroke, was so mun­dane it might nev­er have made head­lines. Sud­den man­i­fold price hikes are a rou­tine occur­rence in the phar­ma­ceu­ti­cal indus­try — even among gener­ic drugs.
For the most part, phar­ma­ceu­ti­cal com­pa­nies are able to jack up the prices of the drugs they make because they own patents — tem­po­rary monop­o­lies on pro­duc­tion that enable them, free of com­pe­ti­tion, to set prices. Tur­ing Phar­ma­ceu­ti­cals, Shkreli's for­mer com­pa­ny, was run­ning a dif­fer­ent, though sim­i­lar, game. It was­n't Daraprim's patent, but rather the only com­pa­ny that had reg­u­la­to­ry approval to sell it in the U.S. mar­ket, that Shkre­li acquired.
Legal­ly, oth­er com­pa­nies could have offered a com­pet­i­tive prod­uct at a low­er price, but real­is­ti­cal­ly, the process of get­ting approval from the Food and Drug Admin­is­tra­tion is too expen­sive and time-con­sum­ing for that to have been an attrac­tive option. So Shkre­li used hard-won con­sumer pro­tec­tions as a lever by which to extract wind­fall prof­its from very sick people.
The cen­tral imper­a­tive of cap­i­tal­ism, to make more mon­ey for cap­i­tal­ists, inevitably leads to this kind of con­science-shock­ing move. ​"We need­ed to turn a prof­it on the drug," Shkre­li explained dur­ing his PR effort to quell the furor around the price hike. Indeed, in the light cast by prophet-of-cap­i­tal­ism Mil­ton Fried­man's mem­o­rable decree, ​"The social respon­si­bil­i­ty of busi­ness is to increase its prof­its," tak­ing full advan­tage of that con­sumer pro­tec­tion looks down­right noble.
"I'm not think­ing too hard about it," Shkre­li said of the pub­lic out­cry, ​"because I know what we're doing is right." Cap­i­tal­ism upends the basic tenets of decen­cy, glo­ri­fy­ing instead the eter­nal right­eous­ness of profits.
Once Upon A Time In Cap­i­tal­is­tic America
It was like a dream learn­ing that the anony­mous plu­to­crat who had paid $2 mil­lion to secure exclu­sive own­er­ship of the lone copy of the new Wu-Tang album had been… This Ass­hole, again! Fans were already irri­tat­ed that we were miss­ing out on actu­al, exist­ing Wu Bangers thanks to the stunt, but the fact that this gooey lit­tle turd of a man was the one who nabbed the album ("to keep it from the peo­ple") beg­gared belief.
The sit­u­a­tion was obvi­ous­ly unique in its par­tic­u­lars, but one essen­tial ele­ment of it is high­ly prece­dent­ed, even endem­ic to Amer­i­can ​"racial cap­i­tal­ism": cul­tur­al appropriation.
This term is often used to describe white peo­ple's ten­den­cy to wear bindis or corn­rows, or in oth­er ways absorb select morsels from cul­tures dif­fer­ent from our own that we find exot­ic or cool or pret­ty. But I mean some­thing relat­ed but dif­fer­ent: the trans­for­ma­tion of one per­son­'s cul­ture into anoth­er's prop­er­ty.
The his­to­ry of white exec­u­tives, man­agers, pro­mot­ers, pub­lish­ers and oth­er barons ensnar­ing black artists in extor­tion­ate con­tracts did not start with hip-hop: since the ear­li­est days of record­ed sound, white record exec­u­tives have sur­veyed the field of black musi­cal tra­di­tions and tal­ent to har­vest prof­it from it. Most of the by-and-large black artists artists who record­ed for what were once known as ​"race" labels were exploit­ed out of per­former, com­pos­ing and pub­lish­ing roy­al­ties, and the assault has nev­er relented.
Though clear­ly the Wu did­n't get tak­en for a ride like the musi­cians that paved the way for them, part of the rea­son the ​"Once Upon A Time In Shaolin" episode res­onates as so offen­sive is because it bears traces of that ear­li­er exploita­tion. Lit­tle Mar­tin stands atop the shoul­ders of fine-suit­ed giants whose prized pos­ses­sions and means of wealth have been prop­er­ty rights over black works of art.
Cap­i­tal­ism Strikes Again
A less well known, but no less atro­cious, price-goug­ing inci­dent short­ly fol­lowed the Wu-Tang episode, when Kalo­Bios Phar­ma­ceu­ti­cals, anoth­er for­mer­ly Shkre­li-owned com­pa­ny, announced that it expect­ed to charge near­ly $100,000 for a sin­gle course of treat­ment with ben­zi­da­zole, which has not yet been sub­mit­ted for FDA approval.
The drug, which doc­tors cur­rent­ly obtain for free through the Cen­ters for Dis­ease Con­trol, treats the third most com­mon par­a­site dis­ease in the world: Cha­gas, the dead­ly ​"kiss­ing bug dis­ease." Most of the 300,000 peo­ple the CDC esti­mates have Cha­gas are immi­grants from Latin Amer­i­ca, where mil­lions are infected.
Dara­prim's 5,000% price hike is child's play com­pared to the ben­zi­da­zole pro­pos­al, which amounts to a 100,000 – 150,000% increase over the cur­rent cost in Latin Amer­i­ca. ​"Cha­gas is a dis­ease of the poor," Doc­tors With­out Bor­ders' Judit Rius told The Atlantic, ​"so it's not a dis­ease where peo­ple have access if prices are high."
Cap­i­tal­is­m's relent­less imper­a­tive to deliv­er prof­it to own­ers means a con­stant régime of milk­ing the most vul­ner­a­ble peo­ple for all they're worth, and immi­grants have often faced some of the worst abus­es. From the har­row­ing fac­to­ry con­di­tions imposed on Euro­pean immi­grants at the turn of the 20th Cen­tu­ry, which pro­voked an era of labor mil­i­tan­cy we haven't recre­at­ed since, to Pres­i­dent Oba­ma's depor­ta­tion fren­zy, immi­grants face low wages, social exclu­sion, lan­guage bar­ri­ers, sting­ing big­otry, and, espe­cial­ly these days, per­sis­tent fear that their fam­i­lies will be bro­ken up by bor­der enforce­ment agents.
It would be fair to expect Shkre­li, him­self the son of immi­grants, to feel some shame about screw­ing them over — if the indeli­ble log­ic of cap­i­tal­ism did­n't excuse him.
Jus­tice Served?
In the annals of sat­is­fy­ing perp-walks, rarely has one been wit­nessed with greater rel­ish than Shkre­li's. Where once a smug expres­sion stood, there was now a trou­bled glare, which, com­bined with his grey hood­ie, gave him the look of a teenag­er bust­ed for ignit­ing cher­ry bombs. The high brought low, we felt a jubi­la­tion that risked obscur­ing whose inter­ests were being pro­tect­ed by cart­ing him off.
In cap­i­tal­ism, rich peo­ple are almost nev­er pun­ished for exploit­ing, dup­ing and defraud­ing nor­mal peo­ple, but they are some­times held account­able for doing those things to oth­er rich peo­ple. Shkre­li only found him­self in FBI cus­tody after bilk­ing the very ​"investors" on whose behalf he claims he is oblig­at­ed to jack drug prices.
U.S. Attor­ney Robert Capers described Shkre­li's oper­a­tion as ​"a Ponzi scheme where he used each sub­se­quent com­pa­ny to pay off defraud­ed investors from the pri­or com­pa­ny." The image lain out by the SEC com­plaint and fed­er­al indict­ment is of a pat­tern of los­ing big: los­ing Elea Cap­i­tal $2.3 mil­lion in 2007, los­ing MSMB Cap­i­tal $3 mil­lion in 2010 and in 2011 los­ing $7 mil­lion to Mer­rill Lynch that he could not pay, a debt which was even­tu­al­ly extin­guished as part of a $1.35 mil­lion set­tle­ment, part of which came from his next firm. He alleged­ly fab­ri­cat­ed port­fo­lio state­ments and con­tracts to cov­er it up, deceiv­ing reg­u­la­tors and out­side accoun­tants alike.
In cap­i­tal­ism, mon­ey siphoned from those who haven't got enough is par for the course, but from those who have plen­ty, it is an intol­er­a­ble offense. It's the thing that may well be Shkre­li's undo­ing — and the only thing that gives me any respect for him.
How Could You Be So Heartless?
Reports that Shkre­li has been hit with a $4.6 mil­lion IRS tax lien deprived his offer to buy exclu­sive rights to Kanye West­'s ​"The Life Of Pablo" of any cred­i­bil­i­ty — it seems he may not be the suc­cess­ful busi­ness­man we were led to believe. Hav­ing suc­cess­ful­ly antag­o­nized every­one, his down­fall, should it come, will right­ly please many, the more spec­tac­u­lar the better.
But there will be anoth­er Mar­tin Shkre­li after this one, and anoth­er one after that. Under cap­i­tal­ism, Mar­tin Shkrelis are inevitable. Luck­i­ly, cap­i­tal­ism isn't.
Jesse A. Myer­son is a New York – based activist and writer.