How super was Super Tues­day for Hillary Clin­ton, and how big was Bernie Sanders' upset vic­to­ry in Michi­gan? The past eight days have shown the strengths and lim­i­ta­tions of the two cam­paigns, and brought into focus the con­tours of the 2016 Demo­c­ra­t­ic elec­torate. Clin­ton has racked up an over­all lead of more than 200 pledged del­e­gates, but as the race moves to a series of states more favor­able to Sanders, the ques­tion becomes whether or not he can close the gap.
As the primary moves out of the South, Sanders' best hope is that Michigan is a bellwether for what's to come.
In Feb­ru­ary, I out­lined a hypo­thet­i­cal path to vic­to­ry for Sanders in which he won the Demo­c­ra­t­ic nom­i­na­tion by a sin­gle del­e­gate. My point was that, counter to the main­stream media nar­ra­tive, it's del­e­gates and not states — or superdel­e­gates — that will ulti­mate­ly deter­mine the Demo­c­ra­t­ic nom­i­nee. Here then is a state-by-state look at the mar­gin of vic­to­ry among pledged del­e­gates, from Super Tues­day through last night's Michi­gan and Mis­sis­sip­pi primaries: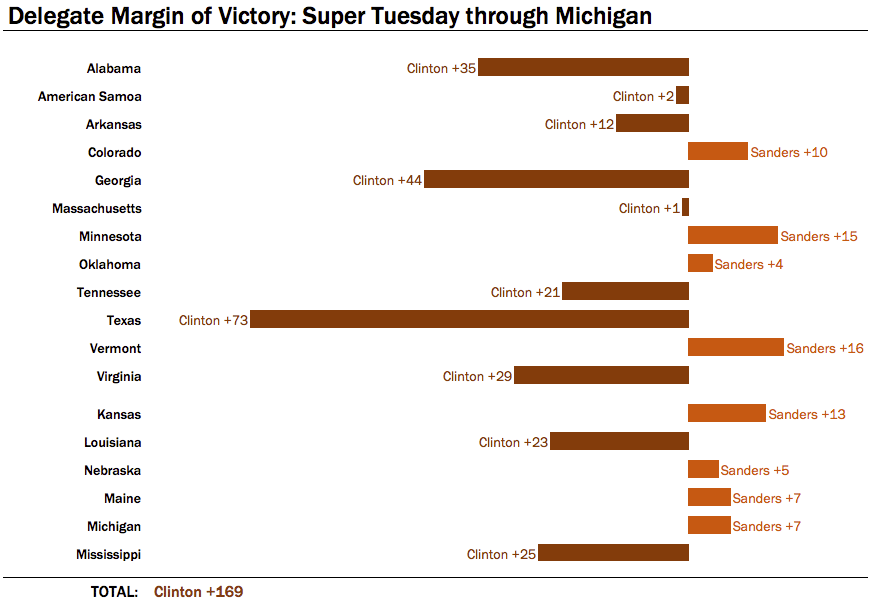 * Del­e­gate counts are based on the lat­est report­ed totals when this arti­cle went to press.
Bernie's Big Five
Going in to Super Tues­day, the Sanders cam­paign focused its atten­tion on five states that each had some com­bi­na­tion of fac­tors favor­able to him: cau­cus­es, large pro­gres­sive pop­u­la­tions or a pre­dom­i­nant­ly white work­ing class. Sanders won four out­right (Ver­mont, Col­orado, Min­neso­ta and Okla­homa) and lost the fifth (Mass­a­chu­setts) by less than 2 per­cent. Those four wins net­ted Sanders 45 del­e­gates, but the big­ger chal­lenge was keep­ing his loss­es close. That didn't happen.
The South­ern fire­wall held
Clinton's mar­gins of vic­to­ry were much big­ger, in big­ger states. The biggest chal­lenge for Sanders so far has been Clinton's abil­i­ty to run up the score among black vot­ers — in Mis­sis­sip­pi, her over­all del­e­gate mar­gin of vic­to­ry was more than three times what Sanders gained in Michigan.
Not only has Clin­ton been able to match Barack Oba­ma's per­for­mance among African Amer­i­can vot­ers in 2008, in many places she's man­aged to beat it. Only in Okla­homa (a state he won) was Sanders able to break 20 per­cent among African Amer­i­cans. And while Sanders has con­tin­ued to dom­i­nate among young vot­ers, on Super Tues­day, African Amer­i­cans made up a much larg­er pro­por­tion of vot­ers than millennials.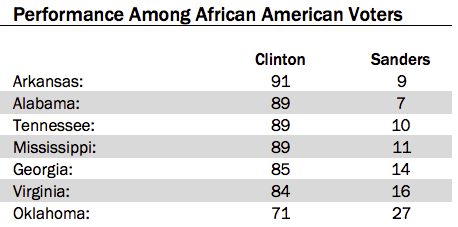 This right here is the vaunt­ed Clin­ton ​"fire­wall" in the South. African Amer­i­can vot­ers aren't just stop­ping Sanders' momen­tum, they're dri­ving Clinton's victory.
The Michi­gan surprise
FiveThir​tyEight​.com described Sanders's win in Michi­gan as ​"one of the great­est upsets in mod­ern polit­i­cal his­to­ry." Polling aver­ages had Clin­ton lead­ing by near­ly 22 points, but Sanders pulled out an 18,000 vote vic­to­ry. But even more impor­tant­ly, for the first time Sanders made inroads with large num­bers of black vot­ers, win­ning 28 per­cent of the African-Amer­i­can vote — just enough to eke out a slight, one per­cent vic­to­ry over­all. As the pri­ma­ry moves out of the South, Sanders' best hope is that Michi­gan is a bell­wether for what's to come.
March

22

: Mark your calendar
In total, since Super Tues­day Clin­ton has won 10 states, with an aver­age mar­gin of 27 del­e­gates; Sanders has won eight, with an aver­age mar­gin of just under 10 del­e­gates each. Make no mis­take, Clinton's over­all lead of 200-plus del­e­gates will be incred­i­bly dif­fi­cult for Sanders to over­come. In 2008, Barack Oba­ma was able to take advan­tage of numer­ous mis­steps by the Clin­ton cam­paign that added to his del­e­gate total and ulti­mate­ly pushed him over the top.
This time around, the Clin­ton cam­paign is run­ning a much bet­ter cam­paign, and their invest­ment in orga­niz­ing has kept the mar­gins clos­er even in her los­es. But the great­est bar­ri­er right now is Sanders' inabil­i­ty to reach African Amer­i­cans and, to a less­er extent, Lati­nos. He has built an impres­sive coali­tion of young peo­ple (both men and women), but the lim­its of that coali­tion — and its lack of diver­si­ty — are mak­ing the math increas­ing­ly dif­fi­cult for him.
For Sanders, the most favor­able run of states begins on March 22, and it's there that he'll have his first and best chance to close the gap. Between March 22 and May 10, Sanders could keep things close or win out­right in 14 of 17 con­tests: Ari­zona, Ida­ho, Utah, Alas­ka, Hawaii, Wash­ing­ton, Wis­con­sin, Wyoming, Con­necti­cut, Delaware, Rhode Island, Indi­ana, Guam and West Vir­ginia. Whether or not Michi­gan proves to be a pre­dic­tor or an out­lier could make all the difference.
This is the sec­ond in an ongo­ing series on the del­e­gate race for the Demo­c­ra­t­ic nom­i­na­tion. Sign up here to make sure you don't miss any upcom­ing installments.