Bernie Sanders Is the Only Leading Presidential Candidate Publicly Opposing the Patriot Act
Many Democrats are still acquiescing to a George W. Bush-era policy that has been in place for nearly 20 years.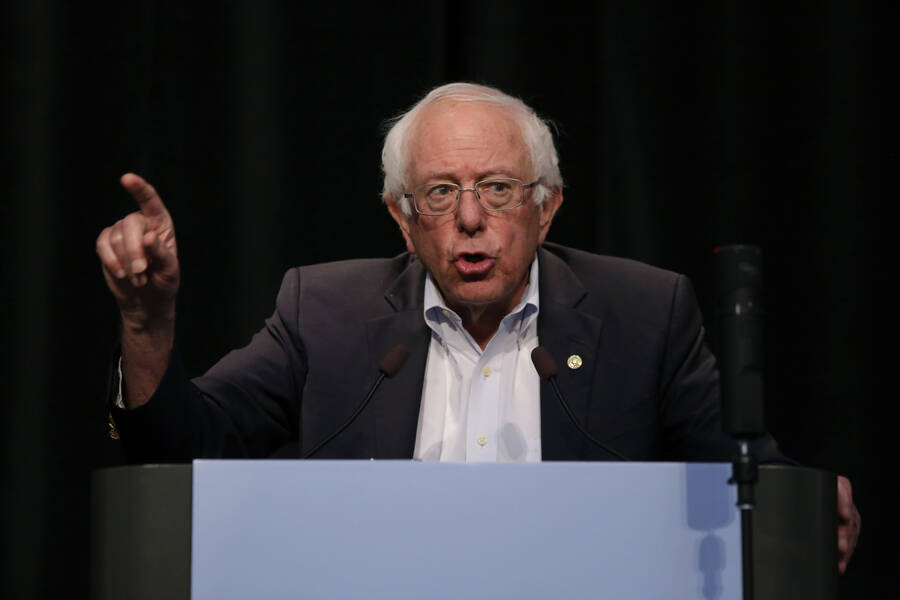 Three key pro­vi­sions of the USA Patri­ot Act, which give the Trump admin­is­tra­tion broad sur­veil­lance pow­ers, are set to expire on March 15 unless Con­gress votes to reau­tho­rize them. Sen. Bernie Sanders (I‑Vt.) is the only lead­ing demo­c­ra­t­ic pres­i­den­tial can­di­date in Con­gress who is pub­licly oppos­ing them.
There is still broad bipartisan support for the CDR program, bringing significant risk that Democrats could cut a deal for reforms with significantly less teeth—and more loopholes—than SAPRA.
"I vot­ed against the Patri­ot Act in 2001, 2006, 2011 and 2015. I strong­ly oppose its reau­tho­riza­tion next month," he tweet­ed on Feb­ru­ary 11. ​"I believe that in a demo­c­ra­t­ic and con­sti­tu­tion­al form of gov­ern­ment, we can­not sac­ri­fice the civ­il lib­er­ties that make us a free country."
One pro­vi­sion is sec­tion 215, the bulk meta­da­ta col­lec­tion pro­gram exposed by Edward Snow­den. This pro­vi­sion under­went mod­est post-Snow­den reforms in 2015, but its essence remains large­ly intact in the call detail records (CDR) pro­gram. The pro­gram autho­rizes the NSA to seize call records of peo­ple deemed a tar­get — and the peo­ple those tar­gets com­mu­ni­cate with. In 2017 and 2018, this pro­vi­sion allowed the gov­ern­ment to col­lect more than 968 mil­lion records. The gov­ern­ment recent­ly shut down the CDR pro­gram, admit­ting to its over­reach, but the legal author­i­ty to rein­state it at any time remains.
"This CDR pro­gram was shut­tered by the gov­ern­ment because of mas­sive over-col­lec­tion of mil­lions of Amer­i­cans' records," San­dra Ful­ton, gov­ern­ment rela­tions direc­tor for Free Press, tells In These Times. ​"At this point, elim­i­nat­ing the CDR pro­gram is low-hang­ing fruit for any reform that is at all accept­able." Accord­ing to Ful­ton, even if the CDR pro­gram is cur­rent­ly shut­tered, keep­ing it on the books is a prob­lem, because the gov­ern­ment could reac­ti­vate it at any time. ​"If we find a pro­gram that's being an abuse, the gov­ern­ment does­n't just get to keep it," she says.
The oth­er two sen­a­tors among the lead­ing Demor­at­ic can­di­dates, Eliz­a­beth War­ren (D‑Mass.) and Amy Klobuchar (D‑Minn.), have not made sim­i­lar state­ments pub­licly oppos­ing the reau­tho­riza­tion, and nei­ther returned In These Times' request for comment.
Sen. Klobuchar vot­ed to reau­tho­rize the Patri­ot Act in 2011, while Sanders did not (War­ren was not yet in the Sen­ate). Both Klobuchar and War­ren vot­ed in favor of the USA Free­dom Act in 2015, which imposed lim­it­ed reforms on the Patri­ot Act; Sanders vot­ed no, cit­ing the inad­e­qua­cy of the reforms. War­ren did, how­ev­er, vote ​"no" on 2018 on a bill to extend the NSA's pow­ers to car­ry out war­rant­less sur­veil­lance for anoth­er six years, as did Sanders. Klobuchar vot­ed yes.
Speak­ing pub­licly against the Patri­ot Act could have a sig­nif­i­cant impact at a time Democ­rats are still acqui­esc­ing to a George W. Bush-era pol­i­cy that has been in place for near­ly 20 years. Last Novem­ber, Democ­rats vot­ed over­whelm­ing­ly for a mea­sure grant­i­ng a three-month exten­sion of the three Patri­ot Act pro­vi­sions, includ­ed in a House res­o­lu­tion to pre­vent a gov­ern­ment shut­down, infu­ri­at­ing civ­il rights activists. Only 10 Democ­rats in the House vot­ed against the reau­tho­riza­tion, among them Reps. Alexan­dria Oca­sio-Cortez (N.Y.), Ilhan Omar (Minn.), Ayan­na Press­ley (Mass.) and Rashi­da Tlaib (Mich.), known as ​"the squad." But Con­gres­sion­al Pro­gres­sive Cau­cus (CPC) co-chairs Reps. Prami­la Jaya­pal (D‑Wash.) and Mark Pocan (D‑Wisc.), and vice chairs, Reps. Ro Khan­na (Calif.) and Bar­bara Lee (Calif.), all vot­ed for it. (Nei­ther Sanders, War­ren nor Klobuchar were present for the Sen­ate vote.)
As Sam Adler-Bell pre­vi­ous­ly report­ed, the CPC said the exten­sion was nec­es­sary to nego­ti­ate for bet­ter reforms, but those pro­gres­sives who vot­ed yes caught con­sid­er­able heat from activists. ​"While we would oppose these author­i­ties under any admin­is­tra­tion, his­to­ry demon­strates that mass sur­veil­lance dis­pro­por­tion­ate­ly impacts com­mu­ni­ties of col­or, immi­grants, and oth­er mar­gin­al­ized groups that Don­ald Trump is active­ly tar­get­ing," the activist orga­ni­za­tion Demand Progress said in a statement.
Like­ly in response to crit­i­cism, the CPC now says it doesn't plan to acqui­esce to Bush-era spy pow­ers so eas­i­ly in mid-March.
"For far too long, Con­gress has per­mit­ted bla­tant, uncon­sti­tu­tion­al vio­la­tions of Amer­i­cans' Fourth Amend­ment rights under the PATRI­OT Act," co-chairs Jaya­pal and Pocan told In These Times via email. ​"Any long-term reau­tho­riza­tion of this leg­is­la­tion must con­tain mean­ing­ful and sub­stan­tial reforms to these legal author­i­ties, as pro­posed in the Safe­guard­ing Amer­i­cans' Pri­vate Records Act (SAPRA), in order to secure our support."
Intro­duced by Sens. Ron Wyden (D – Ore.) and Steve Daines (R – Mont.) and Reps. Zoe Lof­gren (D – Calif.), War­ren David­son (R – Ohio), and Prami­la Jaya­pal (D – Wash.), SAPRA, intro­duced in the House by on Jan­u­ary 24 by Rep. Zoe Lof­gren (D‑Calif.), would rescind author­i­ty for the CDR pro­gram. It has attract­ed sup­port from a coali­tion of civ­il rights and pri­va­cy orga­ni­za­tions, among them Col­or Of Change, Com­mit­tee of Con­cerned Sci­en­tists and Indivisible.
How­ev­er, the orga­ni­za­tions note that the reform has short­com­ings. In a let­ter, the coali­tion said that SAPRA ​"does not, for instance, pro­hib­it ​'back­door search­es' under Sec­tion 702, a loop­hole that pos­es a dan­ger­ous threat to Amer­i­cans' pri­va­cy by allow­ing the gov­ern­ment to search through com­mu­ni­ca­tions col­lect­ed under Sec­tion 702 of FISA seek­ing infor­ma­tion about Amer­i­cans with­out a war­rant. Fur­ther, it reau­tho­rizes the so-called ​'lone wolf' author­i­ty, which has nev­er been used and should be repealed just like the Sec­tion 215 CDR pro­gram." This lone wolf author­i­ty allows the gov­ern­ment to wire­tap some­one who is not a ​"U.S. per­son" and not a part of a ​"ter­ror­ist" orga­ni­za­tion – but deemed by the Unit­ed States to be help­ing inter­na­tion­al ​"ter­ror­ism" (it is believed that this pro­vi­sion has nev­er been used).
Nonethe­less, David Segal, the exec­u­tive direc­tor of Demand Progress, tells In These Times that ​"SAPRA is the only gen­uine reform bill in play."
What­ev­er this bill's short­com­ings, it's almost cer­tain to face oppo­si­tion not only from the Trump admin­is­tra­tion, but from the Demo­c­ra­t­ic Par­ty lead­er­ship. House Speak­er Nan­cy Pelosi (D‑Calif.) played a sig­nif­i­cant role in Novem­ber in push­ing Democ­rats to endorse a reau­tho­riza­tion of the Patri­ot Act — with no reforms — by slip­ping it into the fund­ing bill. And impeach­ment man­ag­er Rep. Adam Schiff (D‑Calif.), who boost­ed his pub­lic pro­file by emphat­i­cal­ly declar­ing that Pres­i­dent Trump is ​"dan­ger­ous to this coun­try," was among the ​"yes" votes for full reau­tho­riza­tion of that president's spy powers.
There is still sig­nif­i­cant bipar­ti­san sup­port for the CDR pro­gram, bring­ing sig­nif­i­cant risk that Democ­rats could cut a deal for reforms with less teeth — and more loop­holes — than SAPRA.
A Sanders spokesper­son not­ed to In These Times that the sen­a­tor has been a sup­port­er of Wyden's efforts to reform the Patri­ot Act and cospon­sored his bipar­ti­san USA RIGHTS Act. The spokesper­son indi­cat­ed that Sanders oppos­es the cur­rent iter­a­tion of the Patri­ot Act but would like­ly sup­port Wyden's SAPRA leg­is­la­tion in the Sen­ate, as it ​"goes much fur­ther to pro­tect pri­va­cy and civ­il lib­er­ties than a sun­set of Sec­tion 215."
By com­ing out now against the mass sur­veil­lance pow­ers, Sanders appears to be sig­nal­ing to the CPC that it should find its back­bone on this issue. And those who stay silent are implic­it­ly encour­ag­ing the opposite.
This piece has been updat­ed to include remarks from a spokesper­son for Sanders that was sent fol­low­ing publication.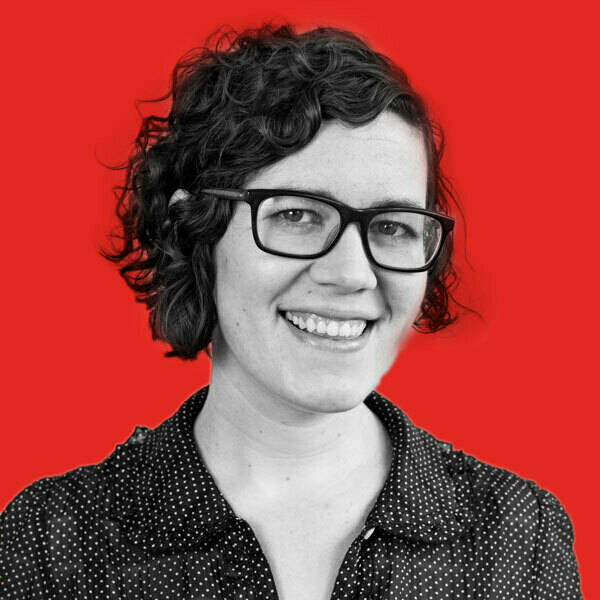 Sarah Lazare is web edi­tor at In These Times. She comes from a back­ground in inde­pen­dent jour­nal­ism for pub­li­ca­tions includ­ing The Inter­cept, The Nation, and Tom Dis­patch. She tweets at @sarahlazare.