Bernie Sanders Is Now Backing Randy Bryce—Which Could Be Very Bad News for Paul Ryan
Sanders' endorsement of Bryce comes at a time when the former union organizer and steelworker is rising in the polls in his bid to unseat House Speaker Paul Ryan.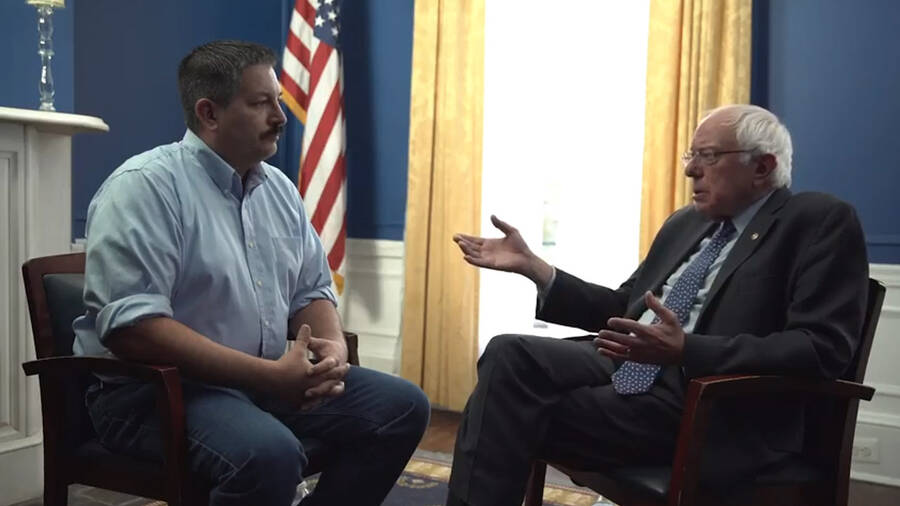 Randy Bryce took the polit­i­cal world by storm this June when he released a stun­ning tele­vi­sion ad announc­ing his cam­paign to unseat House Speak­er Paul Ryan. Bryce is run­ning for Ryan's seat in Wisconsin's south­east­ern 1st con­gres­sion­al dis­trict, which strad­dles Milwaukee's met­ro­pol­i­tan border.
Sanders' embrace of Bryce is another indicator that progressive challengers are gaining steam in the upcoming election cycle.
"I decid­ed to run for office because not everybody's seat­ed at the table — and it's time to make a big­ger table," Bryce says in the ad. ​"If some­body falls behind, we're so much stronger if we car­ry them with us. That's the way I was raised. We look out for each other."
The ad helped raise almost half a mil­lion dol­lars for Bryce's cam­paign in just twelve days.
An Army vet­er­an and an iron­work­er by trade, Bryce mix­es an everyman's appeal with gen­uine pro­gres­sive pol­i­tics — a stark con­trast with Ryan's straight-laced con­ser­vatism. And Bryce received a boost to his pro­gres­sive cre­den­tials last week when he was offi­cial­ly endorsed by Bernie Sanders.
"We've got to pro­tect Social Secu­ri­ty, Medicare, and Med­ic­aid from peo­ple like Paul Ryan," Sanders said in a state­ment announc­ing the endorse­ment. ​"I think Randy Bryce has an agen­da that is going to make sense to work­ing fam­i­lies. We need Randy in Congress."
Sanders and Bryce line up on a range of issues, from unwa­ver­ing sup­port for work­ers and union rights to a $15 min­i­mum wage.
Explain­ing why he stands with work­ers fight­ing for a high­er wage, Bryce tells In These Times, ​"I've always been sup­port­ive of a $15 min­i­mum wage. Oth­er­wise what we're doing is just giv­ing wel­fare to cor­po­ra­tions. We shouldn't be sub­si­diz­ing cor­po­ra­tions so that they can prof­it more on the people's backs."
Bryce also shares Sanders' belief in a uni­ver­sal health­care sys­tem, backs the Ver­mont senator's Medicare for All bill and sup­ports a mas­sive invest­ment in infra­struc­ture spend­ing to revi­tal­ize dein­dus­tri­al­ized com­mu­ni­ties like those in his Wis­con­sin dis­trict. Joe Dinkin, spokesper­son for the Work­ing Fam­i­lies Par­ty — of which Bryce is a mem­ber and endorsed can­di­date — says that what con­nects Sanders and Bryce is a com­mit­ment to pro­gres­sive values.
"What Bernie sees in Randy Bryce is a work­ing class pro­gres­sive that draws a per­fect con­trast to ​'Wall Street' Paul [Ryan]," Dinkin says. ​"Randy wants to guar­an­tee health­care for all, to rebuild Amer­i­ca's roads and bridges and to make the bil­lion­aires pay for it. Paul Ryan wants to give bil­lion­aires a mas­sive tax cut and make the mid­dle class pay. This endorse­ment, com­ing from Amer­i­ca's most pop­u­lar polit­i­cal leader, is a huge deal and proves that this is a top tier race."
Bryce says it's not only his pol­i­cy posi­tions that that set him apart from Ryan, but also his com­mit­ment to rep­re­sent­ing the needs of his con­stituents rather than out­side interests.
"It's about get­ting trust," Bryce says. ​"It's not just show­ing up a few weeks before elec­tion day and try­ing to get peo­ple to vote. It's about actu­al­ly being involved in the com­mu­ni­ty — to lis­ten and then to come up with ways to imple­ment the needs of the community."
Bryce may still appear to be a long­shot can­di­date. A recent Pub­lic Pol­i­cy (PP) Poll shows him trail­ing Ryan by sev­en points. But Bryce's cam­paign says that these num­bers will change as more vot­ers get to know who the can­di­date is and what he stands for (the PP poll shows 69 per­cent of respon­dents still aren't famil­iar with Bryce).
Ryan beat his Demo­c­ra­t­ic oppo­nent in 2016 by 35 points, so the race cur­rent­ly sit­ting at sin­gle dig­its rep­re­sents a sig­nif­i­cant change in the polit­i­cal winds. The Bryce campaign's own inter­nal polling shows Bryce win­ning in 2018 by a 3‑point mar­gin — assum­ing more vot­ers get to know him.
Democ­rats are cur­rent­ly engaged in what some are call­ing a civ­il war over the future of the par­ty and, in many ways, over the future of the resis­tance to Pres­i­dent Trump. Randy Bryce's cam­paign offers echoes of the party's past — of FDR's ambi­tious New Deal, of Lyn­don Johnson's War on Pover­ty — and poten­tial­ly sig­nals a new direc­tion for the party's future.
"We need more work­ing peo­ple to run for office. We under­stand it. We get the strug­gles of liv­ing pay­check to pay­check," Bryce tells In These Times.
Asked whether his cam­paign will help inspire more work­ing peo­ple like him­self to run, he replies, ​"It's already hap­pen­ing. Peo­ple are con­tact­ing me. We're see­ing a record num­ber of can­di­dates come out every­where. And a lot of Repub­li­cans that are going to have to fight for their seats see this wave com­ing, and they're retir­ing in pret­ty big numbers."
Sanders' embrace of Bryce is anoth­er indi­ca­tor that pro­gres­sive chal­lengers are gain­ing steam in the upcom­ing elec­tion cycle. Rather than giv­ing in to Trump's dem­a­goguery or Ryan's aus­ter­i­ty, Bryce is try­ing to prove that what vot­ers are real­ly look­ing for are com­mon­sense solu­tions to their prob­lems. While the Right push­es for build­ing a ​"big, beau­ti­ful wall" and enact­ing tax cuts for the rich, Bryce is coun­ter­ing with pro­pos­als for high­er wages and jobs build­ing infra­struc­ture — poli­cies that will clear­ly improve work­ing people's lives.
He is also show­ing that can­di­dates from out­side the polit­i­cal estab­lish­ment can help ush­er in this new pro­gres­sive vision for both the Demo­c­ra­t­ic Par­ty and the coun­try as a whole.
"We have enough lawyers in Con­gress," says Bryce ​"There aren't a lot of garbage men, iron­work­ers, build­ing trades­peo­ple. We need more peo­ple that actu­al­ly know what it's like to strug­gle so that we have a gov­ern­ment that's recep­tive to our needs."
Marc Daalder
is a jour­nal­ist based in Detroit, Michi­gan and Welling­ton, NZ who writes on pol­i­tics, pub­lic hous­ing, and inter­na­tion­al rela­tions. Twit­ter: @marcdaalder.