Bernie's Strategy To Win California—And Everywhere
Sanders is taking a risk no one has before: banking on new voters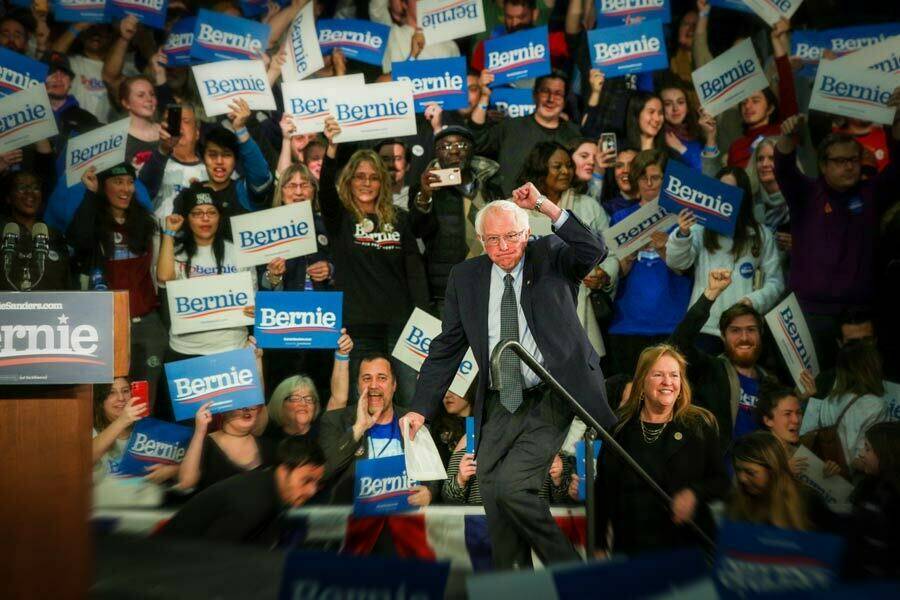 Ver­mont Sen. Bernie Sanders emerged by ear­ly 2020 as the Demo­c­ra­t­ic pres­i­den­tial fron­trun­ner, fin­ish­ing in the top two in the Iowa cau­cus (with Indi­ana May­or Pete Buttigieg, as of press time) and in nation­al polls (with for­mer Vice Pres­i­dent Joe Biden). Sanders' strat­e­gy, which dis­tin­guish­es him from his oppo­nents and breaks with the tra­di­tion­al Demo­c­ra­t­ic play­book, is decep­tive­ly sim­ple: Con­vert non­vot­ers with a pow­er­ful message.
"We need to appeal to young peo­ple and dis­en­fran­chised work­ing-class peo­ple who are giv­ing up on the polit­i­cal process," Sanders told ral­ly­go­ers in Iowa City on Jan­u­ary 12. ​"That's the way we're going to beat Trump."
Or, as Sanders cam­paign sur­ro­gate Rep. Alexan­dria Oca­sio-Cortez (N.Y.) told a Las Vegas crowd: ​"The swing vot­ers that we're most con­cerned with are the non-vot­ers to vot­ers. What we need to com­mu­ni­cate is that this, this year — for two days, your pri­ma­ry and the gen­er­al — it's worth it to believe."
Pres­i­dent Barack Oba­ma employed a sim­i­lar strat­e­gy in 2008, turn­ing out a record num­ber of first-time vot­ers, who were dis­pro­por­tion­ate­ly young, low­er-income and non-white. Sanders hopes to grow the elec­torate fur­ther by tar­get­ing the mar­gin­al­ized, work­ing-class groups that can relate to his poli­cies, groups sel­dom tar­get­ed by pres­i­den­tial candidates.
The gam­ble is risky: Get­ting low-fre­quen­cy vot­ers to the polls is time-con­sum­ing and expen­sive. Peo­ple must first be con­vinced that Sanders is worth it, then reg­is­ter to vote in their pri­ma­ry — and then actu­al­ly show up. But Sanders believes these vot­ers are the Democ­rats' only chance to secure the 46th pres­i­den­cy in November.
The Iowa cau­cus results lend cred­i­bil­i­ty to the idea, with some reser­va­tion. Sanders, like Buttigieg and Sen. Eliz­a­beth War­ren (Mass.), spent heav­i­ly in Iowa, but the Sanders cam­paign put spe­cial effort into reach­ing work­ing-class com­mu­ni­ties. Sanders can­vass­er Melis­sa Tandi­we Myam­bo, for exam­ple, a U.S. cit­i­zen who grew up in south­ern Africa, says that until the final two days, she saw no oth­er cam­paign at the large­ly Sudanese Iowa City apart­ment com­plex she worked.
Sanders ran away with near­ly half of cau­cus­go­ers under 30 as young Iowa vot­ers turned out at lev­els matched only by the 2008 pri­ma­ry, but new vot­ers failed to turn out over­all. Entrance polls sug­gest only 37% of cau­cus­go­ers were new (though Sanders grabbed almost a third of them), com­pared with 44% in 2016 and 57% in 2008.
It's hard to know how much weight to put on the Iowa results. The state is 91% white and heav­i­ly engaged every four years by pres­i­den­tial cam­paigns. The con­tests ahead will test whether Sanders can turn out new vot­ers in states with sig­nif­i­cant pop­u­la­tions of Lati­nos (who heav­i­ly favor Sanders) and where work­ing-class vot­ers may nev­er receive anoth­er campaign's knock.
LETI­CIA ARCE, 29, IS VOL­UN­TEER­ING AT A Span­ish-lan­guage phone bank ses­sion Jan­u­ary 24 at Sanders' cam­paign office in the his­tor­i­cal­ly work­ing-class, Lati­no Mis­sion Dis­trict of San Fran­cis­co. Arce, a ten­ant- and immi­grant-rights orga­niz­er, appre­ci­ates Sanders' plan to expand Social Secu­ri­ty benefits.
"I work with a lot of peo­ple who are get­ting $900, $1,000 in Social Secu­ri­ty, and they're pay­ing $600, $700 of that toward rent," Arce says. ​"A lot of elders need to keep work­ing into their sev­en­ties to survive."
Two of the women Arce brought with her were senior, mono­lin­gual Span­ish speak­ers who can't vote — but are ded­i­cat­ed to turn­ing out Sanders supporters.
"[Sanders'] vision can real­ly move vot­ers who haven't his­tor­i­cal­ly vot­ed," Arce says. ​"It's just a very excit­ing time and a big oppor­tu­ni­ty to get peo­ple acti­vat­ed." But there are decades of apa­thy and dis­en­fran­chise­ment to tack­le, too. ​"Peo­ple have a lot of pes­simism toward vot­ing," she adds, and many of her phone calls con­sist of basic civic engage­ment: What is a pri­ma­ry? Why does Cal­i­for­nia mat­ter? How do you reg­is­ter as a Democrat?
"Often­times, when I talk to mono­lin­gual Span­ish vot­ers, they haven't been out­reached to," Arce says. ​"They're not get­ting all the phone calls that Eng­lish vot­ers might be getting."
Sanders is work­ing to change that, adding more cam­paign offices and field orga­niz­ers since 2016. Though his plat­form cer­tain­ly hasn't changed much (Medicare for All, tuition-free col­lege and mas­sive invest­ment in afford­able hous­ing remain cen­tral planks) his cam­paign strat­e­gy has.
"I think [the Sanders camp was] ini­tial­ly run­ning — and he's been pret­ty up-front about this — because some­one need­ed to make the pro­gres­sive case on that nation­al stage," says Dan Cohen, a pro­gres­sive polit­i­cal strate­gist and poll­ster not affil­i­at­ed with the Sanders cam­paign. ​"When that's your goal, you're a lot less wor­ried about build­ing an infra­struc­ture capa­ble of [win­ning a primary]."
The so-called non­vot­er group Sanders is going after includes the new­ly eli­gi­ble young vot­er, the non-reg­is­tered vot­er, the occa­sion­al vot­er and the reg­u­lar vot­er who doesn't pri­ma­ry. These non­vot­ers are younger, less afflu­ent and less like­ly to be white. Most make less than $30,000/year.
Reach­ing these vot­ers costs mon­ey and can come at the expense of out­reach to more reli­able vot­ers. Sanders, the primary's most suc­cess­ful fundrais­er, is using that mon­ey to ​"cast a broad net," says Chuck Rocha, a senior advi­sor to the cam­paign. In the first five pri­ma­ry states, the Sanders cam­paign began door-knock­ing almost a year ago, talk­ing with vot­ers to ​"deter­mine who is most like­ly to be ener­gized by Bernie Sanders."
Cal­i­for­nia offers a snap­shot of this growth since 2016, expand­ing three offices in Los Ange­les and Oak­land to 19 across Cal­i­for­nia, the major­i­ty in work­ing-class and Lati­no neigh­bor­hoods. The cam­paign had the most exten­sive Cal­i­for­nia ground game until late entrant Michael Bloomberg began pour­ing mon­ey into the state, hir­ing 220 orga­niz­ers (to Sanders' 90) and tar­get­ing cen­trist Lati­nos. But Sanders got a head start, boast­ing a half mil­lion phone calls and 400,000 doors knocked in the state in 2019.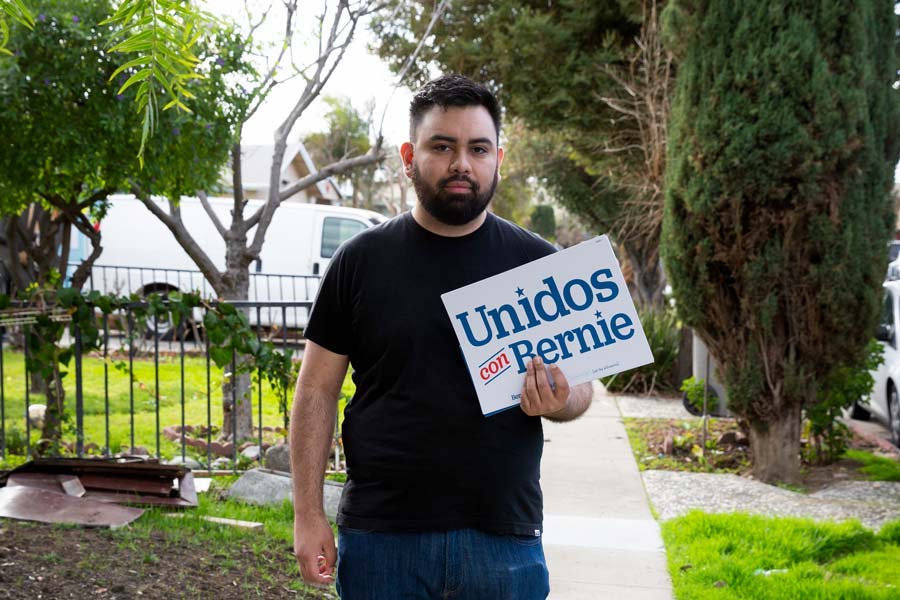 ( Ivan Aguilar, 27, a Lati­no field orga­niz­er for the Bernie Sanders cam­paign, can­vass­es San Jose, Calif., on Jan­u­ary 26. Aguilar, whose par­ents are immi­grants, became polit­i­cal­ly active because of Sanders' 2016 pres­i­den­tial cam­paign. Pho­to cred­it: Emma Marie Chi­ang)
WITH 415 DEL­E­GATES, CAL­I­FOR­NIA HAS the most of any state. Start­ing this year, it has bumped its pri­ma­ry from June — so late, its results often did not change the out­come of the race — to the most influ­en­tial day of the sea­son, March 3, aka Super Tues­day. But Cal­i­for­nia mat­ters to Sanders for more rea­sons than just momentum.
"Cal­i­for­nia is a state that actu­al­ly rep­re­sents this coun­try — it's not Iowa, it's not New Hamp­shire," says Jane Kim, Sanders' Cal­i­for­nia polit­i­cal direc­tor. ​"He wants to demon­strate that he can win a diverse state that is rich with Lat­inx, Asian-Pacif­ic Islander, African Amer­i­can vot­ers and young vot­ers. He believes that that's his base: work­ing-class vot­ers. Nowhere in the coun­try is the income inequal­i­ty so stark as it is here in the state, and that's real­ly what his agen­da is based on."
Accord­ing to the Cal­i­for­nia Civic Engage­ment Project, Lati­nos com­prise near­ly a quar­ter of all vot­er growth in the Unit­ed States from 1996 to 2016. They make up 21% of Cal­i­for­nia vot­ers. Yet many cam­paigns invest lit­tle in out­reach to Latinos.
"They're nev­er talked to ear­ly in a cam­paign," Rocha says. ​"Just at the last minute, with some hor­ri­bly trans­lat­ed Google ad, and then they're expect­ed to turn out. There's nev­er an expan­sion of the uni­verse. It's just a halfway effort to try to get the prime vot­ers among the Lati­no uni­verse out. We've turned that on its head."
Half of Sanders' Cal­i­for­nia area direc­tors — three of six — are Lati­no, as is the state direc­tor of the cam­paign, Rafael Návar. Accord­ing to Návar, pri­ma­ry elec­tion out­reach efforts in Cal­i­for­nia began in earnest in sum­mer 2019 — with an empha­sis on non-par­ty pref­er­ence vot­ers, par­tic­u­lar­ly in Lati­no work­ing-class com­mu­ni­ties. It's a valu­able vot­er base: A quar­ter of reg­is­tered vot­ers in Cal­i­for­nia have not declared a par­ty pref­er­ence, more than all reg­is­tered Cal­i­for­nia Repub­li­cans. But reach­ing these vot­ers is not easy. Only rarely have neigh­bor­hoods with high con­cen­tra­tions of non-par­ty pref­er­ence vot­ers heard from pres­i­den­tial campaigns.
"They're infre­quent vot­ers — they might miss midterms, or [might not be] engaged in every elec­tion cycle," Návar explains. ​"But we know that they would respond favor­ably to the poli­cies that Sanders puts for­ward. Our strat­e­gy is real­ly focused on talk­ing to these vot­ers and meet­ing them where they're at."
Sanders can­vass­er Ivan Aguilar's spe­cial­ty is in talk­ing with peo­ple who may not be inter­est­ed in pol­i­tics. Aguilar, 27, began cam­paign­ing for Sanders in 2016, but he says there's more ener­gy from his Lati­no com­mu­ni­ty this time. At a 2019 Day of the Dead cel­e­bra­tion in Oak­land, for exam­ple, he says a flood of peo­ple descend­ed on his Sanders table with ques­tions, turn­ing his four-hour shift into a 10-hour day. The next morn­ing, cam­paign staffers offered him a posi­tion as a field orga­niz­er. He quit his job and start­ed knock­ing on doors.
Aguilar can­vassed Mead­ow Fair on Jan­u­ary 26, a pre­dom­i­nant­ly Lati­no neigh­bor­hood in East San Jose. The neigh­bor­hood is most­ly small, one-sto­ry sin­gle-fam­i­ly homes, their yards filled with orange trees, cac­ti and flowers.
"You're going into neigh­bor­hoods that have nev­er been out­reached to before," says Aguilar. ​"A lot of the peo­ple, espe­cial­ly in this area, are apo­lit­i­cal — or they already see Bernie in a good light, and then in that case it's kind of easy."
"Bue­nas tardes," Aguilar begins at the door, switch­ing to Eng­lish as need­ed. When res­i­dents are on the fence about vot­ing in the pri­ma­ry, Aguilar launch­es into his per­son­al sto­ry about Sanders.
For Aguilar, that tale begins with the 2008 reces­sion. His father owns a small truck­ing busi­ness and had man­aged to save enough to buy two small hous­es in Tra­cy and Hay­ward, Calif., but their fam­i­ly lost both homes dur­ing the collapse.
"To see their hous­es be tak­en away so eas­i­ly, overnight basi­cal­ly … it real­ly struck me," Aguilar says. ​"This affect­ed every­one I knew. I was like, ​'This is not right. Some­thing has to be done.' "
"It's very encour­ag­ing," Aguilar says about the grass­roots-lev­el cam­paign strat­e­gy. ​"In a lot of Lati­no com­mu­ni­ties, it's often the kids who are vot­ing with­in the house­hold. You go to these hous­es, you ask for their name, and they greet you with enthusiasm."
TIME MAG­A­ZINE REPORTS THAT 44 MIL­LION Amer­i­cans owe a whop­ping $1.6 tril­lion on their stu­dent loans, so it's not sur­pris­ing that Sanders' plat­form of tuition-free pub­lic col­lege appeals to young vot­ers. The Cen­ter for Infor­ma­tion and Research on Civic Learn­ing and Engage­ment at Tufts Uni­ver­si­ty deduced that, dur­ing the 2016 pri­maries, Sanders won more of the youth vote than Pres­i­dent Don­ald Trump and can­di­date Hillary Clin­ton com­bined: Sanders pulled in 2 mil­lion bal­lots from vot­ers 18 – 29, com­pared with less than 1.6 mil­lion. In 2019 he intro­duced a plan to can­cel all $1.6 tril­lion in U.S. stu­dent loan debt.
"The younger gen­er­a­tion today is, in my view, the most pro­gres­sive young gen­er­a­tion in the his­to­ry of this coun­try, and for every three young peo­ple who vote, two out of those three will vote pro­gres­sive," Sanders told a crowd at Iowa State Uni­ver­si­ty in Jan­u­ary. ​"The not-so-good news is that same gen­er­a­tion his­tor­i­cal­ly hasn't vot­ed in very large num­bers. So tonight [what] I'm say­ing to that gen­er­a­tion is: If you are tired of stu­dent debt, if you are sick and tired and scared about cli­mate change, if you are dis­gust­ed with racism, and sex­ism, homo­pho­bia and xeno­pho­bia, and if you believe that health­care is a human right, then you can't sit it out and you can't complain."
But Sanders' youth out­reach goes deep­er than his plat­form. In 2019, the cam­paign launched an orga­niz­ing boot camp for col­lege-age vol­un­teers called Stu­dents for Bernie Sum­mer School, com­plete with home­work and webi­na­rs. The Bern mobile app, also launched in 2019, serves as an orga­niz­ing tool for grad­u­ates of the boot camp: Users can iden­ti­fy poten­tial swing vot­ers and log vot­er infor­ma­tion. The tech­nol­o­gy is sim­ple and famil­iar for social media users, mak­ing it easy to sign up friends, fam­i­ly and neigh­bors with a few taps and swipes.
Sanders' young sup­port­ers seem to be pres­sur­ing their elders. Sanders' pop­u­lar­i­ty first bal­looned among Lati­no youth, and then the old­er gen­er­a­tion got on board. ​"The best way I've seen to get peo­ple out — or even to care at all — is through their chil­dren," Aguilar says. ​"If they ham­mer in the mes­sage them­selves when I'm not there, that real­ly cracks the shell."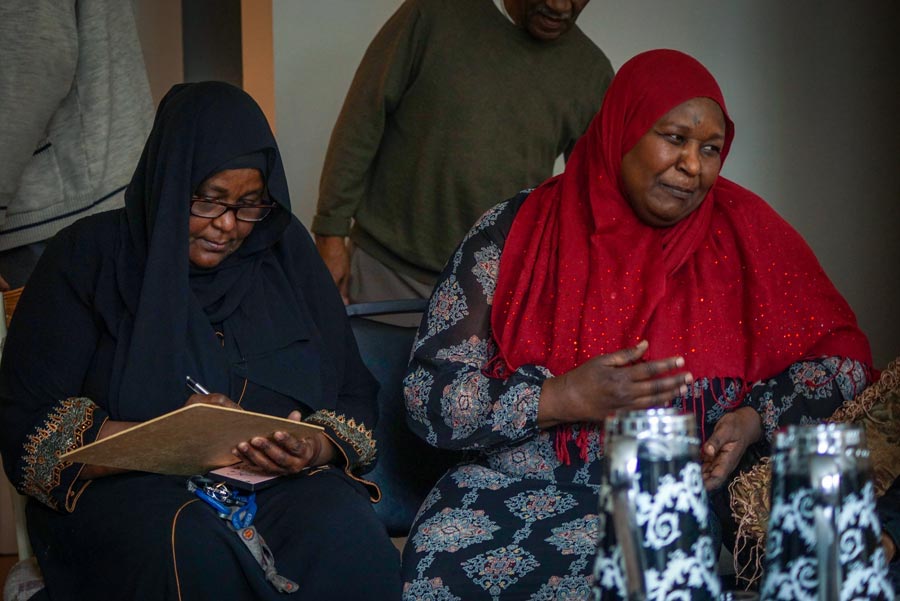 (Sudanese-Amer­i­can vot­ers Thuria Ali Dinar (left) and Amal Mohamed cau­cus at a satel­lite loca­tion for for­eign lan­guage speak­ers in Iowa City. ​"I vot­ed for Bernie because he fights for pro-immi­gra­tion and pro-work­er poli­cies … for stu­dents to have their loans can­celed and for health insur­ance for every­one," Mohamed says. Pho­to cred­it: Juan Manuel Galvez Ibar­ra)
"WE ARE THE ONLY ONES TAK­ING RISKS to try and expand the elec­torate, and the only ones with the infra­struc­ture to take those risks," says Sanders Iowa field orga­niz­er D'Angelo Oberto-Beso.
One such effort is with anoth­er grow­ing Demo­c­ra­t­ic base: immi­grant vot­ers. A tenth of eli­gi­ble 2020 vot­ers was born out­side the U.S., the high­est pro­por­tion since 1970. This group will have an oppor­tu­ni­ty to vote out a sit­ting pres­i­dent known to describe immi­grants with words like ​"inva­sion" and ​"killer," who has said he is ​"seri­ous­ly" con­sid­er­ing abol­ish­ing birthright cit­i­zen­ship, and who has even told four elect­ed U.S. con­gress­peo­ple to ​"go back" to the ​"crime-infest­ed places from which they came."
Though a lim­it­ed run, the Iowa cau­cus proved Sanders' appeal among work­ing-class immi­grants. In Ottumwa, an hour north of Iowa City, Sanders can­vassers worked the mid­night shift at JBS Plant, a pork pack­er whose 2,500 work­ers hail from more than 50 dif­fer­ent coun­tries, and it paid off. A group of Ethiopi­an Amer­i­cans turned out for the spe­cial satel­lite cau­cus orga­nized by their union, Unit­ed Food and Com­mer­cial Work­ers— with Sanders car­ry­ing 15 to 1.
In Iowa City, a small group of Sudanese immi­grants ral­lied for Sanders. In These Times met 10 of the sup­port­ers two days before the cau­cus in the Pheas­ant Ridge apart­ment com­plex, in a low­er-income neigh­bor­hood on Iowa City's West Side.
"I am cau­cus­ing for Bernie because he focus­es on the work­ing class and how to make day-to-day life bet­ter for work­ers," says Eltayeb Elamin, 47, a nat­u­ral­ized cit­i­zen from Sudan. He reg­is­tered to vote for the first time for the cau­cus and host­ed a house par­ty for Sanders sup­port­ers, dressed in a jal­abiya and taqiyah — tra­di­tion­al Sudanese white robes and hat. He served ten guests hot chai sada tea and baleela, a chick­pea dish.
Ahmed Elka­mil, 35, served as Elamin's trans­la­tor. Elka­mil reset­tled in the Unit­ed States 20 years ago with his father, flee­ing vio­lence, pover­ty and per­se­cu­tion in Sudan. He vot­ed for Oba­ma in Ten­nessee in 2012, but said he skipped the 2016 elec­tion because he was dis­il­lu­sioned by Clin­ton and the Demo­c­ra­t­ic Party.
"With Bernie, the draw for me is — it's almost a run­ning joke — that he always says the same thing," Elka­mil says. ​"I val­ue that con­sis­ten­cy. He's also the only can­di­date who has artic­u­lat­ed a spe­cif­ic vision against end­less war."
Anoth­er satel­lite cau­cus, this one for for­eign lan­guage speak­ers at Car­ing Hands and More in Iowa City, award­ed all of its del­e­gates to Sanders after two bus­loads of Sudanese Amer­i­cans attend­ed from Pheas­ant Ridge, includ­ing Elamin and Elkamil.
INVEST­ING IN NON­VOT­ERS IS ALWAYS GOING to be risky, which is why, his­tor­i­cal­ly, pres­i­den­tial can­di­dates haven't done it — choos­ing to spend, instead, on tele­vi­sion adver­tise­ments or mail­ings to well-edu­cat­ed, reg­u­lar vot­ers. Decades of this prac­tice have only dis­en­fran­chised cer­tain com­mu­ni­ties even more, mak­ing it even more dif­fi­cult to mobi­lize nonvoters.
"The [non]voters need to be atti­tu­di­nal­ly will­ing to do some­thing they haven't done before," Dan Cohen says. ​"When there are issues at stake that are pro­found­ly impor­tant to the dis­af­fect­ed vot­er, that gives you that ingre­di­ent. The ques­tion then sim­ply becomes whether their orga­niz­ers will be able to cred­i­bly con­vey that mes­sage and build that same trust, and whether the cam­paign is orga­nized and dis­ci­plined enough to car­ry it over the fin­ish line."
If so many bar­ri­ers exist to get non­vot­ers to the polls, why would Sanders make it a key part of his cam­paign strat­e­gy? For Sanders and his fol­low­ers, the moti­va­tion for turn­ing out work­ing-class, non­vot­ers is as ide­o­log­i­cal as it is practical.
"What the polit­i­cal rev­o­lu­tion means to me … is get­ting mil­lions of peo­ple who have giv­en up on the polit­i­cal process, work­ing peo­ple and young peo­ple, to stand up and fight for their rights," Sanders told the Asso­ci­at­ed Press in June 2019.
"We're also think­ing, ​'What will it take to actu­al­ly build the polit­i­cal pow­er to enact Bernie's agen­da?'" Claire Sand­berg, nation­al orga­niz­ing direc­tor for Sanders' cam­paign, told The Inter­cept​'s Ryan Grim. ​"What will it take to actu­al­ly win back the Sen­ate? … The only way that we can pos­si­bly do that is if we build a huge move­ment that can actu­al­ly expand the elec­torate in all 50 states."
"It's a strate­gic gam­ble that this cam­paign is tak­ing, that if you engage in that com­mu­ni­ty and invest in them, that they will show up at the pri­ma­ry," Chuck Rocha says. ​"I nev­er — until I worked for Bernie Sanders — worked for a can­di­date who has tak­en such a broad approach to vot­er contact."
For some, the impor­tance of this strategy's suc­cess can­not be overstated.
"If there was ever going to be an exper­i­ment where all the dif­fer­ent pieces were there — and you'll be able to answer, ​'Yes, this can be done,' or, ​'It can't,' — this is it," Cohen says. ​"And if it is suc­cess­ful, it will trans­form so much of our Demo­c­ra­t­ic politics."
David Good­ner con­tributed report­ing on Sudanese vot­ers in Iowa. He also served as precinct cap­tain for the Sanders cam­paign at a dif­fer­ent Iowa cau­cus site.
Nuala Bishari
is an award-win­ning free­lance reporter based in San Fran­cis­co, where she cov­ers pol­i­tics, home­less­ness and pub­lic health.