Bernie to Walmart: Pay Your Workers $15 an Hour, or Else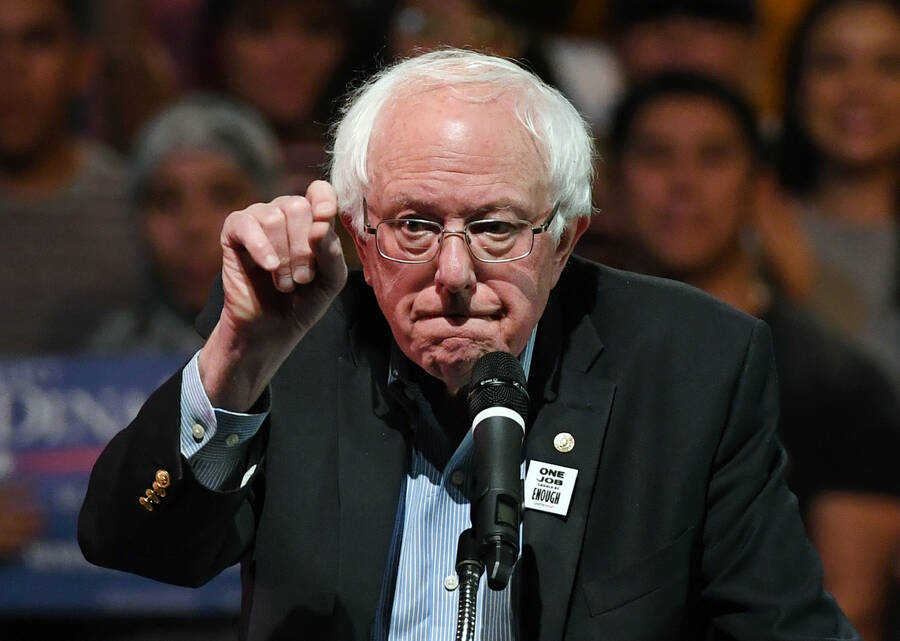 Fresh off a suc­cess­ful cam­paign to to name and shame Ama­zon for its low wages, Bernie Sanders is set­ting his sights on Wal­mart. Today, the Ver­mont sen­a­tor is intro­duc­ing the ​"STOP Wal­mart Act," a bill that demands the retail behe­moth raise its wages or face penalties.
Co-spon­sored by Cal­i­for­nia Rep. Ro Khan­na, the bill would pre­vent Wal­mart and oth­er large com­pa­nies from buy­ing back stock unless they pay all employ­ees at least $15 an hour, allow them to earn up to sev­en days paid sick leave and cap CEO pay at 150 times medi­an work­er compensation.
The largest pri­vate employ­er in Amer­i­ca, Wal­mart has been tar­get­ed labor activists for years over its low wages, anti-union poli­cies and his­to­ry of alleged work­place dis­crim­i­na­tion. Exces­sive give­aways in the form of stock buy­backs are a way for exec­u­tives and wealthy share­hold­ers to extract cor­po­rate prof­its for them­selves rather than invest­ing them in high­er work­er wages and ben­e­fits, accord­ing to pro­gres­sive economists.
"Investors and exec­u­tives may be cel­e­brat­ing pos­i­tive results and increased expec­ta­tions, but mean­while hun­dreds of thou­sands of Walmart's front­line employ­ees and our fam­i­lies face the dai­ly strug­gle of mak­ing ends meet on pover­ty wages," said Shashau­na Phillips, a Wal­mart work­er and leader in the work­er advo­ca­cy group OUR Wal­mart, in a state­ment e‑mailed to In These Times.
With com­peti­tors like Ama­zon and Tar­get com­mit­ting to $15 an hour, said Phillips:
Our com­pa­ny has a choice to make: it can fall fur­ther behind by spend­ing bil­lions on share buy­backs or it can do what's right for both the com­pa­ny and its employ­ees by pay­ing all work­ers a liv­ing wage The efforts being led by Sen­a­tor Sanders and Rep­re­sen­ta­tive Khan­na show what's pos­si­ble when elect­ed lead­ers stand with work­ing peo­ple to demand more from our country's largest pri­vate employer.
The STOP Wal­mart Act comes just two months after Sanders and Khan­na intro­duced a sim­i­lar bill tar­get­ing Ama­zon, dubbed the ​"Stop Bad Employ­ers by Zero­ing Out Sub­si­dies" — or, point­ed­ly, Stop BEZOS.
The Ama­zon bill, which would impose a tax on large com­pa­nies whose employ­ees have to rely social assis­tance, didn't stand much of a chance in Con­gress. It was also denounced as unwork­able by a host of pol­i­cy wonks.
But it's hard to deny that it's work­ing as a pres­sure tac­tic. Last month, Ama­zon announced that it would bump work­ers' start­ing wages to $15 an hour. The change leaves plen­ty to be desired: The com­pa­ny also slashed stock options and incen­tive-based pay for employ­ees, and it lat­er became clear that thou­sands of Ama­zon deliv­ery dri­vers would not be eli­gi­ble for the wage bump. But Jeff Bezos acknowl­edged that the com­pa­ny had ​"lis­tened to our crit­ics," a sign that Ama­zon is begin­ning to feel the heat.
Sanders is now tak­ing a sim­i­lar tack with Wal­mart. On Wednes­day evening he tweet­ed, ​"The Wal­ton fam­i­ly of Wal­mart owns more wealth than the bot­tom 40% of Amer­i­cans. Mean­while 55% of Walmart's asso­ciates are food inse­cure. This is what we mean when we talk about a rigged econ­o­my, and why I'm intro­duc­ing a bill tomor­row to make Wal­mart start pay­ing a liv­ing wage."
Ear­li­er this year, Wal­mart announced that it was rais­ing its start­ing wage to $11 an hour, thanks to sav­ings from from Trump's tax cuts. But there was a catch: On the same day, the com­pa­ny also announced plans to lay off thou­sands of work­ers. And $11 an hour still amounts to an annu­al salary below the pover­ty line for a fam­i­ly of three.
On Wednes­day, Ken Jacobs, chair of the Uni­ver­si­ty of Cal­i­for­nia Berke­ley's Labor Cen­ter, told the Wash­ing­ton Post that Wal­mart would need to spend about $3.8 bil­lion to raise its min­i­mum wage to $15. That might sound like a lot, but the Wal­ton fam­i­ly is worth about $180 bil­lion, and the com­pa­ny takes in an annu­al rev­enue of $500 billion.
In addi­tion to the Ama­zon and Wal­mart bills, last week Sanders announced that he plans to rein­tro­duce a bill this win­ter that would raise the fed­er­al min­i­mum wage to $15 an hour.
None of these mea­sures are like­ly to pass in a GOP-con­trolled Sen­ate, of course, but that's not the main point. Sanders and Khan­na are using their pub­lic pro­files to take bil­lion­aires to task. That's a good thing for the pro­gres­sive wing of the Demo­c­ra­t­ic par­ty, and for work­ing peo­ple everywhere.
"
Michael Arria
is the U.S. cor­re­spon­dent for Mon­doweiss. Fol­low him on Twit­ter: @michaelarria.