Beyond Pale, Male and Stale
Why 'legacy' progressive media must reinvent themselves to remain relevant.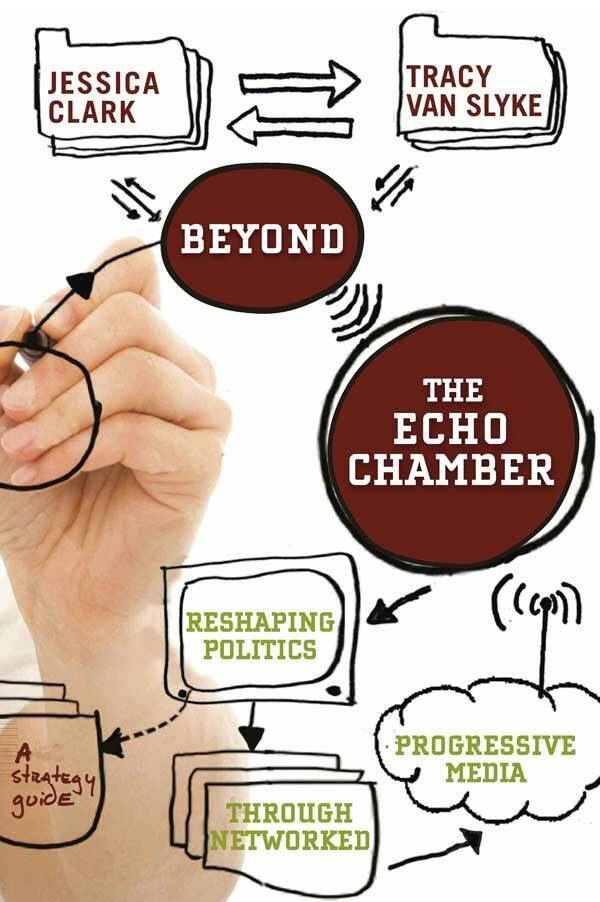 To reach out to and sus­tain rela­tion­ships with so-called ​"minor­i­ty users," pro­gres­sive media mak­ers need to move beyond their core white audi­ences (pale), reach out to women and queer com­mu­ni­ties (male), and stop being so seri­ous all the time (that is, wonk­ish, humor­less, and stale).
These are not matters of political correctness—they are matters of political clout, democratic representation, and sustainability.
These are not mat­ters of polit­i­cal cor­rect­ness — they are mat­ters of polit­i­cal clout, demo­c­ra­t­ic rep­re­sen­ta­tion, and sus­tain­abil­i­ty. Between 2004 and 2008, online polit­i­cal media designed to inform and mobi­lize these com­mu­ni­ties has large­ly been pro­duced by inter­linked groups of net­worked out­lets: the black blo­gos­phere, with an active sub­set known as the ​"Afros­pear"; the brown blo­gos­phere, com­prised of a var­ied group of con­trib­u­tors con­cerned with issues of immi­gra­tion and prej­u­dice; and the fem­i­nist blo­gos­phere, which pro­vides more acces­si­ble out­lets for a younger gen­er­a­tion of women. A num­ber of sites and projects also tar­get pro­gres­sive youth and less tra­di­tion­al pro­gres­sive activists via humor, cul­ture, and art.
Sec­ond-wave fem­i­nists have had their print main­stays, most notably Ms. mag­a­zine, launched in 1971, and Off Our Backs, pub­lished since 1970, sup­ple­ment­ed by an evolv­ing and often short­lived selec­tion of move­ment news­pa­pers, mag­a­zines, and ​'zines.
In more recent years, edgi­er fem­i­nist mag­a­zines have emerged, rang­ing from Bitch mag­a­zine, which takes on pop cul­ture from a fem­i­nist point of view, to Bust mag­a­zine, which incor­po­rates pop cul­ture such as fash­ion lay­outs and celebri­ty inter­views, to Hip Mama, which address­es moth­er­hood with a polit­i­cal and humor­ous edge. A sim­i­lar range of pub­li­ca­tions — from rad­i­cal and scrap­py to com­mer­cial and glossy — address pol­i­tics, lifestyle, cul­ture, art, and trends relat­ed to the con­cerns of GLBTQQ audi­ences and oth­ers chal­leng­ing tra­di­tion­al gen­der roles.
In cities across the coun­try, ​"eth­nic" media are also increas­ing­ly pop­u­lar, inform­ing dif­fer­ent com­mu­ni­ties of col­or and immi­grants. Many of these take the form of local news­pa­pers that both tie togeth­er com­mu­ni­ties and reach out into inter­na­tion­al dias­po­ras orga­nized around shared lan­guage or cul­ture. In addi­tion to com­mer­cial pub­li­ca­tions such as Jet and Ebony, over the past few years new online eth­nic media out­lets such as The Root, a Washingtonpost/​Newsweek Inter­ac­tive endeav­or focus­ing on African Amer­i­cans, have also sprung up. But these pub­li­ca­tions rarely iden­ti­fy their polit­i­cal stance as ​"pro­gres­sive."
While lega­cy pro­gres­sive media mak­ers are often far bet­ter than the estab­lish­ment media in acknowl­edg­ing issues of race and gen­der inequity, many observers still feel that that the issues and per­spec­tives crit­i­cal to these com­mu­ni­ties are too often ​"ghet­toized" by these out­lets. Pro­gres­sive media's report­ing and analy­sis will often focus on nation­al (some­times local) pol­i­tics, elec­tions, scan­dals, eco­nom­ic issues, and cor­rup­tion with­out look­ing through the lens of minor­i­ty com­mu­ni­ties or reg­u­lar­ly report­ing on the issues fac­ing them.
Why is this so impor­tant to do? Let's get down to brass tacks.
Diversity=the future
In addi­tion to cham­pi­oning core civ­il rights val­ues, such com­mu­ni­ties have been not­ed as major swing vot­ers in the 2004 and 2008 elec­tions. Accord­ing to an April 2009 report from the Pew Research Cen­ter, ​"The elec­torate in last year's pres­i­den­tial elec­tion was the most racial­ly and eth­ni­cal­ly diverse in U. S. his­to­ry, with near­ly one-in-four votes cast by non-whites. … The nation's three biggest minor­i­ty groups — blacks, His­pan­ics and Asians — each account­ed for unprece­dent­ed shares of the pres­i­den­tial vote in 2008."
Women have also wield­ed sig­nif­i­cant polit­i­cal clout in recent elec­tions — espe­cial­ly sin­gle women, who skew younger and less finan­cial­ly secure. ​"Unmar­ried women played a piv­otal role in mak­ing this his­to­ry and in chang­ing this nation," accord­ing to Green­berg Quin­lan Ros­ner Research. ​"They deliv­ered a stun­ning 70 to 29 per­cent mar­gin to Barack Oba­ma and deliv­ered sim­i­lar­ly strong mar­gins in races for Con­gress and the U.S. Senate."
Mil­len­ni­als com­prise anoth­er swing bloc. ​"In 2008, 18 – 29 year olds, now all mem­bers of the Mil­len­ni­al gen­er­a­tion, vot­ed Demo­c­ra­t­ic by a stun­ning 66 – 32 mar­gin," wrote Ruy Teix­eira, a polit­i­cal demog­ra­ph­er and senior fel­low at both the Cen­ter for Amer­i­can Progress and the Cen­tu­ry Foun­da­tion. Obama's sup­port among this age group extend­ed across racial bar­ri­ers," he notes. ​"So much for the idea there is noth­ing dis­tinct­ly pro­gres­sive about today's Mil­len­ni­als," writes Teix­eira in a relat­ed report, ​"Gen­er­a­tion We and the 2008 Election."
But it's not good enough to pay atten­tion to these com­mu­ni­ties when the elec­tion sea­son swings into high gear, or just after a nation­al dis­as­ter such as Hur­ri­cane Kat­ri­na. If pro­gres­sive media orga­ni­za­tions want to inform and acti­vate these com­mu­ni­ties and ulti­mate­ly move them to more lib­er­al or pro­gres­sive stances, pro­duc­ers must pro­vide reg­u­lar and fre­quent report­ing that inter­ests them, appeals to them, and is about them. And frankly, pro­gres­sives need to be much more con­scious that while they may rest on their lau­rels because they believe in social jus­tice and equal­i­ty, their actions some­times do not match their rhetoric.
"The demo­graph­ics of this coun­try are chang­ing dra­mat­i­cal­ly," says Lar­ry Irv­ing, a for­mer assis­tant sec­re­tary for com­mu­ni­ca­tions and infor­ma­tion in the Clin­ton admin­is­tra­tion. ​"Tech is chang­ing dra­mat­i­cal­ly. The will­ing­ness to hear pro­gres­sive media is increas­ing dra­mat­i­cal­ly. There is a cer­tain win­dow of time to make some­thing long last­ing. Pro­gres­sives like talk­ing open­ness, but they like being a club."
Irv­ing, who coined the now-pop­u­lar phrase ​"the dig­i­tal divide," contends,
There is anti-demo­c­ra­t­ic smug­ness in a demo­c­ra­t­ic com­mu­ni­ty. The rea­son the term ​

'

media elite' catch­es hold with peo­ple is because that's how they come off. … The biggest chal­lenge to pro­gres­sive media: being hon­est, intel­lec­tu­al­ly embrac­ing and not walling our­selves off from the mil­lions of peo­ple who wor­ry that pro­gres­sive elites look down on them.
This per­spec­tive has busi­ness reper­cus­sions as well. Many in the pro­gres­sive media, espe­cial­ly with­in the lega­cy media, find them­selves with an audi­ence of white, aging males. (One of us— Tra­cy — has often joked that some pro­gres­sive mag­a­zines should start tar­get­ing nurs­ing homes for adver­tis­ing.) Look­ing to the future, eth­nic com­mu­ni­ties and young women are huge poten­tial new audi­ences. If har­nessed and com­mu­ni­cat­ed with cor­rect­ly, they could become future sources of income, pro­vid­ing sources for adver­tis­ing dol­lars, dona­tions, and sub­scrip­tions. What's more, it should be an hon­or and chal­lenge for the pro­gres­sive media as a whole to be more inclu­sive and rep­re­sen­ta­tive of the com­pli­cat­ed, messy, and won­der­ful melt­ing pot known as America.
In his 2006 arti­cle ​"A Par­ty in Search of a Notion," Michael Tomasky, then edi­tor of the Amer­i­can Prospect, called for the Democ­rats to turn their back on ​"the mil­lion-lit­tle-pieces, inter­est- group approach to pol­i­tics," and adopt the phi­los­o­phy ​"that cit­i­zens should be called upon to look beyond their own self-inter­est and work for a greater com­mon inter­est." In sup­port­ing this argu­ment — which, to be fair, does cred­it sev­er­al civ­il rights vic­to­ries to those who orga­nized around their own inter­ests — Tomasky cit­ed an hon­or roll of male politi­cians, philoso­phers, jour­nal­ists, and even blog­gers. In doing so he demon­strat­ed a sti­fling lack of diver­si­ty in a wide­ly tout­ed cov­er piece sug­gest­ing that the pol­i­tics of diver­si­ty be scuttled.
'

We know we can do better'

The pro­gres­sive press could learn from the his­toric fail­ures of the black press. Kevin West­on, direc­tor of new media and youth com­mu­ni­ca­tions at New Amer­i­ca Media, a net­work of more than 700 eth­nic out­lets that also pro­duces orig­i­nal con­tent across sev­er­al plat­forms, reflects on how the black press missed the boat in expand­ing their audience:
In the eight­ies, the black press was at its height in terms of num­bers of papers and finan­cial sta­bil­i­ty, but all of the black estab­lish­ment ignored hip-hop. Ebony didn't put a rap­per on its cov­er until the late ​

'

90

s. So all of those jour­nal­ists that would have start­ed in the black press got start­ed in the hip-hop press. Fast-for­ward to

2009

. The black press is still work­ing: it's niche, hyper­local, and [has] long-time rela­tion­ships with big adver­tis­ers. But they missed out on a whole gen­er­a­tion of journalists.
The same could be said for the lega­cy pro­gres­sive out­lets, and even the most vis­i­ble mem­bers of the blo­gos­phere. Their inabil­i­ty to reach out to a diverse base of con­trib­u­tors and read­ers has left a gap in polit­i­cal com­mu­ni­ca­tion, alien­at­ing audi­ences that might oth­er­wise be inclined to iden­ti­fy as progressives.
Steve Katz, vice pres­i­dent of strat­e­gy and devel­op­ment at Moth­er Jones, echoed Weston's sen­ti­ment in 2005. ​"We're try­ing to rede­fine who we are to reach the audi­ence of the 21st cen­tu­ry," he said. ​"Pro­gres­sive media is to the pro­gres­sive audi­ence as clas­sic rock is to the radio audi­ence. We know we can do bet­ter and we know peo­ple are look­ing for good jour­nal­ism and a pro­gres­sive point of view."
To fill the void, there has been a rise in online com­mu­ni­ties that have pro­vid­ed com­pelling and impor­tant ser­vices for their users. While these online com­mu­ni­ties often have small­er audi­ence num­bers than the more well-known pro­gres­sive out­lets, their func­tion is no less impor­tant. These ever-grow­ing media orga­ni­za­tions reach tar­get­ed com­mu­ni­ties through a broad set of tech­niques: report­ing and analy­sis, orga­niz­ing and action, satire and per­son­al essay, media cri­tique, blog­ging, and com­men­tary. They pro­vide a safe space for assem­bling their own choirs: dis­cussing, debat­ing, and assem­bling around shared con­cerns. They also pro­vide a cri­tique of both estab­lish­ment and pro­gres­sive media, move­ments, and orga­ni­za­tions. Last but not least, they dive more deeply into issues affect­ing their users.
What often sets these out­lets apart is how these pro­duc­ers, sites, and com­mu­ni­ties reach out and acti­vate their audi­ences. Their exper­tise lies in their per­son­al expe­ri­ence, back­ground, and pas­sion, which are reflect­ed in the tone they adopt to com­mu­ni­cate with their users — a tone that appeals because it rep­re­sents an authen­tic and acces­si­ble voice, one that relates a shared iden­ti­ty and experience.
Nezua, one of the most pro­lif­ic and pop­u­lar blog­gers in the brown blo­gos­phere and founder of the blog The Unapolo­getic Mex­i­can, points out the schism between the ​"white" media and the iden­ti­ty-based media. ​"We're talk­ing about our lives, our fam­i­lies, how our peo­ple came to this nation, think­ing about our peo­ple still in the cross-hairs, see­ing hate crimes rise against peo­ple like us. We're not com­ing from a detached, dis­tant, the­o­ret­i­cal place."
Devel­op­ing an acces­si­ble voice is key for any media orga­ni­za­tion as it bal­ances the cool and mea­sured jour­nal­is­tic or aca­d­e­m­ic approach with the more per­son­al tone that the new media land­scape demands. This is also where going beyond ​"stale" comes in. Alter­na­tive and new jour­nal­ism pio­neers — as well as come­di­ans and satirists — set the stage for the rise of Rachel Mad­dow, Jon Stew­art, and Stephen Colbert.
Sim­i­lar approach­es are echoed in the more per­son­al style advanced by blog­gers, and the rich uni­verse of online humor and cul­ture sites. All of these sug­gest that a bet­ter approach to fram­ing and com­mu­ni­cat­ing crit­i­cal per­spec­tives might lie not in elit­ist lan­guage, as Irv­ing sug­gests, but in find­ing more appeal­ing ways to deliv­er the news. Humor and a will­ing­ness to cov­er and fea­ture pop cul­ture – includ­ing sports, music (and while we appre­ci­ate Pete Seeger, not his kind of music), tele­vi­sion, film, and the trends that inform people's every­day lives – are key ingre­di­ents for high-impact pro­gres­sive media.
Copy­right © 2010 by Jes­si­ca Clark and Tra­cy Van Slyke. This excerpt orig­i­nal­ly appeared in Beyond the Echo Cham­ber: Reshap­ing Pol­i­tics Through Net­worked Pro­gres­sive Media, pub­lished by The New Press. Reprint­ed here with permission.
Jes­si­ca Clark
is a for­mer exec­u­tive edi­tor of
In These Times
and direc­tor of the Future of Pub­lic Media Project at Amer­i­can Uni­ver­si­ty's Cen­ter for Social Media.
Tra­cy Van Slyke
, a for­mer pub­lish­er of
In These Times
, is project direc­tor of The Media Con­sor­tium and co-edi­tor of
buildthee​cho​.net
. Clark and Van Slyke are the co-authors of
Beyond the Echo Cham­ber: Reshap­ing Pol­i­tics Through Net­worked Pro­gres­sive Media
(
2010
, New Press)