Making Connections
Why is the news so bad? What can progressives do to fix it?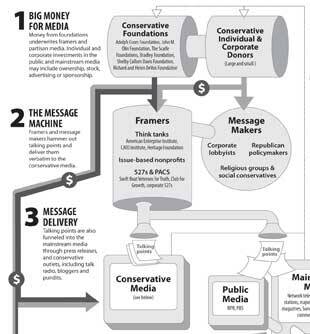 In March, con­ser­v­a­tive über-strate­gist Grover Norquist of Amer­i­cans for Tax Reform launched the Media Free­dom Project. This new group is the lat­est entry in a three-decade-long con­test between the pro­gres­sives who want to pro­tect and extend First Amend­ment rights to free­dom of speech and those on the right who view unfet­tered expres­sion as a dan­ger to the estab­lished cor­po­rate order.
The Media Free­dom Project's first press release, ​"The Return of the Re-Reg­u­la­tors," warned that Demo­c­ra­t­ic efforts to rein­state the Fair­ness Doc­trine ​"could mean the end of pop­u­lar talk show hosts such as Rush Lim­baugh, Sean Han­ni­ty and G. Gor­don Lid­dy." (See ​"Fair­ness Now,")
The Media Free­dom Project's pri­or­i­ties show why the Fair­ness Doc­trine, which com­pelled FCC-licensed broad­cast­ers to ​"afford rea­son­able oppor­tu­ni­ty for dis­cus­sion of con­flict­ing views on mat­ters of pub­lic impor­tance," is sore­ly need­ed in what com­men­ta­tors like the Media Channel's Dan­ny Schecter are call­ing a ​"post-jour­nal­ism era."
Decades-old jour­nal­is­tic stan­dards of ​"objec­tiv­i­ty"- — and even its less-learned cousin, ​"bal­ance" — are on the ropes. Paid polit­i­cal oper­a­tives pos­ing as blog­gers are tak­ing down jour­nal­ists like Dan Rather, while pro­gres­sive ​"cit­i­zen blog­gers" expose faux-reporters like Jeff Gan­non. (See ​"The Blo­gos­phere: Insid­ers vs. Out­siders,") The fed­er­al gov­ern­ment is fill­ing the air­waves with ​"video news releas­es" and hired pun­dits like Arm­strong Williams. (See ​"The GOP's Quest for Col­or,") Mean­while, a study by the Uni­ver­si­ty of Pennsylvania's Nation­al Annen­berg Elec­tion Sur­vey revealed that young peo­ple who reg­u­lar­ly watch ​"The Dai­ly Show" are ​"more like­ly to answer ques­tions about pol­i­tics cor­rect­ly than those who don't."
With this issue of In These Times, we explore the con­tours of the cur­rent media land­scape, map the con­test­ed ter­ri­to­ry, and chart the dis­sim­i­lar con­ser­v­a­tive and pro­gres­sive media strategies.
How the con­ser­v­a­tives came to dominate
The sto­ry of how con­ser­v­a­tives have reshaped the media to their own ends has gen­er­at­ed plen­ty of ink. Fair­ness and Accu­ra­cy in Report­ing (FAIR) founder Jeff Cohen, Salon​'s Joe Cona­son and The Nation​'s Eric Alter­man have all writ­ten con­vinc­ing­ly and at length for both main­stream and pro­gres­sive out­lets about how right-wing media has come to dom­i­nate the nation­al debate.
Reformed con­ser­v­a­tive David Brock explains in The Repub­li­can Noise Machine that tar­ring the main­stream media as ​"lib­er­al" was the first step in the con­ser­v­a­tive cam­paign to dom­i­nate the air­waves. Found­ed in 1969 by anti-com­mu­nist econ­o­mist Reed Irvine, Accu­ra­cy in Media (AIM) was set up to sup­port Pres­i­dent Richard Nixon's Viet­nam poli­cies by mobi­liz­ing oppo­si­tion to ​"lib­er­al" bias in the news. ​"Irvine was prac­tic­ing a form of jujit­su" writes Brock. ​"See­ing itself as a pub­lic trust, the media was respon­sive to calls for account­abil­i­ty and was high­ly sus­cep­ti­ble to crit­i­cism." Dan Rather was one of the group's tar­gets dur­ing that era and has remained so to this day. AIM mocked his patri­ot­ic final broad­cast as an ​"extreme makeover."
Incul­cat­ing fear of con­ser­v­a­tive dis­ap­proval in the main­stream press — and a con­se­quent alien­ation of adver­tis­ers and view­ers — has been the lynch­pin of the con­ser­v­a­tive strat­e­gy. It set the stage for the cre­ation of a con­ser­v­a­tive media machine. In an effort to shift pub­lic dis­course to the right, con­ser­v­a­tive foun­da­tions, right-wing donors and cor­po­ra­tions worked togeth­er to cre­ate mul­ti­ple orga­ni­za­tions that in turn gen­er­at­ed think tanks, issue-based non­prof­its and con­ser­v­a­tive media out­lets — all with their own high­ly paid and well-coached ​"experts." Then, the right, ever more loud­ly denounc­ing the biased ​"lib­er­al media elite," insert­ed these new­ly mint­ed experts into a main­stream media that was now on the defen­sive and vul­ner­a­ble to manipulation.
The goals of the con­ser­v­a­tive media strat­e­gy are mul­ti­ple and over­lap­ping: to pro­tect busi­ness inter­ests, ele­vate a free-mar­ket phi­los­o­phy, advance a frame of ​"fam­i­ly val­ues," pro­mote U.S. polit­i­cal dom­i­nance, and counter pop­u­lar move­ments for civ­il, women's, con­sumers' and gay rights that were gain­ing promi­nence in the late ​'60s and ear­ly ​'70s. The tra­di­tion­al Repub­li­can right found ready allies in lead­ers of the Chris­t­ian right like Pat Robert­son, who in 1960 found­ed the Chris­t­ian Broad­cast­ing Net­work, which by the late ​'70s reached mil­lions of view­ers and reg­u­lar­ly fea­tured promi­nent conservatives.
Dur­ing the ​'70s and ​'80s, con­ser­v­a­tive and cor­po­rate fun­ders fol­lowed an explic­it plan to estab­lish and expand right-wing think tanks such as the Cato Insti­tute, the Her­itage Foun­da­tion and the Amer­i­can Enter­prise Insti­titue. The think tanks served as incu­ba­tors for right-wing ideas and by the ​'90s were poised to cap­i­tal­ize on emerg­ing — and unreg­u­lat­ed — media sec­tors such as cable tele­vi­sion, talk radio and Inter­net com­men­tary. They were com­pli­ment­ed by a host of cor­po­rate-fund­ed ​"astro­turf" groups cre­at­ed by the pub­lic rela­tions indus­try to coun­ter­act gen­uine grass­roots orga­ni­za­tions fight­ing for social, envi­ron­men­tal and eco­nom­ic justice.
Like the Bush pres­i­den­cies, the rise of a con­ser­v­a­tive media machine has been an elab­o­rate, mul­ti-gen­er­a­tional affair. AIM's late-'60s media crit­i­cisms were com­ple­ment­ed by the cri­tiques of Irv­ing Kris­tol, the influ­en­tial co-edi­tor of the con­ser­v­a­tive jour­nal The Pub­lic Inter­est. Irv­ing is the father of William Kris­tol, who found­ed the promi­nent con­ser­v­a­tive mag­a­zine The Week­ly Stan­dard in 1995 with fund­ing from Fox News own­er Rupert Mur­doch. Small polit­i­cal mag­a­zines like these, despite their low cir­cu­la­tion, have been stan­dard-bear­ers for once-rad­i­cal ideas that have now moved into the main­stream. After sev­er­al years of edit­ing The Week­ly Stan­dard, the younger Kris­tol used grants from the Bradley Foun­da­tion to estab­lish the Project for the New Amer­i­can Cen­tu­ry, a non­prof­it orga­ni­za­tion of neo­con­ser­v­a­tive activists who hatched the ratio­nale for Pres­i­dent George W. Bush's war in Iraq.
While Murdoch's sup­port for The Week­ly Stan­dard has been instru­men­tal in the recent his­to­ry of con­ser­v­a­tive media, it's his Fox News that rep­re­sents the pin­na­cle of right-wing media strate­giz­ing — a 24-hour sta­tion, avail­able to all cable sub­scribers that mil­i­tant­ly mas­quer­ades as a ​"fair and bal­anced" mem­ber of the main­stream media. Accord­ing to an analy­sis by the Project for Excel­lence in Jour­nal­ism, in 2004 Fox News anchors and reporters includ­ed their own opin­ions in 73 per­cent of the sto­ries they report­ed on Iraq. In con­trast, only 2 per­cent of CNN reporters did so. The report notes, ​"Those find­ings seem to chal­lenge Fox's pro­mo­tion­al mar­ket­ing, par­tic­u­lar­ly its slo­gan, ​'We Report. You Decide.' "
The 24-hour news cycle has also spawned its own vir­u­lent brand of media manip­u­la­tion: repet­i­tive, coor­di­nat­ed and inces­sant. For exam­ple, every Wednes­day morn­ing, the Media Free­dom Project's Norquist con­venes an invi­ta­tion-only meet­ing of high-lev­el GOP strate­gists, Con­gres­sion­al and White House staffers, and cor­po­rate lead­ers to for­mu­late the ​"talk­ing points" for the week. In a Jan­u­ary 2004 pro­file of Norquist in Moth­er Jones, Michael Scher­er wrote:
There is no time for canned polit­i­cal rhetoric. The focus is on win­ning. Here, strat­e­gy is honed. Talk­ing points are refined. Dis­ci­pline is imposed. … In build­ing his coali­tion, Norquist has made a con­scious strate­gic deci­sion to go with a big-tent approach. At his week­ly meet­ings, social issues like gay rights and abor­tion, which can divide the elec­toral base of con­ser­v­a­tives and lib­er­tar­i­ans, are played down in favor of issues like tax cuts, tort reform, and the roll­back of fed­er­al reg­u­la­tions and rules. These are the broad-appeal polit­i­cal win­ners on which Norquist is pin­ning the movement's future. And they're a strong lure for the cor­po­rate com­mu­ni­ty, some of whose mem­bers — Philip Mor­ris, Pfiz­er and Time Warn­er, for instance — also hap­pen to sup­ply fund­ing for Amer­i­cans for Tax Reform.
Where does this leave pro­gres­sives? Stuck, as they are, with defend­ing old-fash­ioned val­ues, such as truth, fair play, fac­tu­al accu­ra­cy, civil­i­ty, the open exchange of ideas, the pow­er of rea­soned debate, and the hon­or of uphold­ing the pub­lic trust.
Pro­gres­sives face a predicament
In con­trast to con­ser­v­a­tives, pro­gres­sives have done lit­tle to inter­nal­ly define ​"who we are," ​"what val­ues we stand for" and ​"what we want." Lack­ing an agreed upon frame­work, pro­gres­sives spread sin­gu­lar mes­sages, result­ing in a cacoph­o­ny rather than an out­line of a pro­gres­sive agenda.
In ear­ly Decem­ber, William Safire quot­ed James Carville's take on the mat­ter in the New York Times Mag­a­zine: ​"They pro­duce a nar­ra­tive, we pro­duce a litany. … They say, ​'I'm going to pro­tect you from the ter­ror­ists in Tehran and the homos in Hol­ly­wood.' We say, ​'We're for clean air, bet­ter schools, more health care.' And so there's a Repub­li­can nar­ra­tive, a sto­ry, and there's a Demo­c­ra­t­ic litany."
The chal­lenge for pro­gres­sives is to cre­ate nar­ra­tives that express pro­gres­sive val­ues. Pro­gres­sives must devel­op the strength of speak­ing with a uni­fied voice, one that com­mu­ni­cates our fun­da­men­tal beliefs while still draw­ing on the diver­si­ty of per­spec­tives inte­gral to pro­gres­sive principles.
Cur­rent­ly, the pro­gres­sive media net­work is miss­ing both a coor­di­nat­ed mes­sag­ing sys­tem and a self-sus­tain­ing net­work that can fun­nel ideas from the grass­roots, pro­gres­sive think tanks and the inde­pen­dent media into the main­stream media where nation­al con­ver­sa­tions take place.
In a 2002 report on pro­gres­sive think tanks for the Open Soci­ety Insti­tute, David Dyssegaard Kallick wrote, ​"What is lack­ing is not sharp indi­vid­u­als with cre­ative ideas. … What is miss­ing is an insti­tu­tion­al infra­struc­ture that brings these peo­ple togeth­er with each oth­er and with peo­ple who under­stand prac­ti­cal pol­i­tics, media and organizing."
For decades, lib­er­al foun­da­tions and indi­vid­ual donors have failed to rec­og­nize the need for build­ing long-term capac­i­ty in pro­gres­sive media and affil­i­at­ed orga­ni­za­tions, and there­by cre­ate a pro­gres­sive ​"echo cham­ber" that can begin to counter the right's media machine. Pro­gres­sive foun­da­tions, with their roots in the reform move­ments of the ear­ly 20th cen­tu­ry, have focused on fund­ing social work and sin­gle-issue groups.
As a result, the pro­gres­sive media net­work has evolved in an ad hoc, organ­ic basis in con­trast to the con­ser­v­a­tive media machine's coor­di­nat­ed infra­struc­ture. Pro­gres­sive media is built by uncon­nect­ed indi­vid­u­als who have in com­mon the belief that the pro­gres­sive agen­da needs a voice of its own. When lib­er­al foun­da­tions do pro­vide media grants, they shy away from overt­ly polit­i­cal media projects, and instead direct mil­lions toward fed­er­al­ly sup­port­ed pub­lic media, such as the Pub­lic Broad­cast­ing Sys­tem (PBS) and Nation­al Pub­lic Radio, or to indi­vid­ual doc­u­men­tary film projects that might be shown on PBS.
In their 2003 report ​"Fund­ing for Social Change," Nan Rubin and Sharon Mae­da write, ​"Pro­gres­sive fun­ders do not pro­vide much sup­port for infra­struc­tures, dis­tri­b­u­tion net­works and mem­ber­ship orga­ni­za­tions that pro­vide the polit­i­cal and tech­ni­cal back­bone for ​'alter­na­tive media' to reach audiences."
They also note in a 2005 update to their sur­vey that while foun­da­tions rec­og­nize the dan­gers of cor­po­rate media con­sol­i­da­tion and the impor­tance of orga­niz­ing around media, they have lit­tle under­stand­ing of how to strate­gi­cal­ly fund media devel­op­ment or how to doc­u­ment its impact. ​"Few fun­ders see media as an orga­niz­ing tool or as a way to pop­u­lar­ize mes­sages or con­duct pub­lic edu­ca­tion cam­paigns," Rubin and Mae­da write, ​"Pri­mar­i­ly, though, they address the con­cept of the mes­sage and not the media themselves."
A media net­work emerges
Recent­ly, new think tanks, such as the Cen­ter for Amer­i­can Progress and the Rock­ridge Insti­tute, have start­ed dis­sem­i­nat­ing pro­gres­sive mes­sages, pro­vid­ing talk­ing points and con­duct­ing fact-find­ing mis­sions to dis­cred­it the mis­in­for­ma­tion com­ing from con­ser­v­a­tive think tanks and pun­dits. On-line mobi­liz­ing groups such as MoveOn and pro­gres­sive 527s like Amer­i­cans Com­ing Togeth­er have reen­er­gized a pro­gres­sive vot­er base that is polit­i­cal­ly engaged and active.
Yet these Wash­ing­ton-cen­tric efforts are still not con­nect­ed to grass­roots, sin­gle-issue orga­ni­za­tions. Too often, they lack the involve­ment of women, peo­ple of col­or and those who are not upper-mid­dle class.
Look­ing at ​"The Emerg­ing Pro­gres­sive Media Net­work," it's impor­tant to note the dis­con­nect between the vast, well-fund­ed ​"Issue-Based Non­prof­its," the ​"Emerg­ing Mes­sage Machine" of the think tanks, politi­cians and mes­sage cre­ators and the strug­gling ​"Pro­gres­sive Media." To par­tic­i­pate in the main­stream dia­logue, each of these spheres needs to be con­nect­ed to each oth­er and appro­pri­ate­ly funded.
So what are the next steps?
Pro­gres­sive media mak­ers should reach out to and edu­cate foun­da­tions and indi­vid­ual donors about the strate­gic impor­tance of pro­vid­ing sig­nif­i­cant fund­ing to inde­pen­dent media out­lets in order to build a sus­tain­able pro­gres­sive infra­struc­ture that can effec­tive­ly shape pub­lic dialogue.
Pro­gres­sive strate­gists should devel­op nar­ra­tive frames and talk­ing points that can suc­cess­ful­ly car­ry their val­ues into the main­stream media. This will require an unprece­dent­ed lev­el of coop­er­a­tion among the dis­parate col­lec­tion of inde­pen­dent­ly run and fund­ed orga­ni­za­tions that cur­rent­ly make up the pro­gres­sive movement.
Pro­gres­sive orga­niz­ers should con­tin­ue dis­cussing ways to strength­en their media net­work with­out mim­ic­k­ing the top-down, unde­mo­c­ra­t­ic meth­ods of the right's media machine. Sup­port­ing cur­rent infra­struc­ture groups — and build­ing new ones — is key to improv­ing coor­di­na­tion between the dif­fer­ent pro­gres­sive media sec­tors. This will require finan­cial resources and research.
Pro­gres­sives of all stripes should look for inspi­ra­tion from inno­v­a­tive mod­els of par­tic­i­pa­to­ry infor­ma­tion-shar­ing, such as the col­lec­tive idea devel­op­ment pio­neered in open-source net­works, or the com­mu­ni­ty-dri­ven orga­niz­ing of MoveOn's house par­ties and Democ­ra­cy For America's meet-ups. New tech­no­log­i­cal oppor­tu­ni­ties offered by advances like com­mu­ni­ty Wi Fi also open up fresh media horizons.
These rec­om­men­da­tions are only a start. Like the pro­gres­sive media net­work itself, this analy­sis will con­tin­ue to evolve. The prospects are excit­ing, but both finan­cial sup­port and dia­logue are need­ed to reach the next level.
Jes­si­ca Clark
is a for­mer exec­u­tive edi­tor of
In These Times
and direc­tor of the Future of Pub­lic Media Project at Amer­i­can Uni­ver­si­ty's Cen­ter for Social Media.
Tra­cy Van Slyke
, a for­mer pub­lish­er of
In These Times
, is project direc­tor of The Media Con­sor­tium and co-edi­tor of
buildthee​cho​.net
. Clark and Van Slyke are the co-authors of
Beyond the Echo Cham­ber: Reshap­ing Pol­i­tics Through Net­worked Pro­gres­sive Media
(
2010
, New Press)