Welcome to the Media Revolution
How today's media makers are shaping tomorrow's news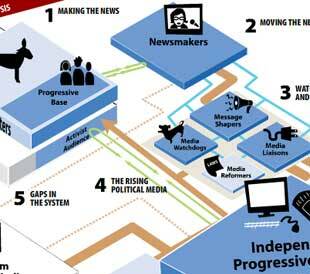 On Sep­tem­ber 29, 2005, in a con­fer­ence room on the 17th floor of a Philadel­phia office build­ing, blocks away from Inde­pen­dence Hall, mem­bers of a new­ly formed net­work, The Media Con­sor­tium, gath­ered to reshape the nation­al media landscape.
To a casu­al observ­er, the sit­u­a­tion may not have looked much dif­fer­ent than any oth­er busi­ness meet­ing. Flip­boards and sheets of paper filled with scrawl­ing pen­man­ship were scat­tered across the room. Tables over­flowed with lap­tops, cell phones, Black­ber­ries, note­books and half-emp­ty cups of cof­fee that had seen numer­ous refills through­out the two-day meeting.
By the end of the meet­ing the con­sor­tium mem­bers were clus­tered around an 11 x 17 sheet of print­er paper. One by one we added our names to the Dec­la­ra­tion of the Inde­pen­dent Media. Among the 25 sig­na­to­ries were edi­tors, pub­lish­ers and direc­tors of var­i­ous media orga­ni­za­tions includ­ing The Amer­i­can Prospect, The Nation, Moth­er Jones, The Pro­gres­sive, The Wash­ing­ton Month­ly, Alter​Net​.org, Grist​.org, Link TV, Free Speech TV, Air Amer­i­ca, New Amer­i­can Media and In These Times.
The dec­la­ra­tion reads, in part:
We, the mak­ers and providers of pro­gres­sive, inde­pen­dent jour­nal­ism, declare our intent to form among our­selves a new non­prof­it asso­ci­a­tion, The Media Con­sor­tium. … We believe it is pos­si­ble and nec­es­sary to seize the cur­rent moment and change the debate in this coun­try on our terms. There­fore, the mis­sion of The Media Con­sor­tium is of vital impor­tance – not just for the fur­ther­ance of our indi­vid­ual enter­pris­es, but for the health of Amer­i­can democracy.
While the lan­guage lacks the grandeur of ​"We hold these truths to be self-evi­dent," the dec­la­ra­tion rep­re­sents a rev­o­lu­tion­ary shift in the world of pro­gres­sive media. ​"We rec­og­nized that there were things we had to do togeth­er, that we couldn't do by our­selves. Our future depends on it," says Steve Katz, project direc­tor of The Media Con­sor­tium and asso­ciate pub­lish­er of Moth­er Jones.
Why should media be a pri­or­i­ty, with Iraq in a civ­il war, liv­ing wage jobs con­tin­u­ing to spi­ral down­ward and the Earth's envi­ron­ment heat­ing up? Because media serves as the forum for all polit­i­cal debate. The right has learned to use the media to its polit­i­cal advan­tage. Now, pro­gres­sives must reclaim their place in the nation­al conversation.
We doc­u­ment­ed the begin­nings of the pro­gres­sive media net­work in our May 9, 2005 issue, ​"Mak­ing Con­nec­tions." Here we report on the unprece­dent­ed col­lab­o­ra­tions fos­tered by this emerg­ing media net­work in the past year and explore the oppor­tu­ni­ties and chal­lenges it now faces.
Mem­bers of The Media Con­sor­tium, who make up a large seg­ment of this net­work, under­stand that in order to shift the nation­al debate pro­gres­sive media will need to break through to a larg­er audi­ence. The end goal: to devel­op a sus­tain­able pro­gres­sive media infra­struc­ture that can inform and influ­ence pub­lic opin­ion, encour­age grass­roots action and cre­ate polit­i­cal change. But to do so media out­lets and media-focused orga­ni­za­tions need three things: sup­port from each oth­er, invest­ment in core jour­nal­is­tic efforts, and a strat­e­gy for mov­ing into new dig­i­tal media that facil­i­tate rapid response ini­tia­tives and audi­ence interaction.
"We're try­ing to rede­fine who we are to reach the audi­ence of the 21st cen­tu­ry," Katz says. ​"Pro­gres­sive media is to the pro­gres­sive audi­ence as clas­sic rock is to the radio audi­ence. We know we can do bet­ter and we know peo­ple are look­ing for good jour­nal­ism and a pro­gres­sive point of view. We're also look­ing at the plat­forms in which peo­ple are get­ting their infor­ma­tion. Tech­nol­o­gy is chang­ing and we need to change with it."
Jan Schaf­fer, a pro­fes­sor of jour­nal­ism at the Uni­ver­si­ty of Mary­land, told a con­fer­ence of edi­tors in Octo­ber 2004, ​"The poten­tial of new media is not sim­ply more noise – but infor­ma­tion expe­ri­ences and mean­ing­ful inter­ac­tion – and even, I would sug­gest, entire­ly new kinds of civic participation."
Media is the movement
Rein­vent­ing pro­gres­sive media is an uphill bat­tle. Pro­gres­sives are com­pet­ing against a ruth­less right-wing media machine and a dom­i­nant com­mer­cial media sec­tor that has honed audi­ence-dis­trac­tion tactics.
Many new pro­gres­sive media projects have arisen in direct response to the dom­i­nance of the right's media appa­ra­tus. As Rob Stein, David Brock and Eric Alter­man, among oth­ers, have doc­u­ment­ed, right-wing fun­ders and ide­o­logues have over the past three decades cre­at­ed their own suc­cess­ful cadre of media and mes­sag­ing orga­ni­za­tions, from think tanks to mag­a­zines to radio and tele­vi­sion out­lets. They have infil­trat­ed the main­stream media, ral­ly­ing con­ser­v­a­tives across the country.
"What con­ser­v­a­tives thus enjoy," writes Paul Wald­man in Being Right is Not Enough: What Pro­gres­sives Must Learn from Con­ser­v­a­tive Suc­cess, ​"is a wide-rang­ing, mul­ti­me­dia appa­ra­tus that when tapped will vibrate like a gigan­tic tun­ing fork."
In response to this dis­tor­tion of the pub­lic debate, many media activists have focused on the prob­lems of the main­stream com­mer­cial media. After the Telecom­mu­ni­ca­tions Act of 1996 gut­ted reg­u­la­to­ry lim­its on media own­er­ship, pol­i­cy reform orga­ni­za­tions like Free Press and the Cen­ter for Inter­na­tion­al Media Action orga­nized pub­lic cam­paigns against media con­sol­i­da­tion. Mon­i­tor­ing groups, like Media Mat­ters for Amer­i­ca, Fair­ness and Accu­ra­cy in Report­ing (FAIR), and Women in Media and News (WIMN) serve as watch­dogs, alert­ing their mem­bers and the media to inac­cu­ra­cies, con­ser­v­a­tive bias, sex­ism and racism in both news and enter­tain­ment programming.
Book­ing and dis­tri­b­u­tion orga­ni­za­tions like the Insti­tute for Pub­lic Accu­ra­cy and the Main­stream Media Project act as media liaisons, attempt­ing to fun­nel pro­gres­sive activists, aca­d­e­mics and pun­dits into the main­stream media. Most recent­ly, pro­gres­sive ​"fram­ing" efforts and think tanks like the Cen­ter for Amer­i­can Progress have used their research to shape mes­sages that define and pro­mote pro­gres­sive val­ues to a wider audience.
Such media activism is cru­cial to reshap­ing the country's media land­scape. But point­ing out the flaws in the main­stream media is not enough.
Pro­gres­sive media out­lets are crit­i­cal agents of social change. Pro­gres­sive mag­a­zines and books pro­vide the research and long-range analy­sis need­ed to sup­port polit­i­cal move­ments. Radio and tele­vi­sion human­ize a sto­ry and bring it to a mass audi­ence. And blogs have now begun to serve as a pow­er­ful rapid response system.
The Media Con­sor­tium pro­vides for­mal and infor­mal sup­port to pro­gres­sive media-mak­ers and is dis­tin­guished as much by its cross-media approach as it is by its com­mit­ment to build­ing a pro­gres­sive movement.
Despite good inten­tions, how­ev­er, such efforts can get com­pli­cat­ed. At one of The Media Consortium's brain­storm­ing ses­sions, a scrawled ques­tion on a flip board summed up what was on the mind of many: ​"Who's in, who leads, and who gets $?"
Who's in, who's out
Like much of the pro­gres­sive move­ment, media orga­ni­za­tions have his­tor­i­cal­ly devel­oped in iso­la­tion or com­pe­ti­tion with one anoth­er. They thrive on debate. Con­se­quent­ly, a uni­fied pro­gres­sive nar­ra­tive has not devel­oped. An influ­en­tial con­tin­gent of self-iden­ti­fied pro­gres­sives main­tains that this must change. They argue that frac­tur­ing media and activism into sin­gle-issue ​"silos" pulls fund­ing and ener­gy away from the build­ing of a larg­er pro­gres­sive media movement.
"An open­ing now exists, as it hasn't in a very long time, for the Democ­rats to be the vision­ar­ies," writes Michael Tomasky, the edi­tor of The Amer­i­can Prospect, in the magazine's May 3 issue. ​"To seize this moment, the Democ­rats need to think dif­fer­ent­ly – to stop focus­ing on their grab bag of small-bore pro­pos­als that so often seek not to offend and that accept con­ser­v­a­tive terms of debate. And to do that, they need to begin by look­ing to their his­to­ry, for in that his­to­ry there is an idea about lib­er­al gov­er­nance that amounts to more than the mil­lion-lit­tle-pieces, inter­est-group approach to pol­i­tics that has recent­ly come under deserved scruti­ny and that can clear­ly offer the most com­pelling pro­gres­sive response to the rad­i­cal indi­vid­u­al­ism of the Bush era."
Such state­ments set off alarm bells for the groups being dis­missed as ​"spe­cial inter­ests." Too often, pro­gres­sive writ­ers and pun­dits believe that because they are ​"enlight­ened" about issues such as racism, sex­ism and every­thing else, they have the exper­tise to be the pub­lic voic­es on those issues. Yet this argu­ment miss­es the fact that com­mu­ni­ties invest­ed in spe­cif­ic issues often respond best to mes­sages inter­nal to their own cul­ture and com­mu­ni­ties. This does not mean that media always has to be seg­re­gat­ed by cause or audi­ence, but cul­tur­al aware­ness is impor­tant when pro­gres­sives attempt to inte­grate dif­fer­ent voic­es and per­spec­tives into the movement.
Oth­er media activists resist top-down infra­struc­ture build­ing alto­geth­er, find­ing the project of adopt­ing com­mer­cial forms and tac­tics for their media projects anti­thet­i­cal to their mis­sion of empow­er­ing the dis­en­fran­chised and cri­tiquing cap­i­tal­ist cul­ture. Instead they advo­cate teach­ing these com­mu­ni­ties to cre­ate their own media. ​"Unless we do that, we're not going to be shift­ing pow­er, which is what social jus­tice is about," says Aliza Dichter of the Cen­ter for Inter­na­tion­al Media Action.
Hon­or­ing diver­si­ty and sup­port­ing demo­c­ra­t­ic par­tic­i­pa­tion are cen­tral to the pro­gres­sive project. In order to suc­ceed, mem­bers of the pro­gres­sive media net­work must devel­op bet­ter chan­nels of com­mu­ni­ca­tion between issue-spe­cif­ic move­ments and the media out­lets attempt­ing to artic­u­late the larg­er pro­gres­sive vision.
This is exact­ly what the right did, argue Jean Hardis­ty and Deep­ak Bhar­ga­va in a fall 2005 Nation arti­cle, ​"Wrong About the Right." ​"There is no mono­lith­ic ​'con­ser­v­a­tive' move­ment but rather a pletho­ra of ide­olo­gies suc­cess­ful­ly har­nessed togeth­er in a grand coali­tion. The impli­ca­tion for pro­gres­sives is that we ought to tol­er­ate a diver­si­ty of views and think strate­gi­cal­ly about how to align them to com­mon pur­pose rather than seek a homo­gene­ity we false­ly ascribe to conservatives."
Mod­els for success
While cru­cial coor­di­na­tion takes shape, such efforts are hin­dered by the fact that most pro­gres­sive media projects remain small and under­fund­ed. Large-scale foun­da­tion fund­ing for media projects has his­tor­i­cal­ly been fun­neled to pub­lic media such as PBS and NPR, or to issue-ori­ent­ed media cam­paigns. In recent years, fun­ders have become enam­ored with new tech­nol­o­gy ini­tia­tives. Foun­da­tions have avoid­ed direct­ly sup­port­ing overt­ly polit­i­cal inde­pen­dent media out­lets. The right has no such qualms, under­stand­ing that pro­vid­ing gen­er­al oper­at­ing sup­port strength­ens media out­lets, allow­ing them to invest in cir­cu­la­tion, mar­ket­ing and new technology.
Polit­i­cal­ly com­mit­ted fun­ders must work with and sup­port media orga­ni­za­tions to devel­op busi­ness mod­els that can suc­ceed in the long run. Pro­gres­sive media infra­struc­ture can­not exist with­out media orga­ni­za­tions. A table will not stand with­out legs.
See­ing non­prof­its con­tin­ue to strug­gle, a new gen­er­a­tion of pro­gres­sive media projects has begun to exper­i­ment with pri­vate-sec­tor busi­ness mod­els, with vary­ing lev­els of suc­cess. Such out­lets oper­ate with what fun­ders call a ​"dou­ble bot­tom line." The Investors' Cir­cle, an orga­ni­za­tion that match­es fun­ders and finan­cial insti­tu­tions with social­ly respon­si­ble projects, explains how this works:
Main­stream media com­pa­nies oper­ate with­in both an intense­ly com­pet­i­tive indus­try and the unfor­giv­ing con­ven­tion­al finan­cial mar­kets. … [but] both phil­an­thropic and pri­vate mar­ket finan­cial enti­ties are increas­ing­ly pay­ing atten­tion to niche media that attend to both the finan­cial bot­tom line and social impact.
Pro­gres­sive media out­lets have also start­ed look­ing to their com­mer­cial coun­ter­parts, like the Wash­ing­ton Post Com­pa­ny, for clues about how to ampli­fy sto­ries. In addi­tion to the flag­ship news­pa­per, the cor­po­ra­tion owns Newsweek, the Post-Newsweek fam­i­ly of tele­vi­sion sta­tions, the CableOne sys­tems that pro­vide Inter­net ser­vices to sub­scribers in sev­er­al states, and an online pub­lish­ing sub­sidiary, Wash­ing­ton­post.Newsweek Inter­ac­tive, which man­ages Wash​ing​ton​Post​.com, Newsweek.com, Slate​.com and Bud­get Trav­el Online. Own­ing these cross-media prop­er­ties allows the com­pa­ny to pro­mote prod­ucts and sto­ries across a vari­ety of plat­forms, a strat­e­gy known as ​"ver­ti­cal integration."
Many crit­ics have not­ed that such inte­gra­tion involves con­sol­i­da­tion that com­mer­cial­izes and dumbs down the media. In the pro­gres­sive media sec­tor, how­ev­er, ver­ti­cal inte­gra­tion oper­ates not through own­er­ship, but through organizing.
By link­ing up with each oth­er, media out­lets can cross-pro­mote, reach new audi­ences and build momen­tum around an issue. The bat­tle over net­work neu­tral­i­ty, detailed in the map on page 25, is one cur­rent exam­ple of the pow­er of the bud­ding pro­gres­sive media net­work. This cam­paign cre­at­ed a groundswell of cov­er­age around a pol­i­cy issue that would have oth­er­wise passed unnoticed.
View a spe­cial inter­ac­tive ver­sion of the pro­gres­sive media map dis­cussed in this article.
Sim­i­lar­ly, the pro­gres­sive media net­work has come togeth­er to pro­mote blog­ger and attor­ney Glenn Greenwald's new book, How Would a Patri­ot Act? This first book by Work­ing Assets Pub­lish­ing, released in May, rep­re­sents an exper­i­ment in rapid-response pub­lish­ing and grass­roots pro­mo­tion. Con­ser­v­a­tive pub­lish­ers, like Reg­n­ery Pub­lish­ing, have made a mint and gen­er­at­ed a wave of ​"experts" by aggres­sive­ly pro­mot­ing their books, like Ramesh Ponnuru's The Par­ty of Death: The Democ­rats, the Media, the Courts, and the Dis­re­gard for Human Life, to the con­ser­v­a­tive base via right-wing media. They side­step the main­stream book reviews and mar­ket their books like polit­i­cal cam­paigns. Mar­jo­ry G. Ross, Regnery's pub­lish­er, told the Philadel­phia Inquir­er, ​"We don't real­ly care about reviews because we want sparks to fly. That's much eas­i­er on radio and TV than in print."
Brought to mar­ket in just 12 weeks How Would a Patri­ot Act? hit the top of the Ama­zon charts before it was even pub­lished and debuted on the New York Times best­seller list in ear­ly June. The book was pushed by many pro­gres­sive blogs, but old­er pro­gres­sive media, how­ev­er, are still a bit hes­i­tant to jump into the fray. ​"It's been like pulling teeth try­ing to get pro­gres­sive media out­lets to pay atten­tion to the book," Green­wald says.
Adopt­ing the inte­gra­tion mod­el, Robert Green­wald, the direc­tor of Wal-Mart: The High Cost of Low Price Liv­ing, is pio­neer­ing a new mod­el for dis­trib­ut­ing doc­u­men­tary films through grass­roots chan­nels. Jour­nal­ists like Farai Chideya, pun­dits like Al Franken, come­di­ans like Janeane Garo­fa­lo, aca­d­e­mics like Juan Cole and politi­cians like Al Gore have become mul­ti­me­dia mas­ters, spread­ing their ideas through pro­gres­sive and com­mer­cial print media, radio, online out­lets, books, tele­vi­sion appear­ances and speak­ing engagements.
Col­lab­o­ra­tions among mem­bers of the media net­work can take many forms. Media out­lets with a tra­di­tion­al jour­nal­is­tic mis­sion may pre­fer to con­fine their work with oth­er pub­li­ca­tions to syn­di­ca­tion and cross-pro­mo­tion. More overt­ly polit­i­cal media projects have already moved to merge con­tent pro­duc­tion with grass­roots orga­niz­ing. The Year­lyKos con­fer­ence, which takes place as this issue goes to press, exem­pli­fies this trend. Orga­nized by the read­ers and diarists at the pop­u­lar pro­gres­sive blog, Dai­lyKos, observers have said this could be a water­shed moment for the ​"net­roots."
The next frontier
All stripes of media are attempt­ing to con­nect with the grow­ing broad­band audi­ences. The change is ​"hap­pen­ing in every media sec­tor, tele­vi­sion, motion, sound media" says Peter Ledyen, direc­tor of the think tank New Pol­i­tics Insti­tute. He iden­ti­fies the most recent tip­ping point as Sep­tem­ber 2005, when news about Apple's video iPods began to make the rounds. News of this new plat­form sparked a wave of invest­ment into broad­band con­tent like short films and news clips. Ever since, Ley­den says, it has been ​"a head­long, pell-mell, dizzy kind of rush. It's very excit­ing and quite scary."
He notes that pro­gres­sives have an advan­tage in this new envi­ron­ment. The major­i­ty of the peo­ple at the front end of these new tech­nolo­gies have a pro­gres­sive world­view and inhab­it the coastal blue cities and urban hubs. ​"Com­pa­nies inno­vat­ing in this space are often run by out-and-out avowed pro­gres­sive types," he says.
Take ​"The Young Turks," a trio of lib­er­al radio hosts that can be heard on Sir­ius Satel­lite Radio and on the Web. They are pio­neer­ing the next fron­tier of online broad­cast­ing. After a failed attempt to get MSNBC to pick up their radio show as a lib­er­al TV show, the Young Turks went a dif­fer­ent route. With the sup­port of investors they bought dig­i­tal cam­eras and rent­ed stu­dio space. As the Los Ange­les Times report­ed, ​"In mid-Decem­ber, they began stream­ing their three-hour show every week­day on their web­site … billing it as the first live Inter­net talk show," writes Matea Gold. ​"In the process, they've helped pio­neer the rapid­ly devel­op­ing field of online pro­gram­ming – from web­casts to video pod­casts and vlogs (the video ver­sion of a blog) – now deliv­er­ing con­tent that tra­di­tion­al­ly would have had to sur­vive the tele­vi­sion devel­op­ment sea­son and pass the muster of net­work exec­u­tives to find an audience."
"The Young Turks" are part of an explo­sion of efforts to bypass net­work and cable chan­nels and devel­op pro­gres­sive con­tent for emerg­ing satel­lite, dish and dig­i­tal broad­cast plat­forms. Oth­er efforts include more estab­lished broad­cast­ers like Link­TV and Free Speech TV, online projects like Pol­i­tic­sTV and The Real News, an effort to estab­lish a pro­gres­sive cable channel.
Tra­di­tion­al media – print, radio and tele­vi­sion – are strug­gling to bal­ance stay­ing true to the tenets of jour­nal­ism, with reach­ing new audi­ences with inter­ac­tive fea­tures and, in some cas­es, the ide­o­log­i­cal­ly aggres­sive tone that has come to char­ac­ter­ize much of the main­stream news environment.
This rapid tech­no­log­i­cal evo­lu­tion is chal­leng­ing print pub­lish­ers. But, as Ari­an­na Huff­in­g­ton writes in a recent blog post on Huff​in​g​ton​post​.com, ​"It's not an either-or propo­si­tion. Despite drops in cir­cu­la­tion, print mag­a­zines are not going the way of the dodo bird (indeed, there are over 5,000 more mag­a­zine titles on sale now than there were in 1988) – and the 75,000 new blogs appear­ing every day won't be the death knell of Big Media. Instead, if the main­stream media play their cards right, the new media could pro­vide a trans­fu­sion of ener­gy, pas­sion, and imme­di­a­cy that will alter – and ulti­mate­ly save – them. Pro­vid­ed they keep adapt­ing to the chang­ing tech­nolo­gies – and, more impor­tant­ly, the chang­ing audi­ence." The same can be said for the pro­gres­sive media.
In order to flour­ish, pro­gres­sive media mak­ers must under­stand and pur­sue this new online audi­ence, as the rise of the polit­i­cal blo­gos­phere attests. Yet even the blog­gers must con­tend with the hege­mo­ny of the main­stream media.
In ​"The Tri­an­gle: The Lim­its of Blog Pow­er" on Salon​.com, Peter Daou writes, ​"Sim­ply put, with­out the par­tic­i­pa­tion of the media and the polit­i­cal estab­lish­ment, the net­roots alone can­not gen­er­ate the crit­i­cal mass nec­es­sary to alter or cre­ate con­ven­tion­al wis­dom … That is not to say that blogs can't be the first to draw atten­tion to an issue, as they often do, but the half-life of an online buzz can be mea­sured in days and weeks, and even when a sto­ry has enough net­roots momen­tum to float around for months, it will have lit­tle effect on the wider pub­lic dis­course with­out the oth­er sides of the tri­an­gle in place."
While pro­gres­sive blog­gers focus on the dai­ly news grind, oth­er pro­gres­sive media play a dif­fer­ent, but equal­ly impor­tant, role. Pro­gres­sive out­lets report­ed on the lies of the Bush admin­is­tra­tion and the atroc­i­ties in Dar­fur months before these became main­stream news sto­ries. And they chron­i­cled the hid­den des­per­a­tion of poor Amer­i­cans – long before Kat­ri­na, which made Ander­son Coop­er famous for notic­ing the ​"news" that was all around him.
This sta­t­ic tri­an­gle of the belt­way, the blog­gers and the big boys of cable TV will not shift the debate. It will take a vibrant net­work of pro­gres­sive media out­lets, reporters, artists, grass­roots orga­niz­ers, politi­cians, researchers, celebri­ties, activists, think tanks and cit­i­zens work­ing in concert.
Con­nec­tions still to be made
With two and a half years left in the Bush pres­i­den­cy and the mid-term elec­tions loom­ing, pro­gres­sives have begun devel­op­ing a net­work that can ele­vate pro­gres­sive ideals and experts into the main­stream, as well as media ini­tia­tives that reach crit­i­cal new audi­ences. But is that enough? Alter­Net Exec­u­tive Edi­tor Don Hazen not­ed in a recent arti­cle, ​"The emerg­ing media ele­ments, as feisty and effec­tive as they are, don't yet add up to an over­all media vision and infra­struc­ture. Much of the new pro­gres­sive media capac­i­ty is reac­tive, lack­ing the abil­i­ty to effec­tive­ly frame a vision for the future."
In order to shape the news instead of respond­ing to it, pro­gres­sive orga­ni­za­tions and media out­lets still need pipelines for mov­ing sto­ries, reporters and experts into each other's out­lets, as well as into agen­da-set­ting media like ​"Meet the Press."
While groups like the Insti­tute for Pub­lic Accu­ra­cy pro­mote pro­gres­sive experts and aca­d­e­mics to the main­stream media, no orga­ni­za­tions are doing the same for the inde­pen­dent jour­nal­ists and ana­lysts. Pro­gres­sives must devel­op and fund the next lev­el of infra­struc­ture to accom­plish this. One idea worth dis­cussing is the cre­ation of a nation­al pro­gres­sive book­ing agency.
It is also time to har­ness pro­gres­sive con­tent through a nation­al syn­di­ca­tion ser­vice that will con­nect to oth­er media out­lets, includ­ing cam­pus news­pa­pers, the eth­nic media and local opin­ion pages. Projects such as Fea​tureWell​.com and the Pro­gres­sive Media Project do place pro­gres­sive con­tent into main­stream out­lets, but this has not been sup­port­ed on a large scale.
The reporters, pun­dits and blog­gers on the front lines of polit­i­cal debate need to forge stronger ties to the think tanks and orga­ni­za­tions that pro­vide the facts and research need­ed to make a case for pro­gres­sive change. The Cen­ter for Amer­i­can Progress has made great strides in this area, as has the New York-based Drum Major Insti­tute (DMI), which has revamped its oper­a­tions to focus on com­mu­ni­cat­ing its find­ings to the a wider audi­ence. ​"We have a say­ing here," says Elana Levin, DMI's direc­tor of com­mu­ni­ca­tions. ​"If a report wasn't read, it wasn't writ­ten." As part of its strat­e­gy, DMI requires its fel­lows to blog, a per­fect exam­ple of bridg­ing old and new com­mu­ni­ca­tion models.
All of these strate­gies must work in tan­dem, con­nect­ing exist­ing insti­tu­tions with the evolv­ing 21st cen­tu­ry audi­ence, there­by reach­ing peo­ple who pre­vi­ous­ly only had access to main­stream news.
"What's changed in the last five years is that the peo­ple who used to be called the audi­ence are now co-par­tic­i­pants in cre­at­ing the news," says Mic­ah Sifry, exec­u­tive edi­tor of the Per­son­al Democ­ra­cy Forum, a Web site that explores the inter­sec­tion of tech­nol­o­gy and pol­i­tics. ​"Pro­gres­sive media as a whole has become pro­found­ly more small‑d demo­c­ra­t­ic, open and participatory."
And all that gives pro­gres­sive media the chance to find larg­er audi­ences than ever before. ​"The play­ing field has been lev­eled between so-called main­stream and so-called alter­na­tive media," says Sifry. ​"I recent­ly heard Amy Good­man brag that her ​'Democ­ra­cy Now!' pod­cast has as many sub­scribers on iTunes as Tim Russert's ​'Meet the Press.' Sure­ly that tells us that the old notion of cre­at­ing an ​'alter­na­tive' media in oppo­si­tion to the ​'main­stream' has become mean­ing­less. At a time when any­one can find any arti­cle or report from almost any news out­let in the world direct­ly and instan­ta­neous­ly, it makes lit­tle sense to mar­gin­al­ize our­selves as ​'alter­na­tive.'"
It's impor­tant to stay abreast of new media oppor­tu­ni­ties, but adopt­ing and shift­ing into these new forms won't be enough. In order to break through the din, mem­bers of the pro­gres­sive media net­work will have to pro­duce report­ing and polit­i­cal enter­tain­ment that is sur­pris­ing, imme­di­ate, fac­tu­al and nuanced, using all of the tools at its dis­pos­al: col­lab­o­ra­tion, activism, aes­thet­ics, humor, and a deep under­stand­ing of the pow­er that pro­gres­sive val­ues and his­to­ry have to inspire.
Bill Moy­ers recent­ly told a meet­ing of pub­lic broad­cast­ers, ​"One rea­son we get such pale and unques­tion­ing jour­nal­ism in Amer­i­ca is that skep­ti­cism and irrev­er­ence toward the pre­rog­a­tives of pow­er and priv­i­lege are exact­ly what cor­po­rate media moguls don't want from the jour­nal­ists who work for them."
Skep­ti­cism and irrev­er­ence, along with a com­mit­ment to the val­ues of free speech, social jus­tice, envi­ron­men­tal con­ser­va­tion and equal oppor­tu­ni­ties for all, are what the 21st cen­tu­ry audi­ence is hun­gry for. It's time for pro­gres­sive media mak­ers to seize the moment.
View a spe­cial inter­ac­tive ver­sion of the pro­gres­sive media map dis­cussed in this article.
Jes­si­ca Clark
is a for­mer exec­u­tive edi­tor of
In These Times
and direc­tor of the Future of Pub­lic Media Project at Amer­i­can Uni­ver­si­ty's Cen­ter for Social Media.
Tra­cy Van Slyke
, a for­mer pub­lish­er of
In These Times
, is project direc­tor of The Media Con­sor­tium and co-edi­tor of
buildthee​cho​.net
. Clark and Van Slyke are the co-authors of
Beyond the Echo Cham­ber: Reshap­ing Pol­i­tics Through Net­worked Pro­gres­sive Media
(
2010
, New Press)