Right-to-Work in Michigan: Not as Repeal-Proof as Republicans Think It Is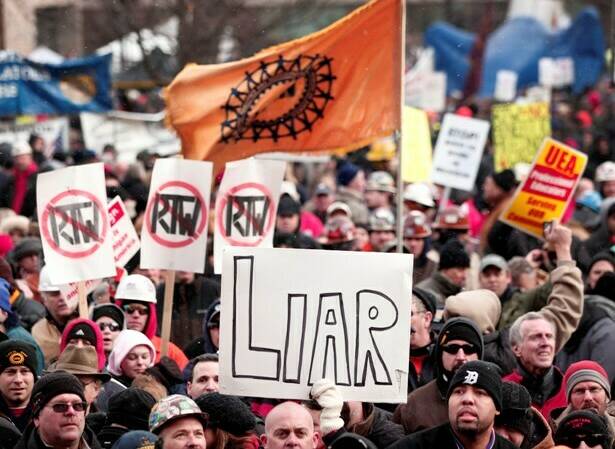 Union activists have been amass­ing out­side the Capi­tol in Lans­ing, Michi­gan, this morn­ing in hopes that hell might freeze over and a pair of right-to-work bills would fail. The num­ber of pro­test­ers has reached an esti­mat­ed 10,000 so far, fill­ing the Capi­tol and flood­ing East Michi­gan Ave. for sev­er­al blocks. In fact, class­es were can­celled for 26,000 Michi­gan stu­dents today because their teach­ers called in sick or took vaca­tion days in order to attend the protest.
Despite the stri­dent ral­ly­ing, it was announced this morn­ing that the first bill, which allows pub­lic work­ers to opt out of pay­ing union fees even though they ben­e­fit from col­lec­tive bar­gain­ing, had passed by a vote of 58 to 51. And with­in hours, a sec­ond right-to-work bill cov­er­ing pri­vate employ­ees passed by a vote of 58 to 52.
The Repub­li­can-con­trolled House rushed to com­plete the vote while the 13 lame duck Repub­li­cans who will leave their seats next year were still in office. It was pro­ject­ed that the bill would have failed had the vote been post­poned until after Jan­u­ary, when the House struc­ture shifts from its cur­rent 64 Repub­li­cans and 46 Democ­rats to 59 Repub­li­cans and 51 Democrats.
The oppo­si­tion to the bill is over­whelm­ing: Thou­sands of pro­test­ers booed as the results were announced, six Repub­li­cans unit­ed with the Democ­rats to vote against it, and Lansing's coun­cil and may­or have open­ly dis­ap­proved of the leg­is­la­tion. Oba­ma denounced it as well, say­ing the bill gives work­ers ​"the right to work for less money."
Nev­er­the­less, these laws may prove dif­fi­cult to over­turn. The right-to-work leg­is­la­tion was attached to an appro­pri­a­tions bill, which pro­tects it from ref­er­en­dum under state law. Rep­re­sen­ta­tive Gary Peters (D‑Mich) sug­gests that Gov­er­nor Rick Sny­der could use his pow­er of line-item veto to strike the $1 mil­lion appro­pri­a­tion, thus sign­ing the bill into law but leav­ing it eli­gi­ble to be placed on the bal­lot. But that doesn't seem like­ly, con­sid­er­ing that the gov­er­nor, who pre­vi­ous­ly denounced right-to-work, flip-flopped and added it to his agen­da due to pres­sure from bil­lion­aire CEOs. Sny­der is expect­ed to sign the bill straight away.
Union orga­niz­ers, how­ev­er, say the leg­is­la­tion can still be undone. There are four meth­ods under Michi­gan state law through which a pro­pos­al can be placed on the bal­lot. While a leg­isla­tive ref­er­en­dum can­not be used to chal­lenge right-to-work, the Cit­i­zens Research Coun­cil of Michi­gan reveals that cit­i­zens could still launch a statu­to­ry ini­tia­tive, though this requires more sig­na­tures. In order to do this, orga­niz­ers would have to file peti­tions con­tain­ing sig­na­tures of reg­is­tered vot­ers equal to at least eight per­cent of the votes cast in the last elec­tion for gov­er­nor. Even if the leg­is­la­ture rejects the ini­tia­tive, it would go on the bal­lot for 2014 gen­er­al election.