Bikini's Tragic Heritage
The world's most atomic atoll is recognized by the UN.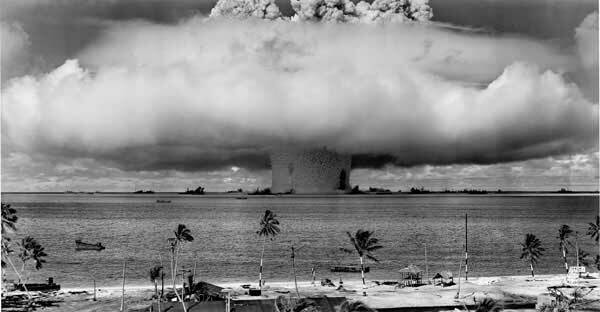 In dubi­ous hon­or of its unique role in 20th cen­tu­ry his­to­ry, on August 1 UNESCO declared the Biki­ni Atoll Nuclear Test Site a ​"World Her­itage" site. Both beau­ti­ful and his­tor­i­cal­ly sig­nif­i­cant, the atoll – part of the Mar­shall Islands arch­i­pel­ago in the North Pacif­ic Ocean – was named a her­itage cul­tur­al site ​"for the role that tests of atom­ic weapons at Biki­ni played in shap­ing glob­al cul­ture in the sec­ond half of the 20th Century."
It was the first time the UN's Edu­ca­tion, Sci­en­tif­ic and Cul­tur­al Orga­ni­za­tion has so hon­ored the Mar­shall Islands. But Bikini's new title is like­ly small com­fort for Mar­shall islanders affect­ed by the test­ing, includ­ing the small sur­viv­ing Bikin­ian com­mu­ni­ty, which vol­un­tar­i­ly left its home in 1946 after being told by a U.S. mil­i­tary gov­er­nor that nuclear test­ing there would con­tribute to world peace.
The UN declared the Mar­shall Islands a trust of the Unit­ed States in 1947, a move ​"intend­ed to pro­mote the wel­fare of the native inhab­i­tants and to advance them toward self gov­ern­ment." But even before trustee­ship, the Unit­ed States began to use the Mar­shall Islands as a prov­ing ground for nuclear weapons. From June 1946 to August 1958, 67 nuclear tests were con­duct­ed there.
The most pow­er­ful bomb det­o­nat­ed on the islands was the hydro­gen bomb ​"Bra­vo," on March 1, 1954. Esti­mat­ed to pro­duce around four mega­tons of pow­er, it unex­pect­ed­ly pro­duced 15 mega­tons, an impact equiv­a­lent to 1,000 Hiroshi­ma bombs. In shift­ing winds, the fall­out from the huge explo­sion reached the inhab­it­ed islands of Ron­gerik, Ron­ge­lap and Utirik, more than 100 miles to the east. Con­t­a­m­i­nat­ing more than 7,000 square miles of the Pacif­ic Ocean with radi­a­tion, fall­out from the blast also reached Aus­tralia, India and Japan. Ocean cur­rents car­ried the radioac­tive fall­out north­west, where the crew of the Japan­ese fish­ing boat Lucky Drag­on Num­ber 5 suf­fered radioac­tive poi­son­ing result­ing in the death of one fisherman.
But the great­est tragedy struck the heav­i­ly radi­at­ed north­ern Mar­shall Islands. In Novem­ber 1995, Mar­shall Islander Lijon Ekni­lang appeared before the Inter­na­tion­al Court of Jus­tice (ICJ) in The Hague and gave this chill­ing first-hand account of the effects of nuclear test­ing in the Pacif­ic: ​"Women have expe­ri­enced many repro­duc­tive can­cers and abnor­mal births … In pri­va­cy, they give birth, not to chil­dren as we like to think of them, but to things we could only describe as ​'octo­pus­es,' ​'apples,' [and] ​'tur­tles,' " Lijon said, who her­self has had sev­en mis­car­riages and no live births.
"The most com­mon birth defects … have been ​'jel­ly­fish' babies. These babies are born with no bones in their bod­ies and with trans­par­ent skin," she con­tin­ued. ​"Many women die from abnor­mal preg­nan­cies, and those who sur­vive give birth to what looks like pur­ple grapes, which we quick­ly hide away and bury."
Lijon plead­ed that what she and oth­er islanders have suf­fered nev­er be repeat­ed. As Alyn Ware not­ed in SGI Quar­ter­ly, the ICJ con­clud­ed that nuclear weapons ​"are unique in their destruc­tive poten­tial, that their impact can­not be con­tained in time or space, and that there is a uni­ver­sal oblig­a­tion to abol­ish such weapons."
Of course, this has yet to hap­pen. In fact, Bikini­ans haven't even been ful­ly com­pen­sat­ed for the dam­age and dis­place­ment caused by nuclear test­ing. The Nuclear Claims Tri­bunal, a body des­ig­nat­ed by the gov­ern­ments of the U.S. and Mar­shall Islands to deter­mine com­pen­sa­tion owed, award­ed them $563 mil­lion in 2001, but as the tri­bunal points out, funds made avail­able by the Unit­ed States are ​"man­i­fest­ly inad­e­quate." In 2006, Bikini­ans sued the U.S. gov­ern­ment for most of that mon­ey, but in April 2010 the U.S. Supreme Court refused to hear the lawsuit.
While the small num­ber of tourists who now trek to Biki­ni Atoll may be charmed by its coconut palms and fas­ci­nat­ed by the ships that Bra­vo sank in its lagoons, we must not for­get the suf­fer­ing of Mar­shall Islanders. It is up to us to see that ongo­ing nuclear dis­ar­ma­ment and abo­li­tion efforts ensure that Bikini's trag­ic her­itage remains unique.
Peter Cohen
, an artist, writer and activist, has been work­ing to abol­ish the bomb for more than
50
years. His web­site is at nuke​free​world​.com.