Sorkin's Binders Full of (Incompetent) Women
The Newsroom relives Election Night 2012, minus the boring political stuff.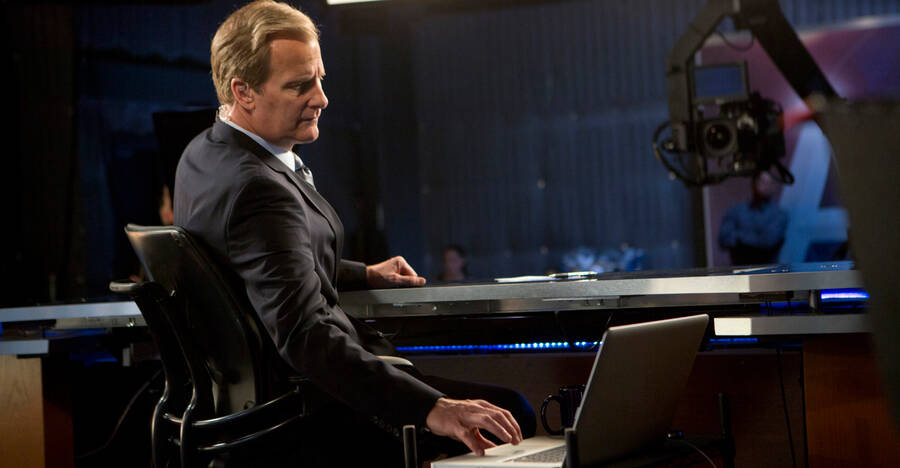 Well, we're back. The thrilling Genoa plot line has con­clud­ed. News Night with Will McAvoy has been brought low. Neal's wan­ton intern-slay­ing has been revealed. And the stakes have nev­er been high­er for the News Night crew, who must regain the shat­tered trust of the Amer­i­can pub­lic, with feats hereto­fore unimag­ined in the realm of TV Jour­nal­ism. For tru­ly, each fine man and woman of this crew is called by a force high­er than them­selves to Report the News, and Report the News they…
Emily Mortimer is wearing 0.06% less makeup than usual, which connotes, in TV world, the bleakest reaches of despair. Also, her hair's a little flat.
Oh, this episode is about Mac get­ting mad at her Wikipedia entry? Okay, then.
Now that the Genoa plot­line, with its sem­blance of nar­ra­tive momen­tum, has been swept out of the way — note: To recre­ate the nar­ra­tive momen­tum of the Genoa plot­line at home, enlist your friends to stage a dra­mat­ic read­ing of the Wikipedia entry for ​"Oper­a­tion Tail­wind;" this neat trick can add a wel­come ele­ment of dra­mat­ic ten­sion to stag­nant din­ner par­ties, fam­i­ly reunions, or an espe­cial­ly long line at Shake Shack — Sorkin is set­tling down into his real wheel­house. His real wheel­house, of course, most­ly being wacky office hijinks and women being irra­tional­ly, unex­pect­ed­ly hor­ri­ble at their jobs.
It's Elec­tion Night 2012, and for any News­room view­er who can name the cur­rent pres­i­dent, sus­pense is run­ning remark­ably low. How­ev­er, even if the elec­tion isn't inter­est­ing to us, 10 months after the fact, it should be inter­est­ing to the char­ac­ters we're watch­ing. And yet not a soul at ACN seems to be the least bit invest­ed in which can­di­date will hold the high­est office in the nation — not even Mean Rom­ney Lady, who has recent­ly been fired by Rom­ney and who has swung by the news­room to co-host the cov­er­age and ban­ter cru­el­ly with Jim. Mean Rom­ney Lady's mean­ness incites the first bit of lady hys­te­ria of the night, when Mag­gie, who's cur­rent­ly been reduced to engag­ing in pas­sive-aggres­sive cat­fights with Hal­lie via Skype, is promised a way to get back at Jim by grab­bing a sto­ry he does­n't know about.
Specif­i­cal­ly, Mean Rom­ney Lady offers Mag­gie the chance to expose a Repub­li­can con­gres­sion­al can­di­date's claim that that women ​"cry rape" in order to score free abor­tions. And, after Sorkin spends almost four­teen entire sec­onds pay­ing lip ser­vice to the pas­sion­ate fight for repro­duc­tive jus­tice that defined the course of this Pres­i­den­tial elec­tion — mak­ing sure to have Mag­gie note the ​"pho­ny out­rage" being expressed by all those sil­ly fem­i­nists along the way — Mag­gie and Don accept an offer from the can­di­date's press flack to trade their exposé in for a bet­ter, more impor­tant, less woman‑y story.
Mean­while: Sam Water­ston is freak­ing out at the top of his lungs about how much he wants to quit. But if Sam quits, Leona will sue him. If Will quits, Leona will sue him. If Mac quits… Well, she also very much wants to quit, but can't, because Leona would sue her. But she could, con­ceiv­ably, be fired by Will, and Mac spends much of the episode beg­ging Will to do just this. In response, Will gives Mac a lit­tle speech about how much Mac loves shoes. It should be not­ed that Emi­ly Mor­timer is wear­ing 0.06% less make­up than usu­al, which con­notes, in TV world, the bleak­est reach­es of despair. Also, her hair's a lit­tle flat.
A chill wind blows. I hear, in the dis­tance, the harsh call of the raven, and the cru­el laugh­ter of hye­nas, their fanged mouths stained with the blood of a for­got­ten intern's corpse. If my News­room recap­ping skills serve me right, this means one of two things: A plot­line that revolves around Neal, or anoth­er female cast mem­ber unac­count­ably los­ing her damn mind. Lucky for me, it's both: A book sup­pos­ed­ly auto­graphed by Sloan has gone for $1,000 in a char­i­ty auc­tion, but Sloan did­n't actu­al­ly sign it, which means some­one else did sign it, which means that Neal has to find the per­son who signed it, because Sloan is just flip­ping out. In the mid­dle of elec­tion night cov­er­age. Neal, being the male — and, there­fore, ratio­nal — per­son in these scenes, points out that this is hap­pen­ing in the mid­dle of elec­tion night cov­er­age. Sloan — who is, else­where, reduc­ing sto­ries to word-sal­ad on-air and awk­ward­ly yelling about Genoa dur­ing live seg­ments, because this is her week to be dis­as­trous­ly incom­pe­tent for no appar­ent rea­son — does­n't care.
We've lost Sloan, and we've lost Mag­gie, which means we have only one reg­u­lar female char­ac­ter left to guide us through the chaos. A char­ac­ter who's been sus­pi­cious­ly make­up-free of late. A char­ac­ter whose hair, lack­ing its usu­al bounce, warns us all that she is near­ing the edge of mad­ness. We may hope; we may pray; we may try to be strong for Mac, so that Mac can be strong for us. But, sure enough, Mean Rom­ney Lady strikes again, inad­ver­tent­ly reveal­ing that Mac's Wikipedia page erro­neous­ly lists her as hav­ing gone to Oxford, rather than Cam­bridge. And there we are, with Neal fran­ti­cal­ly attempt­ing to fix the Inter­net so that Mac can stop flip­ping out, while an entire pres­i­den­tial elec­tion just sort of mur­murs around her in the back­ground. Neal can­not fix the Inter­net. Will fires Mac, as per her request, after she and her Despair Hair wan­der into his office mak­ing dark allu­sions to shoot­ing her­self in the name of hon­or. Every­thing, for the moment, is lost.
But what is that ​"real," un-abor­tion‑y sto­ry that Mag­gie's picked up? Why, it's the Petraeus scan­dal. At long last, a real mil­i­tary scan­dal to report! Sam Water­ston reacts to this by shriek­ing unto the heav­ens. Sloan and Mac, pre­sum­ably, react by try­ing to remem­ber what a ​"mil­i­tary" is, and how to ​"report" some­thing. Mag­gie responds with enthu­si­asm, pre­sum­ably dimmed some­what by the fact that hers is no longer the most impor­tant Despair Hair in the news­room. And Will responds by march­ing straight out to that news desk, sit­ting down in front of Mean Rom­ney Lady, and order­ing her to rip into him as vicious­ly and per­son­al­ly as she can.
For Will, if his iron stare and swelling sound­track are any indi­ca­tion, is about to Regain The Trust of The Amer­i­can Peo­ple — and the pro­fes­sion­al ded­i­ca­tion of Mac, and the com­mit­ment of Char­lie, and Sloan's abil­i­ty to func­tion at a mild­ly non-dis­as­trous lev­el, and pos­si­bly even Mag­gie's ear­li­er, non-depres­sive hair­cut — by get­ting yelled at in pub­lic by a lady. Clap your hands if you believe in news­cast­ers, chil­dren! You must believe! And you must believe, among oth­er things, that the most impor­tant thing about the pres­i­den­tial elec­tion of 2012 is whether Will gets his feel­ings hurt. But then, that's a pret­ty stan­dard leap of faith for The News­room.