On the Disturbing Return of Black Lung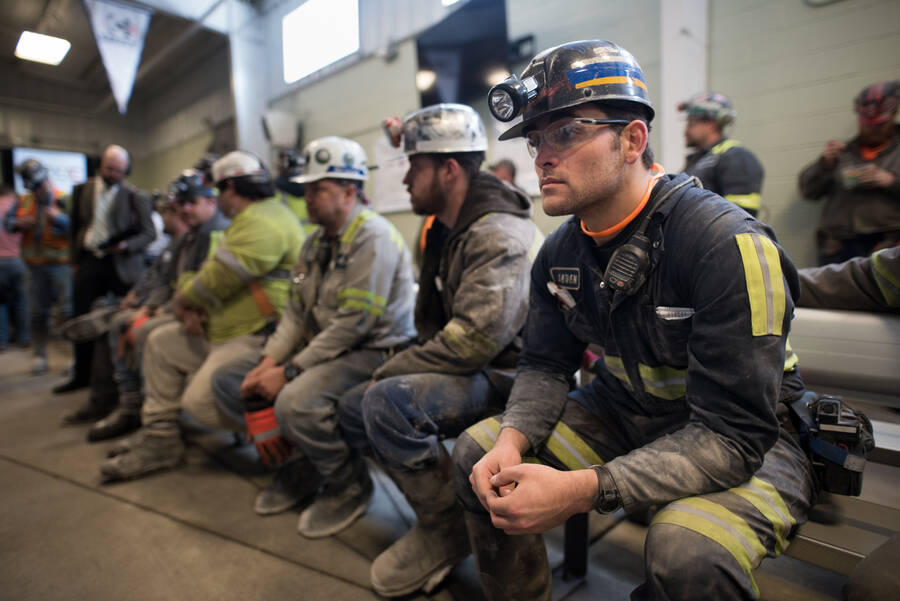 The push to revive America's coal industry has generated alarm because it is almost certain to worsen the climate crisis. But the industry also brings an immediate human cost: black lung disease. Black lung is an often fatal condition contracted by miners who breathe in coal and silica dust on the job. Rates of the disease dropped towards the end of the 20th century, thanks in part to federally mandated reductions in the amount of coal dust miners were allowed to breathe in. Now, researchers at the National Institute for Occupational Safety and Health have documented a troubling new trend: Black lung disease cases, particularly among younger miners, have risen sharply since the mid-1990s.
One chart from the group, published by the New York Times earlier in 2018, shows that in 1995 there were ​"3.7 cases per 1,000 miners." By 2015, that number had jumped to over 50 cases per 1,000 miners.
Overall, there has been a steady upsurge in the number of cases of black lung, including in its most aggressive forms. A 2018 National Public Radio report identified many reasons for the increase, including the fact that many miners are working longer hours with less time to rest and recover between shifts. Advances in mining technology have also led to the use of more powerful extraction machines that throw more toxic coal dust into the air and into the lungs of coal miners. These factors have made the coal mining regions of Appalachia the ​"epicenter of one of the worst industrial health disasters in U.S. history," according to a recent article by Kentucky lawyer, Evan Smith.
Smith advocates on behalf of coal miners through his work at the Appalachian Citizens' Law Center. Writing for the West Virginia Law Review, Smith calls the uptick in black lung cases evidence of a ​"gut-wrenching reversal of 20th century progress." Black lung disease is preventable, Smith insists, and should have gone the way of smallpox long ago. (Black lung is actually not a medical term, Smith points out, and notes that it is just one name for a host of debilitating physical conditions experienced by miners.) Although mining has always been a dangerous occupation, rates of black lung disease did drop from the 1970's until the beginning of the 21st century, thanks to improved workplace and environmental regulations.
Dangerous working conditions
Looking beyond black lung, recent incidents such as the 2010 Upper Big Branch mining disaster in West Virginia have shown that working conditions for coal miners often remain harrowingly unsafe. Portions of the Upper Big Branch mine exploded in 2010, killing 29 workers. In the aftermath, autopsies were carried out on a majority of the lungs of those killed, revealing that 71 percent of them had black lung disease, including a worker who was just 25 years old when he died. Upper Big Branch was owned then by Massey Energy, whose CEO, Don Blankenship, was sentenced to one year in prison for his role in making the mine an unsafe place to work.
One of the things that made the Upper Big Branch mine so unsafe was the fact that Blankenship had driven out the miners' union. Blankenship, who is a current U.S. Senate candidate in West Virginia as a member of the Constitution Party, ​"made it his personal campaign to break the union at the mine," according to a 2010 report by Public Radio International. This resulted in workers having to take on 12-hour shifts as one of Massey Energy's reported cost-cutting measures. What followed was a number of articles arguing, as reporters Taylor Kuykendall and Hira Fawad did in 2015, that union-staffed mines are more productive and less dangerous for workers. One key piece of Farwad and Kuykendall's evidence for this comes from safety records in 2014, when just one out of 16 work-related mining deaths occurred at a union site.
Despite Kentucky's history of worker militancy, today there are zero union mines left in the state, which is at the heart of Appalachian coal country. Still, a group called Kentuckians for the Commonwealth continues to advocate on behalf of the thousands of coal miners who work in the state. Acknowledging the rise in black lung disease among miners, the group aims to move away from relying on toxic, fossil fuel industry jobs such as coal mining.
A dying industry
A 30-year-old organization, Kentuckians for the Commonwealth was born out of a late 1970s movement that documented who was benefiting most from Kentucky's coal-rich land. (Hint: it wasn't local communities.) The group organizes workers and residents around its vision of a more inclusive, democratic society and cites direct action as one of its key strategies. Right now, a prominent feature of the group's work is called Appalachian Transition, which is built around the recognition that, despite Trump's campaign rallies, coal mining is a dying industry. The goal, according to the Kentuckians for the Commonwealth website, is to ​"support coal communities and workers as we shift away from a fossil fuel economy to one that is more sustainable and equitable."
The group criticizes the instability and inequity of the coal industry, which often results in large, non-union corporations cutting a destructive path through Kentucky's rural communities. Kentuckians for the Commonwealth shares stories of people who have reclaimed the land in the Kentucky mountains, in order to reinvest in the environment and learn 21st century skills such as restorative agricultural practices and sustainable forestry — something that has been done in other coal-producing regions in Germany. The ultimate goal is the creation of a base of grassroots power among Kentuckians, even as the state's legislature continues to align itself with corporate interests.
For proof, one has to look no further than a recent case concerning black lung disease and workers' rights. Just weeks ago, executives from the now-closed Armstrong Coal company in Owensboro, Kentucky were charged with ​"falsifying federally mandated coal dust tests designed to protect miners from incurable black lung disease," as an editorial in the Lexington Courier Journal put it. The case against Armstrong Coal was prompted by two coal miners who went public with their story in 2014, detailing the destructive impact of black lung disease on their lives. Workers felt forced into going along with the company's deceptive policies, according to news reports — a situation not unlike that in many mines, especially where union protection has been lost.
The Armstrong Coal case prompted another Kentucky newspaper's editorial board to declare that ​"coal miners' lives still matter," yet it might be hard for those seeking medical help for black lung disease in Kentucky to believe this. In July, new state laws went into effect that not only make it harder for workers hurt on the job to qualify for workers compensation, but also ​"excludes the most qualified physicians from being heard in black lung claims." When the laws were passed, Smith, of the Appalachian Citizens' Law Center, told National Public Radio that this move ​"keeps Kentucky coal miners from using highly qualified and reliable experts to prove their state black lung claims [and] looks like just another step in the race to the bottom to gut worker protections."
So, when Donald Trump and his allies wax poetic about bringing ​"clean, beautiful coal" jobs back to places like Kentucky, it seems fair to ask a simple question: at what cost?
Did you know?
Many nonprofits have seen a big dip in support in the first part of 2021, and here at In These Times, donation income has fallen by more than 20% compared to last year. For a lean publication like ours, a drop in support like that is a big deal.

After everything that happened in 2020, we don't blame anyone for wanting to take a break from the news. But the underlying causes of the overlapping crises that occurred last year remain, and we are not out of the woods yet. The good news is that progressive media is now more influential and important than ever—but we have a very small window to make change.

At a moment when so much is at stake, having access to independent, informed political journalism is critical. To help get In These Times back on track, we've set a goal to bring in 500 new donors by July 31. Will you be one of them?
Sarah Lahm is a Min­neapo­lis-based writer and for­mer Eng­lish Instruc­tor. She writes the Midwest Dispatch column for the Progressive magazine, and her work has appeared in other local and national outlets.
Here's how you can help
In These Times is funded entirely by readers like you, but through the first half of 2021, reader donations are down 20% compared to last year. If that continues, it could spell real trouble for In These Times. We're running a short fundraising drive (from now until July 31) to get things back on track. Will you chip in?