'Blood and Fire' in Honduras: An Interview with Mel Zelaya
As peace accord negotiations continue, the ousted president speaks from his Brazilian Embassy refuge.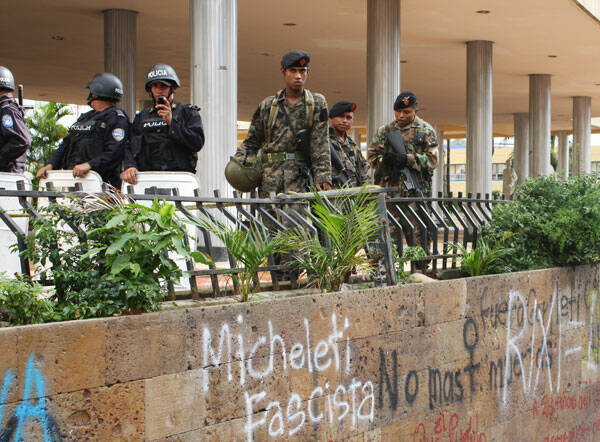 TEGU­CI­GAL­PA, HON­DURAS – In late Sep­tem­ber, oust­ed Pres­i­dent Manuel ​"Mel" Zelaya slipped back into Hon­duras and took refuge in the Brazil­ian Embassy with about six­ty sup­port­ers and his family.
Zelaya has been besieged there ever since, the com­pound sur­round­ed at all times by more than 400 sol­diers and riot police, all wait­ing to arrest him should he set foot in pub­lic. The U.N. has doc­u­ment­ed the use of chem­i­cal and son­ic weapons against those inside, and Hon­duran forces con­tin­ue to keep out vis­i­tors and the press.
A wealthy ranch­er known for his trade­mark vaque­ro hat and elo­quence, Zelaya returned to his coun­try after three months in exile. Just after dawn on June 28 of this year, the demo­c­ra­t­i­cal­ly-elect­ed leader was awak­ened by sol­diers fir­ing M16s inside his home, kid­napped and flown out of the country.
Zelaya had attempt­ed to change the face of Hon­duran soci­ety. In less than one term in office he raised the min­i­mum wage by 60 per­cent, set up finan­cial aid for stu­dents, invent­ed Hon­duran social secu­ri­ty, and imposed strict laws to com­bat ram­pant and exploitive min­ing and logging.
He even went so far as to sug­gest reform­ing the Hon­duran Con­sti­tu­tion, which per­mits a very form of weak democ­ra­cy that is eas­i­ly con­trolled by a tiny but well-fund­ed minor­i­ty of land own­ers and tex­tile tycoons. On the day Zelaya was seized by sol­diers, the first-ever pub­lic ref­er­en­dum in the his­to­ry of Hon­duras was sup­posed to take place – a non­bind­ing poll that would've let the cit­i­zen­ry vote on whether or not to go ahead with restruc­tur­ing the country's social contract.
Although those who authored the putsch have claimed that Zelaya secret­ly wished to alter the con­sti­tu­tion to extend pres­i­den­tial term lim­its, there is no evi­dence for this. Zelaya him­self nev­er spoke of such a thing, and there was no men­tion of it on the bal­lot for the pro­posed ref­er­en­dum.
In any case, imme­di­ate­ly after the putsch, the mil­i­tary-busi­ness jun­ta began a reign of ter­ror against the anti-coup forces, impos­ing mar­tial law, shut­ter­ing inde­pen­dent media, and fre­quent­ly using vio­lent meth­ods to break up peace­ful demon­stra­tions. Thou­sands have been ille­gal­ly detained by author­i­ties. At least 21 peo­ple have been killed.
Two weeks ago, U.S. Pres­i­dent Barack Oba­ma sent a team of diplo­mats down to Hon­duras to nego­ti­ate a peace accord that would restore con­sti­tu­tion­al order in time for the pres­i­den­tial elec­tions on Novem­ber 28.
After a pact was signed by both par­ties, pun­dits believed the cri­sis had end­ed and that Zelaya would be restored to office – albeit with sig­nif­i­cant­ly lim­it­ed pow­ers and the con­sti­tu­tion­al ref­er­en­dum off the table – to fin­ish out his term.
But the Tegu­ci­gal­pa accord had appoint­ed the elite-con­trolled Hon­duran Con­gress to re-instate Zelaya, and so far the body con­tin­ues to balk, refus­ing even to con­vene. U.S. diplo­mats have con­tin­ued to con­fer with both par­ties, but Zelaya has pub­licly declared the deal a ​"dead let­ter" and urged the cit­i­zen­ry to boy­cott the elec­tions. Many Hon­durans believe that elec­tions under a mil­i­tary dic­ta­tor­ship sim­ply can't be fair or transparent.
When In These Times spoke to Zelaya by cell phone on Tues­day, Novem­ber 10, the call often fad­ed in and out, prob­a­bly because its trans­mis­sion was being jammed by the author­i­ties. Some of Zelaya's words were inaudi­ble. An edit­ed tran­script of the con­ver­sa­tion, trans­lat­ed from Span­ish, is below.
Zelaya spoke calm­ly and in mea­sured tones, with a hint of exhaus­tion in his voice.
In These Times: How are con­di­tions inside the embassy?
Mel Zelaya: We have the basics of food and water – but oth­er things are not allowed in. We're all phys­i­cal­ly well. Our health is good – unlike that of the coun­try itself. There are grave polit­i­cal prob­lems in Hon­duras. Prob­lems that are, so far, with­out resolution.
ITT: Are you still being harassed by forces out­side the embassy?
Zelaya: The police aren't both­er­ing us now, but they were, and we have denounced their cow­ard­ly actions. After [U.S. Assis­tant Sec­re­tary of State Thomas] Shannon's vis­it, for the last two weeks, there has been less oppres­sion against us.
ITT: [De fac­to Pres­i­dent] Rober­to Micheletti's nego­ti­at­ing com­mit­tee has just ordered Con­gress to con­voke on the mat­ter of your rein­state­ment. What is your opin­ion of that ruling?
Zelaya: [Inaudible]…Mr. Michelet­ti and his mil­i­tary henchmen.
ITT: Do you believe there was a secret pact between Ambas­sador Shan­non and [con­gres­sion­al leader and pres­i­den­tial can­di­date] Pepe Lobo, in which Lobo promised to have you rein­stat­ed if the U.S. would rec­og­nize elections?
Zelaya: No, it nev­er hap­pened. That is a lie.
'There are certain people who want to have elections, because they want absolution from their illegal actions,' Zelaya says.
ITT: What went wrong with the [Tegu­ci­gal­pa] accord? Why aren't you pres­i­dent right now?
Zelaya: Look, it's nec­es­sary to do things trans­par­ent­ly. [The de fac­to régime] only does things for appear­ances, and to deceive. Their actions do not reflect the truth. The cause of progress in Latin Amer­i­ca is fail­ing. The cycle of times past was filled with coups and mil­i­tary dictatorships.
We don't want to go back to that. Which is why we're strug­gling to rid the coun­try of this mil­i­tary dic­ta­tor­ship – so that, in Hon­duras, we don't return to those times. Such as what hap­pened in Nicaragua, Chile, or the Domini­can Repub­lic. All those coun­tries suf­fered through their own dic­ta­tor­ships, too…
ITT: The U.S. State Depart­ment recent­ly said they would now rec­og­nize elec­tions in Hon­duras even if you were not re-instat­ed. What's your opin­ion on that statement?
Zelaya: The moment that the U.S. rec­og­nizes the elec­tions under oppres­sion, they lose the moral qual­i­ty to ques­tion oth­er coun­tries when there are these kinds of problems.
ITT: Why wasn't an amnesty clause for you includ­ed in the peace accord? [The coup régime has charged Zelaya with 18 dif­fer­ent felonies, all of them com­ing after his ouster.]
Zelaya: I won't beg for amnesty, because I didn't com­mit any crime. I returned to Hon­duras, because I am inno­cent of all their accu­sa­tions. But this gov­ern­ment of usurpers, they do not fol­low the order of the law. Laws mean noth­ing to them. This was a con­spir­a­cy [inaudi­ble] cre­at­ed by the two great pow­ers of the coun­try: the armed forces and the rich.
ITT: What about elec­tions? What do you think should happen?
Zelaya: There are cer­tain peo­ple who want to have elec­tions – because they want abso­lu­tion from their ille­gal actions. But elec­tions now would be like [the recent bal­lot vote] in Afghanistan. It could be even worse. It could be a dis­as­ter. With blood and fire. We want elec­tions with a peace treaty. We don't want what hap­pened, or is hap­pen­ing, in some oth­er countries…
ITT: Why have you been meet­ing this week with [U.S. Ambas­sador to Hon­duras] Hugo Llorens?
Zelaya: He man­i­fest­ed that the U.S. main­tains its posi­tion, that it isn't ready to make a final deci­sion about the elec­tions. And that they are still inter­est­ed in the resti­tu­tion of demo­c­ra­t­ic order.
ITT: How much longer will you stay inside the [Brazil­ian] Embassy?
Zelaya: I will quit being pres­i­dent in Jan­u­ary 27, 2010. This is when my term is up.
ITT: What is the most impor­tant thing for peo­ple in the U.S. to know about what is hap­pen­ing in Honduras?
Zelaya: The return to vio­lence in Latin Amer­i­ca affects the secu­ri­ty of the U.S., and the image of the Amer­i­can peo­ple. The gov­ern­ment of the U.S. would be the first in the world to rec­og­nize these elec­tions – and Pres­i­dent Barack Oba­ma would dam­age his image as well. Pres­i­dent Oba­ma plead­ed with me to have a dia­logue with the putschists. I agreed. But this dia­logue ben­e­fit­ed only them. Ben­e­fit­ed a dic­ta­tor­ship. And it weak­ened the posi­tions of the Amer­i­can States. This was not the plan. The plan was to resti­tute democ­ra­cy, not to val­i­date a dictatorship.
ITT: So does blame for the treaty's fail­ure lie with the de fac­to gov­ern­ment – or with how the peace accord was written?
Zelaya: [The accord] was intend­ed to ben­e­fit democ­ra­cy, I can tell you that. Not to ben­e­fit the forces of anti-democ­ra­cy. With the dic­ta­tor­ship, in this case, I would ask the gov­ern­ment of the U.S. not to weak­en, and to main­tain its well-known prin­ci­ples and val­or­ous man­ners. And to con­tin­ue to be brave in sup­port­ing democ­ra­cy, as it has been so many times before.