Is the U.S. Enabling the Humanitarian Crisis in Colombia?
Millions remain displaced and war crimes are ongoing, but U.S. military aid keeps flowing.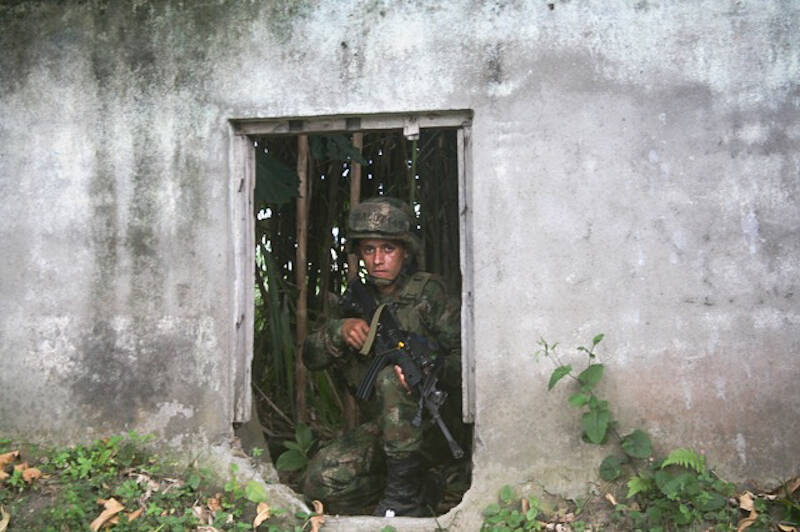 It's a cru­el­ly hot day in rebel-held ter­ri­to­ry. On a crum­bling and aban­doned plan­ta­tion, in the insur­gency rid­dled Cau­ca region of south­west­ern Colom­bia, more than three dozen indige­nous lead­ers have gath­ered in the shade of the old manor house for a trib­al meet­ing. Children's murals and peace-themed ban­ners cov­er the white-washed adobe walls. Out­side, in the mor­tar-cratered fields that once grew sug­ar cane for the Cal­i­for­nia mar­ket, shirt­less men labor in the noon heat to plant beans and squash.
As the fighting drags on, and accusations of abuse at the hands of the armed forces continues, Santos's cozy relationship with the Obama administration has a growing chorus of critics crying foul over the way the Colombian armed forces have been using all the high-tech toys and funding they've been getting from Uncle Sam.
​"We're in a hard place," says Ernesto Con­da, a rul­ing coun­cil mem­ber of the Nasa tribe, one of sev­er­al indige­nous groups native to Cau­ca. Con­da is 44 and wears his hair in a sleek black queue streaked with gray.
​"Our peo­ple are always under fire here — always in range of the mor­tars and machine guns," he says, tak­ing a break from the trib­al coun­cil to show this reporter around the for­mer plan­ta­tion, which the Nasa have occu­pied in a bid to raise sub­sis­tence crops. The twen­ty or so fam­i­lies who now squat here were dri­ven from their homes in Cauca's jun­gle-cov­ered moun­tains by fight­ing between left­ist guer­ril­las, right-wing mili­tias, and Colom­bian troops.
These Nasa fam­i­lies are among the 4.7 mil­lion inter­nal­ly dis­placed Colom­bians pro­duced by five decades of civ­il war, accord­ing to a recent study by a gov­ern­ment-spon­sored truth com­mis­sion called the Nation­al Cen­ter for His­toric Mem­o­ry. The report revealed that the num­ber of inter­nal refugees in this resource-rich Andean nation is the high­est of any coun­try on earth. The strug­gle between Bogota's armed forces and right-wing proxy mili­tias and the nation's largest, left­ist insur­gency, the Rev­o­lu­tion­ary Armed Forces of Colom­bia (FARC), has claimed more than 220,000 lives, 82 per­cent of them civil­ians. Untold thou­sands of native Nasa have also been killed in the world's longest-run­ning civ­il war. In the Cau­ca region alone at least 128 native peo­ples have been slain in con­flict-relat­ed vio­lence since the start of 2012.
Peace talks aimed at end­ing the war with FARC have been drag­ging on in Havana, Cuba, since last fall. Lit­tle progress has been made so far, and the fight­ing con­tin­ues apace. At least 48 gov­ern­ment troops have been killed in the last two months, and at least 12 insur­gents lost their lives to airstrikes in August. August also saw civil­ians erupt over the root caus­es of the armed con­flict — vast pover­ty and stark inequal­i­ty of land own­er­ship. Mas­sive protests aimed at land reform and cur­tail­ing eco­nom­ic glob­al­iza­tion shook the coun­try. Despite a crack­down on demon­stra­tions by Pres­i­dent Juan Manuel San­tos, the ongo­ing protests con­tin­ue to par­a­lyze ship­ping and trans­porta­tion, espe­cial­ly in war-torn rur­al regions like Cauca.
In spite of its poor track record on human rights, Colom­bia remains a close region­al ally of Wash­ing­ton, and, under the umbrel­la of the Drug War, receives more mil­i­tary aid than any oth­er nation in the hemi­sphere. But now, in the wake of the truth com­mis­sion report and Bogota's bru­tal response to the nation­wide protests, a grow­ing cho­rus of inter­na­tion­al observers con­tend that U.S. for­eign pol­i­cy — includ­ing mil­i­tary aid and trade agree­ments — could be help­ing to fuel the vio­lence and con­tribut­ing to the plights of those caught in the cross­fire, like Conda's dis­placed Nasa families.
​"Free trade agree­ments, and glob­al­iza­tion in gen­er­al, have win­ners and losers," says Adam Isac­son, of the Wash­ing­ton Office on Latin Amer­i­ca (WOLA), in an inter­view with In These Times. ​"When they protest what is being done to them, those on the los­ing end are often accused of sym­pa­thiz­ing with guer­ril­las, and end up fac­ing a response from Colom­bi­a's secu­ri­ty forces. The same forces that have been aid­ed and strength­ened by many years of U.S. assistance."
​'A real human­i­tar­i­an crisis'
Des­per­ate liv­ing con­di­tions among Colombia's dis­placed and rur­al poor sent tens of thou­sands of small farm­ers and indige­nous into the streets on August 19, in a series of mass protests that shook the nation. Demand­ing land reform and an end to U.S.-brokered free-trade agree­ments that under­cut the local econ­o­my, the farm­ers were soon joined by teach­ers and union work­ers in set­ting up road blocks at 72 major arter­ies across the coun­try. On the last week­end of the month, 30,000 demon­stra­tors marched on Bogo­ta itself. After ini­tial­ly declar­ing that the protests did not exist, the gov­ern­ment declared mar­tial law. So far, clash­es between demon­stra­tors and police have left six pro­tes­tors dead, with scores more wound­ed as author­i­ties have repeat­ed­ly opened fire on peace­ful march­es with tear gas and even live rounds.
​"This is a real human­i­tar­i­an cri­sis," says Judith Mal­don­a­do, direc­tor of the Bogo­ta-based law firm Luis Car­los Per­oz, which spe­cial­izes in human rights cas­es. ​"The farm­ers feel they have been aban­doned by the gov­ern­ment. They look around and they see that they have no edu­ca­tion sys­tem, no med­ical cen­ters, and no future. So they are man­i­fest­ing them­selves in peace­ful demon­stra­tions," Mal­don­a­do says. ​"But the gov­ern­ment can't tol­er­ate mass protests."
To stem the protests, Colom­bian Pres­i­dent Jose San­tos ordered the mobi­liza­tion of 50,000 troops to occu­py Bogo­ta and oth­er urban zones. Nasa chief Con­da says such an iron-fist­ed response by the gov­ern­ment will do noth­ing to ease the wide­spread suf­fer­ing and harsh liv­ing con­di­tions that inspired the pop­u­lar uprising.
​"The fight­ing has been going on now since the mid­dle of the last cen­tu­ry," says Con­da, clutch­ing the tas­seled, sil­ver-capped baton that is a sym­bol of his trib­al author­i­ty. ​"It's a per­pet­u­al social cri­sis for our com­mu­ni­ties — espe­cial­ly for our young peo­ple, because they don't see a way out."
Ter­ror attacks on the rise
Six ille­gal armed groups oper­ate in Nasa ter­ri­to­ry, accord­ing to the Coun­cil of the Asso­ci­a­tion of Indige­nous of North­ern Cau­ca (ACIN). All six groups traf­fic in arms and nar­cotics, fla­grant­ly vio­lat­ing tra­di­tion­al Nasa land rights. Although weak­ened by decades of war, the FARC can field about 9,000 fight­ers nation­wide, and the Marx­ist insur­gency still main­tains the biggest armed pres­ence in Cau­ca. But they're being chal­lenged by a num­ber of small­er, large­ly right wing mili­tias who claim to hate the FARC for ide­o­log­i­cal rea­sons, while also cov­et­ing the drug-pro­duc­tion facil­i­ties and ter­ri­to­ry they control.
As the com­pe­ti­tion among nar­co-traf­fick­ers increas­es, vio­lence against civil­ians has wors­ened, both in Cau­ca and the nation at large. Human Rights Watch lists a 34 per­cent jump in mas­sacres com­mit­ted by far-right para­mil­i­tary groups since 2010. Mean­while, FARC blocs rou­tine­ly con­script child sol­diers from rur­al vil­lages and deploy land mines and car bombs against civil­ian pop­u­la­tion cen­ters that deny the guer­ril­las sup­plies or defy their author­i­ty. The annu­al U.S. Coun­try Report on Ter­ror­ism shows that, over­all, ter­ror attacks are on the rise across Colom­bia. So far 2013 has also brought a sharp spike in attacks against human rights inves­ti­ga­tors; 17 human rights work­ers were killed just in Cau­ca last year.
But rebels and drug run­ners aren't the only armed groups bul­ly­ing the natives. Colombia's indige­nous and small farm­ers say they are also being tar­get­ed by rogue forces of the Colom­bian gov­ern­ment. Ille­gal deten­tions and search­es are com­mon­place, as are extra­ju­di­cial killings. The killings are so wide­spread there's even a nick­name for them — ​"false pos­i­tives" — because of the sol­diers' habit of dress­ing up the vic­tims in insur­gent uni­forms to raise their units' body counts. There have been more than 3,000 such killings in the last decade.
U.S. mil­i­tary aid
Of the 2,000 gen­er­al mas­sacres com­mit­ted in Colom­bia since 1980, more than two-thirds were by far-right mili­tias with ties to the armed forces, or by the armed forces them­selves, accord­ing to the new truth com­mis­sion report. The mil­i­tary and police alone are respon­si­ble for 42 per­cent of the nation's 25,000 dis­ap­pear­ances. Despite height­ened scruti­ny by the State Depart­ment, and the Colom­bian government's claim to have purged all rogue units, rights groups have doc­u­ment­ed some 50 war crimes com­mit­ted by Colom­bian troops, includ­ing false pos­i­tives and ille­gal deten­tions, in 2012.
Con­gress passed the Leahy Law in 1997, to pre­vent U.S. mil­i­tary aid from enabling just these kinds of abus­es abroad, but a lack of over­sight and polit­i­cal will have ham­pered reform efforts.
​"Even units that have been vet­ted and cleared [by the U.S. State Depart­ment] to receive aid are com­mit­ting false pos­i­tives," says WOLA's Isacson.
Due to the lack of effec­tive over­sight and issues of U.S. cul­pa­bil­i­ty in regard to war crimes and civ­il abus­es, John Lind­say-Poland, research direc­tor of the Cal­i­for­nia-based Fel­low­ship of Rec­on­cil­i­a­tion (FOR), who recent­ly returned from a fact-find­ing trip to Colom­bia, believes that:
​"U.S. mil­i­tary aid to Colom­bia should be cut. It's a con­tri­bu­tion to war when there are peace talks to end the 49-year old armed con­flict," says Lind­say-Poland. ​"The [Colom­bian] mil­i­tary has mur­dered thou­sands of civil­ians with almost total impunity."
​"Mil­i­tary aid is not enough"
The wild and rugged Cau­ca region is one of those hit hard­est by the vio­lence due to its rough and tum­ble topog­ra­phy, a con­flu­ence of major roads, and a per­fect cli­mate for grow­ing illic­it crops (espe­cial­ly coca leaves, the raw ingre­di­ent for cocaine). The dark heart of Colombia's drug-fueled con­flict, Cau­ca is also home to one of the high­est rates of false pos­i­tive cas­es of any Colom­bian depart­ment, or state.
In north­ern Cau­ca, a gap in the moun­tains forces cocaine ship­ments from the country's south­ern high­lands into a nar­row fun­nel, turn­ing the road to Cali and the coast into a fierce­ly-con­test­ed bat­tle­ground. Drug-run­ning guer­ril­las and para­mil­i­tary bands com­pete with gov­ern­ment troops and each oth­er for of the access point, with the indige­nous and small farm­ers often trapped in between when fire­fights erupt or chop­per strikes are called in.
​"First we try to take the high ground and the moun­tain tops," says Colonel Ger­mán Lopez, com­man­der of For­ward Oper­at­ing Base Calo­to, sit­ting at his desk in the sand­bagged com­mand bunker. ​"From there we can move out to pro­vide secu­ri­ty to small towns and vil­lages and try to hold the roads… But it's not easy. Some­times the guer­ril­las are hid­den in hous­es. Some­times they're wear­ing civil­ian clothes. When an ambush hap­pens sud­den­ly it's very hard to know who's doing the shoot­ing, and who is just a bystander."
Lopez, who received counter-insur­gency train­ing in Texas and keeps a large Bible mount­ed promi­nent­ly on his desk at Calo­to, tells this reporter that U.S. assis­tance was ​"absolute­ly essen­tial" to main­tain­ing secu­ri­ty in Cauca.
​"But mil­i­tary aid is not enough," Lopez says. ​"The biggest cause of crime and [drug smug­gling] in Cau­ca is the ter­ri­ble pover­ty. We've got to build trust and con­fi­dence by help­ing the local pop­u­la­tion – by giv­ing the peo­ple some­thing to believe in."
FOR direc­tor Lind­say-Poland agrees.
"[Mil­i­tary aid] doesn't address … the dri­ving force[s] of drug traf­fick­ing," he says. ​"Civil­ian needs [in Colom­bia] for edu­ca­tion, health care, hous­ing, infra­struc­ture, and envi­ron­men­tal pro­tec­tion are under­fund­ed in a thou­sand ways."
Since 2009 Wash­ing­ton has sent more than 2.03 bil­lion dol­lars in mil­i­tary and police aid to Colom­bia—25 per­cent more than was spent to fight the Drug War in Mex­i­co dur­ing the same span. About $280 mil­lion more are in line to be sent in 2013.
The fund­ing of Colombia's armed forces con­tin­ues despite the evi­dence offered in a 2010 study which showed that the rate of extra­ju­di­cial killings and oth­er war crimes com­mit­ted by indi­vid­ual units often spiked just after receiv­ing U.S. aid in the form of train­ing, con­struc­tion, heli­copter fleets, and advanced weapon sys­tems. The rate of record­ed atroc­i­ties by those same units sub­se­quent­ly went down when aid was withdrawn.
​"So many units have com­mit­ted ter­ri­ble rights abus­es after they've received [mil­i­tary] assis­tance," says Lind­say-Poland, who has served as an advi­sor to the State Depart­ment on Colom­bia. He accus­es the Oba­ma admin­is­tra­tion of fail­ing to ​"eval­u­ate the human rights impact of enor­mous of amounts of mil­i­tary assis­tance" in Colombia.
​"A pol­i­cy based on end­ing vio­lence … would look a lot different'
In sup­port of its con­tin­ued aid to the Colom­bian gov­ern­ment, U.S. offi­cials can point to the num­bers: accord­ing to infor­ma­tion In These Times received from the U.S. State Department's Bureau of Inter­na­tion­al Nar­cotics and Law Enforce­ment Affairs, coca leaf cul­ti­va­tion in Colom­bia went down sev­en per­cent from 2011 – 2012, large­ly due to aer­i­al spray­ing and ground-based erad­i­ca­tion efforts by the army. Over­all pro­duc­tion of pure Colom­bian cocaine has fall­en from an all-time high of 700 met­ric tons in 2001 to just 175 met­ric tons in 2012 — a drop of 75 per­cent. Due to such opti­mistic num­bers, some in Wash­ing­ton have begun to trum­pet Drug War efforts in Colom­bia as a mod­el to be fol­lowed in Mex­i­co and Cen­tral America.
But even as cocaine pro­duc­tion has fall­en, Colombia's insur­gents and crim­i­nal bands have turned to oth­er sources of fund­ing, such as min­ing for pre­cious met­als, which make them less depen­dent on nar­co-traf­fick­ing. And the dip in drug pro­duc­tion has not led to a decrease in vio­lence. Like many oth­er crit­ics, FOR direc­tor Lind­say-Poland refus­es to label the Colom­bia mod­el a success:
​"Any pro­gram that has result­ed in, or done noth­ing to stop, the forced dis­place­ment of five mil­lion peo­ple is not a suc­cess, but a human rights dis­as­ter," he says. ​"A pol­i­cy based on end­ing vio­lence instead of reduc­ing coca leaves would look a lot different."
The State Depart­ment declined In These Times' request to com­ment on human rights abus­es in Colombia.
The right to exist
Not only do some crit­ics con­tend that U.S. mil­i­tary aid is enabling human rights abus­es, but they also allege U.S.-authored free-trade agree­ments are crip­pling the Colom­bian economy.
​"Those who lose include farm­ers who can't com­pete with cheap­er inputs, work­ers unable to bar­gain col­lec­tive­ly, and indige­nous and afro-Colom­bian com­mu­ni­ties sit­ting atop fer­tile land, valu­able min­er­als, or oil," says WOLA's Isacson.
Those claims are echoed by the strik­ing farm­ers, who con­tin­ue to block roads and hold ral­lies in mul­ti­ple depart­ments. They say that the high-priced import­ed seeds and low-cost grains that Colom­bia is oblig­at­ed to pur­chase as part of the U.S.-Colombia Free Trade Agree­ment make it impos­si­ble for local pro­duc­ers to compete.
​"The trade agree­ments ben­e­fit the wealthy landown­ers, who in turn sup­port the politi­cians in Bogo­ta," says law firm direc­tor Mal­don­a­do, who rep­re­sents a farm­ers union. ​"There is noth­ing demo­c­ra­t­ic about it."
Back in Cau­ca, Nasa chief Con­da says it's hard for him to under­stand why basic liv­ing con­di­tions remain so harsh for the country's 15 mil­lion small farm­ers, indige­nous and Afro-Colom­bians who live in pover­ty, giv­en the bil­lions of U.S. dol­lars that have been hand­ed over to Bogo­ta in recent years.
​"The gov­ern­ment has no pres­ence here," says Con­da. ​"We have no sus­tain­able econ­o­my of any kind. Already our hous­es have been destroyed. Our peo­ple with­out lib­er­ty. Our chil­dren muti­lat­ed by land mines," Con­da gazes out over the weed-grown fields and shat­tered out­build­ings of the ruined plan­ta­tion where his peo­ple have come for shelter.
​"We have the right to exist," Con­da says. ​"We have the right to live."