Truce or Dare in Colombia
Violence rages even as peace talks continue.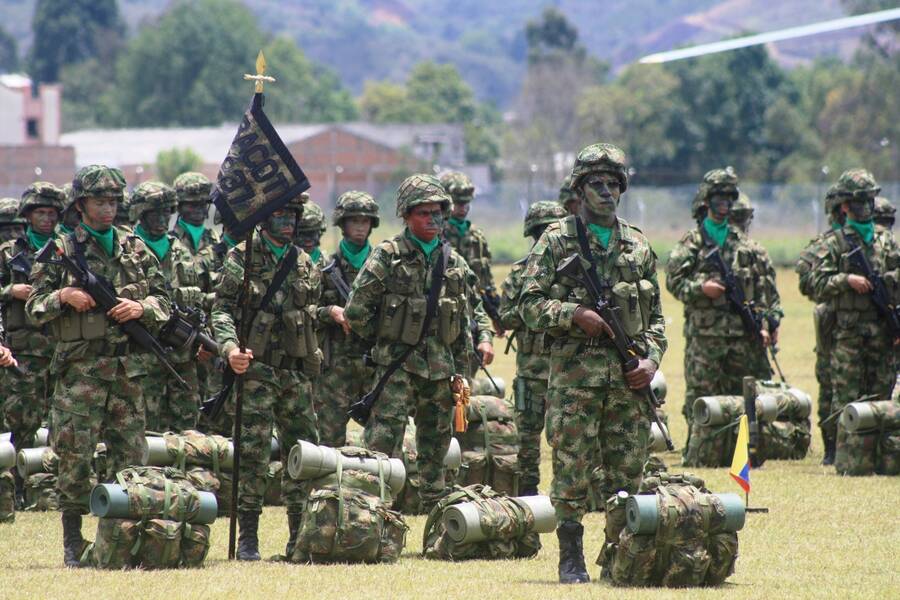 COLOM­BIA — The bombs start­ed falling just after mid­night on Sun­day, Dec. 2 near the town of Ricau­rte, along Colombia's rugged and heav­i­ly forest­ed bor­der with Ecuador. Explo­sions rocked the jun­gle as a squadron of Super Tucano attack air­craft, oper­at­ed by the Colom­bian air force, dropped a clus­ter of 500-pound, com­put­er-guid­ed smart bombs on three encamp­ments of the Rev­o­lu­tion­ary Armed Forces of Colom­bia (FARC). When the sal­vo end­ed, at least twen­ty dead FARC guer­ril­las lay dead in the twist­ed mess of smashed huts and heat-fused weapons. Among the bomb-muti­lat­ed corpses were the unit com­man­der of an entire FARC col­umn and his third in com­mand. The column's sur­vivors had scat­tered into the bush, a bro­ken force.
"When the death threats come, they're sent by text message."
​"The FARC insur­gents [were] a threat to peas­ants and indige­nous res­i­dents in the area," says Gen­er­al Jorge Segu­ra, who com­mands the Third Divi­sion of the Colom­bian Army and over­saw the strike near Ricau­rte. Segu­ra tells In These Times the oper­a­tion was part of an ​"inte­grat­ed strat­e­gy" aimed at ​"end­ing the intim­i­da­tion and ter­ror­ism of the FARC."
Help keep this report­ing pos­si­ble by mak­ing a dona­tion today.
The Ricau­rte attack came even as the Colom­bian gov­ern­ment was engaged in his­toric peace talks with the left­ist FARC in an attempt to end five decades of civ­il war. The round­table began in Nor­way in Octo­ber and moved to Havana, Cuba, a month lat­er. But lit­tle has been accom­plished so far, and both sides say the talks are like­ly to drag on for months. Hun­dreds of thou­sands of peo­ple have been killed and 3−5.5 mil­lion have been dis­placed by the con­flict that has endured for near­ly 50 years. Dozens of gov­ern­ment troops and civil­ians have lost their lives since the peace talks were announced.
When the lat­est round of talks began in Havana on Nov. 19, the FARC called a truce. How­ev­er, the admin­is­tra­tion of Pres­i­dent Juan Manuel San­tos has refused to acknowl­edge the cease­fire and con­tin­ued mil­i­tary oper­a­tions , such as the Cau­ca bomb­ing on Dec. 1, per­haps hop­ing to pres­sure the FARC's rep­re­sen­ta­tives at the nego­ti­at­ing table.
​"We're engaged in a per­ma­nent offen­sive against the ban­dits of the FARC," says Gen­er­al Segu­ra. ​"There can be no peace with­out victory."
But the absence of either peace or vic­to­ry has caused sup­port for the talks to wane among aver­age Colom­bians, who don't see their own inter­ests rep­re­sent­ed by either side in Havana. Dur­ing the first week of Decem­ber, thou­sands took to the streets across the coun­try, to protest the lack of pub­lic par­tic­i­pa­tion in the talks, and to demand improved liv­ing con­di­tions, edu­ca­tion and health care.
Gov­ern­ment forces have gained ground against the FARC over the last decade, large­ly thanks to mil­i­tary aid from the Unit­ed States. But much of the coun­try, espe­cial­ly in rur­al areas, remains in the hands of var­i­ous armed mili­tias, who con­tin­ue to do bat­tle with the mil­i­tary and each oth­er for con­trol of strate­gic resources such as gold mines, ship­ping routes and arable land for pro­duc­ing narcotics.
Although most Colom­bians are hop­ing for an end to one of the world's longest-run­ning civ­il wars, a treaty with the FARC is not, in itself, like­ly to end the drug-fueled con­flict that plagues the countryside.
​"A lot of the FARC lead­er­ship have real­ized they'll have to demo­bi­lize," says Adam Isac­son of the Wash­ing­ton Office on Latin Amer­i­ca (WOLA), a human rights NGO.
​"But that's not going to end vio­lence and drugs," Isac­son says.
Death texts
In the trou­bled Cau­ca Depart­ment in south­west­ern Colom­bia, some sources esti­mate rough­ly 25,000 peo­ple were dis­placed by con­flict-relat­ed vio­lence in the last year alone. Over­all, Colom­bia is home to one of the high­est num­ber of inter­nal­ly dis­placed peo­ple in the world. Most are peas­ant farm­ers and indige­nous com­mu­ni­ties liv­ing in out­ly­ing regions.
Here in Cau­ca, many res­i­dents describe a life of con­stant ter­ror. Some 70 mem­bers of the local Nasa tribe have met vio­lent deaths in Cau­ca since the start of 2012 — many of them the vic­tims of tar­get­ed assassinations.
​"When the death threats come, they're sent by text mes­sage," says Diana Per­afán, a nurse with the Nasa, hold­ing up her bat­tered cell phone, which dis­plays an anony­mous promise to lop off her head with a machete. Per­afán has been receiv­ing such mes­sages for weeks. She believes she's been tar­get­ed because of her work treat­ing the wound­ed and trau­ma­tized in Nasa com­mu­ni­ties such as Toribío and Caloto.
Per­afán says the death threats she's get­ting could be com­ing from the FARC, who main­tain a strong pres­ence in Cau­ca — or any of the oth­er armed groups that also oper­ate in the area, which is a major hub for cocaine pro­duc­tion and trafficking.
​"Just the fact that they can send texts from an anony­mous source tells you some­thing about how pow­er­ful these groups are," Per­afán says dur­ing a hushed inter­view in a café in Popayán, the region­al cap­i­tal. ​"It means they've got funds. Access to some kind of tech sup­port. Who­ev­er it is, they know what they're doing."
In addi­tion to the FARC, Colom­bia is also home to a dozen or so pow­er­ful, right-wing para­mil­i­tary groups with names like Águilas Negras (Black Eagles) and the Colom­bia Rev­o­lu­tion­ary Pop­u­lar Anti-ter­ror­ist Army (ERPAC). Accord­ing to both the Unit­ed Nations and Amnesty Inter­na­tion­al, these mili­tias, orig­i­nal­ly com­mis­sioned by the army to help com­bat the FARC, have actu­al­ly been respon­si­ble for more killings and human rights abus­es than the FARC itself.
Major play­ers in the drug trade, the mili­tias con­trol vast swaths of the coun­try­side and have forced whole com­mu­ni­ties to aban­don their homes and busi­ness­es. In Cau­ca, high schools and soc­cer fields over­flow with evac­uees flee­ing the vio­lence. Many of them end up on the streets in crowd­ed urban slums.
​"The vio­lence caused by the para­mil­i­taries, the strug­gle among crim­i­nal armies for suprema­cy, is tear­ing apart the fab­ric of Colom­bian soci­ety," says Dr. Jairo Ortiz, a polit­i­cal sci­ence pro­fes­sor at the Uni­ver­si­ty of Cau­ca. Ortiz also points out that a mass demo­bi­liza­tion of the FARC might also allow these mili­tias to expand their territory.
​"Colom­bia is fac­ing a human rights cri­sis that's going on right now," Ortiz says. ​"But nobody is talk­ing about that [at the round­table] in Havana."
​"The fight­ing could go on for decades"
The FARC del­e­gates to the peace con­fer­ences have remained upbeat about the process, even after the government's attack near Ricau­rte — the worst blow to the rebels since the talks began. Yet many observers won­der whether Latin America's old­est insur­gency can con­vince all of its units to lay down arms and demo­bi­lize if their lead­er­ship orders it. Sev­er­al alleged vio­la­tions of the FARC's self-imposed Nov. 19 cease­fire call into ques­tion whether top-lev­el offi­cers can exer­cise con­trol over its many far-flung cells.
​"It could be hard to con­vince local com­man­ders to turn in their weapons and go to jail," admits WOLA's Isac­son. Moti­vat­ed by the lucra­tive drug trade and accus­tomed to the war­lord lifestyle, many of the FARC's com­man­ders may pre­fer to keep on fight­ing, per­haps under anoth­er name, instead of com­ing in from the jungle.
But the biggest obsta­cle to peace might be the Colom­bian government's reluc­tance to include mean­ing­ful eco­nom­ic reforms as part of the peace pack­age. The San­tos admin­is­tra­tion has yet to prove that it's will­ing to con­front deep-root­ed prob­lems like mass pover­ty and land resti­tu­tion — the same issues that caused the FARC to take up arms decades ago, and still a part of their peace agenda.
​"The talks in Cuba have so far failed to address the fun­da­men­tal caus­es of pover­ty and suf­fer­ing in the coun­try," says Dr. Ortiz, who esti­mates that 52 per­cent of Colom­bians remain deeply impoverished.
​"The great num­ber of hope­less young peo­ple feeds the ranks of both the FARC and the para­mil­i­taries," Ortiz explains. ​"The state doesn't offer much of a future, so there's a strong incen­tive to turn against it."
Accord­ing to Dr. Anto­nio Navar­ro Wolff — a for­mer com­man­der of the guer­ril­la group 19th of April Move­ment (M‑19) and ex-gov­er­nor of Cauca's neigh­bor­ing Nar­iño Depart­ment, where the 20 guer­ril­las were killed on Dec. 2 — if the his­toric par­lay in Havana fails to address social jus­tice and devel­op­ment needs, oth­er insur­gen­cies will rise up to fill the void left by the FARC.
​"For the last 25 years in Colom­bia, when­ev­er one group had demo­bi­lized, anoth­er has come along to take its place," says Dr. Wolff, who lost a leg to the con­flict as a young man.
Wolff also says that the FARC are still capa­ble of wag­ing war against the gov­ern­ment if the peace talks col­lapse. In 2006, a U.S. Depart­ment of Jus­tice indict­ment claimed FARC was sup­ply­ing 50 per­cent of the world's cocaine. And with over 158,000 acres of coca grow­ing with­in its bor­ders, Colom­bia is the world's lead­ing cul­ti­va­tor, which means a poten­tial­ly end­less sup­ply of drug-relat­ed fund­ing for FARC.
​"If we can't make peace now," says Wolff, ​"the fight­ing could go on for decades."
This is an expand­ed ver­sion of a piece that appeared Jan­u­ary 2013 issue of In These Times.